French Immersion
Say "Bonjour" to French Immersion!
Say "Bonjour" to French Immersion programming for your child and give them the gift of a second language! 
At Ardrossan Elementary, we offer a dual track program where parents can choose to register in French Immersion. This program is offered for ECS to Grade 6 students.  We are happy to accept registrations for students in all grades, however students in grades 2-6 must have been following previous French Immersion programming. French Immersion students in ECS to Grade 2 will have an immersion experience with 100 per cent French instruction. Grades 3-6 will have between 75 -80 per cent of their instruction in French. It is an opportunity to discover not only a language, but also a culture! Vive le francais!
Rendez-vous Extraordinaire!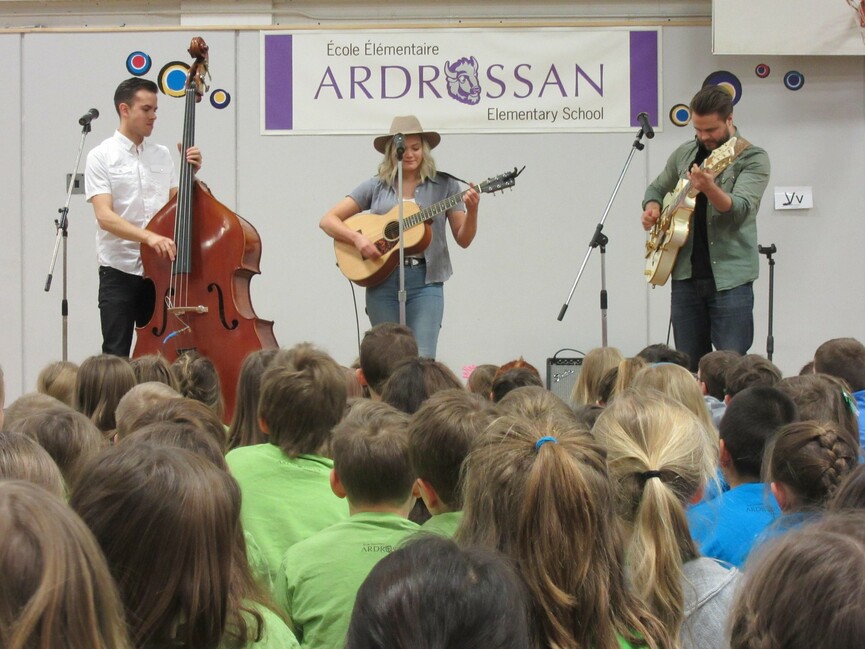 An outstanding week full of activities promoting French language and culture....quels 
souvenirs!
Have you considered ECS French Immersion?
Frequently Asked Questions…
What is French Immersion?
The French Immersion Program provides students with fluency in speaking, reading, writing, listening and communicating in French by the end of Grade 12.
French is the language of instruction, beginning in Kindergarten continuing to Grade 3 when English is introduced.
Check out Alberta Education's What do I want my child to achieve in French ?
Why Should I Consider French Immersion for my Child?
Learning French offers students significant linguistic, academic and cognitive benefits:
strengthens English literacy skills and listening skills;
enhances problem-solving abilities;
strengthens concentration, math, and the ability to filter out non-important information;
provides students with more flexible, divergent, and creative thinking skills;
delays dementia and Alzheimer's disease later on in life;
provides graduates with more choices for advanced education and career options;
gives graduates a competitive edge in the job market anywhere;
broadens students' cultural life through access to literature, art, music and theatre;
helps students to better understand the history, development and government of their country;
builds cultural awareness and empathy;
increases a student's feeling of self-esteem and pride; and
makes learning additional languages easier.
But, We Don't Speak French at Home! How does that work?
You are not alone. Most parents of French Immersion students do not speak French! In fact, it was non-French speaking parents who established French Immersion in the first place! Your child will do just fine whether or not you speak French at home.
Check out Yes, You Can Help!
I Need More Information
If you would like more information on what French Immersion looks like at Ardrossan Elementary, contact Mme Helene Hewitt or Mrs. Judy Whetstone to set up a time to meet. We are happy to answer any questions you might have.
Resource Links
La fureur Ardrossan 2017!
The French Karaoke Competition is Back!
Last year we held our very first La fureur Ardrossan competition as a way of celebrating French culture and language through music. We are excited to share that we will be building on this event for the 2017 Rendez-vous de la francophonie week!
What is La fureur all about?
La fureur is a competition in which groups of French Immersion students from Grades 4-6 pick a French song from a predetermined list and perform it karaoke/lip-synch style for a set of judges. All of our Division 2 students are invited to watch the competition and cheer on the teams.
This activity provides our students with examples of contemporary Francophone music to broaden their understanding of modern Francophone culture. We hope that they learn that there is a rich and vibrant contemporary music community thriving in French-speaking countries (including our own!).
La Fureur Ardrossan 2017 Song List
Here is the song list that teams may choose from. Click on the links below to access the karaoke videos that will be used during the competition:
Camille Estelle - La vedette de la soiree
Charlie Brown ft. Leila - Presque arrivés
Genération Goldman - Je te donne
Ilona Mitrecey - Un monde parfait
Kids United - On écrit sur les murs
French Summer Reading Challenge!
Students in Grades 1 though 4 French Immersion classes have been given a French Summer Reading Challenge!
Each student will receive a baggie which includes a letter, a set of French books tailored to their reading level, and a reading log. 
We hope that students will read these books over the summer in order to ensure they keep their reading skills sharp! Even if students have already read the book once, rereading the books is important in order to further develop reading fluency and comprehension skills.
This fall, students who return their reading logs along with all of the books in their baggies will win a prize! 
What if no one can speak French at home to help?
We know that many (if not most) French Immersion families do not speak French at home, nor do they have access to someone who can read in French with their children. 
To support home reading, our dynamic French Immersion team, with the support of the Reading A-Z publishing house, has created audio recordings of the books being sent home in the reading packages.
To access these books, simply look for the book title and click on the link to hear the book read aloud!
Have fun reading!
Bonne chance!
Love,
Your Ardrossan Elementary French Immersion team
Level A French Books
Click on the title to listen to the book:
La Fureur Ardrossan 2016 Song List