Back to all posts
Posted on
Bison Tales - Year End June 2020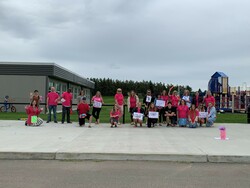 It is finally here! The last Bison Tales of the 2019-2020 school year!
We have enjoyed this last week at school seeing many of our students as they returned materials or got their graduation certificates in kindergarten and Grade 6. We all perked up to the sounds of children playing in the playground or the sounds of little voices as they wished us well for the summer. It was great to see so many people as they drove by the school this afternoon! We sure do miss our students! 
This edition of the Bison Tales is short and sweet. Our staff worked together to create a farewell video for all of our students as our way of saying that we love and miss our Bisons! Click here to watch it.
As this school year comes to a close and we turn our attention to the adventures that await us in the new school year, we imagine many of you may feel apprehensive. What will school look like? Will we return to school as normal? Will we be online? Do we have to wear pool noodle hats to keep enough distance between each other? We are all still awaiting the decision from the Minister of Education in order to answer those questions. What we do know is that whatever happens, the Ardrossan community is ready to handle it. We have the knowledge, skills, and compassion to take on any challenge! Bisons are built for hard things. Together, we've got this.
Keep checking your emails and our school website for the latest information about the fall. We will continue to update as information becomes available. In the meantime, put aside those Chromebooks and don't worry about signing into a Google Meet! Enjoy some time as a family and the great outdoors. We hope the summer brings you time to renew and refresh!
We'll see you soon!
Love,
Mme Hewitt & Mrs. Harding 
Principal & Assistant Principal
Action
Classroom placements and Report Cards
Student Registration 2020-2021
Opportunity
Little Elk Island Adventure - Registration
Information
Staffing Update
Bottle Drive a Huge Success
French Immersion and Remote Learning - Frequently Asked Questions
Elk Island Public Schools Employee Appreciation
Summer Hours
ACTION
Classroom Placements & Report Cards
As families get ready to enjoy the summer, we want to remind you that next year's class placement information is located in your child's report card published today and accessible through Powerschool Parent Portal. For instructions on how to access the Parent Portal, click here. 
Please be aware that there may be changes over the summer depending on enrollment, staffing, budgets and so on. As a consequence, student placement is tentative and subject to change as we do our best to maximize our resources for all of our students.
Student Registration 2020-2021
We look forward to welcoming new and returning students for 2020-2021. New registrations will be accepted 8:30 a.m. – 3:00 p.m. from Monday, August 24 onward. Please complete the online registration process and upload a copy of your child's birth certificate and proof of residency. Please browse through our website for registration, programs, calendar and other information to help you plan for next year including the supply lists. For general information about Elk Island Public Schools (EIPS) and back to school you may also visit the division website at: www.eips.ca. 
OPPORTUNITY
Little Elk Island Adventure: Registration
Elk Island Public Schools is once again planning to run Little Elk Island Adventure, a fun and informative program for first-time school bus riders.
Annually, Student Transportation offers the Little Elk Island Adventure to new riders and their parents. The program's aim is to help ease any anxieties a family may have about riding the bus before even starting school. Through a series of activities, riders learn about: school bus safety, danger zones, tips on boarding and how to sit properly on the bus. After that, both the children and parents hop on the bus to practice what they've learned and then venture out on a short ride.
The Little Elk Island Adventure is for first-time school bus riders entering the 2020-21 school year. The tentative session dates and times are as follows:
 Location                                                    Date                                              Time
EIPS Central Services                              August 18                                         6 p.m.
EIPS Central Services                              August 19                                         6 p.m.
EIPS Central Services                              August 20                                         2 p.m.
EIPS Central Services                              August 20                                         6 p.m.
EIPS Central Services                              August 24                                         9 a.m.
EIPS Central Services                              August 24                                         6 p.m.
EIPS Central Services                              August 26                                         6 p.m.
SouthPointe School                                 August 25                                         2:30 p.m.
SouthPointe School                                 August 25                                         6 p.m.
NOTE: Date and time may change depending on the phase of the province's relaunch strategy.
EIPS Central Services is located at 683 Wye Rd., Sherwood Park
SouthPointe School is located at 11 SouthPointe Blvd., Fort Saskatchewan
Register Now Space is limited and pre-registration is required.
More information about busing for kindergarten children is available at: www.eips.ca/transportation/kindergarten-busing-faq.
INFORMATION
Staffing Update 
We are happy to share that Mrs. Shackleton has accepted an amazing position as the secretary for Communication Services at Elk Island Public School central office. While we are incredibly sad to see her leave, we know that she will excel in this new position. We are so proud of her! We will be welcoming Lisa McNeely as our new secretary. Welcome to Bison country!
Bottle Drive a Huge Success
We are not going to ask why you have so many bottles at home, but we sure are glad that you were able to drop them off in our trailer this week! Due to your generosity, the trailer was almost full! Way to go! We are one step closer to our playground!
French Immersion and Remote Learning - Frequently Asked Questions
As a parent of a child in French Immersion, you have chosen to give your child the gift of bilingualism without any penalties to their regular learning of the curriculum. However, when you signed up, you likely never imagined that there was a possibility that the learning would be happening online at home! You might be thinking, I don't speak French! How on earth can I help? Here are the answers to some frequently asked questions that might help to reassure you should remote learning continue in some way in the fall. 
How does French Immersion work? 
French Immersion integrates language instruction and content area instruction. Students learn the French language; they learn about the French language and they learn through the French language.  Alberta Government, Handbook for French Immersion Administrators 2014 p.2
Are parents expected to know French during remote learning?
Did you know that French Immersion was created by Anglophone parents in Montreal so that their kids would have a better chance of employment? At the time, Francophone students had an advantage as they were bilingual. Anglophone students had a harder time finding work with only one language! French Immersion is designed for students who are not from a French background.  
If you don't speak French, don't worry! The teacher is responsible for teaching the French language to your child whether that is in person or online! Your role as a parent is to support your child in the language spoken at home. You can still support their learning. For example, practice math! You will teach your child three plus three equals six and their teacher will teach them trois plus trois égale six. Research also shows that reading to your child in their first language will support second language learning too! 
How can I support my child with the acquisition of a second language during remote learning? 
One of the most important roles you play for your child is as a champion for their right to become bilingual. Your encouragement that they can do it and be successful is one of the most important ways that you can help. If you don't give up, your child won't either!
Ensuring a daily routine as well as access to technology will set your child up for success. Encouraging your child to listen to music or videos in French will help them to build their vocabulary and background knowledge. The teacher will prepare lessons and connect with your child through video conferences in order to provide them with French language instruction. When help is needed, reach out to the teacher. They are ready and available to help you! 
Is my child going to be successful at his/her grade level while doing remote learning? 
During remote learning, teachers continue their instruction in the curricular areas prescribed by Alberta Education. When in-class school resumes, students will be supported to ensure that they are at grade level. Remember, this is only temporary. Things will eventually go back to normal and your child will still be on track to learn curriculum AND a second language! In the meantime, every French Immersion child in the entire province is in the same boat! No one is being left behind!
Do the reasons/advantages of French Immersion still exist during remote learning? 
Now more than ever, children need the advantage that a second language provides. Excellent communication skills, problem solving developed through negotiating more than one language, cultural intelligence, job opportunities, to name only a few, are lifelong skills. This remote learning is just for a short time but learning a second language is for a lifetime.  
Can a child with special needs be successful in a second language program?
Research shows that children with exceptionalities perform as well in a second language program as  children with similar challenges in a regular English program. Literature Review on the Impact of Second -Language Learning. Canadian Association of second language teacher 2017. The only difference would be that children with special needs in French Immersion, graduate with the ability to speak, read and write in two languages! Why not give them an edge!
Elk Island Public Schools Employee Appreciation
Please join us in celebrating the amazing work of so many talented employees for Elk Island Public Schools. Click here to watch a special celebration video in their honour.
Summer Hours at Elk Island Public Schools
Throughout the summer break, Ardrossan Elementary is closed and will reopen on August 24at 8:30 a.m. If you have any school-related questions or concerns while the school is closed, contact EIPS Central Services—the office is open all summer to complete year-end activities and prepare for the 2020-21 school year.
EIPS Central Office Summer Hours
Open                  Monday to Friday           8:30 a.m. to 4:30 p.m.
Phone                 780-464-3477
Address              683 Wye Rd., Sherwood Park
Statutory Holidays
Closed                Wednesday, July 1          Canada Day
Closed                Monday, August 3          Heritage Day
NOTE: Student Transportation will also remain open during the summer months and operate during the same hours as EIPS Central ServicesOffice.