Back to all posts
Posted on
Bison Tales September 9, 2022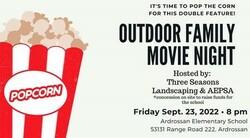 Hello Bisons!
What a great second week of school. It is amazing how quickly students settle in to their new classes. We have seen new friendships formed, siblings and friends walking hand in hand to and from school, and lots of smiles. Our grade 6 students have been leaders as they began helping the grade 1 students to their buses afterschool.
This upcoming week holds many exciting events for our students and families. Pictures days, meet the staff and our first whole school assembly are just to name a few.
We are looking forward to another fantastic week!
Lana Lastiwka and Tandy Atchison
Principal & Assistant Principal
WEEK AT A GLANCE
September 12 - 16, 2022
Monday

Collecting Toonies for Terry Fox starting this week to support cancer research - Any contributions will be collected by the classroom teacher
Picture Day for KA and KC kindergarten classes - SMILE!

Tuesday

Picture Day for KB and grades 1 - 6 - SMILE!
Come Meet the Staff from 6 p.m. to 7 p.m. We are looking forward to meeting our new and returning families.
School Council Annual General Meeting - 7 p.m.
AEPSA (Ardrossan Elementary Parent Support Association) Annual General Meeting - 8 p.m.

Wednesday
Thursday
Friday

Habit Overview & Terry Fox assembly, followed by our Terry Fox run at 2 p.m.
Outdoor Family Movie Night
Three Seasons Landscaping and AEPSA Looking forward to hosting our second family friendly movie night on September 23 to help connect with the community and raise funds for Ardrossan Elementary School!
The concession will be run by the AEPSA on site for your snacking needs! More information will follow regarding this.
We are hoping to start at 8 p.m. if the lighting works. This will be outside at the elementary school so you can bring blankets and/or chairs to get comfy on the grass. Feel free to come early to claim a spot and the kids can burn a bit of energy at the playground!
1st movie- Lightyear
2nd movie- Minions: The Rise of Gru
Can't wait to see you there!
Tidbits from the Lunchbox
Thank you to everyone who joined the Hot Lunch program and placed an order for September. Please note there are a few accounts past due and all payments must be made by the end of today or you risk having your orders cancelled. 
Did you miss out ordering lunch for September? Don't miss out for October! Starting Monday, the menu for October will be live and ready for you to place your orders. All orders and payments will be due September 22, 2022.
EIPS Career Pathways - how are we preparing our students for the world of work?
Career Pathways is designed to develop skills that students can apply in their daily lives when preparing for entry into the workplace or for further learning opportunities. Competencies achieved will allow students to make relevant connections with work and/or post-secondary training.
Career Pathways Overview:
Fosters growth and success for every student by supporting their journey from early learning through high school completion and beyond, and enhances education through communication, engagement and relationships. ​
Career Pathways is about building awareness, understanding and readiness for a pathway that helps students acquire self-esteem, self-respect and fulfillment in life. ​
Conversations about Career Pathways will take place throughout a student's journey from K-12. ​
Students have the opportunity to explore numerous career pathways and possibilities which develops their knowledge, skills, attitudes and values as they work towards entering post-secondary or the workforce. ​
Opportunities to personalize their learning, identify and explore their interests, manage transitions and build partnerships while developing competencies.
Grade K-4 Awareness ​
Students discover themselves by understanding their likes and dislikes and become familiar with the idea of "work." Hands-on learning opportunities and awareness-building resources emphasize the process of exploration over a final destination. ​
"Who am I?" ​
"What are my personal characteristics?" ​
"What is possible for me?" ​
"How do I like to learn?"
Grade 5-9 Understanding ​
Students begin to understand opportunities available to them and connect those opportunities to interests they identified in the Awareness stage. During this time, students explore and reflect on a variety of experiences to help them plan their next steps. ​
Make plans and map out how to get there (Goal Setting) ​
Gain hands-on experience ​
Think about "next steps"
Update your PowerSchool information
The EIPS Correction and Verification Form is now available online through your PowerSchool Parent Portal. Use the form to access and update your child's records information—including address, parent and guardian information, emergency contacts and medical information. Reviewing the form and submitting updates ensures the school has the most up-to-date information regarding your child.
When reviewing the form, pay close attention to all listed phone numbers, email addresses and emergency contact information. Also, if you recently moved, now is the time to ensure the Division has your updated address. Throughout the year, the Division and school uses the listed information to communicate with families about important information, including updates, the latest news and event.
EIPS Correction and Verification Form
Review and update the form by Sept. 22, 2022.
For more information about the PowerSchool Correction and Verification Form, contact the school office at 780-922-2066.
Calling All Parents: Annual General Meetings are Coming Soon!
We are so lucky to have a hardworking, creative, and industrious core group of volunteers who make magic happen at our school. We would love to have even more parents join these fun groups!
We are excited to meet with our council in person! We will continue to provide a virtual link to include parents who might not be able to attend in person. This link will be shared on our website one day prior to the meeting.
We will be holding our school council meeting on September 13, 2022 at 7 p.m. followed and Ardrossan Elementary Parent Support Association (AEPSA) meeting at 8 p.m.
These will be important meetings to attend as we will be holding elections for the key positions in each group including the roles of President, Vice-President, Treasurer, Secretary, Communications Officer as well as members at large.
We hope to see you there! 
Upcoming meetings: 
Canadian Parents for French (CPF) - September 19 at 7 p.m.
Counsellor's Corner
We would like to introduce our new counsellor at Ardrossan elementary, Katharina Staub. If you need to contact her, please feel free to email her at katharina.staub@eips.ca or call the school at 780-922-2066.
Parents Make the Difference
Each month we will include some articles with some great tips and strategies for parents. Here is this month's featured article:
Parent-teacher communication is key for student achievement
Studies consistently show that family engagement in education is linked to students' academic success. When teachers, parents and students work together, anything is possible!
The family-school relationship is just like all relationships—it requires trust, effective communication and respect. To get off to a great start:
Set the tone. Show your interest by participating in back-to-school events. Introduce yourself to the teacher and exchange contact information. Ask how you can support learning at home. Fill out and return school forms promptly. And let your child know that you and the teacher are on the same team.
Share information throughout the school year. Tell the teacher if there are any changes at home, such as a new sibling or a divorce, that may affect your child in the classroom.
Communicate respectfully. Polite requests get better results than demands. A helpful tip is to use the word we instead of you. "How can we stay in touch to help Alex?" The teacher is your partner, not your opponent.
Remain positive. When you talk with the teacher later in the year, you will likely learn about your child's strengths. Be prepared to hear about weaknesses, too. React calmly and remember: You and the teacher both want your child to be successful.
Reprinted with permission from the September 2022 issue of Parents make the difference!®  (Elementary School Edition) newsletter. Copyright © 2022 The Parent Institute®, a division of PaperClip Media, Inc.