Back to all posts
Posted on
Bison Tales - September 25, 2020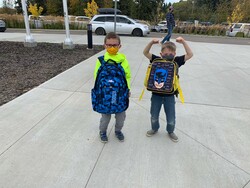 The first three weeks of school have been full of many exciting moments from the first day of having kids back in the building to getting used to the many new procedures involved in safely sharing our school space. 
In spite of the flurry of activities, we do not want to forget to take some time to acknowledge a significant moment in our lives as an Ardrossan family. As many of you know, it was a year ago on September 30 that our dear colleague and beloved teacher, Mr. Frederickson, passed away. He was a person who touched many of our lives and his presence is still felt throughout our community. 
Always a prankster, Mr. Frederickson never passed up the opportunity to gently tease a student or to make a terrible pun. Truly, I think he invented the original "dad joke"! Although he had many interests ranging from comic books to gardening, perhaps one of his biggest interests was in maintaining relationships with those he loved. He cultivated shared topics with every person he met, finding unique ways in which to build a personal connection. Whether you talked about your favourite food or a good movie you just watched, Mr. Frederickson knew how to make you feel like you mattered. 
We know that Mr. Frederickson mattered to many and it is for this reason that we hope to provide students and staff with opportunities to celebrate our memories of him in a safe and supportive environment. Our counsellor, Mrs. Bashaw, will be available to support any students or community members who may experience feelings of loss or grief at this time.
We will also have the opportunity to celebrate superheroes as a tribute to Mr. Frederickson during our Read In week. Finally, we will be collecting any cards or letters for the Frederickson family throughout the month of October to be delivered later on in the month.
We hope that you will join us in remembering Mr. Frederickson and in celebrating all of the wonderful things he taught us in his time at Ardrossan Elementary. 
Respectfully,
Helene Hewitt & Kyla Harding
Principal & Assistant Principal
Great Happens Here
TABLE OF CONTENTS
Week At a Glance
Action
Pay School Fees Online
Orange Shirt Day - September 30
Opportunity
Not to Late to Donate to Terry Fox
Read In Week - October 5 to 8
Mental Health Supports
Information
What Do I Do If My Child is Sick?
Parents Make the Difference 
WEEK AT A GLANCE
| | |
| --- | --- |
| Monday | First day of Hot Lunch! Yum! |
| Tuesday | An amazing day of learning! |
| Wednesday | |
| Thursday | Just your average learning day! |
| Friday | |
ACTION
Pay School Fees Online!
The first quarter school fees for in-school students are now added to parent accounts. All fees are due each quarter, 14 days after being posted. Any credits on account are automatically applied to reduce fees owing.
To access your fees, please log in to the PowerSchool Parent Portal and go to "Student Fees." There you can view your fees and pay online using Visa, MasterCard or INTERAC Online—when available from your financial institution.
If circumstances exist where you are unable to pay your student fees, you can apply to have fees waived by submitting an Application for a Waiver of Fees. The application deadline is Dec. 15, 2020.
If you have any questions about your fees, please contact our Business Manager Coleen Pearson at coleen.pearson@eips.ca or at 780-922-2066.
Orange Shirt Day - Every Child Matters - September 30
Orange Shirt Day is a time to hold space and remember the Indigenous children who were taken from their homes and placed in residential schools. On this day, we honour those who have been lost and recognize the traumas and pain of the survivors. 
As a way of honouring the tens of thousands of Residential School Survivors, Ardrossan Elementary students, staff and community members are invited to wear orange shirts on September 30 as a way of showing that "every child matters".
To learn more about Orange Shirt Day, check out these free resources:
OPPORTUNITY
Not Too Late to Donate to Terry Fox Foundation
We were so proud of our students who participated in the Terry Fox Run/Walk today! It was great to keep his legacy alive!
It is not too late to make a donation to the Terry Fox Foundation. Just visit our school fundraising page online to make a donation. We are hoping to raise $3000! You can even get a tax credit! Together, we can all make a difference! 
Read In Week - October 5 to 8
This year, our Read In Week theme is Read Around the World of Ardrossan! Since our opportunities for travel around the world are limited, Read In Week will help us to visit far away places through books! We hope to travel the globe from the comfort of Ardrossan.
This year, our events include:
Daily read alouds & Book Talks:
students will listen to a great book being read aloud each day during the morning video announcements
students and staff will be interviewed about their favourite books throughout the week
Superhero - A tribute to Mr. Frederickson
Starting on Monday, classes will discuss the meaning of a superhero. The students will learn that superheroes come from all over the world including the community of Ardrossan. We will have a read aloud 

promoting this theme 

and classes can create cards for their personal hero.

On Thursday, students can dress up as their favorite superhero. We will have Drop Everything and Read during the day

.

 
Frederick the Bison Reads
Where is 

Frederick reading today? Each day throughout the week, Frederick will be spotted reading in different locations throughout the school. Pictures will be on the morning announcements to promote reading.

 
Family Reading Picnic Contest
Every year, parents are invited to join us at school to read with their children over the lunch hour. As visitors are not permitted in the school this year due to health guidelines, we will be asking families to submit pictures of themselves sharing their favorite book while enjoying a picnic. Extra points go to the most creative locations! All submissions will be entered into a draw. The draw will be on Thursday Oct. 8 for $10 Indigo Gift Cards.

 
Mental Health Supports
Living through a pandemic can bring challenges and stresses. If you are experiencing some challenges with your child at school, we invite you to reach out to our school counsellor, Madison Bashaw at madison.bashaw@eips.ca or at 780-922-2066.
Here are some additional tools that you can access if your family requires a little extra support!
INFORMATION
What Do I Do If My Child is Sick?
We know that the process for dealing with illness is more complicated than ever this year! When should you go for a Covid test? When should your child stay home? When can they return to school? These are all valid questions! 
Elk Island Public Schools has created a handy one page document that shows you what to do and when. We encourage families to review it in order to determine when to keep your child at home:
Parents Make the Difference
Check out this week's article to support parents in helping their child to learn and grow:
Help your child bounce back and learn from mistakes
Mistakes are a part of life. It probably won't be long before your child makes one on a homework assignment or test—and that's OK.
What matters is how children and parents respond to those mistakes. Instead of glossing over your child's errors, help him learn from them. Research shows that when parents and teachers encourage students to learn from their errors, those children do better in school.
Fixing mistakes shows kids they can improve—that "smarts" aren't something they either have or they don't. Intelligence can be increased. And when students understand their errors and don't repeat them, they become more optimistic about their own brainpower.
When reviewing your child's work, first point out what he did well. Then, to help him learn from his mistakes:
Point them out. Rather than saying, "Don't worry—you'll do better on the next math test," ask if he understands why his answers were wrong. If so, have him correct them. If he's not sure, offer suggestions or encourage him to ask his teacher for help.
Praise progress. Did he miss only two problems on his latest math test? After reviewing his mistakes, remind him that he's improving. Talk about how paying attention to past mistakes—and correcting them—made a difference.
Reprinted with permission from the September 2020 issue of Parents make the difference!® (Elementary School Edition) newsletter. Copyright © 2020 The Parent Institute®, a division of PaperClip Media, Inc. Source: H.S. Schroder and others, "Neural evidence for enhanced attention to mistakes among school-aged children with a growth mindset," Developmental Cognitive Neuroscience, Elsevier B.V.