Back to all posts
Posted on
Bison Tales - September 24, 2021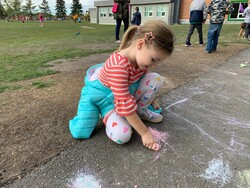 This week we practiced our first emergency evacuation drill of the year! We were incredibly impressed with how responsible our students were. All students took it seriously and exited the building calmly and quickly. The Grade Sixes set the tone by demonstrating composure as they left the school and all of our students listened quietly to roll call as staff took attendance. Even our littlest bisons were calm and collected with not one teary eye in sight! 
We were out of the school in less that two minutes and had accounted for all students at the muster point in under four minutes! 
This is yet another example of why we are so lucky to be a part of this community. Our Ardrossan students are excellent leaders and demonstrate citizenship and care for others, even when practicing a fire drill! Way to go, Bisons!
We hope you get out there to enjoy the nice weekend weather!
Great Happens Here!
Helene Hewitt & Kyla Harding
Principal & Assistant Principal
Table of Contents
Week At a Glance
Action
Orange Shirt Day
Tidbits from the Lunchbox
Opportunity 
Counsellor's Corner
Elk Island Youth Choir Auditions
Read In Week
Canadian Parents for French Meeting
Information
Guide to Reporting Student Achievement 
Volunteers
Parents Make the Difference 
WEEK AT A GLANCE
Monday

Off to a great week of learning!

Tuesday
Wednesday

Orange Shirt Day
Virtual Assembly for Orange Shirt Day 9:30 a.m.

Thursday

National Day for Truth and Reconciliation - school closed

Friday

Bison Tales posted online
ACTION
Orange Shirt Day
What is Orange Shirt Day and why do we acknowledge it?
Orange Shirt Day is a day of remembrance and and act of reconciliation that takes place annually across Canada. This is an opportunity to commemorate the history and legacy of residential schools. It grew out of a gathering of survivors held in Williams Lake, British Columbia in 2013, where Phyllis Webstad, who attended St. Joseph Mission residential school, shared her experience of having her new orange shirt taken on her first day. If you would like to learn more about Phyllis' story, click here to watch a short video. September 30 was picked as the date because it is the time children had to leave their homes and return to the schools.
What were residential schools and why are we talking about them so much recently? 
Residential schools operated in Canada for more than 160 years, with upwards of 150,000 children passing through their doors. Every province and territory, with the exception of PEI, Newfoundland and New Brunswick, was home to the federally funded, church-run schools. The last school closed in Saskatchewan in 1996. First Nations, Métis and Inuit children were removed, often against their will, from their families and communities and put into schools, where they were forced to abandon their traditions, cultural practices and languages. The residential school system was just one tool in a broader plan of "aggressive assimilation" and colonization of Indigenous Peoples and territories in Canada. To view a short video timeline of residential schools in Canada from Historica Canada, click here.
It is important that we learn more about these upsetting events in Canada's history as a means of acknowledging the hurts, of healing and of moving forward together in a spirit of reconciliation and cooperation.
How will Ardrossan Elementary participate in Orange Shirt Day and the National Day for Truth and Reconciliation?
Our school will participate in Orange Shirt Day on September 29, 2021. We encourage all community members to wear orange on this day. If you don't own an orange shirt, you can still be a part of the event by wearing an orange ribbon or another item of clothing in orange. We will have ribbons available for students who may need them.
We will also hold a short virtual assembly about Orange Shirt Day at 9:30 a.m. on September 29 which we will live stream to all classrooms. The assembly follows a script that was prepared by our Elk Island Public Schools First Nations, Métis and Inuit consulting team which is appropriate to an elementary aged audience. Any parents who would like to preview the script or videos being shown on that date can contact Mme Hewitt. The assembly video will be posted on our website after the assembly.
Our students will also have opportunities to discuss the topic in class and participate in various classroom activities such as decorating paper versions orange shirts or hearts to display in the school.
What help is available to former residential school students?
The National Indian Residential School Crisis Line is available for former residential school students and includes emotional and crisis referral services. Services are available around the clock and can be accessed by calling 1-866 925-4419.
Tidbits from the Lunchbox
Thank you to everyone who placed an order for the October menu. The first day of hot lunch service is October 4! 
Just a reminder to all families (old and new) that for the past couple of years now The Lunchbox made a decision to eliminate our usage of single use plastics. Therefore no cutlery will be provided so please use your weekly order reminder emails (they come out on Sundays) to plan accordingly during the week so that your child will be equipped. 
If you missed out on ordering, the next menu for November will be open coming up on October 4-14. 
OPPORTUNITY
Counsellor's Corner
Hello AEL Families,
This first month back at school is often a time when parents seek out community supports as they get back into the swing of the school year routine and cope with changes it may bring. For this reason, I wanted to share a little more about some of the supports available to you through our community partners at Family and Community Services (FCS) and Strathcona County. 
As always if you have any questions or concerns please reach out to me at the school. I am in the office Monday-Tuesday-Wednesday, but if you leave me a message on a Thursday or Friday I will do my best to get back to you the following Monday.
Working with you,
-Madison Bashaw M.Ed
AEL School Counsellor 
Family and Community Services (FCS) has a main intake line, which is designed to streamline referrals and make accessing support a simpler process. Anyone can call this number to get supports or information for themselves or for others. Professionals may also call looking for information on behalf of a student, individual or family.
The number is 780-464-4044 or visit www.strathcona.ca/wellbeing  
This free service is available Monday and Friday 8:30 a.m. to 4:30 p.m. and Tuesday to Thursday 8:30 a.m.to 8 p.m.
Supports are offered over the phone, virtually, or through scheduled in-person appointments (dependent on needs and situation).
How does it work?
When an individual calls FCS, they will speak with a staff member who will listen to understand the caller's story and stay curious with focused questions to make sure appropriate referrals are being made. The team can also do "warm hand-offs" or make connections with other agencies on behalf of the caller when that level of support is needed. Additionally, FCS has specific 'in-house' supports that may be utilized including counselling and parenting support. 
The staff will screen for safety, as well as work on action plans (including safety planning if needed) to help the individual or family identify and take next steps, using a strength-based approach.
The Social Supports team consists of Solutions Navigators, Counsellors, and Family Resource Facilitators. They work together to provide the best support possible to community, leaning into one another's skill sets and areas of expertise. 
FCS also offers many universal group programs for all ages and stages of life. There is something for everyone!
Counselling
If counselling is identified as a possible support for the individual or family, the staff member will put through a referral (with consent) for a call back typically within the same day. It is a "walk-in" model so participants are seen in the order they call in. In some cases, participants may be offered a scheduled in-person appointment when phone or virtual support do not meet the need. 
Counselling services are delivered in a single session format and are action oriented, and solutions focused. This means that participants cannot request specific counsellors or work with a counsellor long-term. They can, however, access the supports as needed. For some participants, the FCS counselling program might serve as a step towards accessing longer term mental health supports through other organizations such as AHS or private counselling services. 
Counselling fees are "pay what you can afford", scaling from $0-90 per session. 
Family Resource Network
Parenting is a journey, and everyone needs help sometimes. We offer a range of FREE parenting supports and services including:
workshops to learn new skills and address common parenting challenges
information and resources to promote child and youth development
1:1 parent led coaching to enhance parenting skills and family well-being
options for in-person, virtual, or phone support
Information on child and youth development
Working through parenting challenges
Supporting unique parenting plans
Connecting to community resources
In-home and virtual parenting support
Programs for Parents and Caregivers
Programs for Children and Youth
Elk Island Honour Choir Auditions!
Hello Bison families, Elk Island Honour Choirs has extended their auditions until Friday Oct 1. There was high interest in music classes and I ran out of cards to hand out.  The audition is over the phone (Sing Happy Birthday and echo a few things) and our school population sings well enough to be accepted easily! Visit www.elkislandchoirs.ca to book a spot!
Musically yours, 
Mrs. Pretzlaff
Read In Week
Did you know that Read In Week is coming? The first week of October will mark another great celebration of Reading! The theme this year is To Each Their Own Story!
We will have a week of fun events planned to celebrate reading and to share our own stories! Stay tuned for next week's Tales to learn more fun details about what we have in store for the Bison community!
Canadian Parents for French (CPF) - Save the Date!
Our first virtual CPF meeting of the year is scheduled for October 4 in the evening! More details to follow!
INFORMATION
Guide to Reporting Student Achievement
Do you have questions about how students are assessed? Would you like to know more about how marks and grades are determined as well as what we do when summative assessments are missing or incomplete? 
To learn more about these topics, please read our 2021-2022 Guide to Reporting Student Achievement. All specific dates for report cards, student-parent-teacher conferences and student demonstrations of learning will be posted on our website in our school calendar!
Volunteers
We are happy to welcome volunteers back in our school this year! We know that parents and guardians are our partners and the work you do by volunteering in classrooms and other events like field trips makes our school a better place! We know it takes a village to raise a child, and we are happy to have more villagers helping out!
Elk Island Public Schools has a few requirements in place for those who are choosing to volunteer at school. First of all, volunteers will need to have a purpose for being at the school such as being a classroom helper in kindergarten or being a supervisor for a field trip. Before volunteering, we ask that you fill out the EIPS Volunteer Confidentiality agreement to understand the parameters for your time at our school. You can print off a copy of this form by clicking here.
Finally, before your volunteer date, you will need to show Mme Hewitt proof of vaccination or a recent negative COVID-19 test. Simply drop by the office and show Mme Hewitt your paperwork from the AHS site or pharmacy that provided the vaccination or a printed copy or online vaccination record from the Myhealth app or website. You are then good to go! If you have further questions about this topic, please contact Mme Hewitt.
Parents Make the Difference
Each month we will include some articles with some great tips and strategies for parents. Here is this month's featured article:
Are you teaching your child how to be resilient?
All children face obstacles. Encouraging resilience helps kids overcome them. Resilient students deal with challenges in positive ways—at home and in school.
Answer yes or no to the questions below to see if you are helping your child develop resilience:
Do you give your child plenty of opportunities to make decisions? It's a skill that improves with practice.
Do you listen to your child when he is trying to make a decision without solving the problem for him?
Do you talk to your child about how you find a solution when you are faced with a problem? 
Do you discuss your child's strengths and encourage him to draw on those strengths when he's facing challenges?
Do you remind your child how he has successfully handled tough situations in the past?
How well are you doing?
Mostly yes answers mean you are helping your child become more resilient. For no answers, try those ideas from the quiz.
Reprinted with permission from the September 2021 issue of Parents make the difference!®  (Elementary School Edition) newsletter. Copyright © 2021 The Parent Institute®, a division of PaperClip Media, Inc.