Back to all posts
Posted on
Bison Tales - September 20, 2019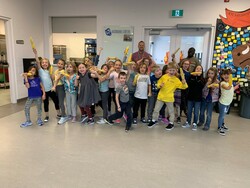 This week was special for many reasons! 
Our Hot Lunch parents treated us to a day of corny fun! They purchased, cooked, and served each class in the school some delicious corn on the cob for our Épluchette de blé d'inde (Corn Husking Festival). We saw many smiley faces and buttery cheeks as students devoured this tasty treat! Thank you to all of our amazing parent volunteers for making this happen!
We also have the  opportunity to come and watch some great movies in the great outdoors for free tonight at our Ardrossan Outdoor Movie Night! Drop by for some treats at the concession at 7 p.m. and then stay for Toy Story 4 at 7:30 p.m. followed by Aladdin @ 9 p.m. Thank you to the many parent volunteers for organizing this event in partnership with Three Seasons Landscaping. 
Great Happens Here
TABLE OF CONTENTS
Week At a Glance
Action
French Summer Reading Books
Pay School Fees Online
Opportunity
Terry Fox Run - Friday, September 27, 2019
Circle of Security - Parenting Support Sessions
Information
Emergency Procedures - Staying Safe at Ardrossan
Student Drop Off & Pick Up
Picture Day - September 23 and 24
Parents Make the Difference 
WEEK AT A GLANCE
Monday

Alternate ECS Picture Day
Fire Safety Inspection

Tuesday
Wednesday

Elk Island Public Schools Principal & Assistant Principal Leadership meeting in our gym 

Thursday

Just your average learning day!

Friday

Terry Fox Assembly at 2:30 p.m. followed by our school run
Bison Tales posted by 3 p.m.
ACTION
French Summer Reading Books
In June of last year, we sent home French summer reading books with all of our French Immersion students. We would love it if you would send those books back to school so that we can save the trees and reduce copying for this year's summer reading program. 
Students who bring back their summer reading books will be eligible for some prizes! Bring in those books!
Pay School Fees Online!

School fee information for the 2019-20 school year is expected to be posted on the PowerSchool Parent Portal by late September. All fees are due within 30 days of being posted. To access your fee information, simply log in to the PowerSchool Parent Portal and go to "Student Fees." There you can view your fees and pay online using Visa, MasterCard or INTERAC Online—when available from your financial institution.
Don't forget to log in to the PowerSchool Parent Portal regularly throughout the year. Fees are often added to your child's account to cover the cost of certain school activities such as field trips, class projects, athletic-team fees and more. 
If circumstances exist where you are unable to pay your student fees, you can apply to have fees waived by submitting an Application for a Waiver of Fees. The application deadline is Dec. 15, 2019.
For more information about school fees, waivers and payment deadlines visit eips.ca/schools/fees. Alternatively, contact Leanne Tachuk, Business Manager at Ardrossan Elementary at 780-922-2066.
OPPORTUNITY
Terry Fox School Run
This year marks the 39th anniversary of the Terry Fox Marathon of Hope. Our school will once again be participating in the National School Run Day which is set for Friday, September 27, 2019. On this day over 6000 schools across Canada will be participating in the Terry Fox Run. Each school is encouraged to have the students within the school participate in a 30-minute walk/jog/run.

On September 27th we will be assembling in the gymnasium at approximately 2:30 p.m., where we will have a short presentation about Terry Fox and his Marathon of Hope. We will then proceed outside (rain or shine) where the entire school will participate in our walk. We invite any and all parents to join us in our activity.
Finally, Terry Fox asked all Canadians across this great country of ours to donate a single dollar to his cure cancer cause 30 years ago and in doing so would raise nearly 30 million dollars. We too are asking that each student in the school bring $2.00 (or a greater monetary donation of your choice) to your child's classroom teacher on or before September 27th to support this very worthy cause.
Thank you so much for your efforts and support. We look forward to seeing you on September 27.
Circle of Security - Parent/Caregiver Sessions
Are you being challenged with your child's behaviour? Are you wanting to learn more about the emotional needs of your child? You may want to attend the Circle of Security sessions. 
For more information, click here.
INFORMATION
Emergency Procedures - Staying Safe at Ardrossan Elementary
Did you know that we follow a variety of safety protocols at our school? We practice a variety of safety drills including Emergency Evacuation, Hold & Secure, Lock Down, and Shelter In Place. These drills help us to be proactive and have a well-executed plan in the event of an emergency.
For a description of our safety drills and procedures, please click here.
We are also committed to ensuring that our school operates with safety in mind. We are happy to work with our Fire Inspector who helps to make sure that we understand and follow necessary fire safety regulations. 
We also follow safety regulations for ensuring that our school is free from hazards or unsafe practices that could result in injury. 
If you notice anything that may be hazardous, please email Mrs. Hewitt at helene.hewitt@eips.ca so that we can assess the issue and find a quick solution. Together, we can make sure that everyone is able to learn in a safe and caring environment!
Student Drop Off and Pick Up
At our school we value student safety. It is for this reason that we ask you to not drop off your children before 8:25 a.m. We do not have staff supervising the common areas such as the Gathering Area nor the outdoor playgrounds. Teachers are busy preparing for a full day of learning and are not available to supervise students in the classroom at that time.
Arriving after 8:25 a.m. ensures that all students are safe and cared for. Bus supervision begins at 8:25 a.m. and we ensure that all of our students get inside safely in time for the 8:40 a.m. bell and the start of classes.
If you have extenuating circumstances that make it difficult for you to drop your child off after 8:25 a.m., please contact the office and we will work with you to find solutions. 
Picture Day - September 23 and 24
Smile! Picture Day is almost here! Alternate ECS will have their pictures takes on September 23 and the whole school will show their pearly whites on September 24. We hope to take pictures outside weather permitting. Comb that hair and get your best smiles ready!
Parents Make the Difference
Each week we will include some articles with some great tips and strategies for parents. 
Click on a link to read the articles that interest you: