Back to all posts
Posted on
Bison Tales - September 17, 2021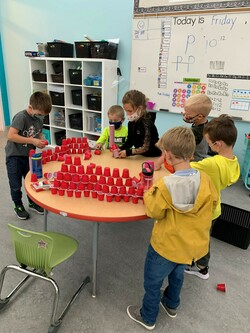 Today our school participated in the Terry Fox Run in a show of support for Cancer research. It was great to see our students out there running and remembering his legacy.
As I watched our Terry Fox assembly video, I was reminded of my days as an elementary student when we learned about Terry Fox. I remember the teacher wheeling in the TV that was bolted down to the cart with an attached VCR. That's right! We had graduated from film reels to VHS tapes by that time!
I vividly remember watching footage of Terry Fox as he ran across Canada and I recall not really understanding why it was such a big deal. At a young age, I don't think I wrapped my head around the incredible will power and stamina that it would take to run on an artificial leg all day, every day while battling a disease.
It wasn't until much later that I realized that Terry Fox was truly heroic. He continues to inspire me as he represents resiliency and hope. I am still in awe of how he was able to reframe his own cancer diagnosis as an opportunity to do some good. Instead of giving into fear and despair, he became an agent of change and a symbol of hope for Canadians spanning multiple generations - all at the tender age of 20!
We hope that you and your family are able to watch our assembly video so that you too can feel a part of the Marathon of Hope. If you get the chance, perhaps you might participate in your own run this weekend!
Great Happens Here!
Helene Hewitt & Kyla Harding
Principal & Assistant Principal
Table of Contents
Week At a Glance
Action
Canada Elections Polling Station 
Orange Shirt Day
Subscribe to our Calendar!
Opportunity 
Meet the Staff
Assembly videos
Information
Introducing Parent Leaders
Welcome to New Staff
Parents Make the Difference 
WEEK AT A GLANCE
Monday

Election Day - our school is a polling station!
Gym out of use to students

Tuesday
Wednesday
Thursday

Emergency Evacuation today in the afternoon

Friday

Bison Tales posted online
ACTION
Canada Elections
Did you know that our school is an important part of the democratic process? We are happy to host Canada Elections officers in our gym as a polling station!
We will likely have many citizens coming to cast their votes in our gym. We will continue to follow health and safety protocols to keep everyone safe including access to hand sanitizer, closing off access to the classrooms in each wing to the public, masking, and the use of the health screening questionnaire upon entry to the building. 
As we anticipate that we may have a higher volume of people parking at the school, we highly recommend that parents make good use of our drop off and pick up lane to quickly leave children and go as the parking may be full. Come prepared for a bit longer wait times!
With a little patience and an appreciation for our civic duty, we can make the best of the day together!
Orange Shirt Day
Our school will be honouring Orange Shirt Day on Wednesday, September 29. Students, staff and community members are encouraged to wear orange. We will also have opportunities for students to learn more about Truth and Reconciliation through a virtual assembly and in creating a school Heart Garden. Stay tuned for more information in next week's Bison Tales!
Sync the School Calendar to Your Calendar
Did you know you can sync the school calendar to your own calendar? You can. Simply, visit our calendar page and click on the applicable subscription option:
· Download to iCal
· Add to Google Calendar
· Subscribe to Calendar
NOTE: Options are located above the calendar.
Once you click on the desired subscription option, follow the instructions. Within seconds, your calendar will contain all of Ardrossan Elementary's important dates including holidays, school-closures days, planned activities, events and more.
OPPORTUNITY
Meet the Staff - Going Virtual
Today you will receive an email from your classroom teacher with a link to the Virtual Meet the Staff form. If you click on the link, you can watch the classroom teacher take you on a tour of the room as well as meet our counsellor, Mrs. Bashaw, and our music teacher, Mrs. Pretzlaff. The form also provides you with an opportunity to share your thoughts and request further contact by the teacher or other staff that may be of help to you and your family! 
Watch Our Virtual Assembly!
Today our students had a chance to gather together in grade group cohorts to watch the assembly video in the gym. Our video allowed students to meet all of our staff (without masks on!) and provided an overview of the 7 Habits of Happy Kids. 
The second half of our assembly helped students to understand more about Canadian hero, Terry Fox and his Marathon of Hope. After the video, each grade level went outside and participated in the Terry Fox Run.
Thank you to all of our families who donated a toonie for the Terry Fox Foundation. We will continue to accept donations all week and share the total that was raised in next week's Bison Tales.
Here is the video that students watched for our assembly:
7 Habits and Terry Fox Assembly Video
INFORMATION
Introducing Our Parent Leaders
Thank you to all of our parents and guardians who attended our first virtual School Council and Ardrossan Parent Support Association (AEPSA) annual general meetings on September 14, 2021.
We were so impressed to have such a great turnout! It is never too late to join our parent groups so please drop by at our next virtual meeting taking place on October 12, 2021. 
Congratulations to our parent leaders who were elected to positions in one of our parent groups as follows:
School Council
| | |
| --- | --- |
| President |  Darren Wright |
| Vice President |  Vania Lloyd |
| Secretary |  Jami McLaren |
| Media Manager |  Jill Herbert |
AEPSA
| | |
| --- | --- |
| Chair |  Vania Lloyd |
| Vice Chair |  Tina Zerebeski |
| Secretary |  Kari Ludwig |
| Treasurer |  Val Ulliac |
| Media Manager |  Jill Herbert |
Welcome New Staff
Our Bison herd continues to expand! Due to increased enrollment at our school, we are pleased to welcome some new staff members to our team! Val Ulliac will be joining our PALS team as an educational assistant. Jeanine Komant has shifted from PALS to our kindergarten team as an educational assistant. Finally, we would like to welcome educational assistant, Katelynn Towell, who will be working closely with our Grade Three team. Go, Bisons!
Parents Make the Difference
Each month we will include some articles with some great tips and strategies for parents. Here is this month's featured article:
Family meetings promote communication and closeness
The pandemic altered the day-to-day life of families all over the world. Social distancing, disruptions to school and work routines and an overall sense of uncertainty all add stress to family life. Fortunately, family meetings are an effective way for family members to counteract stress by connecting, addressing concerns and having some fun.
    For successful family meetings:
Meet regularly at a convenient time. For instance, Tuesdays after dinner, over dessert.
Keep meetings short—about 30 minutes or less. (But if the family is having fun, don't stop!)
Have parents lead meetings. You should make sure rules are followed and have the final say on big decisions.
Designate someone to take notes at each meeting. This will help everyone remember what was discussed or decided.
Discuss family news, concerns, goals and successes. Reward accomplishments.
Give everyone a chance to speak. No one interrupts anyone else. Each person's opinion deserves respect.
Don't use meetings as a time to criticize. Discipline problems should be handled separately.
Include a fun activity. Play a short game, sing a song or learn a tongue twister.
Brainstorm ways to improve. Ask family members how they think the meeting went and see if they have any suggestions for improvement.
Reprinted with permission from the September 2021 issue of Parents make the difference!®  (Elementary School Edition) newsletter. Copyright © 2021 The Parent Institute®, a division of PaperClip Media, Inc.