Back to all posts
Posted on
Bison Tales September 16, 2022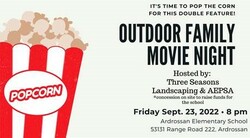 Hello Bison Families,
What an amazing week!
Thank you to everyone who attended our Meet the Staff event, it was so good to have families in our building. A huge shout out to our amazing hot lunch team who served freshly baked muffins and coffee.
We also had our first School Council and AEPSA meetings of the school year. We had an incredible turnout, we are so fortunate to have so many people volunteering their time in support of our school. Thank you, we appreciate you all. For more information regarding these groups such as meeting minutes, and the newly elected executives please visit this link.
This afternoon our school gathered together as we held our first assembly and participated in the Terry Fox Run in a show of support for Cancer research. It was great to see our students out there running and remembering his legacy.
Lana Lastiwka and Tandy Atchison
Principal & Assistant Principal
WEEK AT A GLANCE
September 19 - 23, 2022
Monday

CPF (Canadian Parents for French) meeting 7:30 p.m. (hosted at Ardrossan Junior/Senior High)
Hot lunch begins

Tuesday
 
Wednesday
 
Thursday

Emergency Evacuation drill today in the afternoon
October Hot Lunch order deadline

Friday
Ardrossan Movie Night
Calling all Ardrossan Families! Our Family movie night is only ONE week away! We will be showing Minions: Rise of Gru followed by Lightyear starting at 8:00 PM Friday September 23 right at the elementary school! It's a free event so no need to buy tickets. Bring your most comfortable outdoor wear including blankets and pillows!
Our AEPSA group will have a concession with a pre-sale with the following link:
We will have chips, popcorn, chocolate bars, pop, coffee/hot chocolate, Gatorade, water and candy cups available for pre-sale and at the event itself. Cash or debit/credit accepted.
We are also looking for volunteers to help make this year's concession fundraiser at the Ardrossan Elementary Outdoor Movie a success. If you are available to help out please use the link below to sign up. 
https://www.signupgenius.com/go/8050E4FADAF2FA4F85-ardrossan
Tidbits from the Lunchbox
Thank you to all the parents who stopped by the kitchen this week on Meet the Teacher for a muffin and a coffee, it was wonderful to see everyone old and new!  
The October menu ordering for Hot Lunch is underway. Please submit and pay for your orders by September 22. Special order in day with Nitza's Pizza is on October 21. Click www.aeslunchbox.com to order now.
COBS Supports Ardrossan Elementary
Did you know that if you mention our name (Ardrossan Elementary) at both Cobs locations in Sherwood park when you buy your delicious bread, croissants or pastries, a portion of the cost comes back to our fund raising group?
Next time you're in the store, simply mention that you support Ardrossan Elementary at check out!!!
Mabel's Labels Supports Ardrossan Elementary
Who here buys Mable's Labels to label all their children's belongings for school?
Did you know that we have an ongoing fundraiser with the company? Simply click on the link below, click on the "support a fundraiser" tab and type in Ardrossan Elementary. It's that easy! Our school will get a portion of each sale.
Counsellor's Corner
We would like to introduce our new counsellor at Ardrossan elementary, Katharina Staub. If you need to contact her, please feel free to email her at katharina.staub@eips.ca or call the school at 780-922-2066.
Update your PowerSchool information
The EIPS Correction and Verification Form is now available online through your PowerSchool Parent Portal. Use the form to access and update your child's records information—including address, parent and guardian information, emergency contacts and medical information. Reviewing the form and submitting updates ensures the school has the most up-to-date information regarding your child.
When reviewing the form, pay close attention to all listed phone numbers, email addresses and emergency contact information. Also, if you recently moved, now is the time to ensure the Division has your updated address. Throughout the year, the Division and school uses the listed information to communicate with families about important information, including updates, the latest news and event.
EIPS Correction and Verification Form
Review and update the form by Sept. 22, 2022.
For more information about the PowerSchool Correction and Verification Form, contact the school office at 780-922-2066.
Parents Make the Difference
Each month we will include some articles with some great tips and strategies for parents. Here is this month's featured article:
Manage your child's screen time by creating a family media plan
Digital devices are an important part of our world— and can be very appealing to kids. Technology helps your child discover new ideas, connect with others and access educational information for school.
However, too much recreational screen time can negatively affect schoolwork, health, activity levels and face-to-face communication skills.
To help your child strike a healthy balance, experts recommend creating a personalized family media plan that answers the following questions:
What devices do I want my child to have access to?
Where will devices be allowed and where will they be off-limits?
How much time will my child be allowed to use them?
Will the same rules apply during weekends and school breaks?
What content is appropriate for my child to access?
How will I maintain consistency?
What consequences will there be for misusing devices?
What example am I setting through my own use of technology?
Reprinted with permission from the September 2022 issue of Parents make the difference!®  (Elementary School Edition) newsletter. Copyright © 2022 The Parent Institute®, a division of PaperClip Media, Inc. Source: Ways Parents Can Manage Kids' Technology Use, QuickTip Brochure, The Parent Institute.