Back to all posts
Posted on
Bison Tales - September 10, 2021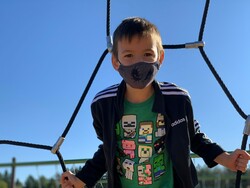 What a great second week of school!
We were so happy to welcome our littlest Bisons to school as our kindergartens joined us as a whole class this week for the first time! We were so proud of them as the took the bus and found their way to their teachers like pros! Congratulations to all for a wonderful first week of Kindergarten!
Now that we are all back in the swing of things in this more normal-ish school year, we have a chance to truly appreciate those special moments that make school such a great place! For example, our amazing Grade 6 students acted as leaders this week, by connecting with a Grade 1 buddy and walking with them to their bus at the end of the day. I saw older students taking the time to talk to their buddies to find out more about them as they walked to the bus. Our Grade 6 students took their jobs seriously and made sure that each buddy made it safe and sound!
Another great example of the warm and friendly culture that is engrained in our school can be found at lunch recess. Lunch recess is a time when students are allowed to choose the area in which they want to play as opposed to the other recesses when they must stay in a designated area as a grade level. When you watch the kids playing at lunch you see a variety of groupings where children play across grades in their division. We see Grades 4 to 6 mixing together peacefully and later on Grades 1 to 3 share the spaces without a hitch! We have even watched as siblings find each other at lunch to give each other a quick hug! 
You don't have to look far to see kindness and citizenship happening at Ardrossan! 
Great Happens Here!
Helene Hewitt & Kyla Harding
Principal & Assistant Principal
Table of Contents
Week At a Glance
Action
Smile! Picture Day is coming!
Update Your PowerSchool Information
Opportunity 
Meet the Staff
Tidbits from the Lunchbox
Calling All Parents: Annual General Meetings are Coming Soon!
Habit Overview and Terry Fox Assembly
Information
Counselor Corner
Mental Health Happenings
Welcome to New Staff
Parents Make the Difference 
WEEK AT A GLANCE
Monday

Collecting Toonies for Terry Fox starting this week
Picture Day for alternate kindergarten classes

Tuesday

Picture Day for the whole school

Wednesday
Thursday
Friday

Habit Overview & Terry Fox Virtual assembly
Grade levels participating in Terry Fox Run
Bison Tales posted online
ACTION
Smile! Picture Day is Coming
Get ready to wear your finest for school picture day on September 14 (whole school) and September 13 (alternate kindergarten). We will also have our picture re-takes on October 12-13, 2021. We can't wait to see our beautiful bisons as they have their portraits taken!
Update Your PowerSchool Information
The "Correction and Verification Form" is now available online through your PowerSchool Parent Portal. Families can use the form to access and update their child's information—including address, parent and guardian information, emergency contacts and any medical information. Reviewing the form and submitting updates ensures the school has the most up-to-date information regarding your child.
If you've recently moved, now is the time to ensure the Division has your updated address information. In particular, please also pay close attention to all phone numbers, email addresses and emergency contact information. The Division will undoubtedly continue to have important information to communicate with families throughout this school year, and we want to ensure you receive this information. If you haven't already done so, we ask all Ardrossan Elementary families to review their child's PowerSchool information by Sept. 22, 2021.
For more information about the PowerSchool Correction and Verification Form, contact the school office at 780-922-2066.
OPPORTUNITY
Meet the Staff - Going Virtual
This year we were really hopeful that we could invite families out to a fun in person Meet the Staff evening. However, with the latest restrictions announced by the province and the case count steadily rising, we want to ensure that we are taking the safety of the community seriously. We truly want to ensure that our school stays open for in person learning this year!
We will be offering a virtual Meet the Staff event. Your child's teacher will email you by September 17 with a video tour of the classroom as well as some key information for a smooth and rewarding school year. The teachers will also request that you fill out a form to let them know if you would like further opportunities to communicate by phone, video conference, or email. Teachers will follow up with your request for contact throughout the following week.
Tidbits from the Lunchbox
Thank you everyone for your swift response to registering for Hot Lunch! For those who haven't had a chance yet, please head over to www.aeslunchbox.com to register and the instructions are on the homepage as well! Registration and menu ordering continues until September 16th! We have decided to wait until October for the first menu to start and all orders and payments will be due by September 16th; any unpaid orders will be cancelled. 
Payment options this year will continue to be via PayPal or by etransfer to pay@aeslunchbox.com We are looking to go as paperless as possible and request that you DO NOT send a cheque or cash with your order to the school and keep it all online. Also please memo your name from your Hot Lunch account if it's different from your online banking account. This helps us post the payment to the right account. 
This year we will have the return of treat days and outside food vendors with our first Little Caesar's Pizza day on October 29 (watch for that on our November order menu) 
Unfortunately, with the new Covid measures introduced last weekend we, along with the school, feel it is best to cancel the BBQ fundraiser for Hot Lunch on Meet the Teacher Night September 14. For anyone who did place an order and paid for it we will be applying a credit to your account in the coming week. 
Are you looking to be able to help and volunteer with Hot Lunch delivery this year? Consider joining our parent ran board and attend our next meeting! Watch for more info about this date in the future Bison Tales. 
Any questions or concerns can be sent to info@aeslunchbox.com
Calling All Parents: Annual General Meetings are Coming Soon!
We are so lucky to have a hardworking, creative, and industrious core group of volunteers who make magic happen at our school. We would love to have even more parents join these fun groups!
We know that it can be a challenge to get out of the house to come to a meeting. This year, we hope that having virtual meetings may make it easier for parents to attend from the comfort and convenience of home. 
We will be holding a virtual school council meeting on September 14, 2021 at 6:30 p.m. followed and Ardrossan Elementary Parent Support Association (AEPSA) meeting at 7:30 p.m.
These will be important meetings to attend as we will be holding elections for the key positions in each group including the roles of President, Vice-President, Treasurer, Secretary, Communications Officer as well as members at large.
Of note, our current School Council president, JP Grebenc, has indicated that he will be stepping down from the role this year and so we will be in search of a new parent leader! Our parent group has accomplished many amazing feats during Mr. Grebenc's time as president and we would like to thank him for his dedication to the Bison family!
If you would like to attend either of these meetings you can join us online using this link. We will also post the link on our website using the yellow notification banner 15 minutes before the meeting begins. 
We hope to see you there! 
Upcoming meetings: 
Canadian Parents for French (CPF) - September TBD
Habit Overview and Terry Fox Hybrid Assembly
In line with some of our health and safety measures, we will be having a modified Habit Overview and Terry Fox assembly on September 17, 2021!
The assembly contents will be prepared in a virtual format including the introduction of our staff, a review of the 7 Habits of Happy Kids, and some time to learn about Terry Fox and the Marathon of Hope. 
During their gym period, each grade level will view the assembly video in the gym as a grade group. After finishing the video, the grade group will go outside and participate in a grade level Terry Fox run.
Although we hope to return to in-person assemblies where we invite our parent/guardian community to attend, we are not yet in a position to do so safely within the current restrictions.
We don't want families to miss out so we will post the assembly video online so that you can view it from home as well! As the health situation evolves, we will keep you posted as to when we are able to welcome you back into the building! 
INFORMATION
Counsellor's Corner
Welcome back! I'm excited to be the Counsellor at AEL for the first part of this year and I'm looking forward to working with students until after Christmas when Ms. Mitchell is set to return. I wanted to start off the year by sharing some important phone numbers for accessing mental health supports in the community.
Should you have any questions or concerns that you feel I could be helpful with, please contact me at madison.bashaw@eips.ca or call me at the school (extension #2).
~ Madison Bashaw M.Ed
AEL School Counsellor
Important Mental Health Numbers
"Trying to figure out how to keep your family safe and happy, all while balancing childcare, juggling finances, and work can feel impossible. If you're stressed about parenting, the pandemic or just need to talk, Strathcona County Family and Community Services is here to support you. Call us at 780-464-4044 or visit www.strathcona.ca/safesupportedconnected."
Addiction Helpline – 1-866-332-2322
Community Resources – 211 Alberta
Crisis Text Line - Text CONNECT to 741741
Family Violence – Find Supports – 310-1818
Income Supports – 1-866-644-5135
Kids Help Phone – 1-800-668-6868 or text CONNECT to 686868
Mental Health Helpline – 1-877-303-2642
Mental Health Happenings with Ms. Kowalchuk
Hey Bisons! 
I'm Gillian Kowalchuk and I'm excited to be your Mental Health Capacity Builder! My favorite activities are going on bike rides, snowboarding, or hanging out with my Frenchie, Daisy! My goal this year is to spread awareness and knowledge, while promoting positive mental health. You'll see me in some of your classes and drop-in lunch programs. Come say hello to me in room 164, or outside at recess! I can't wait to meet you and work together!
Parents Make the Difference
Each month we will include some articles with some great tips and strategies for parents. Here is this month's featured article:
Help your child build social awareness, appreciate diversity
Social awareness allows kids to feel compassion for others—even when their background and culture may be different. It's important for kids to see all people as equal and to accept and recognize the strengths of people of all races, ethnic groups, religions and abilities.
    To guide your child:
Remember that you teach by example. Have you formed opinions about people based on their color, religion or culture? If so, your child may, too.
Talk about your family background. Unless you are of First Nations, Métis or Inuit communities, someone in your family came here from another country. Remind your child that at some point, everyone has struggled to fit in.
Let your child know it's never OK to judge, insult or treat someone badly because of their appearance or background.
Talk about prejudice and stereotypes. Help your children recognize these behaviors when they see them.
Explain that rules and laws have not always treated everyone fairly, and that we are trying to change that.
Welcome people of many backgrounds into your family's life. Encourage your child to do the same.
Reprinted with permission from the September 2021 issue of Parents make the difference!®  (Elementary School Edition) newsletter. Copyright © 2021 The Parent Institute®, a division of PaperClip Media, Inc.