Back to all posts
Posted on
Bison Tales - October 8, 2021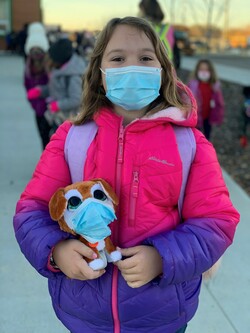 This week has been full of the excitement of Read In Week! We engaged in all sorts of fun reading activities from Drop Everything and Read moments, to read to your stuffy day! 
We caught kids reading everywhere! It was wonderful seeing students carrying books with them everywhere they went so that they could read for a few minutes here and there! Each day we learned a tongue twister and got to enjoy a wonderful book being read aloud each morning in the video announcements.
As I watched our students get excited about reading this week, I was struck by how amazing it is to watch children learn to read. It is such a complex task to be able to take the sounds we hear in words and attach them to squiggly symbols that when combined make words, sentences, and finally express big ideas! When we see our youngest students start to sound out words and identify them in simple books, it is inspiring to see the joy come across their faces when they realize that they can actually read the words! 
We hope that you were able to enjoy some of that Read In Week spirit by reading to your children at home. Even if Read In Week is coming to an end, you can keep that passion for reading going by building regular reading into you home life!
As you take a moment to enjoy Thanksgiving, we offer you this lovely read aloud of the book: Thankful by Eileen Spinelli. This sweet and simple book celebrates everyday blessings, practices thankfulness, and reminds children not to overlook the little things. 
Here's hoping that your weekend is fully of little moments of joy!
Great Happens Here!
Helene Hewitt & Kyla Harding
Principal & Assistant Principal
Table of Contents
Week At a Glance
Action
Join us for School Council and AEPSA!
Save the Date - Parent/Student/Teacher Virtual Conferences
Opportunity 
Tidbits from the Lunchbox
The Ardrossan Reading Minute Challenge
It is Almost Time for our Virtual Book Fair
Information
Creating a Culture of Wellness
Counsellor's Corner
Earth Rangers Virtual School Presentation
Parents Make the Difference 
WEEK AT A GLANCE
Monday
Tuesday
Wednesday

Picture Retakes
10 minute dance party across the school (for reading 70 000 minutes)

Thursday

Hat Day! (we earned it by reading 60 000 minutes!)
Habit #1 Virtual Assembly (by the Grade 1 students)
Keep tracking minutes read at home!

Friday

Emergency Drill #2 in the morning
Earth Rangers Virtual Assembly @ 1p.m. for Grades 1 to 6
Bison Tales posted online
ACTION
Join Us for School Council and AEPSA!
Our next virtual School Council and AEPSA (fundraising group) meetings are coming this Tuesday, October 12!
We will be meeting using Microsoft Teams starting at 6:30 p.m. using this link.
We hope to have a great conversation on some important topics!
You can see the agendas for the meetings by clicking on these links:
We hope to see you there this Tuesday!
Parent/Student/Teacher Interviews - Save the Date
We will be conducting 10 minute parent/student/teacher online interviews throughout the first week of November on October 19, 20 and 21 from 3:30-5:30 p.m. to discuss your child's progress in school before report cards are posted online on November 26.
On October 13, you can book a time slot by visiting School Interviews and using this code: Jnnpv 
We look forward to connecting with you soon!
OPPORTUNITY
Tidbits from the Lunchbox
All November menu orders need to be placed and paid by October 14. Extra special days include Little Caesar's day and Booster Juice! 
All Little Caesar Pizza kit orders must be placed and paid for by October 15.  Don't forget there are prizes for the top 3 families that sell the most kits! Pick up will be November 4 from 3-6 p.m.
Happy Thanksgiving! 
The Lunchbox
The Ardrossan Reading Minute Challenge is Still On!
As part of our Read In Week activities, our school has been trying to read 100 000 minutes together! This week we managed to read a grand total of 70 792 minutes! Congratulations! This week we added 5 minutes to the last recess when we hit the 50 000 minute mark. 
On Wednesday, we will have a 10 minute whole school dance party as a reward for reaching 70 000 minutes! We'll play fun dance tunes over the intercom and everyone will be invited to dance in classrooms and hallways!
On Thursday, we've earned a Hat Day for reaching 60 000 minutes!
We hope to continue with our reading minute challenge for the rest of the week. If we reach 90 000 minutes before the end of the week, we'll celebrate with a Pajama Day! 
Keep reading at home and mark the minutes read in your child's agenda! We hope to party it up in pjs soon!
It is Almost Time for our Virtual Book Fair
Don't forget, our school is hosting a Scholastic Book Fair from October 12- October 25 
The Scholastic Book Fair is a fantastic way to continue to give our students access to the books they want to read. All purchases benefit our school and earn Rewards that can be redeemed for books and Education Resources for our classrooms and school library.  
When it's time to shop, visit our school's Virtual Book Fair Extension site using this link. 
Before our Fair begins, click the link to: 
SAVE it to your browser 
WATCH videos of popular new titles 
PREVIEW our Featured Books 
Watch for news leading up to our Scholastic Book Fair! 
Happy Reading!  
Ms. Thompson, Library Technician AEL
INFORMATION
Creating a Culture of Wellness
Ardrossan Elementary will be starting a new project over the next few months with our mental health capacity builder, Ms. Kowalchuk and counsellor Mrs. Bashaw. Classes will be invited down to room 164 to decorate a paper feather, and add one word that they feel represents what they contribute to the school culture. Once all of the classes have completed their feathers, they will be assembled into a large set of wings and displayed in our hallway.
The wings will serve as a visual representation of the uniqueness and beauty each student brings to the school culture of Ardrossan. Students and staff can also use the wings as a photo backdrop! Listen to the morning announcements for when your class will be invited down to room 164 to start!
Counsellor's Corner
This month has brought some new stresses and anxieties for many students and families. I've had many parents and students seeking resources for mental health and anxiety over the past few weeks. Below are several resources you may find helpful in supporting children with anxiety, worry and stress.
AHS October Mental Health Newsletter
Coping with Anxiety-For Students
Strategies for Supporting Children Ages 5-8 with Anxiety
~Madison Bashaw, M.Ed
AEL Counsellor 
Earth Rangers Virtual Assembly Coming Soon!
We are thrilled to share that our school was nominated by Imperial Oil for a free virtual assembly with the Earth Rangers which will take place on Friday, October 15 at 1 p.m. for all students in Grades 1 to 6!
We understand that it is an excellent online experience with presenters sharing animals facts with live animal ambassadors. We look forward to learning more about Earth conservation and the importance of a healthy ecosystems and biodiversity! 
Parents Make the Difference
Each month we will include some articles with some great tips and strategies for parents. Here is this month's featured article:
Set the stage for effective communication
Parent-school communication is critical to students' success. Whether your child is a stellar student, an average student or has special needs, it's important to establish a positive relationship with her teachers.
Teachers need families to:
Stay in touch with school staff. Attend meetings and follow up to see how things are going. Always contact the teacher if you have concerns.
Arrive prepared. Before meetings, write down notes so you are sure to remember everything you want to say and ask.
Be optimistic. Remind yourself that you and the school have the same goal: your child's success. A positive attitude makes conver­sations more productive.
Listen attentively. Keep an open mind as you focus on the teacher's view, which may be different from yours. Ask for clarification about anything you find confusing.
Remain calm. It's natural for parents to feel defensive about their children. If you accidentally say something you regret, just apologize and refocus on solutions.
Offer suggestions. You know your child best. Explain factors the teacher may not know about and what you think would help your child most.
Never give up. If an initial meeting doesn't get results, try again. You could also ask for another staff member to join you.
Reprinted with permission from the October 2021 issue of Parents make the difference!®  (Elementary School Edition) newsletter. Copyright © 2021 The Parent Institute®, a division of PaperClip Media, Inc.