Back to all posts
Posted on
Bison Tales - October 30, 2020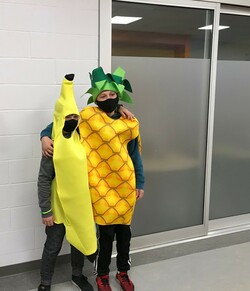 This year is a year like no other with health and wellbeing at the front of our minds at all times. We have many new procedures and processes that we follow to ensure that our schools can stay open and serve our students for as long as possible.
This makes me think about Habit 2: Begin with the End in Mind. If we are doing all of these things to keep our doors open, we must think that school is important. If school is important, what might be the the end goal for an elementary school? Is it to develop deep thinkers who are passionate about learning? It is to grow future leaders and responsible citizens for our communities? Is it to foster compassion, kindness and a community spirit that will bolster our economic future ethically? I would suggest it is all of these things and more! 
Ardrossan Elementary believes in success for all, after all, that is our motto! Our staff is beginning with the end in mind this year by investing heavily into teaching each and every child to read. We are reading research and investing in instructional practices that will have the biggest impact on helping every child to become a successful reader! 
Why reading? According to an American study released this year, students who do not read proficiently by third grade are four times more likely to leave high school without a diploma than proficient readers. Besides that startling fact, reading unlocks many other benefits such as increased empathy, more sophisticated vocabulary, stress reduction, memory improvement, higher levels of focus and stronger analytical thinking skills to name a few! 
We understand that reading is a key skill to unlocking the learning in every other area of the curriculum and it can have a huge impact on a child's self-esteem. That is why were are deeply invested into doing everything possible to ensure that each child experiences success in reading! If our end goal is success for all, then we need to make sure that each child is able to read!
Helene Hewitt & Kyla Harding
Principal & Assistant Principal
Great Happens Here
TABLE OF CONTENTS
Week At a Glance
Action
Inclement Weather - Be Prepared!
Not too Late to Book an Interview!
Time to Fall Back - Don't Forget to Set Your Clocks!
Drop Off Lane
Opportunity
Halloween Virtual Parade
Bottle Drive Next Week!
Fundscrip: Buy a Gift Card to Support Our School! 
Reach Out Speak Out Campaign
Virtual Remembrance Day Ceremony and Poppy Campaign
Information
Updated COVID-19 Guidelines
Reading Tip of the Week
Parents Make the Difference 
WEEK AT A GLANCE
Don't forget to set your clocks back on Saturday!
Monday

Bottle Drive begins! Drop off bottles in the trailer by the front doors!
Parent/Teacher phone interviews 3:30 - 5:30 p.m.

Tuesday

Parent/Teacher phone interviews 3:30 - 5:30 p.m.
Bottle drive!

Wednesday

Early dismissal
Bottle drive!

Thursday

Parent/Teacher phone interviews 3:30 - 5:30 p.m.
Little Caesar's Pizza Kit pick up day (you can also drop off bottles too!)

Friday

Virtual Remembrance Day ceremony
Last day before November Break
Bottle Drive
ACTION
Inclement Weather - Be Prepared!
With the winter season almost here, we want to remind families to dress children appropriately for the weather when getting ready for school or the bus. The weather often changes unexpectedly throughout the day, so please select suitable outerwear and ensure your child is prepared for changing conditions. During these Covid times, going outside is an important opportunity for students to get fresh air and be spaced apart enough to take mask breaks! We will definitely being going outside as much as possible so please send your child with warm winter gear!
If inclement weather conditions occur, Elk Island Public Schools (EIPS) advises families of any bus cancellations using various communications tools, which may include automated-telephone messages, alerts posted on www.eips.ca and school websites, through the Bus Status app, Twitter, Facebook and on Versatrans My Stop. Morning bus cancellations are posted on www.eips.ca by 6:30 a.m.
Decisions regarding bus cancellations are guided by EIPS administrative procedures that states, "school bus service may be suspended…when Environment Canada reports a temperature of -40 C." Other reasons for suspending or delaying school bus services include adverse weather and poor road condition. When school bus services are suspended, schools remain open to students. EIPS believes families have the right and responsibility to make choices for their children based on their beliefs and perceptions of safety during times of inclement weather.
For more information, contact EIPS Student Transportation at 780-417-8151
It's Not Too Late to Book an Interview
You can still book a phone interview with your child's Grade 1-6 teacher! Simply visit School Interviews and use this code: 36yrz 
You will get to chose a date and time and indicate the phone number we should use to call you. Don't miss this wonderful opportunity to connect and discuss your child's progress before report cards go out on December 4!
Kindergarten students will have interviews later in November. Keep reading the Bison Tales for more information later on in the month!
Time to Fall Back - Don't Forget to Set Your Clocks!
It is the time of year when we set our clocks back an hour! This Saturday evening, remember to reset all of your clocks so that you are not too early for school next week!
Drop Off Lane
Thank you to our amazing community for doing such a great job of using our drop off lanes before and after school. Mrs. Harding and I are so appreciative of everyone for being kind and thoughtful to each other as you take turns pulling in and out of the lanes. For the most part, things are working smoothly! 
We have one small request from our families to make it work even better! Please remember to not stop in the driving lane, the left side, of the drop off lanes. That lane is for moving traffic and when parents stop to wait for children there it blocks the entire drop off lane. It means that parents cannot pull out of stalls to leave and cars cannot pull up to the free stalls at the front of the lane because a car is blocking the driving path. If you find yourself in the driving lane and there are no free stalls, we encourage you to drive through and make a second pass. The stalls free up pretty quickly so it shouldn't take that long. Thank you!
OPPORTUNITY
Halloween Virtual Parade
We missed seeing all of our families in the Gathering Area while our school does our traditional Halloween parade! We didn't want you to miss out on the fun so click here to watch a virtual parade from the comfort of home! We hope that you enjoy it!
Bottle Drive
Once again, the Ardrossan Elementary Parent Support Association (AEPSA) is conducting a bottle drive during the week of parent/teacher interviews. Drive by the school at any point that week and drop off your bottle in the trailer parked out front! All of the proceeds from the bottle drive will be used to support events or activities a the school such as providing funds for virtual field trips or for our playground replacement fund.
Thank you to the Wright family for donating a trailer in which we collect the bottles and for doing the drop off at the depot on behalf of the school! We value our parent leaders!
Fundscrip
We are excited once again to introduce a new, on-going fundraising program that will not cost you one penny and help support our playground vision.
Ardrossan Elementary Parent Support Association (AEPSA) purchases plastic cards from large, well known retailers at a discount. The parent association resells the cards to you at face value. The large retailers pay AEPSA a percentage back for the purchase of each gift card.  
Some of the participating retailers are; Superstore, Sobeys, Safeway, Wal-Mart, Home Depot, Home Hardware, Rona, Esso, Petro-Canada, Shell, Canadian Tire, Chapters, Shoppers Drug Mart, Starbucks, Staples, La Senza, iTunes, Gap, Winners, Marks, Cineplex Odeon, M&M Food Market, McDonalds, Montana's, Swiss Chalet, The Keg, Boston Pizza, Subway, Amazon.ca and many more.
How the Program Works:
First week of every month, your child will receive a paper order form from their teacher, online order at www.aeslunchbox.com (Click on the fundraising tab) or download the order form from the weekly Bison Tales and send it back with your child.
Determine which cards you would like to purchase in what denominations
Complete your order online, or return the completed order form in an envelope with a cheque, cash, or credit card number within 2 weeks
Your order will be ready for pick up the last week of the month.
The average family spends $6,000 - $7,000 on groceries each year.  If 100 families can purchase $100 per week on all household purchases from participating retailers (GAS, FOOD), the school can earn $20,000 this school year.
                               (ie)        $     4,000            per family for one school year
                                               x     100            families
                                            $ 400,000
                                                          5%         average return per merchant
                                            $   20,000            Profit for the School
Let's all participate by just pre-planning your regular weekly household purchases at retailers offering to support our school.
Reach Out Speak Out Campaign
November is Family Violence Prevention Month in Alberta. Strathcona County is supporting the community by highlighting #WHERETOTURN as part of a campaign called Reach Out Speak Out. Family violence is the attempts by one person in an intimate relationship to dominate and control the other. Family and Community Services is here to support - if family violence is affecting your life, learn where to turn or how to help someone you care about. We all have a role to build a safe, supported and connected community. strathcona.ca/SCspeakout You can also call 780-464-4044.
Join Us for a Virtual Remembrance Day Ceremony
On Remembrance Day, Canadians pause to honour the men and women who have served and continue to serve Canada during times of war, conflict, and peace. More than 2,300,000 Canadians have served and more than 118,000 made the ultimate sacrifice.
The poppy is the symbol of Remembrance Day. In the run-up to Remembrance Day, replica poppies are sold by the Royal Canadian Legion to provide assistance to veterans.
Even though we cannot gather in large groups this year, we believe that it is important for our community to participate in a Remembrance Day ceremony. Remembrance Day is an opportunity to stop and reflect and to provide our students with the opportunity to learn about the importance of peace and democratic freedoms.
Ardrossan Elementary will be holding a virtual ceremony that will be livestreamed in every classroom at 10:30 a.m. on November 6. This virtual ceremony will observe the traditions and protocols that we would follow during a typical school year. We would like to invite parents and community members to tune in to our livestream as well. We will post the link on our school website @ 10:15 on November 6. Click on the link and the live stream will begin at 10:30 a.m.
Students will still receive a poppy to wear on November 6 that was provided by our local Tofield Legion. We have left the poppies to sit for 72 hours prior to handing them out following safety procedures. This year, we are unable to collect cash donations, however, if you would like to make a donation that supports our local veterans and their families, you can do so at the Royal Canadian Legion website.
INFORMATION
Updated COVID-19 Guidelines
Following updated guidelines from the province, a few updates were made to the EIPS COVID-19 Guidelines. For the most part, the changes relate to the province's new COVID-19 Screening Questionnaire for students. Below is a summary of the province's new screening questionnaire for students:
There is a new COVID-19 Screening Questionnaire for students that applies to all children in pre-kindergarten to Grade 12, including individuals 18 and over who are attending senior high.
Symptoms of runny nose and sore throat are no longer mandatory isolation symptoms for Albertans under 18.
The new primary COVID-19 symptoms for children are:

cough,
fever,
shortness of breath
loss of taste or smell

If a child has any primary symptoms, they must isolate for 10 days. The child can only return to school before the 10-day period if they received a negative COVID-19 test result and symptoms resolve.
If a child has ONE of the secondary symptoms—chills; sore throat or painful swallowing; runny nose or congestion; feeling unwell or fatigue; nausea, vomiting, diarrhea; unexplained loss of appetite; muscle or joint aches; headache; or pink eye:

The child needs to stay home and monitor symptoms for 24 hours.
After 24 hours, if the symptom improves, they can return to school—testing isn't recommended.
After 24, if the symptom worsens, or if additional secondary symptoms develop, the child must continue to stay home, and testing is recommended. The child can return to school when symptoms resolve.

If a child has TWO or more of the secondary symptoms—chills; sore throat or painful swallowing; runny nose or congestion; feeling unwell or fatigue; nausea, vomiting, diarrhea; unexplained loss of appetite; muscle or joint aches; headache; or pink eye:

The child must stay home, and testing is recommended. The child can return to school when symptoms resolve.
The changes do not apply to individuals who are over the age of 18. As such, EIPS staff must continue to complete the regular daily COVID-19 Screening Questionnaire before entering an EIPS building daily.
We will continue to keep you posted as the guidelines continue to evolve!
Reading Tip of the Week - Sounds Matter!
As we have been sharing all month, the ability for kids to hear and manipulate the sounds in spoken words (also called phonemic awareness) is a key skill that children need to master in order to learn to read. If you cannot correctly hear the sound in a word, you cannot attach that sound to the letter or letters that make the sound. Hearing the sounds in words is the first step to learning to read!
Check out these simple ideas on how to practice phonemic awareness at home:
You can find many more fun ideas on the Brainspring website. 
Parents Make the Difference
Check out this week's article to support parents in helping their child to learn and grow:
Communication is the key to a strong parent-teacher team
Research shows that parent engagement in education has a positive effect on students' academic success. When teachers and parents work together, the results can be powerful. To foster effective two-way communication:
Set the tone. It's natural to have questions for your child's teachers. Ask questions respectfully. Show support for your child and the class, and encourage the teacher to keep you informed.
Be positive. When you talk with the teacher, enjoy hearing about your child's strengths. But also prepare to hear about her weaknesses. Remember to remain calm. You and the teacher both want your child to do well. Addressing struggles is the only way to find solutions.
Role-play. Some parents are nervous about talking with the teacher. If this describes you, consider practicing with a friend. If you aren't comfortable speaking English, have an interpreter join you. Still worried? Using email may put you at ease.
Choose words carefully. It's more effective to make polite requests than demands. A helpful tip is to use the word we instead of you. ("How can we stay in touch to help Jordan?" is less aggressive than "You should tell me if Jordan is falling behind.") Remember: The teacher isn't your opponent; she's your teammate.
Reprinted with permission from the November 2020 issue of Parents make the difference!® (Elementary School Edition) newsletter. Copyright © 2020 The Parent Institute®, a division of PaperClip Media, Inc