Back to all posts
Posted on
Bison Tales - October 25, 2019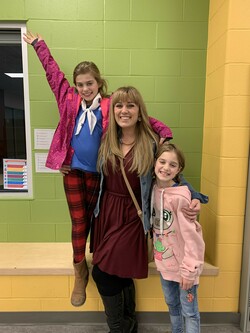 It was such a treat to see all of the smiling faces at our Parent/Student/Teacher Conferences this week. We heard many celebrations of student success as well as great conversations about ways in which home and school work together to make great things happen for kids. It was great fun to see the excitement about buying books and assorted goodies at the Book Fair and we enjoyed visiting with former students as they came to the evening with their siblings. Truly, this community is a family.
As I walked around the school, I was overcome with a sense of gratitude to find myself in such a supportive and caring community. Thank you to the Wright family for generously collecting our bottles on both evenings on behalf of the Ardrossan Elementary Parent Support Association (AEPSA). Thank you to Mrs. Hamelin for organizing AJS students to sell Canadian Parents for French (CPF) memberships at the door. Finally, thank you to Ms. Thompson (and her mother) for running our Book Fair throughout the evening.
While we are thanking people, we would like to thank our entire Bison Family for the many well wishes, thoughtful cards, gifts, and Go Fund Me donations that have been shared with the Frederickson family. His memorial space was well attended and provided comfort to many students, staff and families as we move forward in our grieving process.
As the weather cools and the snowy season is upon us, we hope that you have a moment to cuddle up with loved ones over the weekend.
Helene Hewitt
Acting Principal
Great Happens Here! 
WEEK AT A GLANCE
| | |
| --- | --- |
| Monday | Alternate ECS and Grade 6 picture retakes today |
| Tuesday | Whole school picture retakes today |
| Wednesday | Emergency Evacuation Drill #3 at some time today |
| Thursday | Halloween parade @ 12:45 p.m. |
| Friday | |
Action
Halloween Parade - A Spooky Good Time
Halloween Treats - Staying Safe
Daylight Savings - Don't Forget to Fall Back
Opportunity
Never Lose Items with Mabel's Labels
Calling All Parents - Join Canadian Parents for French!
COBS Dough Raiser for Ardrossan Elementary
Parents Make the Difference
Information
Single Use Plastic Utensils
Student Leadership in Action - School Clubs
ACTION
Halloween Parade - A Spooky Good Time
Come and see all of the little ghouls and goblins prowl through the hallways for our Halloween parade on October 31 at 12:45 p.m. Parents are invited to join us in the Gathering Area to watch the fun! Boo!
Halloween Treats - Staying Safe
Trick-or-Treating provides students with many delicious treats! Please remember that we are a Nut Aware school and that students may not bring food items that contain nuts to school. This is to ensure that all of our students have a safe Halloween!
Daylight Savings - Don't Forget to Fall Back
Don't forget to turn back your clocks for Daylight Savings on Sunday, November 3! An extra hour to sleep in is always a treat!
OPPORTUNITY
Never Lose Items with Mabel's Labels
Does it drive you crazy that your child loses items? The AEPSA has a solution to that problem. Invest in Mabel's Labels to identify your child's items. Easy, quick and affordable. Click on Mabel's Labels and select the green Support A Fundraiser button. Scroll down and select Ardrossan Elementary School. Place your order and enjoy.
Calling All Parents - Join Canadian Parents for French!
When you hear Canadian Parents for French (CPF) you might be thinking, that is only for parents of French Immersion students! Would you be surprised to know that non-French Immersion parents can also buy a membership to CPF?
What does CPF do? 
Our CPF chapter is responsible for organizing, sponsoring, and hosting several important events at our school for ALL students. Did you know that they are responsible for the amazing Carnaval event that we have each March? They are also the organizers of our very popular Family BBQ at the end of each year. This parent group is devoted to providing meaningful cultural events for our Ardrossan community for all students in both English and French.
Why buy a membership?
Our school gets money back on each membership that is sold. Those funds go towards the many events sponsored by CPF as well as for scholarships and funding for cultural activities. You will also be able to access special community events for a discounted rate if you have a membership. 
Buy a membership and win Oil Kings tickets!
If you buy a membership between October 18 and November 30, you will be entered into a draw to win a four pack of Oil King tickets! Don't delay! Get those memberships!
How can I get one? 
Memberships are inexpensive and easy to purchase online. You can buy an Ardrossan Canadian Parents for French membership by clicking here. Make sure to choose SJ#670 Ardrossan in the School Jurisdiction drop down menu so that our school gets the membership benefits.
Cobs Dough Raiser for Ardrossan Elementary
Did you know that Ardrossan Elementary is signed up for the Cobs Dough Raiser program at the Sherwood Centre (Wye Road) COBS bakery? 
Next time you go to purchase something from COBS, mention Ardrossan Elementary School and they will donate 5% of the sale back to our school! 
Check out this flyer for more details!
Parents Make the Difference
Check out this week's article to support parents in helping their child to learn and grow:
Regular Exercise Boosts Your Child's Health & Academics
INFORMATION
Single Use Plastic Utensils
Did you know that every year, Canadians throw away over 3 million tonnes of plastic waste? About one-third of the plastics used in Canada are for single-use or short-lived products. 
In order to do our part to reduce plastic waste and prepare for the ban on single-use plastics, our office will no longer be providing plastic utensils for students. 
We encourage you to invest in a nice set of portable utensils that you can send in your child's lunch kit. There are many cute sets that come with Bento boxes that are available online. 
Thank you for helping us to reduce our negative impact on the environment!
Student Leadership in Action - School Clubs
Did you know that we have a variety of student leadership clubs at our school? Clubs are based on staff who volunteer to lead in areas of personal interest during recesses. This week, students watched a video to see what clubs are available and students in Grades 1 to 6 were able to complete applications to join clubs. These applications are due on Tuesday.
Staff leaders will let students know if they were included in a club next week. If students are not successful in joining a club, teachers will ensure that they have opportunities for leadership in areas of interest within the classroom. 
If you are interested in helping out with a club, please contact the Staff Leader(s) in charge of those clubs. We love help from the community!
This year's clubs are:
| | | |
| --- | --- | --- |
| Grade Level | Leadership Club | Staff Leaders |
| Grades 1-2 | Junior Art Club | Mrs. Thompson |
| Grades 1-6 | Little Bisons - Learning about First Nations, Metis and Inuit culture | Ms. Budney, Mrs. Grauman, Mrs. Ned, Ms. Wilson  |
| Grades 2-6 | Green Team - learning about the environment | Mme Foulds, Mrs. Samaratunga |
| Grades 2-5 | Apple Leaders - learning about healthy living | Mrs. Hill, Mrs. Ruptash |
| Grades 3-5 | Games Club - learning & playing games | Mrs. Harding, Mrs. Hewitt |
| Grades 3-6 | Art Club | Mme Bouchard, M. Wandji |
| Grades 3-6 | Card Club | Mr. Jap |
| Grades 3-6 | Gardening Club | Mrs. Samaratunga |
| Grades 3-6 | LEGO & Makerspace Club | Mrs. Thompson |
| Grades 3-6 | Sign Club - learning about sign language | Mrs. Starrs |
| Grades 4-6 | Cute Things Club - making cute things | Mrs. Hewitt, Mrs. McBride |
| Grades 4-6 | Library Club | Mrs. Thompson |
| Grades 4-6 | Play Core 2 (Lunch Bunch & Playground Pals) | Mrs. Ratcliffe |
| Grade 6 | News Crew (AETV) | Mrs. Massel |