Back to all posts
Posted on
Bison Tales - October 22, 2021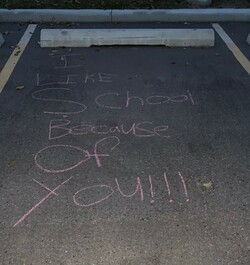 This week started off with an amazing surprise!
As staff pulled into the parking lot for our professional learning day, we were treated to some amazingly positive messages written to us in chalk! My parking spot had the words "You are an amazing leader" written in large capital letters. Other messages reminded us that we make school fun, that we make a difference and that we have great smiles! 
Talk about a reason to smile! I watched as various staff got out of their vehicles and walked up and down the parking stalls reading the messages. There were a few teary eyes, many smiles and much happiness from all of us! We sure felt special! We don't know who wrote us those messages but we really loved them! Thank you to the kind souls who spent time lifting our spirits!
This act of kindness reminded me to be grateful for the Ardrossan community. Like many of you, we have found this year to be both rewarding and challenging. To have members of the Bison family share their compassion with us renewed our spirits and strengthened our resolve. Together, we can face any challenge and come out of it stronger and more connected.
From the depths of our hearts, thank you, Bisons!
Great Happens Here!
Helene Hewitt & Kyla Harding
Principal & Assistant Principal
Table of Contents
Week At a Glance
Action
Staff Contact Information
Brightspace 101
Halloween Fun!
Opportunity 
Bottle Drive is Coming!
Virtual Book Fair Countdown!
Counsellor's Corner
Information
Bus Safety
Covid-19 Update
Improving Home School Communication
Parents Make the Difference 
WEEK AT A GLANCE
Monday

Emergency Evacuation Drill #3 

Tuesday

Colour Guard wear uniforms for filming for Remembrance Day

Wednesday

Bus Evacuation Drill
Little Elk Island Adventures in kindergarten

Thursday

Little Elk Island Adventures in alternate kindergarten

Friday

Halloween fun
Bison Tales posted online
ACTION
Staff Contact Information
We recently made changes to how families can contact Ardrossan Elementary staff.
If you'd like to reach out to your child's teacher directly, simply log in to your PowerSchool Parent Portal account. From the Grades and Attendance page, you can click on the name of any of your child's teachers to email them directly as needed.
To connect with school administration and main office staff, refer to the online contact form to send an email to the applicable person directly. From the online contact form, you can also send an email to report your child's absence.
If you're having trouble with your PowerSchool account, contact the school office. And, of course, we're always just a phone call away if you have questions or need assistance, 780-922-2066.
Brightspace 101
If a class is required to shift to online learning for 10 days, students will access their learning resources, meeting links and all classroom communication through Brightspace.
Did you know that there is a NEW parent mobile app that you can use for quick updates on student deadlines, grades and additions to your child's portfolio? This new app allows you to easily toggle between children and gives you notifications much like we used to have with SeeSaw or Remind apps! You can learn more about it by clicking on this link: Brightspace Parent & Guardian mobile app.
Additionally, here are some resources to supports parents and students as they familiarize or refamiliarize themselves with the Brightspace platform. Teachers will also be reviewing the Brightspace platform with students in class.
Halloween Fun!
This upcoming Friday is set as the day our little ghouls and goblins can come to school dressed up in their Halloween costumes. Please help us out by ensuring costumes include masks, are not too scary/grotesque for our youngest students, and are weapon free.
We know that classes have all kinds of fun events planned for the day. While we know traditional parties often involve food sharing, we are still not able to accept food items to be shared with a classroom. Students are encourage to bring in treats that they will enjoy themselves but that will not be shared with the rest of the class. 
We also would like to remind families that we are a Nut Aware school and we ask for your help in keeping students with nut allergies safe by not sending food that contain nuts to school. Thank you for always doing your part to create a safe and welcoming school for all!
OPPORTUNITY
Bottle Drive is Coming Soon!
Hey Bisons! Save those bottles for our upcoming bottle drive in the first week of November. Bring in a bag or two of bottles and place them in the trailer parked in front of the school from November 1-5! If you take a picture of your family dropping off bottles and post it on social media, you will be entered into a prize draw for a gift card!
All proceeds from our bottle drives go to the Ardrossan Elementary Parent Support Association (AEPSA) which are then used to for our playground enhancement project or for supporting events or resources for students at the school. 
Virtual Book Fair Countdown!
Dear AEL families, 
Our school's Scholastic Virtual Book Fair ends THIS WEEKEND - October 25!  
Let's continue to give our students access to the books they want to read! We are excited to provide this opportunity for families to shop together, from the comfort of home. 
Your investment in your reader also helps our whole school. All purchases earn Rewards that can be redeemed for books and Education Resources for our school's classrooms and library. 
When it's time to shop, visit our school's Virtual Book Fair site using this link.
I will ask that when our delivery comes will all the books purchased that your child could have the order number with them for pickup. Your order number can be found in your Confirmation Email after placing your order. 
Happy reading!  
Sarah Thompson, Library Technician AEL
Counsellor's Corner
Hello AEL Families,
I wanted to share some free, upcoming parenting events offered through the county.  
Inclusive Parenting
Not sure where to begin when talking to your children about current events or social issues? Join us to learn tips and ways that your family can adopt new practices, foster community inclusion, and explore age-appropriate conversations. Participants will be encouraged to be vulnerable, ask questions, and learn something new! Anyone who has children or youth in their life is welcome, whether you are a parent, a family member, or a service provider. 
Upcoming Session:
Raising Indigenous Allies on Wednesday November 17 at 6:00-7:30 PM (virtual). To register, visit www.strathcona.ca/familyresourcenetwork  
Newcomer Connector Event-Families new to Canada or new to Strathcona County, all ages welcome 
Join us online to connect with other newcomers, learn about services and programs available in Strathcona County, and explore topics that interest you! Thursday November 18, 2021, 1:30-2:30pm. To register, click here.
INFORMATION
School Bus Safety Week: October 17-23
Schools throughout Elk Island Public Schools (EIPS) are celebrating School Bus Safety Week October 17-23. The theme: Bus Rules Rock!, which focuses on the importance of being a responsible rider. Throughout the week, various activities are planned, including information sessions, bus-safety lesson plans and bus-evacuation drills.
As part of School Bus Safety Week, Ardrossan Elementary reminds students and families all Division school buses are equipped with a bus-pass scanner, GPS technology, the Child Check-Mate system and surveillance equipment, which allows Student Transportation to better monitor and manage its more than 160 buses. Families and students also have access to the Traversa Ride 360 app, a mobile tool to help determine the location of a bus, projected arrival times and when a child is scanned onto a bus.
For more information visit EIPS Student Transportation or contact 780- 417-8151.
COVID Updates
COVID-19 Contact Reporting:

Starting October 12, the Alberta Health Services will inform schools of COVID-19 cases who were infectious while on-site.
If the COVID-19 case was infectious while at school, close contacts will be informed by email.

At-home Learning:

Students in kindergarten to Grade 6 will shift to learning at home if there are three or more infectious cases in the class in a five-day period.
At-home learning will last for 10 calendar days. During this time, students will transition to online learning using Brightspace, the Division's online learning platform. Students aren't required to quarantine.
However, AHS recommends they avoid public places, monitor for symptoms and get tested if symptomatic.

Mandatory Vaccination for Division Employees:

As was shared in an email to all families, Superintendent Liguori announced that all EIPS staff, contractors and volunteers must be vaccinated or provide proof of a negative COVID-19 test by December 1, 2021

Travel over November Break:

As we approach November Break, it is important to note there are public health measures for unvaccinated children under 12 years arriving in Canada without Covid-19 symptoms. 
Although asymptomatic and not required to isolate, these children are still subject to some restrictions upon return including that they cannot attend school for 14 days. 
Here is the Government of Canada documentation outlining the health measures described above. 
Improving Home-School Communication
To enhance communication between families and schools, Elk Island Public Schools (EIPS) has developed a how-to guide entitled, "Communication Protocol for Schools." Topics include appropriate channels to use, standard formats and structures, timing and sequencing for regular and ongoing home-school communication, and ways to bring forward questions or concerns. The guide also offers useful tools and resources schools and families can use to enhance face-to-face meetings, email communication and various social media efforts.
Communication Protocol for Schools
Parents Make the Difference
Each month we will include some articles with some great tips and strategies for parents. Here is this month's featured article:
Performing chores can build responsibility and confidence
Research from a 75-year Harvard study shows that children who are given chores become more independent adults. However, many kids aren't required to do as much today as they were in the past. They may be missing out on regular opportunities to develop positive character traits that could help them in school.
To make chores a beneficial part of your child's schedule:
Choose carefully. Pick jobs that are challenging yet manageable for your child. Give your child clear, step-by-step instructions and a few chances to do the task with you before going solo.
Schedule chore time. Write it down on your family calendar and post it where everyone will see.
Limit rewards. If you give your child an allowance, separate it from chores. Everyone in your family should be expected to pitch in. Make comments like, "It helps keep our house tidy when you collect the trash! Thank you!"
Make work fun. Chores should not be intolerable or feel like punishments. Turn cleaning into a game by setting a timer to "beat the clock." Or listen to music or an audiobook.
Reprinted with permission from the October 2021 issue of Parents make the difference!®  (Elementary School Edition) newsletter. Copyright © 2021 The Parent Institute®, a division of PaperClip Media, Inc. Source: B. Murphy Jr., "Kids Who Do Chores Are More Successful Adults," Inc.