Back to all posts
Posted on
Bison Tales - October 22, 2020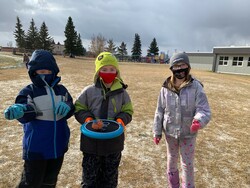 Can you believe that three years ago this month, we were celebrating the Grand Opening of our new building? It feels like it was only yesterday when Mrs. Whetstone, Mrs. Harding and I were attending regular meetings to help design the school and pick out furniture and prepare for the move! Now we find ourselves firmly settled into this beautiful space that feels like home.
Sometimes it is nice to look back and remember all of the incredible things we have accomplished in such a short time. We have so much to celebrate as a community. Not only have we established our community culture in a new building, but we have also continued to live the values that are so dear to the Ardrossan way of life such as showing compassion for one another and believing the best of intentions when interpreting the words and deeds of our community members. We have held each other up through hard times and we have laughed and teased each other as we face the challenges of staying safe while learning during a pandemic. 
When you stop and think of all that we have done as a Bison community while still smiling and feeling positive about life, it is pretty amazing.
It is no wonder that we say Great Happens Here!
Helene Hewitt & Kyla Harding
Principal & Assistant Principal
Great Happens Here
TABLE OF CONTENTS
Week At a Glance
Action
Intention to Continue or Change Attending Out-of-School Learning
Parent/Student/Teacher Interviews - Bookings Begin Monday!
Brightspace - A Useful Tool for Learners
Opportunity
Tidbits from the Lunchbox
Fundscrip: Buy a Gift Card to Support Our School! 
Flu Immunizations are Now Available!
Information
Reading Tip of the Week
Parents Make the Difference 
WEEK AT A GLANCE
Monday

Book your phone interview starting today!

Tuesday
Wednesday
Thursday
Friday

Halloween fun celebrated in class
Bison Tales posted
ACTION
Intention to Continue or Change Attending Out-of-School Learning Form
To all of our out-of-school learning families, don't forget to submit your intention form about your plans for the future! The deadline for the form to be returned has been extended to this Sunday, October 25. You can find the form through the PowerSchool Parent Portal.
Parent/Student/Teacher Interviews - Bookings Start Monday!
We will be conducting 10 minute parent/student/teacher phone interviews for students in Grades 1 to 6 throughout the first week of November on November 2, 3 and 5 from 3:30-5:30 p.m. to discuss your child's progress in school before report cards are posted online on December 4.
To book your phone interview visit School Interviews and use this code: 36yrz
Kindergarten students will have interviews later in November. Keep reading the Bison Tales for more information later on in the month!
Brightspace - A Useful Tool For Learners
As you may know, EIPS has recently adopted D2L Brightspace as our primary learning management system (LMS). The purpose of an LMS is to provide a virtual environment for teaching and learning. Having a platform like Brightspace will allow students and teachers to remain connected to their classrooms, even when they are not able to attend school.  
Brightspace is a tool for all EIPS families, not just those registered in out-of-school learning, as such many teachers have begun using Brightspace with their in-class students. If your child needs to login to Brightspace at home and need's your assistance, please refer to the student login tutorial below. Students will use their EIPS division assigned email and password to login at www.eips.brightspace.com. If your child is unsure of their login credentials, please contact your child's classroom teacher.  
As mentioned earlier in the month, parents are also able to access Brightspace for Parents. For more information refer to the Brightspace Parent Guide. 
OPPORTUNITY
Tidbits from the Lunchbox
Tidbits from the Lunchbox
Thank you to everyone who helped support this fundraiser by purchasing kits or sending donations. We sold over 750 kits! * Please note change to Pick up time! Pizza Kit PICK UP is now November 5, 3pm-7pm. There was a shipping delay on the cookie kits  and they will not arrive in Edmonton until Nov 4,  so to avoid a 2nd  delivery Little Caesar's  switched  us to November 5.* The school will be closed at 5 pm so we do not have the ability to store your kits for you. Make sure you have someone available to come grab your kits!
Grade 6 Students / Parents make sure to check out and order for your extra event Oct 30, 2020 click here www.aeslunchbox.com to access your extra order form.
Reminder, The LunchBox is not suppling cutlery this year due to the Covid-19 re-entry regulations, so please ensure you are sending reusable cutlery with your children to school each day. This week our office staff handed out disposable cutlery several times to students. Please, please, please help us by sending a spoon or fork daily in your child's lunch bag.
If your child is going to be away or you wish your child's lunch to be given to a sibling please email us as soon as possible at info@aeslunchbox.com with details. We cannot guarantee our kitchen staff will read messages or emails sent after 10 am. Also if your child will be absent for an extended period for Covid 19 recommendations, we will cancel and start crediting orders 24hours after receiving written notice. We do require you to advise us to restart lunch order for them.
The Lunchbox is helping Ardrossan Elementary Parents Support Association with their FundScrip Gift Card Fundraiser once again. Ordering can be done through the fundraising side of the website or paper forms are also accepted at www.aes.fundraiserorders.com. Funds raised will be used to help support our playground vision.
Note payments to be made to Aespa0@gmail.com or through the credit card option on the order form. 
Thank you to all staff and students who are making the delivery process easier.
The LunchBox Team
Fundscrip
We are excited once again to introduce a new, on-going fundraising program that will not cost you one penny and help support our playground vision.
Ardrossan Elementary Parent Support Association (AEPSA) purchases plastic cards from large, well known retailers at a discount. The parent association resells the cards to you at face value. The large retailers pay AEPSA a percentage back for the purchase of each gift card.  
Some of the participating retailers are; Superstore, Sobeys, Safeway, Wal-Mart, Home Depot, Home Hardware, Rona, Esso, Petro-Canada, Shell, Canadian Tire, Chapters, Shoppers Drug Mart, Starbucks, Staples, La Senza, iTunes, Gap, Winners, Marks, Cineplex Odeon, M&M Food Market, McDonalds, Montana's, Swiss Chalet, The Keg, Boston Pizza, Subway, Amazon.ca and many more.
How the Program Works:
First week of every month, your child will receive a paper order form from their teacher, online order at www.aeslunchbox.com (Click on the fundraising tab) or download the order form from the weekly Bison Tales and send it back with your child.
Determine which cards you would like to purchase in what denominations
Complete your order online, or return the completed order form in an envelope with a cheque, cash, or credit card number within 2 weeks
Your order will be ready for pick up the last week of the month.
The average family spends $6,000 - $7,000 on groceries each year.  If 100 families can purchase $100 per week on all household purchases from participating retailers (GAS, FOOD), the school can earn $20,000 this school year.
                               (ie)        $     4,000            per family for one school year
                                               x     100            families
                                            $ 400,000
                                                          5%         average return per merchant
                                            $   20,000            Profit for the School
Let's all participate by just pre-planning your regular weekly household purchases at retailers offering to support our school.
Flu Immunizations are Now Available!
With so many students having to stay home in response to possible Covid-19 symptoms, have you considered going for a flu immunization? This vaccine might be a way to reduce the likelihood that your child has to stay home or 10 days or longer if they have flu symptoms! Help our communities stay free of the flu by booking your flu immunization!
For more information on the Influenza Immunization program including how to book your appointment, visit this Alberta Health Link.
INFORMATION
Reading Tip of the Week - Phonemic Awareness
Throughout October we have been sharing tips and tricks for supporting your child with phonemic awareness skills. Phonemic awareness is the ability for children to hear the sounds in spoken words. Each individual sound is called a phoneme. For example, there are 3 phonemes (or sounds) in the word dog (/d/o/g). We now understand that children need to be able to hear the sounds in words and be able to manipulate them in order to become quick and efficient readers. As they learn the printed letters, those letters are matched up or mapped to the sounds they hear.  This is the first step to reading!
Here are a couple of simple ways you can have fun practicing phonemic awareness at home with your child:
Tips for Teaching Your Child About Phonemes
Playing with Word Sounds: Stretch & Shorten
You can find many more fun ideas on the Reading Rockets website. 
Parents Make the Difference
Check out this week's article to support parents in helping their child to learn and grow:
How to get the most out of parent-teacher conferences
Some parents say that the parent-teacher conference is one of the most valuable things they participate in all year. Whether in person or online, these one-on-one meetings are great for learning more about your child's strengths and weaknesses, and will give both you and the teacher a better idea about the year ahead.
To get the most from your meeting:
Talk to your child. Ask him to tell you what he thinks are his easiest and most difficult subjects—and why. Does he have any questions he'd like you to ask the teacher?
Make a list of things to tell the teacher. You know your child better than anyone else. For example, has there been a change in your family situation? Sharing some personal information will make it easier for the teacher to meet your child's needs.
Write down your questions. Ask things such as:

Is my child in different groups for different subjects?
Are my child's reading and math skills on target?
Does my child participate in class discussions?
Is my child working up to his ability?

Be on time. Teachers usually schedule conferences back to back. Promptness will allow you to take full advantage of the time the teacher has available.
Create an action plan. Ask the teacher what you can do to reinforce what your child is learning. Try to get at least one or two specific suggestions.
Reprinted with permission from the October 2020 issue of Parents make the difference!® (Elementary School Edition) newsletter. Copyright © 2020 The Parent Institute®, a division of PaperClip Media, Inc.