Back to all posts
Posted on
Bison Tales - October 2, 2020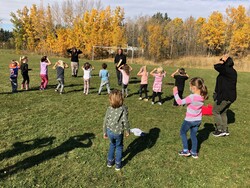 This week I've had some time to think about Mr. Frederickson and to enjoy some memories of him. I remember one day in particular when I sat in his classroom in the old building and we were talking about one of our shared favourite topics - comic books. We were both getting ready to attend the Edmonton Expo and Mr. Frederickson was telling me about his Wolverine costume. He was proudly showing off his impressive mutton chops that he had been carefully grooming all month. We often talked about superheroes, however, this particular time, I remember him talking about a recent X-Men comic about Wolverine as an old man that made an impact on him.
I recall Mr. Frederickson being fascinated with the idea of what it would mean to be an elderly superhero. Could old man Logan maintain the same strength and physical skill to continue as Wolverine into his twilight years? Is being a hero simply about being strong and having super healing powers? If those were gone, what heroic qualities would Wolverine still possess? I think Mr. Frederickson was as interested in the everyday human qualities that make people choose to act heroically as he was in the super human qualities of comic book heroes. Would Wolverine still be a hero if he didn't have super powers?  
Remembering this conversation has made me think more deeply about what it means to be a hero. Researchers, Franco, Blau, and Zimbardo suggest that heroism involves:
Acting voluntarily for the service of others who are in need, whether it is for an individual, a group, or a community
Performing actions without any expectation of reward or external gain
Recognition and acceptance of the potential risk or sacrifice made by taking heroic actions
In considering this definition of heroism, it is clear that we have many heroes in our Ardrossan community. People who quietly lend a helping hand to those in need, without expectation of acknowledgment. People who share their already small resources with people who have even less without hesitation.
I think Mr. Frederickson would have been proud of our community in the way we choose to act like heroes when times are challenging. As we approach our first hero-inspired Read In Week activity next Monday in tribute to Mr. Frederickson, we encourage you to take a moment to think of the everyday heroes in your life and to let them know how much you appreciate them.
Respectfully,
Helene Hewitt & Kyla Harding
Principal & Assistant Principal
Great Happens Here
TABLE OF CONTENTS
Week At a Glance
Action
School Fees: Now Available
Improving Home-School Communication
Opportunity
Tidbits from the LunchBox
Read In Week - October 5 to 8
Caregiver Education Series
Information
A Visit from Elder Wilson Bearhead
October is Dyslexia Awareness Month
Reading Tip of the Week
Celebrating World Teachers' Day - October 5
Parents Make the Difference 
WEEK AT A GLANCE
Monday

Read In Week Day 1 - Reading about a hero!
Start taking pictures of your family reading around Ardrossan to send in to school for a chance at a prize!
World Teachers' Day!

Tuesday

An amazing day of learning!
Look for Frederick the Bison reading in the school!

Wednesday
Thursday

Dress up like your favourite hero (from a book, comic or real life!)
Drop everything and read day (who knows when we'll announce it's time to read!)

Friday

Professional Learning Day - no school for students
Bison Tales posted
ACTION
School fees: Now available
School fee information for the 2020-21 school year is now posted on the PowerSchool Parent Portal. When you log on, you'll notice the fee schedule is different from previous years. Instead of a fee based on the entire year, fees are charged on a quarterly basis.
The fee schedule change accommodates students switching from out-of-school learning to in-school learning; the four-semester system in place at some schools, and possible fee adjustments if the province decides to transition to Scenario 2—partial return to school—or Scenario 3—the suspension of in-school classes. Fees for kits or equipment kept by the student are charged in full at the start of the course. 
Each quarter, you'll receive an email notification letting you know fees are posted on the PowerSchool Parent Portal. To access your fee information, go to "Student Fees" on PowerSchool. There you can view your fees and pay online using Visa, MasterCard or INTERAC Online—when available from your financial institution. All fees are due within 14 days of being posted. NOTE: School Fees apply to in-school learners only.
If circumstances exist where you are unable to pay your fees, you can apply to have fees waived by submitting an Application for a Waiver of Fees. The deadline is Dec. 15, 2020—if new to EIPS, the deadline is the latter of Dec. 15, 2020, or 45 days after registration.
For more information about school fees, waivers and payment deadlines, visit eips.ca and Ardrossan Elementary Fees Website Information. Alternatively, contact our school business manager, Coleen Pearson at 780-922-2066 or via email at coleen.pearson@eips.ca.
Improving Home-School Communication
To enhance communication between families and schools, Elk Island Public Schools (EIPS) has developed a how-to guide entitled, "Communication Protocol for Schools." Topics include appropriate channels to use, standard formats and structures, timing and sequencing for regular and ongoing home-school communication, and ways to bring forward questions or concerns. The manual also offers useful tools and resources schools and families can use to enhance face-to-face meetings, email communication and various social media efforts.
Communication Protocol for Schools
Most email communication from the Division will come from communications@eips.ca. From the school level, messages will often come from general.ael@eips.ca. We encourage families to add these email addresses to your address book or safe senders list to help prevent Division and school messages from filtering to a junk, spam or other folder in your email inbox. 
OPPORTUNITY
Tidbits from the Lunchbox
Little Caesars Pizza Kit fundraiser is back! Ordering is now open until October 15. The delivery of kits is booked for November 3, 3pm-7pm. Students should bring a Pizza Kit flyer home soon.
November's menu opens on October 5! Visit www.aeslunchbox.com to order. The menu closes on October 15. To avoid payments of cash or cheque we are offering e-transfer (auto deposit is now set up) and Pay-Pal payment options. Kindergarten classes you can now order!
We are not suppling cutlery this year due to the Covid19 re-entry regulations, so please ensure you are sending reusable cutlery with your children to school each day.
If your child is going to be away or you wish your child's lunch to be given to a sibling please email us as soon as possible at info@aeslunchbox.com with details. We cannot guarantee our kitchen staff will read Facebook messages or emails sent after 10 a.m. Also if your child will be absent for an extended period for Covid-19 recommendations, we will cancel and start crediting orders 24 hours after receiving written notice. We do require you to advise us to restart lunch order for them.
Thank you to all staff and students who are making the delivery process easier.
The LunchBox Team
Read In Week - October 5 to 8
Read In Week returns on October 5. The theme for this year is "Read Around the World." Since our opportunities for travel around the world are limited, Read In Week will help us to visit far away places through books! We hope to travel the globe from the comfort of Ardrossan. 
Through various activities, students—both in-school and out-of-school learners—will spend the week reading and learning how stories have the power to teach lessons, broaden perspectives and foster empathy. Some of the activities planned for Read In Week include:
Daily read alouds & book talks:
students will listen to a great book being read aloud each day during the morning video announcements
students and staff will be interviewed about their favourite books throughout the week
What Makes a Hero - A tribute to Mr. Frederickson
Starting on Monday, classes will discuss the meaning of a hero. The students will learn that heroes come from all over the world including the community of Ardrossan. We will have a read aloud 

promoting this theme 

and classes can create cards, pictures or message to give to their own personal hero.

The office will be collecting any cards, pictures, or messages for the Frederickson family throughout the month of October.

On Thursday, students can dress up as their favorite hero - either a superhero, a hero from a book or someone who is a hero in their daily lives! We will have Drop Everything and Read during the day

.

 
Frederick the Bison Reads
Where is 

Frederick reading today? Each day throughout the week, Frederick will be spotted reading a different picture book in different locations throughout the school. If Frederick shows up in your class, we invite you to read the book and then call the office and we'll take a picture for the morning announcements.

 
Family Reading Picnic Contest
Every year, parents are invited to join us at school to read with their children over the lunch hour. As visitors are not permitted in the school this year due to health guidelines, we will be asking families to submit pictures of themselves sharing their favorite book while enjoying a picnic. Email your pictures to general.ael@eips.ca Extra points go to the most creative locations! All submissions will be entered into a draw. The draw will be on Thursday October 15 for the chance at winning one of ten $10 Indigo Gift Cards.

 
Read In Week is a Divisionwide initiative held annually to encourage a lifelong love of reading and to enhance literacy awareness among students, staff, parents and community members. We invite all our families to participate in Read In Week with us by reading yourself, with your child or with someone in the community.
Don't forget to share what you've learned throughout the week using the hashtag #eipsreads. We hope you discover some amazing stories.
For more information visit eips.ca and La Semaine de Read In
Caregiver Education Series
Alberta Health Services is hosting a series of virtual caregiver information sessions focused on ways to support students' mental health. The sessions are free and geared toward parents, caregivers, teachers and community members who want to learn more about challenges impacting children and adolescents. Session topics include anxiety, ADHD, depression, self-harm, technology, teens and teaching leadership skills, communication, resiliency, and more
Visit the Division calendar or Caregiver Education to see the monthly caregiver sessions.
INFORMATION
A Visit from Elder Wilson Bearhead
We were so happy to welcome some friendly faces to our school this week. Elder Wilson Bearhead and his wife Charlene Bearhead presented their newly published Siha Tooskin Knows book series to our students. We enjoyed the lovely weather outside or a socially distanced space in the gym as we listened to stories and spent time with Elder Wilson and his wife to deepen our learning about Indigenous peoples and cultures.
October is Dyslexia Awareness Month
Did you know that October is Dyslexia Awareness Month? Dyslexia is a hereditary disability that makes it difficult to read, write or spell. According to dyselxiacanada.org, 1 in 5 kids struggle with dyslexia in Canada. Over October, buildings and monuments across Canada will light up red in support of the 20% of the population who live with dyslexia. Our High Level Bridge will light up on October 20!
To learn more about dyslexia and to find resources available for parents, you can visit: Dyslexia Canada
Reading Tip of the Week
Literacy is a key focus at Ardrossan this year! In order to support our families in developing strong readers, every week we will post a reading or writing tip that you can try out at home!
This week's tip is all about why reading aloud to your kids is so important.
6 Reasons to Read Out Loud to Your Kids:
It creates a lifetime love of reading  - reading to kids from a young age will increase the likelihood of them developing reading as a habit and as a way to build happy memories of family.
It extends attention spans - if you read a little each day by starting in small 10 minute increments and gradually increasing the duration, you will help to develop your child's attention span. Focus and attention are key skills for success in school!
It supports language development - by listening to reading, kids pick up new vocabulary, sentence structure, correct pronunciation, and grammar. They also learn about what a fluent reader sounds like.
It strengthens your child's imagination - students visualize the stories they hear in their minds giving them access to events, feelings, and situations that are outside of their lived experiences. Children who have been read to are usually more skilled at creating stories from their own imaginations.
It develops comprehension - as you read and talk about books with your children, they develop insight into what happened, why it happened, and how different characters felt about it. You can fill them in on background information they might be missing such as historical events and talk about important themes like compassion, perseverance, hope, or kindness.
It is great one-on-one bonding time - reading aloud is a wonderful chance to share adventure, intrigue, and emotion with your child. Time spent together that is irreplaceable!
Adapted from All About Learning Press
Celebrating World Teachers' Day: October 5
October 5 is World Teachers' Day! Launched in 1994 by the United Nations Education, Scientific and Cultural Organization (UNESCO), World Teachers' Day is celebrated annually around the world to recognize teachers and the integral role they play in providing quality education to students. On October 5, Elk Island Public Schools (EIPS) encourages all of its students, parents and community members to show their appreciation for their teachers and the positive impact they make on our lives.
To honour the day, EIPS is running its World Teachers' Day contest inviting friends, family, students and staff to share a story about how a teacher inspired them. Thank you to all those who have shared stories to date. Collectively they tell a story about the vital role teachers play in shaping the minds of youth and supporting their journey of success.
EIPS extends a heartfelt thank you to all its teachers for their dedication, hard work and commitment in guiding and educating our students through their kindergarten to Grade 12 years.
Parents Make the Difference
Check out this week's article to support parents in helping their child to learn and grow:
Your child's vision plays a vital role in academic success
Students with vision problems may struggle more than their classmates. If your child can't see what's on the screen—or what's on a worksheet—she's likely to fall behind. And that means her grades can suffer.
Unfortunately, kids don't always know that they can't see well. They simply rub their eyes, squint and try their best to see. It's important to get your child's eyes examined yearly.
To protect her eyesight overall:
Provide good light. Be sure her reading lamp is bright enough. If it's too dim, she'll strain to see the page.
Build in breaks. If your child spends long stretches in front of a screen, have her take frequent 10-minute breaks. Experts believe too much screen time leads to blurry vision and problems with focusing.
Provide sunglasses. Bright sunlight can damage children's eyes. Your child may not think to wear sunglasses when she's outside, so remind her to put them on.
Commit to safety. Does your child play sports? Make sure she wears the proper protective eye wear, such as safety glasses or swim goggles.
Serve healthy foods. Good vision starts with good nutrition, so feed your child a variety of healthy foods. From leafy greens to fortified milk, nutritious foods are proven to support strong minds, bodies and eyes.
Reprinted with permission from the October 2020 issue of Parents make the difference!® (Elementary School Edition) newsletter. Copyright © 2020 The Parent Institute®, a division of PaperClip Media, Inc. Source: S.L.J. White and others, "Vision screening outcomes of Grade 3 children in Australia: Differences in academic achievement," International Journal of Educational Research, niswc.com/elem_vision.