Back to all posts
Posted on
Bison Tales - October 16, 2020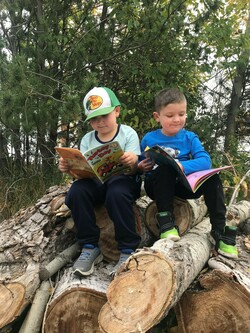 When I looked out my window to discover snow on the ground this morning, I was not a happy camper! How could there be snow already? I love fall with the pumpkin spice, the cozy sweaters and the pretty leaves! How could my fall be so drastically cut short?
Right as I was feeling particularly grumpy about the change in seasons, I realized that I was falling prey to having a fixed mindset. As much as I enjoy fall, there are also many things to love about winter. I do love the frost on the trees and the still and quiet you feel during the first snow fall late at night. Winter brings snowmen and hot chocolate and the holidays!
If I spend all of my time stuck on how much I prefer fall, I would miss out the great things winter has to offer. Who doesn't love a great winter toque with cute pompoms? As we learn in the Leader in Me program, how we choose to think about things becomes our reality. We often say "You choose your weather". This is what Habit 1 is all about. Being Proactive means that you get to choose how to think, feel, and act. It also means that you are responsible for how you choose to think, feel and act as well. In this case, I can choose to stay grumpy when I see snow and let it wreck my day or I can choose to find something good about it.  
This is a skill we hope to help foster in our students, especially during these challenging times when so much can be out of our control. Realistically, winter is not going to top my list of favourite seasons anytime soon. I know that I'll be annoyed when I have to scrape the ice off the windshield for the first time! But, I will also make a point to pick out my favourite scarf and mitten combo and to make a snowman or two with the kids when I'm out on supervision. Finding happiness is all in where I choose to place my focus!
Stay warm and get ready to enjoy some cooler weather! Bring on the peppermint lattes!
Helene Hewitt & Kyla Harding
Principal & Assistant Principal
Great Happens Here
TABLE OF CONTENTS
Week At a Glance
Action
Halloween is Coming!
Parent/Student/Teacher Interviews - Save the Date!
Updated Covid-19 Screening Questionnaire
Opportunity
Upcoming Meetings for Ardrossan Parent Groups
Information
Family Reading Picture Contest Winners!
What to Expect if Your Child is Home Sick
Reading Tip of the Week
Parents Make the Difference 
WEEK AT A GLANCE
| | |
| --- | --- |
| Monday | |
| Tuesday | Canadian Parents for French Meeting @ 10 a.m. |
| Wednesday | |
| Thursday | |
| Friday | |
ACTION
Halloween is Coming!
It's that spooky time of year when our little ghosts and goblins get ready to come to school! Here are a few ideas to keep in mind for our Halloween celebrations here at Ardrossan Elementary to keep everyone safe and following the Alberta Health and Safety Guidelines:
Students will be wearing masks - consider costumes that can incorporate those masks cleverly into the design!
In order to maintain physical distancing guidelines, staff are not able to assist students with changing into costumes or putting on make-up. We encourage you to send your child to school ready to go!
As visitors are not able to join us in school and we need to avoid large gatherings, we are unable to host our traditional Halloween parade this year. We know that the parade is a fun experience and so we will be filming and taking pictures of the costumes in each class for a video montage which we will post on the school website in the afternoon on October 31! 
We are unable to serve any shared food items - teachers are hard at work thinking of fun Halloween activities that can still make for a great time but that don't involve shared items or snacks!
Parent/Student/Teacher Interviews - Save the Date
We will be conducting 10 minute parent/student/teacher phone interviews throughout the first week of November on November 2, 3 and 5 from 3:30-5:30 p.m. to discuss your child's progress in school before report cards are posted online on December 4.
Keep your eyes open for next week's Tales where will will share the access code to sign up for your phone call through School Interviews starting on October 23.
Updated Covid-19 Screening Questionnaire
With the recent increase in confirmed COVID-19 cases in Alberta, and especially around the capital region, we want to remind all Elk Island Public Schools families to continue to monitor your child for any signs or symptoms of COVID-19 by completing the verbal COVID-19 Screening Questionnaire before sending your child to school every day. If your child answers "YES" to any of the questionnaire questions or has any primary or secondary COVID-19 symptom, it's essential they stay home and not attend school.
Recently, the province updated the daily COVID-19 Screening Questionnaire. The updated version defines primary and secondary symptoms and offers guidance on what to do if your child has any primary symptoms. In addition to this email, the link to the questionnaire is available on eips.ca, on all Division school website, and within the EIPS School Re-Entry Plan. For convince, you can also save the link to the home screen of your mobile device. The Alberta Health Services' website also has a series of COVID-19 guidance documents for families with children attending school or childcare. The documents detail how to proceed if your child has COVID-19 symptoms or is a close contact of a confirmed case of COVID-19.
Ultimately, the goal is to ensure COVID-19 transmission rates are low, and students continue to learn in a healthy and safe classroom setting. Thank you to all families who continue to review the daily COVID Screening Questionnaire with your child each day. It's through this collective effort, our schools and communities are safer, healthier and better prepared for success throughout the pandemic.
If you have specific questions about COVID-19, we encourage you to call the Health Link at 811 for expert advice and guidance.
OPPORTUNITY
Upcoming Meetings for Ardrossan Parent Groups
Thank you to all of the parents who joined us in our virtual School Council and Ardrossan Elementary Parent Support Association (AEPSA) meetings this week.
Our next meetings are:
Canadian Parents for French - October 20 at 10 a.m. on Google Meet (link will be posted on school web page 15 minutes before the meeting begins)
School Council - Tuesday, November 17 at 6:30 p.m. on Google Meet
AEPSA (fundraising) - Tuesday, November 17 at 7:30 p.m. on Google Meet
INFORMATION
Family Read Around Ardrossan Contest Winners!
Thank you to all of the families who sent us their Family Read Around Ardrossan pictures! We loved seeing all of the creative places that you were caught reading! Congratulations to the Gray, Granberg, Herman, Kinnie, O'Neill, and Wasalyshyn families who are the proud winners of $10 Chapters gift cards! We hope you are able to buy a new book to read!
What to Expect if Your Child is Home Sick 
When our in-school learners are away due to illness or required self-isolation, our teachers have a couple of choices on how to send work home to families. We are approaching it as we would illnesses in other school years. If a child is away for a day or two, we hope that they rest up and feel better. We typically don't send home work as the child is needing time to get better and likely won't be all that productive. The teacher then works with the child when they return to school to help them to catch up.
If the student is away for more than a couple of days, teachers may choose to post missed work on Brightspace or they may simply send copies of things to do via email to the family. If the teacher is posting things to Brightspace, it will not be the learning packs that the out of school learners are doing but rather some activities that were done in class.
Like our families, we are all learning how to use Brightspace effectively. Our end goal is to use Brightspace because we know that it will be the learning platform we will use if the government implements school closures again down the road. However, as we are learning how to use it effectively, some teachers have been sending work via email to make things quickly accessible to parents in a timely manner. Eventually, we hope to have all missed work posted on Brightspace instead of via email. We thank all of our families for their support and encouragement as we all learn the ins and outs of Brightspace together!
If you have questions about missed work, please contact your classroom teacher directly. 
Reading Tip of the Week - Phonemic Awareness
This month we will be sharing information with you about phonemic awareness so that you can support your child in developing this skill at home. 
Phonemic awareness is the ability for your child to hear and play with the sounds in words. For example, if you say "what is the first sound you hear in the word cat?" and your child responds my making the /k/ sound, they have shown phonemic awareness. This is different than if your child responds with "I hear the letter c". When you talk about letters, you are actually practicing phonics. Phonemic awareness is only about the sounds you hear in words.
Research has shown that students need skills in both phonemic awareness and phonics before they can become fluent readers who understand what they are reading. They are the first steps to unlocking the reading code!
Here is a great video by The Measured Mom entitled  5 Things You Need to Know About Phonological and Phonemic Awareness. It includes very simple explanations as well as a link to free, simple and quick materials that you can use at home to help your child practice these skills!
Parents Make the Difference
Check out this week's article to support parents in helping their child to learn and grow:
A positive mindset can help your child succeed in math
Think your child's state of mind has nothing to do with his performance in math class? Think again. According to research, the brain's "emotion" and "intellect" centers are connected. In fact, they are permanently entwined.
What this means for your child is that his mindset can affect his ability to solve math problems. Think about it: If he's nervous about an assignment in front of him, he may struggle to answer the questions. But if he's calm and confident, he'll likely do much better.
To encourage a positive mindset when it comes to math:
Remind your child that effort leads to achievement. Does your child claim he can't do math because he's "just not smart"? That implies people are either born intelligent or not. But that isn't true. Buckling down can lead to smarts.
Send the right message. Don't say, "That problem looks hard." If your child worries about something being too difficult, he may decide he can't do it. Instead, say, "That problem looks challenging." Let your child know that figuring out challenging math problems is rewarding and fun.
Teach your child to relax. Suggest that he picture something happy or fun. Remind him that he knows more than he thinks he does. If you can help your child calm his nerves before he picks up his pencil, he'll have a better chance for success!
Reprinted with permission from the October 2020 issue of Parents make the difference!® (Elementary School Edition) newsletter. Copyright © 2020 The Parent Institute®, a division of PaperClip Media, Inc. Source: E. Digitale, "Positive attitude toward math predicts math achievement in kids," Stanford Medicine, niswc.com/elem_mathpositive.