Back to all posts
Posted on
Bison Tales - October 11, 2019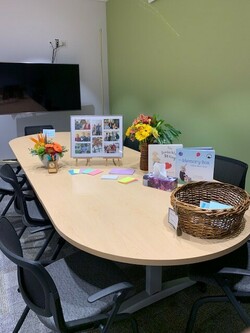 This past week I was inspired by watching students helping other students. I saw parents consoling other parents, staff members and students. I witnessed staff members believing the best in each other as well as the best of their students. I felt the love and support from community members through cards, emails, phone messages, gifts, and words of encouragement. In times of struggle, this community steps up and makes sure that everyone feels loved and supported. 
As we move into Thanksgiving weekend, I am full of gratitude. I am so very glad to be a part of this loving community. I am proud of each and every member of our Bison herd. 
On behalf of the Ardrossan Elementary staff, I thank you for filling up our hearts. 
We wish you and yours a warm and loving Thanksgiving.
Helene Hewitt
A/Principal
WEEK AT A GLANCE
Monday

Thanksgiving Day - No school

Tuesday

Canadian Parents for French (CPF) Meeting @ 10:30 a.m. 

Wednesday

Parent/Student/Teacher Conference bookings go live

Thursday

Another day of learning!
Memorial space for Mr. Frederickson in the Conference Room ends today

Friday

Fedora Friday - wear a fedora style hat to school in honour of Mr. Frederickson
Habit 2 Assembly (Grade 5s) @ 9:30 a.m. 
Bison Tales posted online
Action
Parent/Student/Teacher Conferences
Make head checks for lice a routine!
Habit 2 Assembly:  October 18 - Hosted by Grade 5
Opportunity
Mr. Frederickson's Memorial Space
Caregiver Education Series
Student-to-Author Conference
Parents Make the Difference
Information
Fair Notice: Student Violence Threat Risk Assessment
School Bus Safety Week
ACTION
Parent/Student/Teacher Conference - Bookings Open October 16
Don't forget to book a 10 minute slot for our parent/student/teacher conferences! Grades 1 to 6 conferencesare being held on October 23 and 24 from 4:30 to 7:30 p.m.  Kindergarten conferences take place on November 4 and 5 from 1:30 to 3:30 and 4:30 to 7:30 p.m.
To book your interview times, please click on this link and use the code: abufr 
As is our tradition, we will also have a Scholastics Book Fair open in the Gathering Area on October 23 and 24. We hope to see you there!    
REMINDER: Make head checks for lice a routine!
Head lice are one of the most common problems faced by school-aged children and their families. Typically, head lice are tiny, greyish-brown insects that live on the scalp and lay their eggs, or nits, in the hair close to the scalp—itching is the main complaint. Lice don't jump from head to head, nor are they dangerous. Having a head lice infestation, however, can cause stress, anxiety and hardship for staff, students and parents. As such, it's essential each of our families do their part at home by undertaking weekly routine head checks and, if head lice and nits are found, physically removing them.
While head lice prevention and control is primarily the responsibility of the parent, the school does work discreetly with the teacher, students and families to prevent further transmission. To prevent the spread of head lice, we encourage you to speak to your child about preventative behaviour such as avoiding head-to-head contact and not sharing combs, hats, pillows and hair accessories. It's also important to teach children not to tease other students about head lice—anyone can get head lice. If you find head lice on your child, notify the school, physically remove the lice and nits using the proper lice comb, and keep your child home until all signs of active head lice are gone.
For more information about head lice prevention and treatment, visit www.eips.ca/programs-services/healthy-schools/head-lice. Alternatively, you can contact the school at 780-922-2066.
Habit 2 Assembly - Hosted by Grade 5
We are very excited to invite you to our Habit 2 - Begin with the End in Mind assembly this Friday. Our Grade 5 students have been working hard to prepare an assembly that highlights the importance of setting goals and planning ahead. Join us at 9:30 a.m. on Friday, October 18 in the gym.
Parents Make the Difference
Do your children ever put off doing their homework or chores? Read this week's article from the Parent Institute entitled This Four-Step Process Can End Procrastination.
OPPORTUNITY
Mr. Frederickson's Memorial Space
As a gesture of respect and love, we have set up a memorial space that our community may use to show their respect for Mr. Frederickson. You will find pictures, flowers, and note cards that you can use to share your thoughts, wishes and remembrances. 
In a week's time, we will collect all of the messages and deliver them to the Frederickson family so that they have an opportunity to see how loved he was in our school.
We believe people experience loss in a variety of ways and it is our hope that this memorial will serve the needs of our community in paying their respects in a private and respectful way.
Our parent community is still hosting a GoFundMe page for the family and will be providing further opportunities for community members to prepare meals or gift cards for restaurants for the family later on in the month. We will share details when they become available.
Thank you to all for your continued love and support.
Caregiver Education Series
The Division, in partnership with Alberta Health Services and Elk Island Catholic Schools, is hosting a series of caregiver information sessions focused on ways to support students' mental health. The sessions are free and geared toward parents, caregivers, teachers and community members who want to learn more about challenges impacting children and adolescents. This year, session topics include anxiety, ADHD, depression, self-harm, technology, teens and teaching leadership skills, and more.
Click here for a listing of sessions taking place in the fall. 
Student to Author Conference (STAC)
The Student-to-Author Conference is an event to connect Junior and Senior High school students with authors, illustrators and industry professionals who can share with them their experiences, advice and tricks of the trade.
Teachers, students and community members have volunteered to help run this non-profit event that will be held at Salisbury Composite High School. Visit www.the-stac.com for more information.
INFORMATION
Fair Notice: Student Violence Threat Risk Assessment
EIPS and AEL are committed to creating and maintaining safe school environments. Schools cannot ignore any threats of violence. Please see the following link for further information about the Violence Threat Risk Assessment (VTRA) protocol.
School Bus Safety Week: October 21-25
Schools throughout Elk Island Public Schools (EIPS) are celebrating School Bus Safety Week October 21-25. The theme: Ready to Ride, which focuses on being a responsible rider. Throughout the week, various activities are planned, including information sessions, bus-safety lesson plans and bus-evacuation drills.
As part of School Bus Safety Week, we'd like to remind students and families all of the Division's school buses are equipped with a bus-pass scanner and GPS technology, which allows Student Transportation to better monitor and manage its more than 156 buses and 594 bus routes. Thanks to this technology, parents and students also have access to the Versatrans My Stop app, a mobile tool to help determine the location of a bus, projected arrival times and when a child is scanned onto a bus.
For more information about School Bus Safety Week and EIPS Student Transportation services visit www.eips.ca/transportation or contact Student Transportation (780-417-8151, st@eips.ca) directly.
Mental Health News 
Mental Health is an important part of wellness that needs regular check-ups much like you do with your pediatrician and your dentist. Check out the latest and greatest about mental health through the this Mental Health News for October. 
Comments
Chris, you will always be fondly remembered as a dedicated teacher who was loved by the students in your classroom and the staff in your school.You were compassionate, kind and caring to those little souls that saw you as a hero. To your peers, you were dedicated to your profession, jovial,kind,and always willing to cooperate, help out, give of your time and expertise...I will always remember you bright sunny greetings and hugs......such a loss to all of us who knew you! My deepest condolences to your family, friends, past and present students.
Sincerely,
Bev Kereluk