Back to all posts
Posted on
Bison Tales - November 8, 2019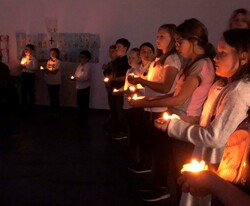 Today was such a special day at Ardrossan Elementary. I had the privilege of participating in our Remembrance Day program with our Bison community. I could not be more proud of our students today. They demonstrated tremendous respect for those we remember on this day. From the moment our ceremony began to the time it ended, our students stayed silent and refrained from chatting with friends. Throughout the ceremony, our children lifted our spirits with beautiful songs filled with sweeping harmonies and enchanting solo voices. 
We were blessed to welcome special honourees, Mrs. Ida Carey and Mr. Jim Laverick, to our event. Mrs. Carey served in the Women's Airforce during World War Two and Mr. Laverick was a member of the Royal Air Force in the late 1960s. We share our gratitude with them for their service to our country and we were honoured that they volunteered their time with us to lay our wreath.
We were fortunate to listen to a talented piper, Mr. Terry McMechan who led our Colour Guard into the ceremony. We would also like to thank Private Malcolm Skepple from the Loyal Edmonton Regiment Band for playing the Last Post and Reveille before and after our moment of silence. There is something magical about those pure sweet high notes played on a trumpet after complete silence. 
As I reflect upon this day, I am reminded that we have so much to be thankful for. We live in a community that is safe. Where we can walk down the streets, ride our bikes or play in a park without fear. We live in a country where we are free to practice our beliefs, to follow our own traditions, speak our own languages while respecting the freedoms of fellow Canadians. 
Most of all, I am grateful to share this space with all of the students, families, staff and community members that make up our Bison family. Looking around the gym today, I felt like the luckiest person in the world. 
We wish you and yours a safe and restful Fall Break.
Helene Hewitt
Acting Principal
Great Happens Here! 
WEEK AT A GLANCE
November 11 - Remembrance Day (no school)
November 12-15 - Fall Break (no school)
Week of November 18-22
Monday

B is for Belonging - Bullying Awareness & Prevention Week

Tuesday

Canadian Parents for French meeting @ 10:30 a.m.
School Council meeting @ 6:30 p.m.
Ardrossan Elementary Parent Support Association (AEPSA) meeting @ 7:30 p.m.

Wednesday

Wonderful day of learning!

Thursday

Kindergarten Create & Learn LEGO in-school field trip

Friday

Jersey Day
Kindergarten Create & Learn LEGO in-school field trip
Action
Ardrossan Casino
Student Pick Up at the End of the Day - call by 2:45 p.m.
Absences - Thank you for keeping us in the loop!
Opportunity
Calling All Parents - Join Us for a Meeting!
Get Some Ardrossan Swag
Enjoy the Light Festival (ELF)
Parents Make the Difference
Information
Bullying Awareness & Prevention Week
ACTION
Ardrossan Casino Fundraiser - Volunteers Needed
Did you know that our school holds a casino every few years? 
This is an extremely beneficial fundraiser to Ardrossan Elementary Parent Support Association (AEPSA). This event has the potential to raise $20,000 for our student groups and playground replacement fund. 
This year's Ardrossan Elementary Parent Support Association Casino Fundraiser is at the Camrose Resort Casino on November 23 & 24. 
In an effort to make this a more fun and convenient experience let us know if you are interested in participating in a carpool when signing up. 
Student Pick Up at the End of the Day - Please call by 2:45 p.m.
We know that life is busy and full of unexpected situations. Sometimes families have a last minute change of plans when it comes to students taking the bus or being picked up. In order to make sure that we can get the message to students before the end of the day, we request that you call us by 2:45 p.m. at the latest if you want to change your child's end of the day pick up plans.
Mrs. Shackleton and Mrs. Pearson will assist you in passing along a message if you call by 2:45 p.m. After that time, we will be unable to guarantee that your child will get the message as classes may already be in the hallways preparing for dismissal. Office staff are unable to leave the office to track down students as we have a high volume of people needing assistance at the end of the day. Of course, in the case of an emergency, we will definitely ensure messages are received. We thank you for your understanding and support!
Absences - Thank you for keeping us in the loop!
Thank you for explaining your child's absence when you call to report that your child is away. This helps with tracking absences as we are required to report absences that may be in excess of 10% of the school population (i.e., flu symptoms).
OPPORTUNITY
Calling All Parents - Join Us for a Meeting!
Do you want more information about what is happening at school? Do you want to meet other parents and get involved in school activities? Are you the parent of a French Immersion student and you'd like to meet some other French Immersion parents? Come out to one of our meetings! You can read copies of the minutes from previous meeting here. If you'd like to add any items to the School Council, AEPSA or CPF agendas, please contact Helene Hewitt. 
Get Some Ardrossan Swag
Do you want to show your Bison pride everywhere you go? We are happy to share that we now have an official shop for Ardrossan clothing. You can visit it at: http://ardrossanelementary.entripyshops.com.
You are able to browse a wide selection of products, with a variety of brands! There is a variety of logos that you are able to choose from to customize your clothing. The site also allows you to view your product before ordering. There is no minimum quantity required when ordering. If you have any question, feel free to contact us at 780-922-2066.
Happy shopping!
Enjoy the Light Festival (ELF) - November 21 to January 5
The Enjoy Light Festival is an indoor light festival with over 1 million lights and over 80, 000 square feet of holiday FUN. There will be many exciting holiday activities, such as an interactive light garden, festive market, photos with Santa, local performers, a whimsical light tunnel, and local food vendors. ELF will also have a significant focus on giving back to community charities and supporting local companies. There is a diverse selection of local charities involved, such as Santa's Anonymous, STARS Ambulance, Little Cats Lost, Second Chance Animal Rescue, and the Food Bank. 
Global Edmonton and Corus Entertainment are the official media sponsors for this event. The Enjoy Light Festival will be running between Thursday, November 21, 2019, to Sunday, January 5, 2020.
The goal of this festival is to bring our community together and to celebrate the holidays by sharing our creativity. The festival will run from 4:00 PM-10:00 PM each day, and we will be closed on Tuesdays and Wednesdays to line up with Christmas Eve and Christmas Day. 
For more information please click here.
Parents Make the Difference
Check out this week's article to support parents in helping their child to learn and grow:
Down Time is Vital for Your Child
INFORMATION
National Bullying Awareness Week - November 18 - 22
Our staff, with the support of the parent community, strive to provide students with the knowledge, skills and attitudes to be engaged responsible learners and caring, thoughtful citizens. The Leader in Me program provides students with a variety of personal awareness skills and strategies to build positive caring relationships with others (friendship skills), listening, synergizing and thinking win-win. 
Bullying Awareness Week from November 18 - 22 is an opportunity for our school community to focus on how to use our 7 Habits to prevent bullying. Helping students to understand and identify what bullying looks like is an essential first step to supporting them in feeling safe at school and in helping them to know what kind of help to look for. At school, we often refer to a poster entitled: Is It Bullying? This poster distinguishes the difference between rude behaviour, mean behaviour and bullying.
Students will engage in a variety of activities throughout Bullying Awareness Week. The week will end with Jersey Day on November 22 to show that we are all on the same team and that we support one another.
For more information regarding bullying please visit: 
Alberta Education Bullying Prevention Information
Psychology Today Article: Is it Rude, Mean or is it Bullying?