Back to all posts
Posted on
Bison Tales - November 6, 2020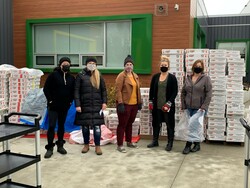 Today was such a special day at Ardrossan Elementary. I had the privilege of participating in our virtual Remembrance Day program with our Bison community. Although it was a different kind of ceremony with each class participating in the safety of their classrooms, it was impactful to hear the ceremony echoing through the hallways as we all participated as one school. We could hear the voices of our students ringing through the school as they sang in unison.
I could not be more proud of our students today. They demonstrated tremendous respect for those we remember on this day. From the moment our ceremony began to the time it ended, our students stayed silent and refrained from chatting with friends. Each class made a poppy wreath and laid it at the front of the room during the ceremony. We all stood as one school during the minute of silence and not a sound could be heard throughout the building until the Last Post was played. There is something magical about those pure sweet high notes played on a trumpet after complete silence. Truly, it was a special event. 
As I reflect upon this day, I am reminded that we have so much to be thankful for. We live in a community that is free from war. Where we are free to practice our beliefs, to follow our own traditions, speak our own languages while respecting the freedoms of fellow Canadians. 
Most of all, I am grateful to share this space with all of the students, families, staff and community members that make up our Bison family. I was inspired by all of the parent volunteers who spent hours giving out pizza kits while standing outside in the rain until the early evening yesterday. It is the people who make up this community that make me feel like the luckiest person in the world. 
We wish you and yours a safe and restful Fall Break.
Helene Hewitt & Kyla Harding
Principal & Assistant Principal
Great Happens Here
TABLE OF CONTENTS
Week At a Glance
Action
Kindergarten Phone Interviews
Upcoming Parent Meetings - November 17, 2020
Staying On Top of Covid-19 Guidelines
Opportunity
Tidbits from the Lunchbox
Counselor Corner
Remembrance Day Virtual Assembly
Bullying Awareness Week
Métis Week
Parent Engagement - How Can You Get Involved?
Information
Results Review
Reading Tip of the Week
Parents Make the Difference 
WEEK AT A GLANCE
November 9-13 Fall Break!
Monday

Welcome back to students returning from out-of-school learning!
Bullying Awareness Week all week!
Métis Week
Fundscrip forms due today!

Tuesday

Virtual Canadian Parents for French (CPF) virtual meeting @ 10 a.m.
Virtual School Council meeting @ 6:30 p.m.
Virtual AEPSA (fundraising group) meeting @ 7:30 p.m.

Wednesday
Thursday
Friday

Results Review today!
Bison Tales posted online
ACTION
Kindergarten Phone Interviews
Our kindergarten teachers are ready to conduct telephone interviews on November 25, 26, and 27. In order to accommodate all of our kinder students, some interview times will be available during the day while others will take place from 3:30 to 5:30 p.m. To see the available times and to book your interview, go to www.schoolinterviews.ca and enter the code: ubyng
Upcoming Parent Meetings
Thank you to all of the parents who joined us in our virtual School Council, Ardrossan Elementary Parent Support Association (AEPSA) and CPF meetings last month.
Our next meetings are:
Canadian Parents for French - Tuesday, November 17 at 10 a.m. on Google Meet
School Council - Tuesday, November 17 at 6:30 p.m. on Google Meet
AEPSA - Tuesday, November 17 at 7:30 p.m. on Google Meet
If you would like to attend any of these meetings, please fill out this form. We will use the information to send you a link to join the online meeting using the Google Hangouts Meet platform 15 minutes before the meeting begins. 
We will also post the meeting link on the homepage of our website 15 minutes before the meeting begins. We hope to see you there! 
Staying On Top of the Covid-19 Guidelines
With Covid-19 cases on the rise in Alberta and own first positive case at school, we all need to work together to slow the spread. At Ardrossan Elementary, we are still adhering to the EIPS Covid-19 Guidelines including regular mask usage, regular hand-sanitizing and hand-washing, staying in cohort groups that do not mix and keeping a two meter distance between individuals as much as possible.
We know that Covid fatigue is a real thing and that it can be easy to get complacent. We need your continued support and vigilance in monitoring students with the daily screening questionnaire every day before coming to school and keeping kids home when sick. We'd also appreciate it if parents can wear masks when on school property to model the importance of safety measures for our students.
OPPORTUNITY
Tidbits from the Lunchbox
Thank you to everyone who helped support our pizza kit fundraiser by purchasing kits or sending donations. Our top sellers were Declan Wood, Sammy Dixon/Layla & Richie Mottershead, Tenessy Brown and Cruze Komant.  
Our December menu opens for ordering Monday November 9. Orders and payments are due November 19.
Reminder to order your gift cards to support the Ardrossan Elementary Parents Support Association with their FundScrip Fundraiser. Ordering can be done through the fundraising side of the website or paper forms are also accepted at www.aes.fundraiserorders.com. Funds raised will be used to help support the playground vision. Payments to be made to Aepsa0@gmail.com or through the credit card option on the order form. 
In case you've forgotten, here's how it works:
First week of every month, your child will receive a paper order form from their teacher, online order at www.aeslunchbox.com (Click on the fundraising tab) or download the order form from the weekly Bison Tales and send it back with your child.
Determine which cards you would like to purchase in what denominations.
Complete your order online, or return the completed order form in an envelope with a cheque, cash, or credit card number by November 16.
Your order will be ready for pick up the last week of the month.
Thank you to all staff and students who are making the delivery process easier.
Stay Safe
The Lunch-Box Team
Counselor Corner
Physical distancing, masks, childcare, school decisions, flu season and more; the COVID-19 pandemic has resulted in a lot of extra pressure for parents and guardians. Trying to figure out how to keep your family safe and happy, all while balancing childcare, juggling finances, and work can feel impossible. If you're stressed about parenting, the pandemic or just need to talk, Strathcona County Family and Community Services is here to support you. Call us at 780-464-4044 or visit www.strathcona.ca/safesupportedconnected.
Important Mental Health Numbers
Remembrance Day Virtual Assembly
Today was our first time live streaming an assembly! Thank you to Mrs. Brady, Mrs. Harding, Mrs. Pretzlaff, and Mme Proulx-Makovichuk who made up our Remembrance Day committee! Thank you to all of our student presenters who led the assembly! You were terrific public speakers! If you missed the live stream, it's not too late! Click here to watch the recording.
Bullying Awareness & Prevention Week
Our staff, with the support of the parent community, strive to provide students with the knowledge, skills and attitudes to be engaged responsible learners and caring, thoughtful citizens. The Leader in Me program provides students with a variety of personal awareness skills and strategies to build positive caring relationships with others (friendship skills), listening, synergizing and thinking win-win. 
Bullying Awareness & Prevention Week from November 16 - 20 is an opportunity for our school community to focus on how to use our 7 Habits to prevent bullying. Helping students to understand and identify what bullying looks like is an essential first step to supporting them in feeling safe at school and in helping them to know what kind of help to look for. At school, we often refer to a poster entitled: Is It Bullying? This poster distinguishes the difference between rude behaviour, mean behaviour and bullying.
Students will engage in a variety of activities throughout Bullying Awareness Week, including some read alouds from books about bullying, opportunities to meet with Mrs. Bashaw and daily activities in the morning announcements.
For more information regarding bullying please visit: 
Métis Week - November 16-20
In Alberta, Métis Week is celebrated annually in November. The time was chosen to commemorate the hanging of Métis leader and hero, Louis Riel on November 16, 1885. The Métis are one of three distinct Indigenous Peoples in present day Canada recognized by the Canadian Constitution. Here are a few interesting facts about the Métis:
The Métis have their own anthem
The Métis Infinity flag is the oldest flag indigenous to Canada. It was first flown in 1814, long before the Canadian maple leaf!
The town of Andrew was named for a Métis man, Andrew Whitford
Fort Saskatchewan's original well site was located by Métis interpreter, ferrier and guide, Charles Henderson
The largest population of Métis in Canada is in Alberta!
Louis Riel was elected to the Canadian Parliament three times but was never allowed to take his seat
Check out this video: Stories of Growing Up Métis to learn more about Métis culture, stories and heritage! 
Parent Engagement - How Can You Get Involved?
With limits to visitors and volunteers in school, we know that this year is different than most! We truly miss seeing our parents and guardians in the hallways and around the school. Even if you cannot come into the building, there are still many ways to get involved!
You can join a parent group that meets virtually every month!
You can support the school by participating in fundraisers
You can help your child to complete their school work at home
You can collaborate with your child's teacher through email, phone calls and virtual meetings
For more ideas on how you can continue to participate meaningfully in your child's education check out this great guide on Parent Engagement from EIPS.
INFORMATION
Results Review 
Did you know that we participate in a results review each year? Mrs. Harding, our school council president, and I attend a meeting with a group of four or five schools as well as our trustees and our superintendent. 
During this meeting, we have the opportunity to celebrate our many achievements and accomplishments from the previous school year. We are excited to attend a virtual results review meeting on November 20! If you attend our school council meeting on November 17, we'll tell you more about it!
Reading Tip of the Week - Phonics
In the month of November, we will be sharing information with families about phonics. Phonics instruction focuses on helping beginning readers to understand how letters or groups of letters are linked to the sounds in spoken words. This process is essential in learning how to read and that is why it is a big focus for all of our teachers.
Did you know that when we read, our brain looks at a word, breaks it apart into the individual letters, connects those letters to the sounds they make and then blends them back together so that we can read it? In experienced readers, this process happens so quickly that you are unaware that it is happening! That is why your brain can focus on making sense of the words we are reading as the decoding part of reading happens automatically! In early readers, their brains are still learning how to map the sound to the letter and so this process takes a bit of time and practice! However, it is essential that students practice sounding out the words by looking at all of the letters and not guessing!
Here is a great video by neurologist, Jared Cooney Horvath, who breaks down some current research on how our brains sound out words for those of us who are not researchers!
Parents Make the Difference
Check out this week's article to support parents in helping their child to learn and grow:
Empathize with your child—up to a certain point
Is there such a thing as being too supportive when it comes to your child's negative emotions? Experts say yes.
Parents who are overly sympathetic about their children's troubled feelings think their kids are more socially well-adjusted than others. Those same kids' teachers, however, rate them as being less well-adjusted than their peers.
Why the disconnect? It could be that when parents indulge every bad mood their child has, the child never stops to consider that there may be little justification for that mood.
This doesn't mean you should ignore your child's feelings. But rather than rush to agree every time she feels she's been wronged:
Ask for details. If your child says a friend was mean to her, find out more before jumping to her defense. Say, "Tell me what happened." This way, you're encouraging her to open up but not automatically agreeing that she's a victim.
Challenge her. Your child may be upset that she performed poorly on a math quiz, but was that quiz really "unfair," as she claims? Press her a bit. "Why wasn't it fair?" If the real story is that she didn't study for it, then point that out. She wasn't mistreated; she was irresponsible. It's a hard—but vital—lesson to learn.
Reprinted with permission from the November 2020 issue of Parents make the difference!® (Elementary School Edition) newsletter. Copyright © 2020 The Parent Institute®, a division of PaperClip Media, Inc. Source: V.L. Castro and others, "Changing tides: Mothers' supportive emotion socialization relates negatively to third-grade children's social adjustment in school," Social Development, John Wiley & Sons, Inc.