Back to all posts
Posted on
Bison Tales - November 5, 2021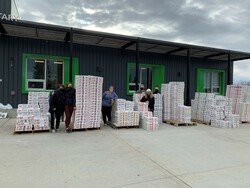 This week has been full of citizenship in action! 
Our students were excellent leaders as they helped us to film and narrate the virtual Remembrance Day ceremony. Aside from our very eloquent French and English Grade 6 narrators, representatives from each class posed for pictures without masks so that we could remember what it looks like to smile and create a friendly, caring community! Those smiling faces are the reason why we are all here!
Our parent community really stepped up this week as well! The bottle drive was a huge success and we were worried that Mr. Wright might not be able to close the door to the trailer because it was so full! Thank you, Bisons!
Our community didn't stop there! Yesterday, our dedicated group of Hot Lunch parents stayed late at the school handing out the Little Caesar's Pizza kits. Our Ardrossan families did not disappoint as they ordered a record amount of kits! Thank you to all for supporting the school!
Don't forget to reset your clocks over the fall break as you enjoy some time together as a family!
Great Happens Here!
Helene Hewitt & Kyla Harding
Principal & Assistant Principal
Table of Contents
Week At a Glance
Action
Virtual Remembrance Day Ceremony
Dressing for the Weather
Opportunity 
Tidbits from the Lunchbox
First Nations, Métis and Inuit Sharing
Fundscrip is Back!
Next Parent Meeting - November 16
Information
Welcome New Staff
Counsellor's Corner
PowerSchool Student Portal Login Credential Update
Parents Make the Difference 
WEEK AT A GLANCE
November 8-12

Fall break! No school all week!
Fall back on November 7!

Monday

First day back after fall break!
Bullying Awareness Week
Métis Week!
Rock Your Mocs Week! 

Tuesday

World Drumming Virtual Artist in Residence begins for all students!
Virtual School Council meeting @ 6:30 p.m.
Virtual AEPSA meeting @ 7:30 p.m. Join with this link!

Wednesday
Thursday
Friday


Last day of World Drumming residency!
Bison Tales posted online
ACTION
Virtual Remembrance Day Ceremony
Our school participated in a life streamed virtual Remembrance Day ceremony this morning so that students would have an opportunity to learn about the meaning of Remembrance Day as well as the important protocols such as the moment of silence and the meaning behind the playing of the Last Post and Reveille. Our students were incredibly respectful by removing hats, staying silent throughout the ceremony and by wearing their poppies without playing with them.
You can watch our ceremony by clicking here.
Dressing for the Weather
As we get farther into November, the thermometer will continue to drop! Help us to keep the kids safe by dressing them warmly for the cold weather. Toques, scarfs, mitts, snow pants, boots and a good winter coat are essential for having fun outside during the winter. We try our best to play outside as fresh air and time in nature is good for our mental health! Let's have fun while staying warm!
OPPORTUNITY
Tidbits from the Lunchbox
Thank you to all the families that participated in the Little Caesar's Pizza Kit fundraiser and that assisted us with picking your items up yesterday promptly.
December menu ordering is on now and orders and payments are due November 11. There are some special food dates and fundraisers happening this month:
December 3: COBS Order in for CPF
December 10: Cinnamon Buns to raise money for the Strathcona County Food Bank
December 20: Pasta Pantry Order in
Grade 6 parents! Every year it has been a tradition that the Grade 6 students would go to the high school on a Friday and have the opportunity to purchase lunch or treats from their cafeteria. These past years with Covid have unfortunately altered this tradition and so just as the hot lunch program did last year, we will be providing the Grade 6 students with their very own special Friday for ordering each month. This month it will be November 19 and orders need to placed through the hot lunch portal ahead of time by November 11 (no orders will be accepted for walk up the day of)
First Nations,Métis and Inuit Sharing
Indigenous Veterans Day - November 8
Indigenous people in Canada have reason to be proud of their wartime contributions. More than 7,000 First Nations members served in the First and Second World Wars and the Korean War, and an unknown number of Inuit, Métis and other Indigenous people also participated. One Veterans group estimates that 12,000 Indigenous men and women served in the three wars.
Learning about the contributions of Indigenous Veterans and their resulting enfranchisement is important learning in November, here's how:
Métis Week
Did you know that November 15-21 is Métis Week? The Métis Nation of Alberta and Rupertsland Institute have been creating resources for Métis Week 2021.The unveiling of these resources will happen November 3 through RLI's RECC Room. Click here to set up a free account and gain access to the webinar, a vast collection of Métis resources, and an online community to support Metis education throughout Alberta.  
Our school will honour Métis Week through information sharing in morning announcements as well as discussions taking in classrooms. 
Rock Your Mocs!
Have you heard of the Rock Your Mocs celebration? Indigenous Peoples worldwide honour their ancestors and celebrate tribal individuality by wearing their moccassins from November 14-20. The official day is on November 15! 
Did you know...
Until 1951, the Indian Act restricted Indigenous ceremonies, preventing the wearing of regalia typically worn to these events. 
Traditional dress was also forbidden in residential schools. 
Before 1951, Indigenous peoples required the permission of the Indian agent if they wanted to appear in ceremonial dress off reserve.
Rock Your Mocs is a way for Indigenous Peoples to reclaim their traditions and to celebrate their identities. Each pair of moccasins carries a story about who made them, what nation they are from, what materials they are made of and what story they tell.
We invite students, both from Indigenous communities as well as non-Indigenous communities to wear moccasins or a turquoise ribbon in honour of Rock Your Mocs week! 
Fundscrip is Back!
Are you looking for some great Christmas gifts? Hard to decide what to buy? Why not consider a gift card that allows the gift receiver to do a little fun shopping?
The Ardrossan Elementary Parent Support Association (AEPSA) is pleased to once again offer the Fundscrip gift card fundraiser! When you purchase gift cards through Fundscrip, a percentage of each card goes to our fundraising parent group. This month's special promotions with higher return percentages to AEPSA include:
Old Navy 9% (regular 5%)
Rona 5% (regular 3%)
Staples 4% (regular 3%
Lowe's 5% (regular 3%)
Boston Pizza 10% (regular 5%)
Ultimate Dining Card 10% (regular 5%)
Homesense 8% (regular 6%)
Marshall's 8% (regular 6%)
Gap 9% (regular 5%)
Winners 8% (regular 6%)
You can look at all of the available gift cards by clicking here.
Orders can be made until November 26 through the online ordering platform at www.aeslunchbox.com (Click on the fundraising tab.) Once your order is placed please e-transfer AEPSA0@gmail.com with your order payment.
Your order will be ready for pick up the first week of December. Watch the Bison Tales or aeslunchbox emails for pick up details. Thank you for supporting our school!
Next Parent Meeting - November 16!
It is not too late to join us for our next virtual meeting on November 16. We will begin with the School Council meeting @ 6:30 p.m. followed by the AEPSA meeting @ 7:30.
Here are the agendas for both meetings:
Here are the draft minutes from our last meetings:
If you would like to join our meeting on November 16, you can use this Microsoft Teams meeting link.
See you after Fall Break!
Your Ardrossan Leadership Team,
Darren Wright, School Council Chair
Vania Lloyd, AEPSA President
Helene Hewitt, Principal
INFORMATION
Welcome New Staff
We would like to extend a welcome to Mr. Jason Garrett who will be team teaching with Mrs. Gilliland in Grade 1 after the fall break. We are always pleased to have a new bison join our family!
Counsellor's Corner - Bullying Awareness Week
Hello AEL Families,
The week after fall break we'll be focusing on bullying awareness, as a school, and we are looking forward to sharing some of our learning in this area with you. In today's world, awareness of cyberbullying and preparing your child to be safe online are a significant aspect of bullying prevention and mental health responsiveness for families and children. In preparation for this upcoming week of learning, I encourage you to explore how you as a parent can support your children's online safety. 
Below are some resources I encourage you to access and explore over the next week, including an upcoming parent session about cyber safety that I think will provide some extremely valuable information. 
CYBERWORLD: WHAT HAPPENS WHEN YOUTH PRESS SEND?
In this presentation, we provide parents and caregivers with information on the popular websites, games, and apps that are being used by children and youth. We discuss legal consequences and potential dangers online. We share helpful tips on starting conversations with their children and youth.
Topic: Saffron VOC Week Cyberworld
Time: Nov 18, 2021 06:00 PM Edmonton
-Madison Bashaw
PowerSchool Student Portal Login Credential Update
After early dismissal on the afternoon of November 3, Elk Island Public Schools (EIPS) is updating the student log in process for the PowerSchool Student Portal. Once updates are complete, students will use their EIPS credentials to login to the PowerSchool Student Portal or the PowerSchool mobile app. Student access to the portal and app may be intermittently unavailable while updates are taking place. Effective November 4, students will use the new EIPS login credentials to access the portal or app. Students who use the mobile app will be required to log out and back in after the updates are complete.
If students are having trouble logging in to PowerSchool after the change, they can contact their teacher or a school office staff member for assistance. This update does not affect the log in process for parents or guardians for the PowerSchool Parent Portal. This mostly affects students in junior/senior high school.
Parents Make the Difference
Each month we will include some articles with some great tips and strategies for parents. Here is this month's featured article:
Model the respectful behavior you'd like to see from your child
Being respectful is critical to success in school and life. By demonstrating what respect looks like, you'll help your child become respectful.
To set a positive example:
Be honest. Tell your child the truth. Admit your mistakes instead of blaming others for them. Apologize when you are wrong.
Be dependable. If you tell your child you'll do something, do it. Earn his respect by proving that you're reliable. And when you can't do something, be honest about it.
Be kind. Don't insult or belittle your child when he makes a mistake.
Be fair. Don't pass judgment on your child or punish him for something before learning all the facts. Show respect by taking the time to get his side of the story.
Be polite. Say please, thank you and excuse me when talking to your child. Avoid barging into his room. Knock first.
Reprinted with permission from the November 2021 issue of Parents make the difference!®  (Elementary School Edition) newsletter. Copyright © 2021 The Parent Institute®, a division of PaperClip Media, Inc.