Back to all posts
Posted on
Bison Tales - November 22, 2019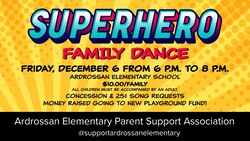 Welcome back to school!
There is nothing better than seeing all of those smiling student faces as they walk back into the school after a break. We always think that they will say that they wished that they had another week off but they always insist that they are glad be back at school. Hearing students gleefully share that they love school and that they want to be here makes my heart happy. Those are things we need to hear more often.
This made me think about things that we should say more often. I am reminded of this video by Kid President where he counts down things we do not say enough. His very first item on the list is "thank you".
What better time than the present to say thank you to this amazing community! I am thankful for the many people who make our school warm and caring. Thank you to the parent volunteers who serve hot lunch, who read with students, and who spend their time and energy planning and running events in our school. I think that the real superheros are those parents who jump in to organize our many parent groups, fundraisers, concessions, dances, casinos, and cultural events. It is those special "extras" that make school such a great experience for our kids. 
I am also thankful for an amazing staff. We have a record number of student clubs this year due to the passion of our tremendous staff! It is clear that they care deeply about the success of each student not only academically, but also socially and emotionally. Thank you to our team for providing many opportunities for success!
Together we make Great Happen Here!
Helene Hewitt
Acting Principal
WEEK AT A GLANCE
Monday

Art Club for Gr. 3 at lunch
Cute Thing Club Team 1 at lunch
Jr. Art Club at lunch

Tuesday
Wednesday

Family Math Night @ 6 p.m. Come and play games with your kids!
Sign Club in first recess
Card Club Group A at lunch

Thursday

Report Cards Posted online

Friday

Professional Learning Day for Staff (school closed)
Action
4th Annual Family Math Night November 27 - Come and Play Games as a Family!
Literacy At Home
Opportunity
Christmas in the Heartland - November 23 & 24
Giving Tree - Citizenship in Action
Family Dance December 6
Parents Make the Difference
Information
Report Cards - log in to Parent Portal
Christmas Concert - Getting ready for a great show!
Volleyball Tournament a Huge Success
School Education Plan - A Path to Continued Success
ACTION
Family Math Night - Come and play games as a family
Come and play games as a family at our fourth annual Family Fun Math evening! Roll some dice, play cards and win some prizes! Facilitated by John Felling from Box Cars and One-eyed Jacks, this evening provides families with great ideas on games you can pay together that are directly linked to improving math skills. Meet at our school @ 6 p.m. and then visit a variety of classrooms and break out spaces in order to play games for students of all ages.
Last year over 100 students and their families attended an evening filled with math activities with free popcorn for the first 100 people. We hope to see you there!
Literacy At Home
Establishing a reading routine at home helps develop children's vocabulary and comprehension, as well as providing extra one-on-one bonding time with your child. Here are some strategies that can help you when you are listening to your child read.
Word Attack Strategies – Going Beyond Sounding it Out
So how can you prompt your child when reading doesn't make sense? Try these strategies.
Flip the Sounds: If the word doesn't sound right, try flipping out the short vowel sound for a long vowel sound.
Picture Clues: Looking at the pictures can help children make informed word prediction. Replace the challenging word with a person, an object, or an action from the picture. Check to make sure the beginning sound of the picture matches with the word.
Skip and Go Back: Skip the word and read to the end of the sentence, then reread. Is there a word that would make sense? Does the beginning sound and first letter in the word match?
Read On: Stuck at the step above? Read on to find more clues in the text (context clues), then go back and figure out the word.
Look for Chunks: Ask your child to picture our familiar chunks in the word, such as word family endings (at, in, op, etc.), prefixes, or suffixes to help figure out the word.
Familiar Words: Does it look like a word another word your child knows? For example, night – right.
OPPORTUNITY
Christmas in the Heartland November 23 & 24, 2019

By Josephburg Agricultural Society in partnership with Strathcona County.
Take a scenic drive out to the country and be immersed in the sights and sounds of rural Strathcona. This self-driving tour of locations north of Highway #16 features eight unique venues steeped in tradition. Local halls and churches feature different aspects of a traditional country Christmas.
Saturday, November 23
Saturday seven venues come alive with artisans, crafters, ice carvings, nativity displays, sleigh rides, holiday caroling and more. Kick-off your holiday shopping, browse through the Christmas markets for those hand-crafted treasures or that unique work of art. Be sure to stock up on your Christmas baking! Remember to bring cash. An ATM is available at the Moyer Rec Centre. Visit Brookville Hall, Good Hope Hall, Moyer Rec. Centre, Partridge Hill Hall, Bethany Lutheran Church, Josephburg Community Church, Heartland Hall (North Contact Office). Tour the locations with the interactive map:
https://tinyurl.com/ycup4jbm
Sunday, November 24
You are invited to three participating locations:
Bremner Mansion Open to the Public from 11:00 a.m. – 3:00 p.m.
This 5,400 square foot Craftsman style house, built in 1903 captures a remnant of  Strathcona County's history. The property is only 15 minutes Northeast of Sherwood Park! Step back in time with captivating/entertaining house tours, vintage tractor/wagon rides, carolers, local art, hand wood-working, quilting, spinning, and sled dog demonstrations; visit a tipi and immersed in the Indigenous cultural story-telling and dance.  See the sled dogs, model train display and more.
Bethany Lutheran Church is Featuring European nativities this year. You are invited to come out from 12:30 to 4 pm to view their unique and distinctive displays. Warm beverages and snacks are available.
Moyer Recreation Centre
Bring the family out to FREE public skating from 1:30 – 3 pm., sponsored by the Joseph burg Ag Society.

More details see: http://josephburg-ag.ca/christmas-in-the-heartland/   or https://www.facebook.com/events/418778685505563/
Donations to Charity taken at all locations.
Giving Tree - Citizenship in Action
Mahatma Ghandi once said, "A nation's greatness is measured by how it treats its weakest members." Please help us demonstrate compassion for those less fortunate through our annual Giving Tree event beginning this month. Each grade collects and donates key items during the weeks leading up to the holidays to support Strathcona families who might need a little extra help. The items being collected include:
ECS - Dec. 2 bring socks
Grade 1 - Dec. 3 bring mittens
Grade 2 - Dec. 4 bring mittens and gloves
Grade 3 - Dec. 5 bring hats
Grade 4 - Dec.6 bring non-perishable food items
Grade 5 & 6 - Dec. 9 & 10 bring personal care items
These items will be used to decorate the Giving Tree. The donations will be collected by the Strathcona Christmas Bureau on Friday, December 13. Thank you in advance for your support of those in our community who are less fortunate!
Family Dance - Feeling Super on December 6
Dress in your best superhero inspired outfits and join us for our Superhero themed family dance on Friday, December 6 from 6 to 8 p.m. Admission is $10 per family. 
Kick-off your shoes at the door and dance in your best superhero socks! There will be a concession, 25 cent song requests and much fun to be had. All proceeds will go to our new playground fund.
We hope to see you there!
Parents Make the Difference
Check out this week's article to support parents in helping their child to learn and grow:
Three Simple Strategies to Boost Reading Comprehension
INFORMATION
Christmas Concert
Is it too early to plan for the Christmas Concert? Absolutely not! This year's concert is on Thursday, December 12 at the DOW Centre in Fort Saskatchewan. See the times below:
Grade 1 & 2 -  5:15 p.m.
Grade 3 & 4 -  6:15 p.m.
Grade 5 & 6 -  7:30 p.m.
Each family will receive 2 complimentary tickets to see the performance. Once again, we will provide the opportunity to purchase tickets for $5.00 each should you need more than the 2 tickets provided free of charge. We will send out a SchoolMessenger email with more details about when to expect tickets as well as the process for purchasing extra tickets in the near future.
Our Kindergarten friends will celebrate on Tuesday, December 17 in the school gym at 9:30 a.m. Stay tuned for further details. 
Report Cards - Posted online November 28
Click on the Parent Portal to view your child's report card. Don't have a parental portal access? See the link.  Contact Sandy Shackleton at 780-922-2066 if you need your access code.
Volleyball Mini-Tournament a Huge Success
Congratulations to our Grade 6 students for a successful volleyball mini-tournament. Students dazzled us with their amazing athletic skills and good sportsmanship. We are so very proud of each and everyone of you! Hats off to our Grade 6 teacher leaders, Mr. Halbert, Mr. Campbell, and M. Wandji for giving up their Friday evening to give our students a great sporting opportunity! 
We would also like to thank our Hot Lunch parents for their support in preparing for and running a concession for the tournament. We are so lucky!
School Education Plan - Our Path to Continued Success
During our last school council meeting, we shared our updated School Education Plan (SEP). This is a document that outlines our goals for the school as well as strategies and indicators of success for the next few years. We are also able to celebrate our achievements from the 2018-2019 school year. thank you to our parents and community members for sharing their feedback into our SEP. If you would like to share ideas with us, it is not too late! Contact Helene Hewitt at helene.hewitt@eips.ca with your feedback.