Back to all posts
Posted on
Bison Tales - November 20, 2020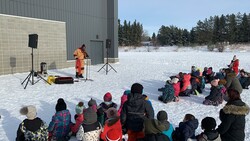 This week, we were so happy to welcome back several of our students to in person learning! It was great to see those smiling faces back in our classrooms. We know that deciding between staying home or coming to school is a tough one and that each family has to make the best choice for their own safety and personal context. To all of our families who are in out of school learning, we miss you and we cannot wait until we get to see you in the future! 
In this edition of the Bison Tales, you will learn more about Bullying Awareness and Prevention Week, Métis Week and how your fundraising dollars are being spent to support our students.
Finally, we'd like to take a moment to thank everyone in the Bison community for taking our safety guidelines seriously. Because of your willingness to wear masks, sanitize hands frequently, and keep a distance between people we have managed to stay safe! Keep up the great work! We are so proud of everyone in our community!
Helene Hewitt & Kyla Harding
Principal & Assistant Principal
Great Happens Here
TABLE OF CONTENTS
Week At a Glance
Action
Kindergarten Phone Interviews - Now with the right code!
Dress Warmly for Outside Fun!
Opportunity
Tidbits from the Lunchbox
Giving Tree - Strathcona County Food Bank
Counselor Corner
Daniel Gervais Visit at the end of Métis Week
School Education Plan - Where are we going? 
Information
Parent Fundraising - Where does the money go?
First Nations, Métis & Inuit Foundations - Métis Week 
Reading Tip of the Week
Parents Make the Difference 
WEEK AT A GLANCE
Monday

Virtual Canadian Parents for French meeting @ 7 p.m. - find the meeting link on our website 15 minutes before the meeting begins!

Tuesday

Kindergarten phone interviews

Wednesday

Kindergarten phone interviews

Thursday

Kindergarten phone interviews

Friday

Daniel Gervais presentation from 10:50 a.m. to 3:00 p.m. outside
Kindergarten phone interviews
Bison Tales posted online
ACTION
Kindergarten Phone Interviews - code updated!
Our kindergarten teachers are ready to conduct telephone interviews on November 24-27. In order to accommodate all of our kinder students, some interview times will be available during the day while others will take place from 3:30 to 5:30 p.m. To see the available times and to book your interview, go to www.schoolinterviews.ca and enter the code: ubymg
Dress Warmly for Outside Fun!
Have you ever heard of the Norwegian saying "there is no bad weather, only bad clothing"? Like our cold climate friends in Norway, it is our plan to go outside as much as possible this year. Our students will be going outside for recess as well as for physical education or other outdoor learning opportunities. Please send them with layers and good winter gear including snow pants, boots, winter coats, mitts, scarves and toques. They have so much fun playing outside when they have on the right gear! You might even see our staff outside in their snow pants as well! We can all have fun outside!
If the temperature including the wind chill factor is -22 C or colder, students will not go outside. However, we hope to keep them outside as much as possible so come prepared! Since we live in a winter province, we want to make sure to make the best of our winter wonderland! 
OPPORTUNITY
Tidbits from the Lunchbox
Thank you everyone for supporting our Cinnamon Bun Fundraiser on December 15. We sold 295 cinnamon buns! All proceeds will go to the Strathcona County Food Bank.
Grade 6 students, get your orders in for November 27 Pizza/Crazy Bread "Cafeteria Day". Menu closes November 25.
Reminder to please send cutlery with your students daily. The office staff have been having students come down requesting cutlery daily.
Any lunch cancellations please email info@aeslunchbox.com.
Stay Safe
The Lunch Box
Giving Tree - Strathcona County Food Bank
Once again it is time for our special Giving Tree tradition at Ardrossan Elementary from November 23 to December 4. Every year, we set up Christmas trees in our Gathering Area and each grade level brings presents for charity to put under their tree.
This year, we will continue our citizenship work by bringing non-perishable food items for the Strathcona County Food bank in partnership with our Hot Lunch parents. We know that this year has been especially hard for families and that the food bank is being used at record levels. We are are hopeful that our community will be able to donate items to go to our local community members who may be struggling to put food on the table. 
Please feel free to donate whatever you might have in your pantry that you think a family might enjoy. We will also accept gift cards for groceries as well as cash donations. Simply send them with your child and we will have a collection box in the office. Let's work together to support our fellow Strathcona County families in need!
Counselor Corner
This week we have been learning all about being an upstander by standing up to bullying in our community! Every day, there have been videos included in the announcements talking about what bullying looks like and strategies on how you can be part of stopping it. 'B' should be for belonging and not bullying! 
Our teachers also used materials from this Bully Prevention Google slideshow full of read alouds and classroom activities to delve more deeply into this conversation. Check it out for some great conversation at home! Thank to Mrs. Bashaw for all of her hard work in helping us to learn more about preventing bullying and making sure that everyone belongs at Ardrossan.
Daniel Gervais visit at the end of Métis Week
This week students learned about the Métis people through daily videos and lesson activities provided in class. Our week ended with a special cultural activity with a visit from Daniel Gervais, a Franco-Albertan Canadian Grand Master fiddle champion of 2016 and 2011.
Mr. Gervais played his fiddle for our students outside in an interactive performance. Students were able to play spoons, do some jigging and learn about Métis music and dance all while staying socially distanced and with regular disinfecting of equipment. We would like to thank Mme Bouchard for her hard work in applying for the ACFA grant which we used to hire Mr. Gervais as a special guest. We would also like to thank Mrs. Grauman who organized all of the lessons and videos to celebrate Métis week for classes! Teamwork makes the dream work! 
School Education Plan - Where are we going? 
Every year we take some time to analyze all of our school data in order to make decisions on our goals for the upcoming school year. This year, our School Education Plan is focused on 3 key goals: 
GOAL 1:  To ensure that more students are at or above grade level expectations in literacy and numeracy in both languages.
(EIPS Priority 1 & 2)
GOAL 2: To increase student, community and staff understanding of First Nations, Métis and Inuit foundational knowledge
(EIPS Priority 1 & 2)
GOAL 3: To establish and maintain effective mental health supports for students, families and staff as part of a welcoming, inclusive, respectful and safe learning environment.
(EIPS Priority 1 & 2)
To read our plan in detail, click here.
INFORMATION
Parent Fundraising - Where Does the Money Go?
Thank you to all of our Bison families for supporting our school through our fundraisers this year! We had a record collection of bottles in our last drive totaling approximately $1200! We also had several families take advantage of our Fundscrip gift card fundraiser in early November! 
You might be wondering what happens with all of that moola? 
Our Ardrossan Elementary Parent Support Association (AEPSA) is our fundraising society who collects funds for a variety of purposes. Some of the money being raised goes towards our playground replacement fund so that we can apply for matching grants to maximize our dollars when we are closer to rebuilding our playgrounds!
Some of the funds are used to pay for resources for students during the current school year. This year your AEPSA parent group has paid for the following amazing opportunities:
Virtual Field Trips
$1000 for each grade level to use to book virtual field trips throughout the year.
Books to Support Early Readers
$6731 for Flyleaf decodable book sets. These are books for kindergarten to Grade 2 that help students to practice sounding out words that follow the phonics patterns they are learning in class. The books are designed to help students master the decoding process and are an essential first step in learning to read. Flyleaf has also put many of their decodable books online for free during the pandemic if parents want to check them out! Click here.
French Books to Support Early Readers
$800 for Regard, je lis! French decodable books. Our French students also need books that are designed to help them to practice sounding out words using French phonics in the early grades. We will be ordering 100 books for our Grade 1 & 2 classes in the Regard, je lis! collection from Nathan publisher.
Student Data Binders
$175 for data binders from Staples. Every child in our school has a binder with dividers in which they will put samples of their writing, math and favourite projects three times a year. This binder is passed to the next year's teacher so that by the end of Grade 6 parents will have a portfolio of all of their child's work from K to 6 so that they can see the growth! AEPSA got us binders for the whole school last year but each year we need to buy sets for our kindergarten students and new students to the school. Thank you for buying us 50 more binders!
Those are a few examples of how your AEPSA parent group is supporting the learning at Ardrossan Elementary! Thank you, parents! We couldn't do it without you!
Reading Tip of the Week - Phonics Games
Last week we told you more information about the importance of phonics as a key skill young students need to master on the road to becoming proficient and life long readers! If you cannot sound out the word, you cannot read the story or make sense of the text!
Here are 7 phonics activities that you can try at home! Have fun!
Want to learn more about what the research says about phonics? Check out this amazing resource: Mrs. Wordsworth Deep Dive into Phonics.
Parents Make the Difference
Check out this week's article to support parents in helping their child to learn and grow:
Talk to your child about showing respect for teachers, classmates
Respectful behavior is vital for education. When students have respect for teachers and classmates, they help create the positive academic environment all children need to be successful.
Whether your child's classes are in person or online, encourage her to:
Address the teacher by name. Simply saying "Good morning, Mrs. Jones" is an easy way to show respect.
Be courteous. She should say please and thank you to her teacher and her classmates.
Raise her hand. When she waits to be called on, she demonstrates self-control and respect for others.
Do what's expected. Everyone in the class has a job to do. If the teacher doesn't plan any lessons, no one can learn anything. If students don't do their jobs—completing homework, listening to others— it makes it more difficult to learn.
Listen to the teacher's comments. Teachers want students to learn and to succeed. That means they have to point out mistakes. Your child will do much better in school if she can recognize and accept constructive feedback.
Reprinted with permission from the November 2020 issue of Parents make the difference!® (Elementary School Edition) newsletter. Copyright © 2020 The Parent Institute®, a division of PaperClip Media, Inc.