Back to all posts
Posted on
Bison Tales - November 19, 2021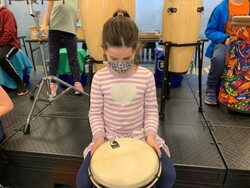 This week our hallways were full of the sounds of tapping, clapping and drumming as we participated in a World Drumming virtual Artist in Residence program. We heard kids excitedly talking about their drumming experiences all week! We would like to thank Mrs. Pretzlaff for organizing this great opportunity as well as for all of our teachers for making sure that kids were able to participate twice a day! The arts and opportunities for students to experience cultural elements from diverse communities are alive and well at Ardrossan Elementary!
As part of an exciting week, students also learned all about the Métis people for Métis Week. We learned about the history of the Métis people as well as the Métis fiddle, jigging and the Métis giving tree! 
Students also learned about bullying for Bullying Awareness week including topics about being an upstander, how to identify bullying and what you can do to prevent it. Lessons focused on how to show empathy for others and how to be a helper to those experiencing bullying. 
We would also like to thank our students for being so considerate of our custodian, Mrs. Jaramello this week. Students made sure to take off their boots and avoid leaving messy wet footprints in our beautifully clean school. These small acts of respect and kindness make us so very proud to be Bisons!
Stay warm and safe on those slippery roads!
Great Happens Here!
Helene Hewitt & Kyla Harding
Principal & Assistant Principal
Table of Contents
Week At a Glance
Action
Kindergarten Interviews
Report Cards This Friday
Opportunity 
Tidbits from the Lunchbox
Giving Tree - Citizenship in Action!
Poinsettia Fundraiser
Next Parent Meeting - December 6 
Information
Counsellor's Corner
Reading Eggs - Great Way to Practice Reading Skills at Home
Parents Make the Difference 
WEEK AT A GLANCE
Monday

Daebak Dance Club for Gr. 5 at lunch recess in gym
French Immersion Club for Gr. 3 at lunch recess 

Tuesday

Poinsettia Fundraiser Orders Due today!
Cute Things Club for Gr. 6 at lunch recess in Gathering Area
Games Club for Gr. 3 at lunch recess in Gathering Area
French Immersion Club for Gr. 4 at lunch recess

Wednesday

Games Club for Gr. 4 in Gathering Area at lunch recess
Art Club for Gr. 4 
French Immersion Club for Gr. 5

Thursday

Cute Things Club for Gr. 6 at lunch recess in Gathering Area
LEGO Club for Gr. 2 at lunch in the library
French Immersion Club for Gr. 6
Virtual Farm Safety Presentation

Friday


Habit 2 virtual assembly - Grade 2
Virtual Farm Safety Presentation
Daebak Dance Club for Gr. 5 at lunch recess in gym
LEGO Club for Gr. 2 at lunch in the library
French Immersion Club for Gr. 1 
Report Cards posted online today
Bison Tales posted online
ACTION
Kindergarten Interviews
Our kindergarten teachers are ready to conduct telephone interviews on November 25-30. In order to accommodate all of our kinder students, some interview times will be available during the day while others will take place from 3:30 to 5:30 p.m. To see the available times and to book your interview, go to www.schoolinterviews.ca and enter the code: f56zq
Report Cards this Friday!
Term 1 report cards will be posted online this Friday! Learn all about how your child is doing in reading, writing, math and all of the other important subjects! 
Click on the Parent Portal to view your child's report card. Don't have a parental portal access? See the link. Contact Lisa McNeely at 780-922-2066 if you need your access code or if you'd like some help in logging in. As always, if you have questions about your child's progress, please contact your classroom teacher. We are happy to talk over the phone or to set up a meeting in person or virtually!
OPPORTUNITY
Tidbits from the Lunchbox
Every Sunday you should receive an auto reminder of your Hot Lunch order items for the week. In that same reminder it includes what our Inclement Weather policy is for cancelled buses as well. In the spirit of the weather this week and our first instance this year of no AM buses but buses running in the PM, here is a reminder of what will happen with Hot Lunch Service in all scenarios for cancelled buses:
If Elk Island Public Transportation cancels buses for the whole day, there will be NO hot lunch service or refunds. All of the groceries purchased for that day's lunch service will be donated to a charity of our choice. If your child attends class that day, please ensure you provide them with a lunch. 
If busses are only cancelled in the morning and still running in the afternoon, Hot Lunch orders will still be served.
~ The Lunchbox
Giving Tree - Citizenship in Action!
Mahatma Ghandi once said, "A nation's greatness is measured by how it treats its weakest members." Please help us demonstrate compassion for those less fortunate through our annual Giving Tree event beginning this month. Each grade collects and donates key items during the weeks leading up to the holidays to support Strathcona families who might need a little extra help. The items being collected include:
Kindergarten - Nov. 29 bring socks
Grade 1 - Nov. 30 bring mittens
Grade 2 - Dec. 1 bring mittens & gloves
Grade 3 - Dec. 2 bring hats
Grade 4 - Dec. 3 bring scarves & neck warmers
Grade 5 & 6 - Dec. 6 & 7 bring personal care items (toiletries, shampoo/condition, deodorant...)
These items will be used to decorate the Giving Tree. The donations will be be boxed up and delivered to the Strathcona County Food Bank on Friday, December 10. Thank you in advance for your support of those in need! We are always amazed by the generosity of our community members! This is a great opportunity to demonstrate citizenship!
Poinsettias for Sale!
Do you love the beautiful red leaves of Christmas poinsettia? How about a beautiful evergreen Holiday wreath to decorate your front door? Bring home a taste of the season by purchasing some beautiful holiday greenery through our Ardrossan Elementary Parent Support Association (AEPSA) poinsettia sale! Order forms were sent home with your child this week so check the back pack for a flyer! 
If you misplaced the form, you can click here to place your order!
Orders are due by this Tuesday, November 23!
You can pick up your order on Wednesday, December 8 between 3-6 p.m. at Three Seasons Landscaping (53216 RR222).
Upcoming Virtual CPF Meeting - December 6!
Bonjour! It is time for our next CPF meeting on December 6 at 7 p.m. Any parents or guardians of students in French Immersion as well as parents of students who are not in French are invited. CPF organize whole school events that encourage French language and culture for all students! Please join us! 
If you would like to join our meeting on December 6, you can use this Microsoft Teams meeting link.
We are looking fo
Your Ardrossan Leadership Team,
Connie Hamelin, CPF Ardrossan Chair
Helene Hewitt, Principal
Kyla Harding, Assistant Principal
INFORMATION
Counsellor's Corner
Bullying Awareness Week
November 15-19th was bullying awareness week here in Alberta. The theme we chose for AEL this year was focused on building empathy. Together classes explored group activities, read alouds, videos for morning announcements, daily quotes and additional resources to help build understanding around the following questions:
What is bullying?
What is not bullying?
What is an upstander?
How can you demonstrate being an upstander?
What does inclusion look like? Feel like? Sound like?
What is empathy?
How do we show empathy?
Below are some resources you may find helpful in supporting your family with issues related to bullying.
Bullying Helpline: 1-888-456-2323 to get help anonymously in more than 170 languages or find other supports.
Bullying Helpline Chat: to get help anonymously in English.
Family Violence Prevention Month
A message from Strathcona County Family and Community Services:
"Are you affected by family violence? You are not alone, we're here to help. – November is Family Violence Prevention Month. 
Family violence is the attempts by one person in an intimate relationship to dominate and control the other. This may include a single act of violence, or several acts forming a pattern of assaultive and controlling behaviour. Family violence can include physical conflict, emotional abuse, psychological abuse, stalking, threats to harm children, family members, pets and property, and isolation from family and friends.  
The need to isolate during COVID-19 has led to families spending more time together at home. This may lead to tense situations, increased risks of family violence, and individuals unable to seek out safe spaces and supports. It is important to remember that you are not alone. There are various supports in our community that can help you and your loved ones seek safety." 
Visit Strathcona.ca/SCspeakout or call the Strathcona County FCS call line at 780-464-4044 to access resources.  
-Madison Bashaw, Counsellor
Reading Eggs 
Did you know that our school purchased Reading Eggs licenses for all students in Grades 1 to 5 in English? Reading Eggs is an online reading program that will provide your child with access to lessons and practice games on phonemic awareness, phonics, vocabulary and reading comprehension!
Your classroom teacher will send home the login and password for your child so that they can practice at home for fun! We recommend that students spend 10-15 minutes playing on Reading Eggs to support their reading skills at home!
You can check out the Reading Eggs website here.
Students in French Immersion in Grades 1 to 3 have access to a similar type of online software to practice French reading skills called Lalilo. Your classroom teacher can send home the login information so that you can practice easily on any device with an internet connect. If you've misplaced you login, don't hesitate to email your teacher!
Parents Make the Difference
Each month we will include some articles with some great tips and strategies for parents. Here is this month's featured article:
Predict, prepare and practice to prevent behavior problems
When it comes to discipline, parents often wait until after a problem arises to take action. Preventing problems in the first place is much more effective.
Follow these three steps:
Think about a behavior you would like to change. Perhaps your child gets up so late in the morning that she often misses the bus.
Since you can predict the behavior, you can also think about ways to prevent it. Instead of waiting until your child straggles down to the breakfast table, think of ways to avoid the late start. Is she tired in the morning because she's been up too late at night? An earlier bedtime could change that. Is she rushing around trying to get organized for school? Spending time the night before could save precious minutes in the morning.
Help your child practice the prevention strategies until they become habits.
If you predict, prepare and practice, you can also prevent many behavior problems from recurring.
Reprinted with permission from the November 2021 issue of Parents make the difference!®  (Elementary School Edition) newsletter. Copyright © 2021 The Parent Institute®, a division of PaperClip Media, Inc.