Back to all posts
Posted on
Bison Tales - November 1, 2019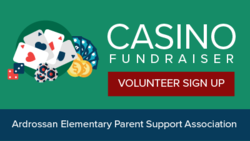 November is a month of remembrance. It offers us the opportunity to reflect upon those we love and value and to consider the important contributions made by those who came before us. 
This year, Canada is observing the 75th anniversary of the Second World War's Italian Campaign. More than 93,000 Canadians served in Italy from the summer of 1943 to early 1945. 
At Ardrossan we would like to acknowledge the sacrifices and contributions of our serving members of the Canadian military as well as to those of our First Responders, RCMP and Police Services. We are grateful to those who put their safety on the line to ensure our rights and freedoms and to keep us safe. 
We hope that you will join us for our Remembrance Day Ceremony on November 8 at 10:30 a.m. so that we can honour those who walked before us.
In gratitude,
Helene Hewitt
Acting Principal
Great Happens Here! 
WEEK AT A GLANCE
Don't forget to "fall back" this weekend!
Monday

Kindergarten Parent/Student/Teacher Conferences from 12:30 p.m. to 7:30 p.m.

Tuesday

Students in clubs present funding requests to parents from Ardrossan Elementary Parent Association (AEPSA) at 11:40 a.m. in the Conference Room
Kindergarten Parent/Student/Teacher Conferences from 12:30 p.m. to 7:30 p.m.
Colour Guard meeting at first recess with Mrs. Ruptash

Wednesday
Thursday

A regular old learning day!

Friday

Remembrance Day Ceremony 10:30 a.m.
Fire Safety Presentations for Kindergarten (KC), Grade 2 and Grade 5 classes in the afternoon.
Action
Ardrossan Casino
Daylight Savings - Don't Forget to Fall Back
Opportunity
Remembrance Day Ceremony
Frederickson Family Meal Train
Tidbits from the Lunchbox
Caregiver Series
Ardrossan 4-H Creative Hands Club
COBS Dough Raiser for Ardrossan Elementary
Parents Make the Difference
Information
ACTION
Ardrossan Casino Fundraiser - Volunteers Needed
Did you know that our school holds a casino every few years? 
This is an extremely beneficial fundraiser to Ardrossan Elementary Parent Support Association (AEPSA). This event has the potential to raise $20,000 for our student groups and playground replacement fund. 
This year's Ardrossan Elementary Parent Support Association Casino Fundraiser is at the Camrose Resort Casino on November 23 & 24. 
In an effort to make this a more fun and convenient experience let us know if you are interested in participating in a carpool when signing up. 
OPPORTUNITY
Remembrance Day Ceremony
We would like to invite you to attend our Remembrance Day Ceremony at 10:30 a.m. on November 8 in our gym. A special invitation to the Remembrance Day Program is extended to all serving and former members of the Canadian Armed Forces as well as to our local first responders. Please contact Helene Hewitt at 780-922-2066 if you are able to attend.
Girl Guides, Sparks, Brownies, Pathfinders, Cubs, Scouts and Beavers are encouraged to wear their uniforms on this day of remembrance. Students in uniform are welcome to join our Colour Guard who will begin our procession. Mrs. Ruptash will be meeting with the Colour Guard on Tuesday morning recess to practice for the event. All other students are asked to wear white shirts for this occasion.
Frederickson Family Meal Train
For anyone who would like to help out the Frederickson family, we are setting up a meal train so we can assist them with meals about 3-4 times a week until Christmas. If you do not like to cook or do not have time we have a gift card option as well. Thank you so much for all that have helped thus far and who have asked how you can. We are so fortunate with this fabulous supportive community.
The family has no allergies and enjoys eating all foods. The family could also use gift cards for meals and groceries. Meal suggestions if you are not sure what to make:
Lasagna 
Soup of any kind
Spaghetti sauce w/ package of noodles
Taco Meat (hamburger/turkey)
Chicken fajitas 
Egg roll in a bowl
Marinated pork chops, chicken, beef
Pizza
Casseroles 
Butter chicken 
Stew
Please look at what others have signed up for so we are not doubling up in the same meal idea for that week. Meals will be delivered to the family once a week by a staff/AEPSA member to the family on Tuesdays after school. All meals can be sent to the school on Monday or Tuesday and stored in the hot lunch fridge/freezer.
Sign up online here: https://www.signupgenius.com/go/8050E4FADAF2FA4F85-frederickson
PLEASE MAKE A NOTE OF THE MEAL/TYPE OF GIFT CARD IN THE COMMENTS.
Thanks to this great community for the support of the Frederickson family during this difficult time. 
Sincerely,
Ardrossan Elementary Parent Support Association (AEPSA)
Facebook: @supportardrossanelementary
Tidbits from the Lunchbox
Who likes free fruit!!!! The LunchBox has decided to do a "free fruit day" every month. On November 8th your Lunchbox Crew will provide Bananas to all students at AEL.
Thank you to everyone who has remembered to send / bring reusable cutlery for their child's hot lunch use. Every little bit helps.
Reminder that our Little Caesar Pizza Kit pick up is Tuesday November 5th 4:30-6:00 pm in front of the main school doors (please don't be late).
November's Booster Juice Smoothie Fundraiser for AEPSA looks like it will be a huge success. Thank you to all those who ordered. We will be looking for future dates in the new year to do again. Proceeds from this fundraiser go directly to the Playground replacement fund.
December's menu opens for ordering November 5th and will remain open until November 21.
This year the LunchBox has partnered up with the AEPSA and CPF parent groups of the school. Our goal is to help them to raise funds for various events in and around the school. We will be offering several "Order in Fridays" throughout the remainder of the school year. This will also allow those with dietary restrictions a chance to participate in the treat days.
December Menu Highlights
Dec 13 Little Caesar Pizza & Confetti Sweet Cookie Day (This is the day after our School Christmas Concert)
Dec 20 Nitzas Pizza (Div 1 classes Only) (last day before Christmas Break)
Dec 20 Pasta Pantry, delivered to Sunridge Ski Hill (Div 2 classes Only) (last day before Christmas Break)
Thanks for your ongoing support of the program.
The LunchBox
Caregiver Education Series
The Division, in partnership with Alberta Health Services and Elk Island Catholic Schools, is hosting a series of caregiver information sessions focused on ways to support students' mental health. The sessions are free and geared toward parents, caregivers, teachers and community members who want to learn more about challenges impacting children and adolescents. This year, session topics include anxiety, ADHD, depression, self-harm, technology, teens and teaching leadership skills, and more.
Visit the Division calendar to see all scheduled caregiver sessions.
Ardrossan 4-H Creative Hands Club
Like to have fun, meet new friends, play games, and work on creative projects including making marble runs? Ardrossan 4-H Creative Hands Club meets every other Thursday starting November 7.
6:30pm to 8:30pm
Ardrossan
Ages: 9 and up
$125
For more information, please contact Donna Zons at (780) 903-1424 or by email at donnazons@gmail.com.
Cobs Dough Raiser for Ardrossan Elementary
Did you know that Ardrossan Elementary is signed up for the COBS Dough Raiser program at the Sherwood Centre (Wye Road) and Baseline COBS bakeries? 
Next time you go to purchase something from COBS, mention Ardrossan Elementary School and they will donate 5% of the sale back to our school! 
Check out this flyer for more details!
Parents Make the Difference
Check out this week's article to support parents in helping their child to learn and grow:
Are you making read-aloud time the best it can be?
INFORMATION
Inclement Weather
With the winter season almost here, we want to remind families to dress children appropriately for the weather when getting ready for school or the bus. The weather often changes unexpectedly throughout the day, so please select suitable outerwear and ensure your child is prepared for changing conditions.
If inclement weather conditions occur, Elk Island Public Schools (EIPS) advises families of any bus cancellations using various communications tools—automated-telephone messages, alerts posted on www.eips.ca and school websites, Twitter, Facebook, local radio stations and on Versatrans My Stop. Morning bus cancellations are posted on www.eips.ca by 6:30 a.m.
Decisions regarding bus cancellations are guided by EIPS administrative procedures that states, "school bus service may be suspended…when Environment Canada reports a temperature of -40 C." Other reasons for suspending or delaying school bus services include adverse weather and poor road condition. When school bus services are suspended, schools remain open to students. EIPS believes families have the right and responsibility to make choices for their children based on their beliefs and perceptions of safety during times of inclement weather.
For more information, contact EIPS Student Transportation at 780-417-8151.