Back to all posts
Posted on
Bison Tales - May 8, 2020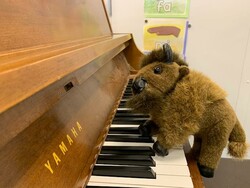 Hello Bison Families!
We hope that you have enjoyed another week of mostly sunny weather! To all of our fabulous mothers, we'd like to wish you a huge Happy Mother's Day! We hope that your children make you dinner, clean the house and give you a nice foot rub!
Click here to watch our weekly video Bison Tales and don't forget to send us your #AELWellnessChallenge pictures to general.ael@eips.ca
Stay safe and be nice to your mom!
Love,
Mme Hewitt & Mrs. Harding (on behalf of the Ardrossan Elementary Staff)
Action
Sign up to attend our Virtual School Council and AEPSA meetings!
Ardrossan Wellness Challenge of the Week
Opportunity
Mental Health & Community Supports
Caregiver Education Series - Now Online!
Storytime with Superintendent Liguori 
Parents Make the Difference
Information
Kindergarten Information Coming Soon
And the Winner Is...Bison Name Contest Results
Staffing Updates
Classroom Configurations for 2020-2021
ACTION
Sign up to attend our Virtual School Council and AEPSA meetings!
We are looking forward to our first ever virtual school council meeting on May 12, 2020 at 6:30 p.m. followed by an Ardrossan Elementary Parent Support Association (AEPSA) meeting at 7:30 p.m. 
We know that meeting virtually isn't the same as in person, but we are still looking forward to seeing the faces of our wonderful parents and guardians soon! We hope to share information about the following topics in the administration report:
budget implications for 2020-2021
classroom configurations for next year
survey results from our community 
literacy project beginning in May and extending into next year
School Education Plan for 2020-2021
If you would like to attend either of these meetings, please fill out this form. We will use the information to send you a link to join the online meeting using the Google Hangouts Meet platform 15 minutes before the meeting begins. We hope to see you online!
Ardrossan Wellness Challenge of the Week
This week's challenge is to learn a new dance routine. Physical exercise is important for both the body and the mind! Get your family together and make up a new dance routine together! If you need inspiration check out this video of Edmonton Mayor Iveson dancing with his family! Put on a great tune and bust out those dance moves!
Take a picture or a short video of you or your family showing of your mad dance skills with the hashtag #AELWellnessChallenge and email it to general.ael@eips.ca. We'll add your pictures & videos to our weekly Bison Tales Video for our community to enjoy. Stay connected, stay safe, stay well!
OPPORTUNITY
Mental Health & Community Supports
Living through a pandemic is not only unexpected, but it can also be an unsettling experience! These changes in the routines and patterns of our daily life can impact our mental health and our feelings of well-being.
Under the leadership of our counsellor, Kelley Mitchell, Ardrossan Elementary has created a Google Classroom of resources to support families. Simply go to Google Classroom and join the AEL class using the code: 7ju3wm3
You can also find some excellent resources on the EIPS Mental Health & Community Resources Classroom as well. Go to Google Classroom and join the EIPS class using the code: dfdwsqf
Caregiver Education Series - Now Online!
Alberta Health Services is continuing to provide support for families through their Caregiver Education Series. You can now register for a virtual session on a variety of topics all in the comfort of your own home throughout May, June and July. Click here to see the great opportunities that are available to all caregivers!
Storytime with Superintendent Liguori
What's next on our Superintendent's reading list? Check out this week's video of Superintendent Liguori reading out loud!
Superintendent Liguori Reads: The Dot
Parents Make the Difference
Check out this week's article to support parents in helping their child to learn and grow:
COVID-19 Tips for Elementary School Families
INFORMATION
Kindergarten Information Coming Soon
Ardrossan Elementary usually invites families with Kindergarten-aged children to attend our ECS Information evening near the end of May to learn more about what to expect in Kindergarten and provide families with the opportunity to tour the school and meet the teachers.
Given the current situation with COVID-19 we are not able to host an information evening this year. However, we know that it is still very important to connect with our Kindergarten families! That is why we will be sending out information about Kindergarten to all of our families next week. You can expect to receive an email which will include a video introduction of the teachers and the school, a Google Form where you can provide us with some information about your child in particular as well as general information about what to expect in Kindergarten. Keep an eye out in you inbox for this email next Friday! 
And the Winner Is...Bison Name Contest Results
Thank you to all of our families who submitted fabulous suggestions for our Name the Bison Contest. After a week of voting the winning name has been chosen. Drum roll please!
Our bison will be affectionately named Frederick the Bison! 
Thank you to the Gustafson family for this wonderful suggestion in honour of Mr. Frederickson! We will be sending a small prize in the mail for providing the winning answer!
Thank you to the rest of our families for participating in this contest. We loved all of the suggestions and the creativity of our community!
Our Kids Are Going to Be Okay
With schools moving to an alternative learning experience for the remainder of the school year, we anticipate that families may be worried about their child's progress and future school success.
We know learning from home is hard and that it is impossible to replicate a school experience at the kitchen table while working, caring for children, and maintaining a household! On top of that, parents are usually the soft place to land instead of being expected to help facilitate learning!
As your educational team, our staff want to reassure you that we are here and that you are not alone! If you have concerns or worries, reach out to your child's teacher or to Mme Hewitt (helene.hewitt@eips.ca) or Mrs. Harding (kyla.harding@eips.ca). We are great problem-solvers and we are here to help.
Our school educational team is deeply committed to helping each student to grow. We will continue to assess students to determine their needs and then meet them where they are to help them to flourish now and in the fall. Although it is hard to not worry, please remember that we've got you! Our kids are going to be okay!
Staffing Updates
We are still hard at work planning for the next school year. At this time, we have not yet completed all of our staffing decisions for the 2020-2021 school year. Keep reading the weekly Bison Tales as we will post more information on this topic when it is available!
Classroom Configurations for 2020-2021
At Ardrossan Elementary, the welfare and success of our students is our top priority. Every staff member works closely on collaborative teams with colleagues in the same grade level as well as with other professionals such as our counselor and other learning consultants to ensure that we are meeting the needs of all students. We focus our collective efforts into providing differentiated instruction to students based upon their academic, social and emotional needs.
As your school team, we spend a lot of time developing class lists that take many factors into consideration. We make decisions based upon the particular needs of the students in each grade level in order to maximize the supports and resources that are available. We strive to establish classes that are academically, socially, behaviorally and emotionally well balanced. Our staff are essential in establishing the most effective classrooms for learning and have consistently done a great job in preparing classes for each new school year.
We thank you for trusting our professionalism, expertise and experience as we develop student classroom lists for the upcoming school year.
Information regarding class placements for the coming year will be enclosed in the final report card. In compliance with FOIP, class lists will not be posted in any public forums to respect the privacy of all families.
Parental requests, directed to the principal in writing, will only be considered for exceptional circumstances. Parent comments will be shared with the appropriate teacher(s).