Back to all posts
Posted on
Bison Tales - May 6, 2022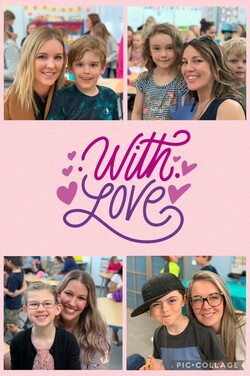 This week we were able to enjoy an old tradition once again! Our Grade 1 students were excited to welcome their mothers and other special guests for a Mother's Day Tea. Students made flowers for their guests and performed a song before taking them to the classroom for fun activities as well as a delicious cookie and a refreshing drink!
Much fun was had with students making art with their guests and planting bean seeds! We could feel the love in the air as our students were able to show off their learning and their classrooms!
Thank you to Mrs. Usher for making the tasty treats for this event! We are so lucky to be part of such a great Bison community!
We hope that everyone has a great weekend and that you get time some time to honour your mother or mother figure in your life!
Great Happens Here!
Helene Hewitt and Kyla Harding
Principal and Assistant Principal
Table of Contents
Week At a Glance
Action
Order Your 2021-2022 Yearbook!
Kindergarten Information Night is Coming!
Opportunity 
Grade 6 Volleyball Tournament & Fundraiser
Mental Health Week Contest
Last School Council and AEPSA Meetings 
Information
We Are All Treaty People
Parents Make the Difference 
WEEK AT A GLANCE
 

Monday

 

Emergency Evacuation Drill #5
Student Clubs:

AETV - Grade 6 
Daebak Dance - Grade 3-6
French Immersion Club - Grade 6

 

Tuesday

 

School Council Meeting @ 6:30 p.m.
AEPSA Meeting @ 7:30 p.m.
Student Clubs:


Basketball Club - Grade 4
Card Club - Grade 3 & 4
Cute Things Club - Grade 5 Group 1 & 2
Gardening Club - Grade 3 & 4
French Immersion Club - Grade 1

 

Wednesday

 

Student Clubs:

Art Club: Grade 6
Basketball Club: Grade 5
Card Club: Grade 3 & 4
French Immersion Club: Grade 2

 

Thursday

 

Last day to order Yearbooks today!
Student Clubs:


Basketball Club: Grade 6
Cute Things Club: Grade 5 Group 1 & 2
French Immersion Club: Grade 3
LEGO Club: Grade 3

Friday

Grade 3 on field trip to the Valley Zoo
Student Clubs:


Daebak Dance: Grade 3-6
French Immersion Club: Grade 4

Bison Tales posted online
ACTION
Order a 2021-2022 Yearbook!
Mrs. McNeely has been hard at work preparing our Ardrossan Elementary 20201-2022 Yearbook! You can still order your own copy. You can find the yearbook order in your Parent Portal account under "optional fees". You can add it to your cart and you are good to go! For the bargain price of $18, you can get a beautiful memory for your family! Yearbooks will be delivered before the end of June to take with you over the summer! 
Kindergarten Information Night is Coming!
We are happy to share that our kindergarten families are once again invited to an in-person Kindergarten Information Evening on May 18 from 6:30 p.m. to 7:30 p.m.
This event is an opportunity to meet some of our team and learn about what to expect in kindergarten. You will hear information about a day in the life of a kindergarten student as well as information about how to be involved at school. You will also have the chance to go on a school tour led by student leaders!
We will send out an email reminder as well as a Welcome to Kindergarten survey to all families later on this week!
OPPORTUNITY
Grade 6 Volleyball Tournament & Fundraiser
Our Grade 6 students will be having a volleyball tournament this Friday throughout the afternoon. Students from other grades will be invited to watch during some parts of the afternoon. Parents and caregivers are welcome to drop in if they want to watch. 
The Grade 6 students will also be running a concession during the tournament. Students may purchase chips for $1 or chocolate bars for $2 as a fundraiser to purchase new physical education equipment for the school. 
If you would like your child to make a purchase at the concession please send them with change. We will not have a large float to break large dollar amounts. If you have questions about the tournament, please reach out to your child's Grade 6 teacher!
Mental Health Week Contest!
Strathcona County is hosting an online contest for a wellness basket with a value of $150! You can read all about it through this Facebook post and Twitter post! It's not too late to enter!
Last School Council and AEPSA Meetings of the Year
Join us for our final parent/caregiver meetings of the year this Tuesday! We hope you will join us in person so that we can connect for the last time before the year ends!
For people who need to join us remotely, we will upload a link to the website on the day of the meeting!
School Council will take place @ 6:30 p.m. in the Learning Commons followed by AEPSA @ 7:30 p.m.
The meeting agendas are in the works. Here are the minutes from the last meeting:
April School Council Minutes 2022
INFORMATION
We Are All Treaty People
As part of our School Education Plan, we have been focused on learning about First Nations, Métis and Inuit peoples and have been integrating content about culture and history into our lessons. An important part of our learning has also been in learning about what it means to be a part of Treaty 6.
Today, our staff attended a professional learning session presented by Jeremy Albert, a First Nations, Métis and Inuit consultant for Elk Island Public Schools. We spent time learning about Treaty 6, which is the treaty that is in place for us here in Ardrossan. 
We learned about why both nations made the Treaty 6 agreement and how each group benefitted from it. One interesting thing we learned was that the treaty has no expiration date unless the sun stops shining, the grass stops growing and the rivers stop flowing. 
We may sometimes think that Treaty 6 is something that only applies to Indigenous groups, however, today we were reminded that all people who live on this land are part of that agreement - we are all Treaty people. This means that we have a shared responsibility to continue to foster a respectful relationship between all who live here. One way we can do that it to understand our shared histories so that we can heal hardships and move forward together.
Parents Make the Difference
Throughout the year we will include some articles with some great tips and strategies for parents. Here is this week's featured article:
Remember the 85-15 rule for discipline
Too often, discipline gets a bad rap. Many parents think it means punishing their children when they misbehave—which isn't enjoyable for kids or parents.
However, the word discipline actually comes from the Latin word disciplina, which means "teaching." So try thinking about discipline as a way to teach your child skills to be successful in life.
Most of your discipline—roughly 85 percent—should focus on encouraging the behavior you want to see from your child. You can do this by being a good role model. If you want your child to be kind, be kind to others. If you want your child to be responsible, fulfill your commitments.
You can also point out other people who display the behaviors you'd like to encourage. And when you see your child doing the right thing, offer praise.
That leaves just 15 percent of the time for correcting negative behavior. Set rules and enforce consequences consistently. Then express your confidence that your child will make better behavior choices next time.
Reprinted with permission from the May 2022 issue of Parents make the difference!®  (Elementary School Edition) newsletter. Copyright © 2022 The Parent Institute®, a division of PaperClip Media, Inc.