Back to all posts
Posted on
Bison Tales - May 27, 2022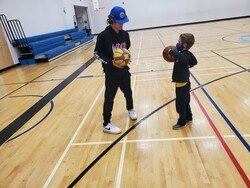 Today was a fun day for many reasons! First of all, our staff felt the love as the parent community spoiled us with coffee and home made baked goods in the staff room. Then they served us a delicious lunch of pizza, salad and fruit! Then to top it all off, staff received a lovely giftbag full of treats! Thank you for taking the time out of your busy lives to let us know that you appreciate us! We feel very lucky!
This afternoon, we also had a visit from two special guests! Our new principal and assistant principal, Mrs. Lastiwka and Ms. Tsiclas, came to the school for a tour. They popped their heads into all of the classrooms and introduced themselves to the students and staff! It was great to see them getting along so well with the students. Our students did not disappoint as they greeted them with hugs, warm wishes and the spirit of kindness that makes this community so special! They even celebrated the Oilers win together!
Here's hoping that you enjoy a relaxing weekend!
Great Happens Here!
Helene Hewitt and Kyla Harding
Principal and Assistant Principal
Table of Contents
Week At a Glance
Action
Habit 7 Assembly - Save the Date!
Opportunity 
Getting Ready for the Ardrossan Parade
Camping en français
Information
Staffing Update
Parents Make the Difference 
WEEK AT A GLANCE
 

Monday

 

Student Clubs:

AETV: Grade 5 and 6
Daebak Dance: Grade 3-6
French Immersion Club: Grade 1
Rocket Club

 

Tuesday

 

Emergency Evacuation Drill #6
Student Clubs:


Gardening Club: Grade 3 & 4
French Immersion Club: Grade 2
Rocket Club 

 

Wednesday

 

Grade 6 Field Test Math Part A
Early Dismissal
Student Clubs:

Art Club: Grade 5
Card Club: Grade 4
French Immersion Club: Grade 3

 

Thursday

 

KC Zoo Field Trip
Grade 2 Field Trip to Royal Alberta Museum
Student Clubs:


Card Club: Grade 3
French Immersion Club: Grade 6
Rocket Club: Grade 6
Gardening Club: Grade 3 & 4

Friday

Grade 6 Field Test Math Part B
KA & KB Zoo Field Trip
Student Clubs:


Daebak Dance: Grade 3-6
French Immersion Club: Grade 5

Bison Tales posted online
ACTION
Habit 7 Assembly - Save the Date
We cannot wait for our first in person whole school assembly on June 6 at 2 p.m. in the gym! Parents and caregivers are welcome to join us as our littlest Bisons, the kindergarten students, teach us all about Habit 7: Sharpen the Saw! We hope to see you there!
OPPORTUNITY
Getting Ready for the Ardrossan Parade
Did you know that we have and Ardrossan Elementary drum line made up of students in grades 4 to 6? Thanks to the donation from the Ardrossan Elementary Parent Support Association (AEPSA), Mrs. Pretzlaff was able to purchase drums and harnesses that our students will use to march in the June 18 Ardrossan Parade! We hope that you will come out and and enjoy this wonderful event! See you there!
Camping en français!
Do you love camping? Do you want an opportunity to provide your French immersion children an opportunity to practice and use their French outside of school? Would you like to do both? Why not joinCPF Alberta for a weekend in Cypress Hills that includes French programming for your children?
Camping en Français will be taking place at the Whispering Pines Camp in Elkwater (Cypress Hiils Interprovincial Park) from June 30th to July 3rd.
Join us for traditional summer camp activities – including climbing wall, archery, pellet guns, RC cars and Splat Ball – as well as a trip to Fort Walsh National Historic Site. As well, come join us at Canada's first Dark Sky Reserve located on the highest point in Canada between Labrador and the Rocky Mountains.
For more information and to register, please visit: https://ab.cpf.ca/en/event/cpf-ab-camping-en-francais-elkwater-ab/
Please share this email with your students, school parents, friends, family, colleagues and anyone else who may be interested.
We look forward to seeing you there! 
Michael Tryon
Canadian Parents for French, Executive Director
INFORMATION
2022-2023 Staffing Update
We would like to welcome Isabelle Mclean to Ardrossan Elementary as our Grade Four French Immersion teacher for the 2022-2023 school year. Mme Mclean has experience in our school as she has often been a substitute teacher in our French Immersion classes. She has also had experience teaching French Immersion classes at Ardrossan Junior Senior High school, Sherwood Heights Junior High and Ecole Campbelltown. Bienvenue, Mme Mclean!
Parents Make the Difference
Throughout the year we will include some articles with some great tips and strategies for parents. Here is this week's featured article:
Plan a few educational and fun field trips for your family
 "I'm bored!" Do you dread hearing this phrase over the summer? Then start planning now! In addition to collecting supplies, such as books, recipes and games, schedule a few family field trips. Local educational destinations are often free and fun to visit!
Consider going to:
Call or go online to check upcoming exhibits. Which would your child like to see most? Are there any virtual events you could attend? Add them to your summer calendar.
An arboretum. Kids love walking through gardens, admiring flowers and learning about nature. Bring a camera or sketchbook so your child can record the plants and animals.
The zoo. This trip is almost always a hit with children. Before leaving, you and your child can read about the animals you'll see. Talk about their natural habitats and what they like to eat.
A fire station. Call ahead to see if a summer open house is planned. If not, call and see if you could schedule a visit.
An airport. Simply parking near the airport is interesting. Can your child spot the control tower? What about the planes taking off and landing?
Find a guide to local parks and keep it handy. Consider visiting hiking trails, historic battlefields and more. Add a nature guide and maybe even some binoculars, and you're ready for an adventure!
Reprinted with permission from the May 2022 issue of Parents make the difference!®  (Elementary School Edition) newsletter. Copyright © 2022 The Parent Institute®, a division of PaperClip Media, Inc.