Back to all posts
Posted on
Bison Tales - May 22, 2020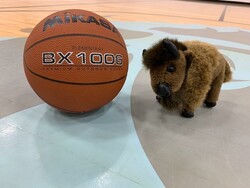 Hello Bison Families!
This week, Mrs. Harding and I have been thinking a lot about all of our families and wondering about how you are holding up? We have heard stories of how many of you are making the most out of this unexpected time together to do fun family activities such as cooking, baking or playing outside together. We've also learned that many of our students have recently acquired new puppies or kittens to help make time at home even more cuddly!
Whatever you are doing, we hope that this time at home has provided everyone with the opportunity to really grow to appreciate one another. These are the memories that you may cherish in the future and tell your own grandchildren about!
While we miss all of you, we still enjoy seeing your faces in Google Meets and in the pictures you send us to general.ael@eips.ca for the #AELWellnessChallenge! Keep those wonderful photos coming in! They make our day!
Don't forget to click here (or scroll to the bottom) to watch our video Bison Tales episode for this week!
Stay safe and be kind!
Love,
Mme Hewitt & Mrs. Harding (on behalf of the Ardrossan Elementary Staff)
Action
Ardrossan Wellness Challenge of the Week
Upcoming Dates for June
Opportunity
Storytime with Superintendent Liguori 
Parents Make the Difference
Information
Getting Ready for Kindergarten
COVID-19 Frequently Asked Questions
Elder Wilson Welcomes a New Face
Kindergarten and Grade 6 Celebrations
ACTION
Ardrossan Wellness Challenge of the Week
This week's challenge is to have fun playing without technology. We mean no disrespect to online activities (Mme Hewitt is an avid video gamer!), however you are probably getting way more screen time than normal! Remember that it is good to find balance in your life. We invite you to find a fun no-tech game to play such as Hide and Go Seek or Tag. If you want to go "old school", you can learn how to play marbles. Check out this video to learn how! Fun fact: Mme Hewitt was a pro marble player when she was an elementary student at Wes Hosford! Learn how to play and then challenge her to a round when we are back at school!
Take a picture or a short video of you or your family playing without technology with the hashtag #AELWellnessChallenge and email it to general.ael@eips.ca. We'll add your pictures & videos to our weekly Bison Tales Video for our community to enjoy. Stay connected, stay safe, stay well!
Upcoming Dates for June
Is it too early to talk about June? In order to help you to better plan for the future, here are some important dates coming up in June.
June 19: last day of alternative learning 
June 26: report cards published online (access through Parent Portal)
June 22-26: families invited to come into the school at scheduled times to drop off technology, textbooks, or other school property. Grade 6 and Kindergarten students invited at scheduled times for an end of the year celebration activity
June 29: processing of fee credits or refunds begin (if all property returned to the school)
OPPORTUNITY
Storytime with Superintendent Liguori
What happened to Humpty Dumpty after the wall incident? Find out by listening to Superintendent Liguori reading Dan Santat's After the Fall.
Superintendent Liguori Reads: After the Fall
Parents Make the Difference
Check out this week's article to support parents in helping their child to learn and grow:
Limit recreational screen time with these unplugged activities
The lazy days of summer can lead to lazy hours staring at digital devices. But experts say it's important to limit recreational screen time.
Encourage your child to:
Be the entertainment. Instead of watching a show, your child can create one. Have her choose an exciting story line and act it out with friends or stuffed animals.
Play classic games. Fill a bucket with traditional summer toys, such as sidewalk chalk, balls, bubbles and water sprayers. When the weather is right, have your child take it outside for hours of fun.
Be a mad scientist. Go online to find simple science experiments you can do together.
Plan a treasure hunt. Hide lots of clues, with each one leading to the next. This can be done outside or inside. The last clue should lead to a treasure, such as a yummy snack or a fun activity.
Create a masterpiece. Gather supplies such as glue, construction paper, fabric, yarn, washable markers and paint. Ask your child to create something.
Reprinted with permission from the May 2020 issue of Parents make the difference!® (Elementary School Edition) newsletter. Copyright © 2020 The Parent Institute®, a division of PaperClip Media, In
INFORMATION
Getting Ready for Kindergarten
Is your child beginning Kindergarten with us in the fall? We cannot wait to meet them!
Please click here to access information about Kindergarten including a chance for you to tell us more about your child, information about a day in the life of a Kindergarten student, as well as a video where you can meet the teachers and have a tour of the school!
If you have further questions, please do not hesitate to contact us at general.ael@eips.ca
COVID-19 Frequently Asked Questions from EIPS
Do you have questions about COVID-19? Information is changing rapidly and we are certain that families might want to know more certain topics. 
Elk Island Public Schools has an FAQ that can help you to find the information you might need. Click here to read all about it.
Elder Wilson Welcomes a New Face
We are so grateful to have had the chance to learn from our Elder in Residence, Elder Wilson over the past several years. His gentle humour and powerful stories have helped us to grow and learn together. As he is concluding his time with EIPS as Elder in Residence in order to pursue his recent book release, he has welcomed a new First Nations, Métis and Inuit consultant to our school family. Watch it here.
Kindergarten and Grade 6 Celebrations
Every year, we look forward to celebrating some important life milestones with our youngest and oldest students. In Kindergarten, we usually get together to celebration the successful completion of the school year with certificates and cake. In Grade 6, we typically have a big assembly where we acknowledge the hard work of our students and we celebrate the end of elementary school and the beginning of junior high. 
Although the health restrictions limit our ability to engage in these activities, our staff are hard at work figuring out what we can do to celebrate. We will be emailing families in both of these grades, to let you know about celebration opportunities at the school that are available to you that are in line with health and safety regulations. You can count on getting your certificates, having a chance to see your teachers, and a place in which to take some pictures. Keep your eyes out for an email with more details soon!