Back to all posts
Posted on
Bison Tales - May 15, 2020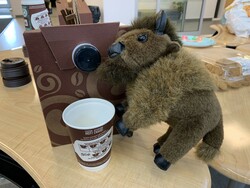 Hello Bison Families!
We hope that life at home is becoming more enjoyable now that the weather is warming up! We are getting easily distracted by seeing the birds outside or the students riding bikes by our windows!
We encourage all of our families to continue to go outside and to be active as a family. Research shows that physical activity is essential for mental health. There are also studies that suggest that our bodies also need fresh air and sunshine that you can only find in the great outdoors! So go get out there, Bisons!
Please click here to watch our weekly video Bison Tales and don't forget to send us your #AELWellnessChallenge pictures to general.ael@eips.ca
Stay safe and play outside!
Love,
Mme Hewitt & Mrs. Harding (on behalf of the Ardrossan Elementary Staff)
Action
School Supplies
Ardrossan Wellness Challenge of the Week
Opportunity
Storytime with Superintendent Liguori 
Parents Make the Difference
Information
Getting Ready for Kindergarten
Virtual School Council and AEPSA Meetings a Success!
Planning for the End of the Year
Classroom Configurations for 2020-2021
ACTION
2020-2021 School Supplies
Are you already dreaming about the upcoming school year? We are hopeful that we will be back in session in the fall. In order to help you to prepare for the upcoming year, we have prepared our back to school supply lists for the 2020-2021 school year.
Click here to see our supply lists.
You can also choose to order your supplies online with Write-On Stationary. If you order through Write-On our school will receive 10% of the profits as a fundraiser. 
FOR ONLINE ORDERS:
Go to www.write-on.ca
Click on "PARENTS – Order Here"
School Name: Ardrossan Elementary School
Choose your grade and place your order.
Complete your order by clicking 'PLACE ORDER'
You will receive an automatic email confirmation to confirm your order has been received
They accept VISA, MC, AMEX, Visa Debit and Interac On-line 
Ardrossan Wellness Challenge of the Week
This week's challenge is to read a book in your favourite location. Reading every day is important for expanding your vocabulary, helping you to learn new ideas, and to explore places that you've never seen before! We invite you to cozy up with a good book in your backyard on a swing or perhaps in a pillow fort in your living room. 
Take a picture or a short video of you or your family reading a book in your favourite location with the hashtag #AELWellnessChallenge and email it to general.ael@eips.ca. We'll add your pictures & videos to our weekly Bison Tales Video for our community to enjoy. Stay connected, stay safe, stay well!
OPPORTUNITY
Storytime with Superintendent Liguori
What's next on our Superintendent's reading list? Check out this week's video of Superintendent Liguori reading out loud!
Superintendent Liguori Reads: The Giver Part 2
Parents Make the Difference
Check out this week's article to support parents in helping their child to learn and grow:
Treat reading as an enjoyable summer activity
To keep your child reading over the summer, treat it like any other fun summer activity. Let it be something he can do whenever he feels like it. Show him that reading can be enjoyable. And never make summer reading feel like homework.
If you help your child make the connection between books and the simple pleasures of childhood, his desire to read may last a lifetime.
To take a summer approach to reading:
Suggest that your child reread a favorite book. Then find another book by the same author. Or find one on the same topic.
Connect books with summer activities—sports books for a summer league player, for instance, or camping books for a camper.
Let your child stay up past bedtime when a book is just too good to put down.
Start your child on a series of mystery or thriller books. These page-turners hook kids into a reading habit.
Encourage a change of venue. Read books at the beach or pool, in a tent or at the park.
Watch movies, videos and plays based on children's books. Then read the books together and compare the versions.
Share your favorite books and magazines with your child.
Encourage your child to retell stories or parts of stories from the books he reads.
Reprinted with permission from the May 2020 issue of Parents make the difference!® (Elementary School Edition) newsletter. Copyright © 2020 The Parent Institute®, a division of PaperClip Media, Inc.
INFORMATION
Getting Ready for Kindergarten
Is your child beginning Kindergarten with us in the fall? We cannot wait to meet them!
Please click here to access information about Kindergarten including a chance for you to tell us more about your child, information about a day in the life of a Kindergarten student, as well as a video where you can meet the teachers and have a tour of the school!
If you have further questions, please do not hesitate to contact us at general.ael@eips.ca
And the Winner Is...Bison Name Contest Results
Thank you to all of our families who submitted fabulous suggestions for our Name the Bison Contest. After a week of voting the winning name has been chosen. Drum roll please!
Our bison will be affectionately named Frederick the Bison! 
Thank you to the Gustafson family for this wonderful suggestion in honour of Mr. Frederickson! We will be sending a small prize in the mail for providing the winning answer!
Thank you to the rest of our families for participating in this contest. We loved all of the suggestions and the creativity of our community!
Virtual School Council and AEPSA Meetings a Success!
Thank you to the parents and guardians who joined us for our first online school council and AEPSA meetings. It was so great to see the smiling faces of our parent partners and to find out how everyone is doing. We are grateful for the support of our parent community and it was a wonderful reminder of how lucky we are to be part of such a great family in Ardrossan. Thank you, parents! We miss you!
Planning for the End of the Year
Every year we look forward to the month of June as we have so many wonderful Ardrossan traditions that take place. We watch our Kindergarten students celebrate their growth into Grade 1. We honour our Grade 6 students with an assembly to acknowledge their achievements and say farewell as they move on to Grade 7. We invite the Grade 5 students to move up to the bleachers as the new Grade 6 group. We gather together as a community to eat delicious BBQ while the students run around with water guns. At the end of the last day, the staff line up outside the school and wave to all of the students as the buses leave. 
We cannot deny that we are feeling a sense of loss at not being able to take part in these important traditions. We know that health and safety are the most important considerations at this time, but it doesn't change the fact that we will miss celebrating with all of you.
It is for that reason, our staff are working on plans to find safe ways to honour some of these traditions. We do not want to spill our secret plans just yet but we want you to remember to save the last week of school, June 22-26, for some special plans for our Kindergarten and Grade 6 students. You can also expect some kind of staff farewell for the entire Bison community. More details will come in the following weeks!
Classroom Configurations for 2020-2021
At Ardrossan Elementary, the welfare and success of our students is our top priority. Every staff member works closely on collaborative teams with colleagues in the same grade level as well as with other professionals such as our counselor and other learning consultants to ensure that we are meeting the needs of all students. We focus our collective efforts into providing differentiated instruction to students based upon their academic, social and emotional needs.
As your school team, we spend a lot of time developing class lists that take many factors into consideration. We make decisions based upon the particular needs of the students in each grade level in order to maximize the supports and resources that are available. We strive to establish classes that are academically, socially, behaviorally and emotionally well balanced. Our staff are essential in establishing the most effective classrooms for learning and have consistently done a great job in preparing classes for each new school year.
We thank you for trusting our professionalism, expertise and experience as we develop student classroom lists for the upcoming school year.
Information regarding class placements for the coming year will be enclosed in the final report card. In compliance with FOIP, class lists will not be posted in any public forums to respect the privacy of all families.
Parental requests, directed to the principal in writing, will only be considered for exceptional circumstances. Parent comments will be shared with the appropriate teacher(s).