Back to all posts
Posted on
Bison Tales - May 13, 2021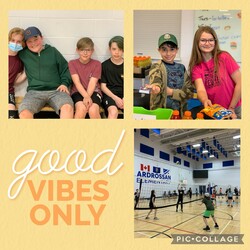 This week was full of excitement as our Grade 6 students competed in their second tournament! Students wowed us with their mad volleyball skills all while raising money for gym equipment and the playground replacement project through a concession.
A big thank you to some our incredible volunteers from Hot Lunch and the school council who helped our students with the concession. Thank you Allison Usher, Jill Herbert, Val Ulliac and Tina Zerebeski for your excellent coaching of our concession sellers!
It was great to see a few parents out in the stands cheering on our Grade 6 athletes! A great time was had by all!
Great Happens Here!
Helene Hewitt and Kyla Harding
Principal and Assistant Principal
Table of Contents
Week At a Glance
Action
Review the Dress Code with Your Child
Student Transportation: 2022-23 Registration is Now Open
Opportunity 
Canadian Parents for French meeting
Information
Staffing Update
Class Configurations
Parents Make the Difference 
WEEK AT A GLANCE
 

Monday

 

CPF Meeting @ 7 p.m. in the library or via this link
Grade 6 PAT FLA
Student Clubs:

AETV - Grade 6 
Daebak Dance - Grade 3-6
French Immersion Club - Grade 1

 

Tuesday

 

KC Drumming in-school field trip
Student Clubs:


Basketball Club - Grade 4
Gardening Club - Grade 3 & 4
French Immersion Club - Grade 6

 

Wednesday

 

Grade 6 PAT ELA
KA & KB Drumming in-school field trip
Grade 4 Mayor's Walk Field Trip
Student Clubs:

Art Club: Grade 5
Basketball Club: Grade 6
Card Club: Grade 3 & 4
French Immersion Club: Grade 5

Kindergarten Information Evening @ 6:30 in the Gathering Area

 

Thursday

 

Student Clubs:


Basketball Club: Grade 5
Cute Things Club: Grade 5 Last day!
French Immersion Club: Grade 6
LEGO Club: Grade 4

Bison Tales posted online

Friday

School closure day - no school!
ACTION
Review the Dress Code With Your Child
Did you know that our school has a dress code? Our Family Handbook states:
School is a place of work and students should dress accordingly. Please refrain from wearing inappropriate T-shirts, spaghetti strap or halter tops, or short shorts. Students wearing unacceptable clothing may be asked to find something else to put on. Adequate footwear is required at all times in case of an emergency evacuation of the school. Please label all personal items and to check Lost and Found regularly.
We have noticed an increase in shorts that are short enough to show the bottoms of students' butt cheeks as well as cropped tops that show student mid-drifts and belly buttons. We would be grateful if you could review the dress expectations with your children at home so that our place of learning is safe and respectful for all. Students who are not following the dress code may be asked to phone home for a change of clothes or be asked to put on clean clothes from the lost and found.
Student Transportation: 2022-23 registration is now open
Planning to use Student Transportation in the 2022-23 school year? If so, make sure your child is registered so Elk Island Public Schools (EIPS) can plan routes and send your child a bus pass before the first day of school.
All students who indicated needing transportation services through the returning student registration process are now registered. Families registered will received tentative route schedules and invoices by the end of the month—fees are due June 30, 2022.
For those students who didn't indicate needing transportation service through the pre-enrolment process and want to now register, simply contact EIPS Student Transportation at 780-417-8151 or email st@eips.ca.
For more information about EIPS Student Transportation visit www.eips.ca/transportation.
NOTE: Families can pay fees online using the PowerSchool Parent Portal. To pay in-person contact Student Transportation to make an appointment.
OPPORTUNITY
Canadian Parents for French (CPF) Meeting
Our final CPF meeting of the year is taking place this Monday both in-person and virtually in the library at 7 p.m. We hope you will join us to learn more about the Family BBQ!
Here is the meeting link if you choose to join us virtually. 
INFORMATION
2022-2023 Staffing Update
Although it is still early in the staffing process, we know that our community likes to be kept informed as to what to expect for the upcoming school year. We would like to thank Mrs. Komant, Mrs. Marshall, Mrs. Parker, Mrs. Peter, Mrs. Pye, Mrs. Towell, Mrs. Ulliac and Ms. Wilson who have completed their contracts with us this year. 
As you might have heard, Mrs. McBride has announced her retirement at the end of this year and I'm sure that you will join us in celebrating her incredible 30 year milestone as a teacher!
We would like to congratulate Mme Krys who has accepted a full-time teaching position at Heritage Hills next year. We'd also like to send best wishes with Mr. Garret and Mr. Rempel who will be moving to British Columbia with their families. We wish them the best in their new adventures.
We would also like to congratulate Mrs. Harding who has accepted the Assistant Principal position at Davidson Creek next year. 
Elk Island Public Schools continues to post a variety of teaching and educational assistant positions for the 2022-23 school year. As such, we may experience some staff changes (i.e., secondments, maternity leaves and so on) as opportunities and new teaching experiences become available in other schools. We anticipate staffing changes will occur up to and including the summer months.
At this time, our tentative staffing is as follows:
French Immersion Classes
Kindergarten -  Mme Bouchard
Grade 1 - Mme Rovensky
Grade 2 - M. Tomaszewicz
Grade 3 - Mme Proulx-Makovichuk
Grade 4 - TBD
Grade 5 - M. Castle
Grade 6 - M. Wandji
English Classes
PALS - TBD
Kindergarten - TBD until Mrs. Belcourt returns from maternity leave
Grade 1 - Mrs. Samaratunga
Grade 1 - TBD
Grade 1 - TBD
Grade 2 - Mrs. Brady
Grade 2 - Mrs. Hill
Grade 3 - Mrs. Kent
Grade 3 - TBD
Grade 3 - TBD
Grade 4 - Mrs. Grauman 
Grade 4 - Mrs. Klippenstein
Grade 5 - Mrs. Massel
Grade 5 - Mrs. Ruptash
Grade 6 - Mr. Campbell
Grade 6 - Mr. Halbert
Other Positions
Counselor - TBD
Music -  Mrs. Pretzlaff
Grade 1 Music - Mrs. Gilliland
Assistant principal - TBD
Principal - Mrs. Lana Lastiwka
As the staffing process continues, we will keep you informed.   
Grade Group Configurations - Thinking Win-Win!
Ardrossan Elementary is genuinely concerned for the welfare and success of your children. Every staff member strives to have students do their best and to feel comfortable in their surroundings, especially after living through a pandemic!
One of our goals is to maintain well-balanced classrooms while making the best use of the resources available to us. We sometimes need to group students together in particular ways in order to provide extra supports for their learning needs. 
Aside from academic needs, we also take into consideration how to balance social, emotional and behavioural needs in each group. I'm sure you've all experienced times when friendships that are wonderful outside of the classroom may not always be the best for the learning taking place inside the classroom!
Our teams have the opportunity to see how your child interacts with others while at school and they use their collective professional judgment in determining how to place your child in a group that they feel will best benefit their growth. Classroom placements are the result of many conversations between all of the teachers in a grade level, our counsellor and the administration team. 
As students change grades, they are naturally exposed to new friendship groups. An important benefit to being in a class with a variety of students is social growth and exposure to a variety of personalities. This helps foster independence and develops social skills. We ask for your support in allowing teachers to develop next year's grouping in the fairest way possible. 
We understand that there may specific situations that may warrant a request to place your child in a particular class. While we do our best to honour requests when possible and when it does not create an unbalanced class, we cannot guarantee that all requests can be fulfilled. Parental requests, emailed to the principal, will only be considered in a written format which outlines extenuating circumstances by June 1, 2022. 
Information regarding class placements for the coming year will be enclosed in the final report card. In compliance with FOIP, class lists will not be posted in August. Thank you for your support in helping us to create win-win classroom configurations. We believe that success for all is possible when we work together!
Parents Make the Difference
Throughout the year we will include some articles with some great tips and strategies for parents. Here is this week's featured article:
Attendance is still important towards the end of the year!
Summer vacation is on the horizon—but it's not here yet. Here are three reasons to make sure your child attends classes on time every day:
Learning hasn't stopped. Teachers are still planning lessons and teaching new content. Attending every school day (unless ill or in quarantine) helps ensure that students meet learning goals. Studies show that students who miss just 10% of the school year in the early grades are still behind their peers when they reach high school.
Teachers often plan group projects for the end of the year. These projects help students learn collaboration, problem solving and responsibility. These are skills children will need throughout their school careers and in the workplace.
Regular attendance teaches kids to be accountable—an important quality for adulthood.
Reprinted with permission from the May 2022 issue of Parents make the difference!®  (Elementary School Edition) newsletter. Copyright © 2022 The Parent Institute®, a division of PaperClip Media, Inc. Source: E. García and E. Weiss, "Student absenteeism: Who misses school and how missing school matters for performance," Economic Policy Institute.