Back to all posts
Posted on
Bison Tales - March 5, 2021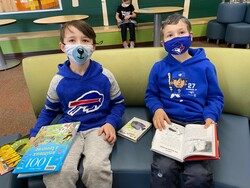 Do you know what I love about March? Each day I get to see more and more sunlight as I drive to work! As the days are getting longer and warmer, spring feels like it is just around the corner!
This week was full of excitement as we started celebrating les Rendez-vous de la francophonie. Our students are jazzed about winning a prize from the "Get Caught Speaking French" contest. I hear a chorus of "Bonjour Mme Hewitt!" as I walk down the hallway. I'm going to have to start filling my pockets with entry tickets for next week to keep up with the demand!
This week, we were also able to open up our library to classes again in accordance with updates to the Covid-19 guidelines. Ms. Thompson has the disinfection and sanitization process down to an art form and it is nice to see the space filled with happy kids reading great books once again!
We hope that you get some time to enjoy the great weather with your families this weekend! Perhaps you might enjoy a good book yourself sitting on the deck as the temperature raises above zero!
Great Happens Here!
Helene Hewitt & Kyla Harding
Principal & Assistant Principal
WEEK AT A GLANCE
Monday

Rendez-vous de la francophonie continues
Fundscrip begins for March

Tuesday

School Council & AEPSA meetings @ 6:30 p.m. and 7:30 p.m.

Wednesday

Moustache Day (wear a mustache on your mask!)

Thursday
Friday

Bison Tales published online
Action
Save the Date: Report Cards Coming Soon!
Opportunity
Tidbits from the Lunchbox
March Fundscrip
Upcoming Parent Meetings
Information
Counsellor's Corner
Virtual Book Fair a Success!
Parents Make the Difference
ACTION
Save the Date: Report Cards Coming Soon!
Term 2 report cards will be available online on March 19, 2021. Click on the Parent Portal to view your child's report card. Don't have a parental portal access? See the link. Contact Lisa McNeely at 780-922-2066 if you need your access code or if you'd like some help in logging in. 
OPPORTUNITY
Tidbits from the Lunchbox
As each new quarter brings some new (and old) faces back into the school we wanted to refresh everyone on how to register your family for Hot Lunch online ordering!
Go to www.aeslunchbox.com
Click the "REGISTER" menu at the bottom right-hand corner to sign up.  Our school access code is AEHL.  Enter your name, email address (Use the same one as last year to receive your credits if you have) and phone number, then a user id that you will use for access to the hot lunch's application.  Enter a password and then enter it again to verify that it is correct.
Once registered, you will be logged into the website
Important Note:  You need to know your child's teacher assignment before you can continue. Please add your students by clicking on the "STUDENTS" button below or the "PROFILE" menu tab in order to proceed. Once your students have been added to the system you will be able to place lunch orders immediately by clicking the "Order" button below each child's name.  IT'S THAT EASY!
But I registered last year, do I register again?
Yes!  It is illegal for our program to have accounts for families with children who no longer attend our school.  For those of you who have forgotten your username/password from last year, don't fret, you get to start all over again. It is easier and more efficient to delete all accounts and start fresh.  This process will occur every new school year. This is also how you will retrieve any credits owing from last year's school closure as they will be affiliated to the email address you last registered with so, PLEASE use that same email and they will automatically be added upon registering!
Not participating in hot lunch?  We encourage you to register even if your child does not participate so that you are able to receive emails about our hot lunch program and fundraisers that we hold throughout the year.  Examples of these are- AEPSA uses the Hot Lunch program to administer some of their fundraisers like the COBS bread orders through our monthly order runs (yummy Cinnamon buns!), and monthly Fundscrip orders can be found on the home screen of our website and going to the top left "Login" menu and then click on "Fundraising" each month to order from that portal. 
As always if you need assistance, please email us at support@aeslunchbox.com
March Fundscrip
Fundscrip is a fundraiser that allows you to buy gift cards from retailers that you likely already visit and a percentage of the purchase goes to AEPSA. You simply fill out this order form and send it to the school with a cheque, cash or pay through the Hot Lunch system! March fundscrip orders are due March 19!
We are very excited to have added Salisbury Greenhouses into our Fundscrip fundraisers that will not cost you one penny and help support our playground vision.
How the Program Works:
Determine which cards you would like to purchase in what denominations.
Complete your order online at www.aeslunchbox.com (Click on the fundraising tab) or on the paper order form sent home with your youngest child.
Return the completed order form in an envelope with a cheque, cash, credit card or e-transfer within 2 weeks.  Please e-transfer AEPSA0@gmail.com if ordering from aeslunchbox.
Your order will be ready for pick up the last week of the month.  Watch the Bison Tales or aeslunchbox emails for pick up details.
Upcoming Parent Meetings  
Don't forget to join us for the upcoming virtual School Council and Ardrossan Elementary Parent Support Association (AEPSA) meetings this week on Tuesday, March 9. Our first meeting will start at 6:30 p.m. followed by the AEPSA meeting at 7:30 p.m. You can find the link to the meeting on our website in the yellow notice banner 15 minutes before the meeting begins! We hope to see you there!
INFORMATION
Counsellor's Corner 
Upcoming Events Offered through Strathcona County for Elementary Age students:
Confident Kids→ Click here for more information and to register
"Our wish for children is for them to grow into confidence  and  develop  their  social  skills.  These skills are important to your child's sense of safety and security in the world. This brief, interactive program will create space for your young person to meet with other kids  online  and  learn  new  skills  in  a  fun  way! Children are welcome to join one session or attend them all! Parents will also receive some tools and updates  to  continue  fostering  confidence  and  social skills at home."
Children - Grade 1-3 Tuesdays March 16 to April 6 - 4 p.m.  – 4:30 p.m.
Children - Grade 4-6 Thursdays March 18 to April 8 - 4 p.m. – 4:30 p.m. 
Super Dads, Super Kids! For: Dads and kids of all ages→ Click here for more information and to register 
"Super Dads make Super Kids! Dads who put in a lot of care and effort help their children to grow. This program will support a deeper connection and attachment between father and child. When dads and kids are put together, good things happen."
Every Tuesday starting March 16, 2021 through April 6, 2021 6:30 – 7:15pm
Kids Have Stress Too - Session Two - Tools For Parents - For: parents, caregivers of children preschool to Grade 12→ Click here for more information and to register
Session Two: Tools for Parents
"In this session, we will use break-out rooms to look at key concepts that will give parents practical strategies to  help  recognize,  understand  and  deal  with  childhood stress. In each room, we will discuss age appropriate tools  to  help  children  build  their  social-emotional development  and  stress  management skills."
Thursday, March 25, 2021, 6:30 – 8pm
Co-parenting Resources:
Co-Parenting Apps
Useful apps you can use to help make co-parenting easier 
https://www.ourfamilywizard.com/ 
 Family Mediation – Government of Alberta→ Click here for more information 
Families coping with challenges such as divorce, separation, child custody and access can meet with a mediator to talk about these issues. The goal is to reach a mutual agreement that focuses on the child and avoids going to court. Family mediation is confidential and informal. 
Parenting After Separation Course→ Click here for more information 
This course is for parents or guardians who are separating or getting a divorce. Sometimes the course is required, or one can voluntarily take the course. The course work book (available online) provides guidance and a template for creating a parenting plan. 
-Madison Bashaw, Ardrossan School Counsellor
Virtual Book Fair a Success!
Thank You! 
Our Scholastic Virtual Book Fair was a success! Thank you to all families, teachers, and students who participated, supporting our school while enhancing home libraries. 
Your investment in your reader helped our school to earn valuable Rewards that can be redeemed for new books for our school, as well as supplies and Education Resources to benefit our students. 
We can't wait to hear all about the new stories you have added to your home libraries! 
Thank you for participating in our Scholastic Virtual Book Fair! 
Happy reading! 
Sarah Thompson, Library Technician 
Parents Make the Difference
Here is this week's article for parents and caregivers:
Give your child the time and space to think critically
Critical thinking—the ability to go beyond basic knowledge and consider "the bigger picture"—is a crucial skill for school success. The better students are able to think critically, the more deeply they will grasp new concepts and ideas.
To promote these skills:
Let your child figure things out. Resist the urge to solve every problem. Instead, give her time to work through problems herself. If she's forgotten how to do an assignment, don't offer to email the teacher. Instead, ask, "How could you find out?" Can she call a classmate? Look over at a previous assignment for clues? Give her space to come up with a plan.
Discuss current events. Is there a news story that might interest her? Print out an article and chat about it over dinner. Find out what she thinks about the issue, but don't stop there. Once she's shared her opinion, press her a bit. "I can see how you feel about this. But why do you think other people might feel differently?"
Encourage reflection. Once your child completes a big project for school, talk about it. Ask her, "How difficult was it to finish? What did you learn about how to do projects? Regardless of how the project went, reflecting on the process will help her hone her critical-thinking skills.
Reprinted with permission from the March 2021 issue of Parents make the difference!® (Elementary School Edition) newsletter. Copyright © 2021 The Parent Institute®, a division of PaperClip Media, Inc.