Back to all posts
Posted on
Bison Tales - March 25, 2021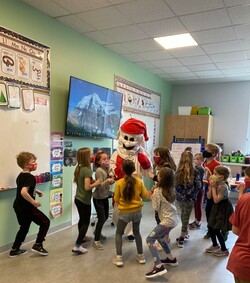 Félicitations! We have all made it to Spring Break! What an accomplishment!
A year ago, we were bagging up student belongings and trying to figure out how to teach everyone online over night. This March, we are celebrating together and looking forward to completing a third term of in person learning! What a difference a year can make!
It is truly inspiring to think about how our community continues to thrive, even during a pandemic. In the past couples of months we have celebrated student learning through our virtual demonstrations of learning, we have demonstrated student leadership through virtual assemblies on the 7 Habits, and we have celebrated our culture of belonging through events such as Les Rendez-vous de la francophonie and Carnaval!
Speaking of French cultural events, this week was a hoot! Students were able to participate in three outdoor events as a cohort and then enjoyed some indoor activities including art projects, mask making and eating a delicious maple syrup treat while drinking hot chocolate. Bonhomme carnaval also made an appearance this week and you could see him dancing around with students. I think he even wrote a letter to a couple of lucky kids!
Carnaval would never have been a success if we did not have the support and encouragement of our parent groups. Thank you to our Ardrossan Chapter of Canadian Parents for French for sponsoring our craft supplies for mask making as well as for providing us with some prizes for our Canada C'est Chouette Contest. Although our little Carnaval was but a tiny taste of the regular event, we were happy to have some fun together. Click here to watch our Carnaval video! We hope that this time next year we can have the big event like normal!
Thank you to the Hot Lunch parents for coming up with a French-themed menu for March as well as for supplying all students with hot chocolate and maple syrup treats! 
It reminds us that even when times feel challenging, the relationships and warmth of the Ardrossan community help our kids to feel loved, safe and as normal as possible! They say it takes a village to raise a child and I am so glad to be a part of this Ardrossan village! Our kids are definitely in good hands!
We wish everyone a restful and rejuvenating Spring Break!
Great Happens Here!
Helene Hewitt & Kyla Harding
Principal & Assistant Principal
WEEK AT A GLANCE
| | |
| --- | --- |
| Monday | Easter Monday - no school |
| Tuesday | |
| Wednesday | Early dismissal (2:14 p.m.) |
| Thursday | |
| Friday | |
Action
Gearing Up for Kindergarten
Opportunity
Habit 4 Assembly
Plant Fundraiser
Parents Night with Dr. Alex Russell
Information
Playground Sponsors
Spring Break
Reading Tip of the Week
Parents Make the Difference
ACTION
Gearing Up for Kindergarten
Do you have a child registered in kindergarten next year? If so, make sure to attend our upcoming virtual Kindergarten Information Night on May 19. Make sure to attend to virtually tour the school; meet the teachers; gain insight on play-based learning; and see what a typical day looks like.
Kindergarten Information Night 2021:
Date: Wednesday, May 19, 2021
Time: 6:00 p.m.
Location: Join the information session via a link sent out closer to the date!
To make the transition to school as smooth as possible Elk Island Public Schools has also put together a toolkit for families. The kit includes information about registration, important dates, programming options, what to expect, eligibility, how to find your designated school, transportation and more. Find it by visiting www.eips.ca/programs-services/kindergarten.
Additional information regarding Ardrossan Elementary's kindergarten program, is available on our school website.
OPPORTUNITY
Habit 4 Assembly
Our Grade 4 students demonstrated excellent leadership skills in preparing the Habit 4 assembly all about Thinking Win-Win. We are so proud of their amazing work and impressed with how they were able to incorporate learning about First Nations, Métis and Inuit communities, Franco-Albertan communities and the environment! Congratulations for a job well done! 
You can watch the assembly by clicking here.
Plant Fundraiser in Support of our Playground Enhancement Project
Ardrossan Elementary Parent Support Association is excited to announce a spring fundraiser!  We will be selling a variety of plants which are shown on the order forms sent home today with your kids or on our team website: Ardrossan.growingsmilesfundraising.com
Orders need to be in by Wednesday, April 21st and can be placed on the website and paid by etransfer or credit card.  If paying by cash all money and order forms need to be be dropped off in the hot lunch lockbox. 
Pick up will be on Friday, May 7th from 3:00-7:00 at Three Seasons Landscaping. 
Proceeds from the sale with go towards our playground fundraising efforts for our matching grant!
Parents Night with Dr. Alex Russell
Knowing when and how to support our children at school is never easy. The dangers presented by a pandemic only add to the challenge of balancing the need to protect our children, on the one hand, while continuing to support their emotional growth on the other. This workshop offers clear and helpful guidelines to help parents navigate these challenges while maintaining close, supportive relationships with their children.
The workshop asks whether we are doing our kids a disservice by removing obstacles and doing our best to eradicate all stress and anxiety from their lives?
During the evening, Dr. Russell will offer a fresh perspective on raising self-reliant, motivated children, ready to take on the world. This session will give parents the tools to:
Understand parent-child dynamics
Resist the pressure to over-parent
Build trusting relationships with teachers and school administration so they can play an effective role in your child's life
Understand problems such as ADHD, anxiety, and substance abuse
Embrace failing as learning, not parental incompetence
Enact common-sense strategies for parents worn out from worrying about their kids and their future.
Date: April 21, 2021
Time: 7:00 - 8:30 pm
Location: Virtual via Microsoft Teams Live Event using this link: https://bit.ly/3vfw0Ed
Topic: Keeping them Safe while Helping them Grow: Supporting children's emotional growth in challenging times
INFORMATION
Playground Sponsors
Our playground fundraising parent committee has been hard at work seeking donations from sponsors in our community. We would like to extend a HUGE thank you to Rachel Burgemeister and Darren Wright for their leadership in canvasing and procuring some wonderful community sponsors!
Recently, we received a $10,000 donation from the Ardrossan Agricultural Society as well as a $5000 donation from Strathcona County Council Priority funds. We are so grateful for these amazing contributions!
Here is a list of the incredible sponsors that have donated to our Ardrossan Elementary playground space. Please support these generous businesses!
  Bison Excellence Level 1 Sponsors

($2000 - and over)

Ardrossan Recreation and Agricultural Society
Cobra Directional Drilling & Trenching
Cona Homes
CN Railways
Lavender & Lace Boutique
Max Electric Ltd.
Strata Development Corp.
Strathcona County 
VVO Chartered Professional Accountants

  Inspiration Level 2 Sponsors

($1000 - $1900)

Burnco Landscape Centre
Ulliac Oilfield Consulting Ltd.

  Support Level 3 Sponsors

($499 - $999)

4 Seasons Equipment
Brandon J Ball Professional Corporation
Triple Two Rentals & Landscape Centre

  Optimal Level 4 Sponsors

($250 - $499)

  Noble Level 5 Sponsors

($50 - $249)
Spring Break
Our school will be closed for Spring Break from March 26 until April 5. During that time, we will have limited access to our voicemail and email. If you need immediate assistance, the Elk Island Public Schools Central Services office is open March 26 to April 1. Contact the main office at 780-464-3477 if you have urgent school-related questions or concerns during this time. Our office will reopen on Tuesday, April 6. 
Reading Tip of the Week - Reading for Meaning With Your Child
Reading with comprehension means understanding what's been read. It takes practice, time, and patience to develop reading comprehension skills. Families can play an important role in helping a child learn to read for understanding.
First, make sure your child is reading books appropriate for their reading level. If a book is too hard, all your child's energy will be put into decoding and reading word for word, with less energy available to figure out what the book means. Books that your child can read with 98-100% accuracy are good choices for comprehension building.
Reading comprehension skills can be developed using a before-during-after approach. Below are a few suggestions that will help build comprehension skills.
Before
Your goal is to help your child build an understanding of and purpose for what they're about to read. Look at the book's cover. Ask, "What do you think this book might be about? Why? Can you make some predictions?" Guide your child through the pages, discuss the pictures, and brainstorm what might happen in the story. Talk about any personal experiences your child may have that relate to the story.
During
Your goal is to help your child be an active reader. Read together and talk about what's happening as they're reading. Stop and discuss any interesting or tricky vocabulary words. Talk about any surprising or sad passages, and help them visualize parts of the story. Ask your child, "Do you understand what's happening here? What do you think will happen next?" If your child seems unsure, stop, go back and reread if necessary. Discuss any confusing parts.
After
Your goal is to help your child reflect on what they've read. Summarize and share your favorite part of the book. Have your child rate the book on a scale from 1 to 10 and say why. Have your child reread their favorite part or act it out.
Take the extra time before and during reading to read with your child this way. You'll soon find yourself reading with a child who is motivated to comprehend and learn from everything they read.
Taken from Monthly Tips for Parents on the Reading Rockets website.
Parents Make the Difference
Here is this week's article for parents and caregivers:
Teach your child how to be conscientious
Conscientiousness is a student's ability to set and meet goals, make informed choices, and understand his responsibility to others.
While this trait should naturally develop as your child grows, studies show there's an easy activity that can hone it. And believe it or not, it's schoolwork!
Here's how to help your child strengthen conscientiousness with his assignments:
Remind him not to rush. He should take his time and complete tasks carefully.
Ask him to check his work. Once your child finishes an assignment, have him spend a few minutes going back over it to confirm that his answers are correct.
Cheer him on. Is that art project challenging your child? Has he had enough of that book report? Encourage him to keep at it and not give up! Conscientious students meet their obligations and deadlines even when the going gets tough.
Reprinted with permission from the March 2021 issue of Parents make the difference!® (Elementary School Edition) newsletter. Copyright © 2021 The Parent Institute®, a division of PaperClip Media, Inc. Source: R. Göllner and others, "Is doing your homework associated with becoming more conscientious?" Journal of Research in Personality, Elsevier Inc.