Back to all posts
Posted on
Bison Tales - March 19, 2021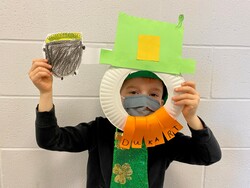 What a fun week full of French, leprechauns and delicious treats! 
Our students continued to have fun learning all about French language and culture with our word of the day contest. Students won tickets for our prize draw by speaking French at school AND for being able to figure out what the French word of the day means! It is amazing to hear students in both French and English classes speaking so much French in the hallways! Bravo, les amis!
This Wednesday was St. Patrick's Day and several classrooms were visited by mischievous leprechauns who made a mess! Some our classes tried to catch them with leprechaun traps, but those little trouble-makers were able to escape! Maybe we'll have better luck next year!
We would like to thank our Canadian Parents for French for donating some prizes for our Canada C'est Chouette Contest which we will be giving out next week. CPF also sponsored our Bal Masqué craft activity by helping us to purchase fun art supplies for students to use while making masks for Carnval!
We'd also like to thank the Hot Lunch parents for treating the staff to a croissant, cheese and fruit snack early this week as well as for the delicious poutine treat at lunch today! Merci! We felt very spoiled!
Finally, we have some bittersweet news to share with you. Mrs. Pearson, our amazing business manager has accepted a new job and will be leaving us next week! We are happy for her to have a new and exciting career opportunity but we are very sad to see her go. She has been a wonderful part of our staff and a key person in the front office. Mrs. Pearson's last day will be this Monday. 
We are pleased to introduce our new business manager, Candace Lyles, to the Bison herd! Mrs. Lyles comes to us from Lamont High School where she was also a business manager. Please make sure to say hello when you call the office! We know that she will be a great addition to the Ardrossan team!
Enjoy your weekend out in that beautiful sunshine!
Great Happens Here!
Helene Hewitt & Kyla Harding
Principal & Assistant Principal
WEEK AT A GLANCE
Monday

Carnaval Week!
Rock Your Socks Day for World Down Syndrome Day!
Canada C'est Chouette contest submission deadline!

Tuesday
Wednesday

Carnaval activities Day 1
Hot chocolate and maple ice cream treat from Hot Lunch (KA, KB, 1A, 2A, 3B, 4C, 5A, 5B, 6B, 6C)

Thursday

Carnaval activities Day 2
Hot chocolate and maple ice cream treat from Hot Lunch (KC, 1B, 1C, 2B, 2C, 3A, 3C, 4A, 4B, 5C, 6A)
Bison Tales Posted online
Last day of school before the break!

Friday
Action
Kindergarten Registration
Watch for Thin Ice
Opportunity
Rock Your Socks Day for World Down Syndrome Day!
Upcoming Videos - Habit 4 Virtual Assembly!
Information
Carnaval Fun!
Reading Tip of the Week
Parents Make the Difference
ACTION
Kindergarten Registration is Now Open!
Is your child turning five on or before Dec. 31, 2021? If so, it's now time to register for kindergarten. To register, simply complete the online registration form at eips.ca/kindergarten.
To help families prepare, Elk Island Public Schools has put together an online EIPS Kindergarten Tool Kit to make the transition as smooth as possible. The kit includes information on registration, important dates, programming options, what to expect, eligibility, how to find your designated school, transportation and more.
Additional information regarding Ardrossan Elementary's kindergarten program is available here. 
Watch for Thin Ice
Remember, be aware of thin ice this time of year. Depending on changing temperatures, ice can form and melt to varying degrees on outdoor bodies of water. Please remind your child about the dangers of thin ice, obey all posted signs, take the proper care and remain a safe distance from the ice. For more information about ice safety, visit the Canadian Red Cross.
Did you know?
The colour of ice may be an indication of its strength. Clear blue ice is the strongest. White opaque is half as strong as blue ice. And, grey ice is unsafe—the greyness indicates the presence of water.
OPPORTUNITY
Upcoming Videos - Habit 4 Virtual Assembly & Rendez-vous pictures!
Check our website and next week's Bison Tales to watch two exciting videos!
Our Grade 4 students have prepared the Habit 4 virtual assembly video which will be shared as a link this Thursday! It is sure to be an amazing experience!
Also, this Thursday we'll upload a video full of pictures of students and activities that took place during les Rendez-vous de la francophonie including Moustache Day, Carnaval masks and outdoor Carnaval events! Keep your eye out for the Tales to get watching!
Rock Your Socks! World Down Syndrome Day
This Monday it is World Down Syndrome Day! Help us to raise awareness about Down syndrome by wearing mismatched socks. This initiative reminds people that things that are different are still beautiful and wonderful! Take a picture of how you are rocking your mismatched socks and post it on Twitter or Facebook using #RockYourSocks #DownSyndromeAwareness. Don't forget to tag @ArdrossanElem!
INFORMATION
Carnaval Fun!
This Wednesday and Thursday our students will get to have a mini Carnaval experience. While not as fancy as the Carnaval created by our amazing Canadian Parents for French, our students will get a taste of Carnaval by attending three outdoor events: Hockey Shoot Out, Outdoor Relay, Lacrosse Challenge. 
Students will go outside in their class cohorts at their assigned time to participate in each of these events with their own set of equipment. They will also have the opportunity to make a mask that could be worn to a Bal Masqué as in indoor activity this week. We will be certain to take many pictures of students in their adorable masks! 
Finally, students will have the opportunity to drink hot chocolate and eat a tasty mini maple sugar ice cream cornetto courtesy of the Hot Lunch program! What a wonderful way to end the week before spring break!
Reading Tip of the Week - Activities that help kids to map words
Last week, we talked about why early readers need to focus on the letters and sounds that make up a word when reading instead of guessing by looking at the picture in the book. You might recall that young readers need to sound out the letters, break them apart and blend them back together 1 to 4 times to put a word into their long term sight vocabulary. Sight words are words that you recognize automatically or instantly where you don't even realize that your brain processed all of the sounds without you even noticing!
Here are a few strategies that you can use at home to help your child practice sounding out words and mapping those sounds to their long term memories. When reading with your child:
Say a sound and ask your child to point to the letter or letters that make that sound.
Find words that rhyme in the story and name one of the words. Ask your child to find another word that rhymes with it.
When using flash cards, use look-alike words (e.g. black, block, brick, brink, break, blink). This forces your child to attend to every letter in the word which promotes mapping!
Have your child read a sentence going from the last word back to the first to avoid guessing based on the context.
Have your child read sometimes with the text rotated sideways (left or right) and sometimes upside down.
Most importantly, keep reading with your child and to your child every day! Practice makes perfect!
Parents Make the Difference
Here is this week's article for parents and caregivers:
Are you setting an example of respect?
Children learn about respect from watching their parents. Are you modeling the behavior you want your child to have—so that he will respect you, himself, his teachers and others? Answer yes or no to the questions below to find out:
Do you treat your child and others with kindness and honesty?
Do you admit mistakes when you make them, apologize for them and try to fix them?
Do you listen attentively to your child when he is speaking to you? If you aren't able to listen right then, do you schedule a time to talk later?
Do you maintain self-control and find healthy ways to vent your anger—rather than taking your frustrations out on your child?
Do you enforce household rules and the consequences for breaking them fairly and consistently?
How well are you doing?
If most of your answers are yes, you are modeling a respectful life for your child. For no answers, try those suggestions.
Reprinted with permission from the March 2021 issue of Parents make the difference!® (Elementary School Edition) newsletter. Copyright © 2021 The Parent Institute®, a division of PaperClip Media, Inc.