Back to all posts
Posted on
Bison Tales - March 12, 2021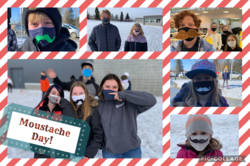 This week was full of French fun as students continued to celebrate les Rendez-vous de la francophonie! 
On Wednesday, we were treated to a school full of mustachioed students and staff! I was impressed with the creativity that went into various shapes and sizes of mustaches from large furry ones to skinny Sharpie designs! We even saw mustaches made out of rainbow coloured yarn! Everyone looked very dapper!
Students had a chance to sing a French song "Le français c'est super!" with Mrs. Pretzlaff and Mr. Rempel in music class and they continued to hear great French popular music as the soundtrack on the morning video announcements. 
Next week students will have a chance to learn a new French word of the day each morning and we will continue with our "Get Caught Speaking French" and "Le Canada c'est chouette" contests!
We would like to thank the Canadian Parents for French for donating prizes as well as for providing us with a budget to buy craft materials for our Carnaval week taking place during the last week of March.
We would be remiss if we forgot to thank our Hot Lunch parents for preparing a special treat for the students during Carnaval week as well as for some tasty treats for our staff as well! We feel extra lucky to work together with such amazing parent groups!
We hope that you continue to enjoy the lovely warm weather and that you don't forget to spring forward this weekend!
Great Happens Here!
Helene Hewitt & Kyla Harding
Principal & Assistant Principal
WEEK AT A GLANCE
*Don't forget to spring ahead this weekend! 
Monday

Rendez-vous de la francophonie continues
French Word of the Day Contest all week!
Week of Inspirational Math begins!

Tuesday

French Boggle activity available in classes all week!

Wednesday
Thursday
Friday

Fundscrip orders are due
Term 2 report cards published online!
Bison Tales published online
Action
Save Your Bottles! Another Bottle Drive is Coming!
Go Fund Me for Playground Enhancement
Report Cards - Access Report Cards Next Friday!
Opportunity
Tidbits From the Lunchbox
Week of Inspirational Math
Information
Drop Off Lane Celebration!
Counsellor's Corner
Reading Tip of the Week
Parents Make the Difference
ACTION
Save Your Bottles! Another Bottle Drive is Coming!
Don't recycle those empties! The Ardrossan Elementary Parent Support Association (AEPSA) is running another bottle drive from April 19-23 as a fundraiser for our playground enhancement project. As you know, we are doing our best to raise funds for a matching grant to install an outdoor basketball play space as well as some other paved play areas around the school. 
Your bottles are making a huge difference in helping us to raise funds! In April, we will let you know about a contest you can enter by taking and posting a picture of your bottles being dropped off via social media. Keep reading the Bison Tales to learn the details!
Go Fund Me For Playground Enhancement
Did you know that AEPSA set up a Go Fund Me account to raise money for our future basketball court and paved play spaces? You can support this initiative by going to our AEPSA Ardrossan Elementary Playground Enhancement Go Fund Me fundraising page. Share the link with your friends, colleagues, and extended family. Help us to get our kids playing basketball again! Every dollar counts!
Access Report Cards Online Next Friday!
Term 2 report cards will be available online on March 19, 2021. Click on the Parent Portal to view your child's report card. Don't have parent portal access? See this link. Contact Lisa McNeely at 780-922-2066 if you need your access code or if you'd like some help in logging in. 
Parents of students in kindergarten will receive progress reports via email from your classroom teacher!
OPPORTUNITY
Tidbits from the Lunchbox
Menu ordering for April is now open and will commence on Thursday, March 18. Please have your orders and payment in on time or it will be subject to cancellation. 
Even if you don't regularly order from hot lunch, consider signing up to order the homemade Cinnamon bun for April 23rd with all proceeds going to the Ardrossan Elementary Playground Enhancement. Alternatively you can also participate by donating $5 or more through the hot lunch online portal for this cause. We thank you all for your support for our school community! 
In April we will be hosting another Little Caesar's pizza kit fundraiser, stay tuned for more info! 
Week of Inspirational Math
Students and staff throughout Elk Island Public Schools (EIPS) are spending the week celebrating numeracy with the Week of Inspirational Math. From March 15-19, schools across the Division are hosting daily math activities, games and hands-on learning exercises to help promote an understanding and appreciation of math among students. The style of activities will vary among different grade levels—all promoting the idea becoming successful in math class is fun, engaging and achievable for everyone.
This year, organizers are adding yet another aspect to the week: local participants who will talk to students about the everyday application of math in the world of work. Presenters represent the fields of medicine, engineering, farming, restaurant management, science, architecture, skilled labour and many others.

"We want to show students math is more than just a series of concepts—it's used in a very practical sense by a wide range of professions," says Ryan Marshall, Director, EIPS Supports for Students. "People from our community will engage with students virtually and share real-world examples of how math is used to do their jobs."
The Week of Inspirational Math is an annual event inspired by the work of Jo Boaler, a Stanford University professor and expert in math education. Boaler is a champion of the growth-mindset, an integral part of the Week of Inspirational Math. Rather than focusing on whether the answer is right or wrong, the growth-mindset promotes the idea the most important part of numeracy acquisition is the ability to learn from your mistakes, push forward and challenge yourself to reach greater heights as a learner.

"A growth-mindset is also an important skill for industry. Every day, our employees solve challenges using math and it's these logical skills that help them be successful. It's a practical skillset used to help inform decisions on everything from budgeting to solving complex engineering challenges," says Catherine Costin, Dow site director, Alberta Operations. "Our goal is to help develop tomorrow's innovators by promoting not only math but also science, technology and engineering. Our employees are honoured to be connecting with students during the Week of Inspirational Math."
The generous assistance of large corporations, local businesses and entrepreneurs throughout the Division will help students make important connections between what they're studying and the impact it will have on their lives going forward.

"I'm sure we've all heard students ask, 'Why do I need to know this? I'll never use it after I leave school.' By pairing the appreciation of math with an understanding about how it applies in the workplace, we're able to address that question in a way that enlightens and excites students as they learn," adds Marshall.
INFORMATION
Drop Off Lane Celebration
We want to share a huge thank you to all of our parents/guardians who have been following our drop off lane procedures! Everyday, the lanes seem to be working more efficiently with people staying in their cars, rolling forward to fill in the spaces in front of them as they wait, and in not double-parking in the moving traffic lanes! 
We are so proud to work with such supportive and caring parents! We want to give you all gold stars for working together with the school to make pick up and drop off safe and stress free for all! 
Counsellor's Corner 
Some of the areas we have explored more closely over the last month are boundaries, respect and communication. We were very grateful to the Saffron Centre for providing our students with some wonderful and age appropriate presentations on these topics.
Clear communication and respecting someone's boundaries are concepts that are best taught  in a very straightforward way and require a lot of repetition over time. Talking to your children about communicating their own boundaries and how to respect the boundaries of others is a critical aspect of abuse prevention and lifelong mental wellness. 
The website safesecurekids.org is a new website aimed specifically at helping families to communicate with their children around the topics of bodily autonomy, communicating and recognizing emotions, identifying trusted adults and staying safe. We encourage you to explore this resource with your children and are thankful for your partnership in helping students to build the lifelong skills necessary for healthy relationships. 
-Madison Bashaw, Ardrossan School Counsellor
Reading Tip of the Week - Do Pictures Help Early Readers?
Have you ever noticed if your child relies on pictures to figure out how to decode words when reading? For example, your child stops at a tough word, looks at the first letter and then looks at the picture and guesses what word it is? 
Did you know that this is not a great strategy for helping children when they are learning to read? It sounds counter-intuitive doesn't it? 
Research shows that when kids are still figuring out how to sound out words, guessing from a picture may do more harm than good. Why is that? 
Students need a lot of practice in looking at the letters and matching those letters to the sounds they make. This is because our brains remember letters and letter combinations by linking them (or mapping them) to the sounds they make when we speak! In fact, studies have shown that a child must sound out a word around 1 to 4 times before it is added to their sight word vocabulary.
Sight words are words that kids (and adults) recognize automatically. The brain can see the letter patterns and sound it out so quickly that we don't even know we are doing it! An average adult reader can probably automatically recognize between 30,000 and 80,000 sight words! This is because, at some point, you wrestled with the letters and decoded the word by sounding it out 1 to 4 times!
When kids look at the first letter of a word and then guess from a picture, they are not practicing the sounding out part of reading that they need to do in order to put that word in their sight word vocabulary. Remember that they need to sound it out 1 to 4 times, right? Each time they guess and don't actually sound out the word using the letters, they are missing a chance to add that word to their long term memory!
So, the next time you are reading with your child and they get stuck on a word, help them to sound it out. You can have them look at the first letter, the last letter and the sounds in the middle. You can help them to break it apart into chunks or syllables. You can practice blending the sounds together by saying each sound separately and then slowly drawing them out until one sound connects to the next one.
As a final step, you can check if you sounded it out correctly by asking if that word makes sense. The picture can be a way of checking if you sounded it out correctly but it should not replace the act of actually sounding it out!
Parents Make the Difference
Here is this week's article for parents and caregivers:
Teach your child to follow four steps to achieve any goal
Children feel good about themselves when they set goals and succeed in reaching them. Having goals also helps children overcome difficulties. When they're frustrated or upset, they can keep a "picture" in mind of what they're aiming for.
When your child sets a goal, encourage her to choose one she can reach in a short time frame. Then, help her follow four steps for making that happen:
State the goal. Make sure your child's goal is specific: "My goal is to learn my multiplication facts." She should write it down and post it where she will see it.
Plan how to meet the goal. "I will make flash cards and study them for 15 minutes every night. I will ask Dad to quiz me on Fridays."
Talk about the goal with others. This builds commitment. Encourage your child to tell her teacher what she plans to do.
Do each step in the plan, one at a time. If problems come up, talk about possible solutions. Perhaps she is too tired after school each night to review her flash cards. Maybe she could study them in the mornings while she eats breakfast instead.
Don't forget to praise your child for her effort each step of the way. "I am proud of you for studying your multiplication facts this morning." And when she achieves her goal, celebrate the way her hard work paid off!
Reprinted with permission from the March 2021 issue of Parents make the difference!® (Elementary School Edition) newsletter. Copyright © 2021 The Parent Institute®, a division of PaperClip Media, Inc.