Back to all posts
Posted on
Bison Tales - June 5, 2020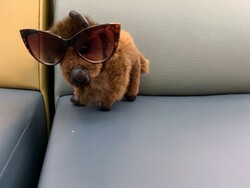 Hello Bison Families!
As the year comes to a close, I've been thinking a lot about traditions and the impact of this pandemic on the many rituals and routines we enjoy as we end a school year.
One person who always kept us connected to traditions at Ardrossan Elementary was our beloved Mr. Frederickson. He loved celebrating with all those around him and he took special joy in making sure that those he loved felt valued and appreciated. In fact, on the last day or two of school, Mr. Frederickson would cook breakfast for our entire staff alongside the other male teachers. You would hear them laughing and listening to music while talking about life and cooking his famous ham and eggs. That lovely breakfast was a way for him to show his love for his colleagues and it was an incredible way to end the year as a team. He understood that spending time together was an important tradition for staying connected as a family. 
So what has this taught me? That it is important to take the time to connect with each other, even if we are tired or we don't feel like it. Perhaps this is even more true this year than any other. It is for that reason, that we hope you will consider joining us for a goodbye drive through on June 26 from 1:30 to 2:00 p.m. as it is our tradition to wave to the students. You can read more about it in the article below.   
As always, don't forget to click here (or scroll to the bottom) to watch our video Bison Tales episode for this week! 
We hope that you find some time to enjoy your family traditions, whatever they may be!
Love,
Mme Hewitt & Mrs. Harding (on behalf of the Ardrossan Elementary Staff)
Action
Ardrossan Wellness Challenge of the Week
Bottle Drive Fundraiser
Last Week of School - Celebrations and Returning Items
Saying Goodbye the Ardrossan Way
Student Transportation for 2020-21
Opportunity
Talking About Racism and Inequality - How Can I Begin the Conversation at Home?
Storytime with Superintendent Liguori 
Little Elk Island Adventure: Registration
Information
Ardrossan Elementary Playground Just Got Funding!
Phonics - What is it and Why is it Important?
Tools for Schools
Summer Hours at Elk Island Public Schools
ACTION
Ardrossan Wellness Challenge of the Week
This week's challenge is to spend time nurturing the great outdoors. Taking care of others, including plant life, is a great way to increase happiness. Spend some time outside planting a garden, cutting the lawn, or feeding the birds. Find a way to nurture nature! (Say that quickly five times!)
Take a picture or a short video of you or your family with the hashtag #AELWellnessChallenge and email it to general.ael@eips.ca. We'll add your pictures & videos to our weekly Bison Tales Video for our community to enjoy. Stay connected, stay safe, stay well!
Bottle Drive Fundraiser
Being cooped up at home can increase the volume of "stuff" we collect in our living spaces. Has your bottle collection been growing larger and larger the longer you stay in isolation? We have just the solution for you!
Our Ardrossan Elementary Parents Support Association (AEPSA) is collecting bottles in a trailer parked in front of the school during the last week of June 22-26. The money raised will go to funding special events in the school as well as to our playground fund. Load up your car and drop off those bottles when you have a spare moment! 
Last Week of School - Celebrations and Returning Items
Is your child in Kindergarten or Grade 6? Did you borrow a Chromebook, textbook or library book from the school? On the week of June 22-25, we are inviting students in Kindergarten and Grade 6 to come to school and receive their certificates, see their teachers and take pictures. That week, we are also inviting families to sign up to return school property to the school so that you can receive credit or refunds on fees.
School Materials Drop-Off
June 22-25 from 9:00 a.m. - 3:00 p.m.
Come to the front doors and look for a staff member at a table. You will bring the Chromebook (with charger) or textbook/library book to a table and we'll make sure everything is in good working order. We will then cross your name off our list and you will be ready for your fee credit or refund after June 26.
Please respect the markers that indicate physical distance between tables or when waiting in line. We ask that no more than two people per family come out of their vehicle in order to respect Alberta Health Service regulations. 
Kindergarten Celebration
Mme Bouchard: June 24 from 9:00 -11:00 a.m. & June 25 from 1:30-3:00 p.m.
Ms. Wilson: June 24 from 11:00 a.m. -3:00 p.m. & June 25 from 9:00a.m.- 1:30 p.m.
We respectfully request that each child arrive with no more than two guests (3 people total including the student) so that we do not exceed the fifteen person limit set by Alberta Health Services.
Drive in through the Ardrossan Junior Senior High bus entrance and park your car along the bus drop off lane in front of the playground. Follow the markers on the sidewalk to wait for your teacher to pass a certificate and indicate where to stand for a fun, yet physically distanced, photo in front of the playground. If you have items to return, there will be a staff member available at a table on the side to collect your materials at the same time. You only need to sign up for the Kindergarten Celebration.
Grade 6 Celebration
June 22:  9:00 -11:45 a.m. & 12:15 - 3:00 p.m.
June 23:  9:00 -11:45 a.m. & 12:15 - 3:00 p.m.
Like our Kindergarten Celebration, we ask that our Grade 6 students come to the school with no more than two guests so that we are in compliance with regulations. 
Grade 6 families will also pull into the bus entrance at Ardrossan Junior Senior High and park in the bus drop off lane near the playground. Follow the markers to enter through the Grade 6 doors and proceed to your classroom area for certificates, pictures and a chance to say goodbye to the school. We will also have tables set up for you to drop off school materials and so you only need to sign up for the Grade 6 Celebration times.
To sign up for times for both the return of materials or the Kindergarten/Grade 6 celebration please go to www.schoolinterviews.ca and enter the code: h629r
We will place certificates in the mail for those families who are not able to come to the school. If you would like to arrange for another time to drop off school property, please speak with Mrs. Shackleton or Mrs. Tachuk in the office at 780-922-2066.
Saying Goodbye the Ardrossan Way
Each year, our staff have a tradition of lining up outside the school and waving at the students as the leave on the bus for the last day of school. We play music through the speakers and we smile, wave and tell students that we will miss them. 
As we were talking about this, we were feeling sad that we could not wave at the buses this year. Then we had a great idea! What if we stood (physically distanced, of course!) on the side walk near the bus lane and invited families to drive through the AJS parking lot? We could then have a chance to cheer and wave at our students and their families so that our year feels complete.
We would like to invite our students and their families, to pretend that they are a bus and to drive through the bus lane between 1:30 and 2:00 p.m. on June 26. Our staff will be standing on the sidewalk with signs, ready to wave and cheer for our students! We hope to see you there!
Student Transportation 2020-21
Planning to use Student Transportation in the 2020-21 school year? If so, make sure your child is registered so Elk Island Public Schools (EIPS) can plan routes and send your child a bus pass before the first day of school.
All students who indicated needing transportation services through the returning student registration process are now registered. Those families have also received tentative route schedules and invoices.
For those students who didn't indicate needing transportation service through the returning student registration process and want to now register, simply contact EIPS Student Transportation at 780-417-8151 or email st@eips.ca.
For more information about EIPS Student Transportation visit www.eips.ca/transportation.
NOTE: Families can pay fees online using the PowerSchool Parent Portal.
OPPORTUNITY
Talking About Racism and Inequality - How Can I Begin the Conversation at Home?
With anti-racism protests taking place all over the world and the Black Lives Matter movement being prominently shared across the media, parents and educators might be wondering about how to tackle this very important topic with children.
First of all, the fact that you are deciding to have a conversation is an important first step. Sometimes we are afraid of saying the wrong thing and our fear of making a misstep keeps us silent which, in turn, keeps us from making real changes in systemic racism and inequity. For a great and simple explanation of systemic racism, we encourage you to check out this video. The context is American, but the content is helpful. 
It might be easier to talk about racism by beginning to understand your own personal experiences, understandings, and biases. One way to do so, is to start doing some reading, listening to podcasts or videos, or taking personal inventory of what you might believe implicitly without realizing it. This may make it easier for you to start those conversations with your own children as well as to take steps to become an ally and change maker for our community members who are victims of prejudice, racism and stereotyping. 
Here are some great resources to get you started:
Storytime with Superintendent Liguori
What's the point of an exclamation mark? Find out as you listen to this week's Superintendent Liguori reads: Exclamation Mark by Amy Krouse Rosenthal
Little Elk Island Adventure: Registration
Elk Island Public Schools is once again planning to run Little Elk Island Adventure, a fun and informative program for first-time school bus riders.
Annually, Student Transportation offers the Little Elk Island Adventure to new riders and their parents. The program's aim is to help ease any anxieties a family may have about riding the bus before even starting school. Through a series of activities, riders learn about: school bus safety, danger zones, tips on boarding and how to sit properly on the bus. After that, both the children and parents hop on the bus to practice what they've learned and then venture out on a short ride.
The Little Elk Island Adventure is for first-time school bus riders entering the 2020-21 school year. The tentative session dates and times are as follows:
 Location                                                    Date                                              Time
EIPS Central Services                              August 18                                         6 p.m.
EIPS Central Services                              August 19                                         6 p.m.
EIPS Central Services                              August 20                                         2 p.m.
EIPS Central Services                              August 20                                         6 p.m.
EIPS Central Services                              August 24                                         9 a.m.
EIPS Central Services                              August 24                                         6 p.m.
EIPS Central Services                              August 26                                         6 p.m.
SouthPointe School                                August 25                                         2:30 p.m.
SouthPointe School                                August 25                                         6 p.m.
NOTE: Date and time may change depending on the phase of the province's relaunch strategy.
EIPS Central Services is located at 683 Wye Rd., Sherwood Park
SouthPointe School is located at 11 SouthPointe Blvd., Fort Saskatchewan
Register NowSpace is limited and pre-registration is required.
More information about busing for kindergarten children is available at: www.eips.ca/transportation/kindergarten-busing-faq.
INFORMATION
Ardrossan Elementary Playground Just Got Provincial Funding!
We are pleased to share some wonderful news! The Minister of Education announced this week that our school will be receiving special purpose funding of $210,000 for developing a playground.
This was excellent timing, as our parent playground committee from the AEPSA has been hard at work both fundraising and planning for a new playground, hard surface play space, and memorial garden for our school. We are so grateful to our very dedicated parents for spending their free time to help move us forward in this important endeavour as well as to the province for the financial support.
If you are interested in joining either the AEPSA or the playground subcommittee, please contact Helene Hewitt at 780-922-2066 or by email at helene.hewitt@eips.ca and we will make sure to invite you to the next meeting.
Phonics - What is it and Why is it Important?
Last week we talked a bit about phonological awareness - the ability to hear the sounds in spoken words - and why it is so very essential for helping students to learn to read. 
This week, we would like to talk to you about phonics. Phonics is a way to teach students to read by connecting the sounds in speech to written letters or letter combinations. We help them to understand how different letters combine to make certain sounds. Once students can hear the individual sounds in spoken words (phonological awareness) they are ready to start learning phonics. Watch this cute video to learn more about phonics. 
How can you practice phonics at home? Here are a few simple ideas:
play word games that connect sounds with syllables and words such as writing the word pen and asking how could we spell hen?
teach your children to match the letters in their names with the sounds in their names
point out words that begin with the same letter as your children's names
make letter-sounds and ask your child to draw the matching letter in sand or some other tactile material
Access this website - Concordia University - Abracadabra to play phonics games online
Tools for Schools
Ardrossan Elementary has once again partnered with the United Way for the 2020-21 Tools for School campaign. Annually, Tools for School provides backpacks and school supplies to students in kindergarten through Grade 12 whose families have limited resources. If you're a parent or know a parent who needs access to the program, contact our school directly. We'll discretely provide the backpack to your child at the beginning of the 2020-21 school year.
Alternatively, if you'd like to donate to the program, you can pick up few extra supplies when you're out shopping for back to school. Drop-off boxes are located at various businesses in the community during the summer months—including Staples and EIPS Central Services office. All supplies donated within our community are invested back into our region.
For more information about Tools for School, contact Sandy Shackleton at 780-922-2066 or call the EIPS Central Services at 780-464-3477.
Summer Hours at Elk Island Public Schools
Throughout the summer break, Ardrossan Elementary is closed and will reopen on August 24 at 9 a.m. If you have any school-related questions or concerns while the school is closed, contact EIPS Central Services—the office is open all summer to complete year-end activities and prepare for the 2020-21 school year.
EIPS Central Office Summer Hours
Open         Monday to Friday from 8:30 a.m. to 4:30 p.m.
Phone        780-464-3477
Address     683 Wye Rd., Sherwood Park
Statutory Holidays
Closed                Wednesday, July 1          Canada Day
Closed                Monday, August 3          Heritage Day
NOTE: Student Transportation will also remain open during the summer months and operate during the same hours as EIPS Central Services Office.