Back to all posts
Posted on
Bison Tales - June 3, 2022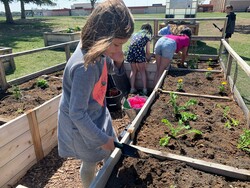 The month of June is upon us and we are enjoying some incredible end of year activities! Classes are off on field trip adventures and we have loved seeing the parents and caregivers joining us for some fun!
This week, our Grade 5 students wowed us with their dream homes science project. If you were in the school yesterday, you would have seen incredible model houses that were wired with working circuits as part of the Electricity Unit. Students stood with their projects and presented their designs to visitors which included parents, staff and students from a variety of grade levels. We were so proud!
If you've visited our playground recently, you might have noticed our garden boxes looking beautiful. Our Gardening Club, led by Mrs. Samartunga, has been hard at working growing seedlings and then transplanting them into our garden boxes! Take a peek next time you are in the school. 
The week ended with some talented students performing in their end of the year keyboarding for kids recital. Thank you to Mrs. Pretzlaff for gifting her time after school hours to teach students how to play the piano!
Great Happens Here!
Helene Hewitt and Kyla Harding
Principal and Assistant Principal
Table of Contents
Week At a Glance
Action
Updating Your Contact Information
Little Elk Island Adventures
Save Your Bottles!
Opportunity 
Tidbits from the Lunchbox
Grade 6 Badminton Tournament
End of Year Traditions are Back!
Recreational Roller Skate Events
Information
EIPS Parent Survey Results
Tools for Schools
Parents Make the Difference 
WEEK AT A GLANCE
 

Monday

 

Habit 7 Assembly - in the gym at 2:15 p.m. families welcome to join us!
Student Clubs:

AETV: Grade 5 and 6
French Immersion Club: Grade 6
Rocket Club: Grade 6

 

Tuesday

 

PALS session: Transition to Kindergarten @ 1 p.m.
Student Clubs:


Daebak Dance: Grade 3-6
Gardening Club: Grade 3 & 4
French Immersion Club: Grade 1
Rocket Club: Grade 6 

 

Wednesday

 

Grade 6 Field Test Science 9 a.m.
Student Clubs:

Art Club: Grade 5
Card Club: Grade 4
French Immersion Club: Grade 2

PALS session: Transitioning to Kindergarten @ 6:30 p.m.

 

Thursday

 

5A and 6A French Immersion Camp at Elk Island Park 
Student Clubs:


French Immersion Club: Grade 3
Rocket Club: Grade 6
Gardening Club: Grade 3 & 4

Friday

Grade 6 Field Test (Social Studies)
Student Clubs:


Card Club: Grade 3
French Immersion Club: Grade 4

Grade 6 Badminton Tournament
Bison Tales posted online
ACTION
Updating Your Contact Information
Have you recently moved or has your contact information changed throughout the past year? Elk Island Public Schools (EIPS) encourages families to review their information the Division has on file to ensure it's up to date. Using the Correction and Verification Form available through the PowerSchool Parent Portal, families can review their information on file for each student—including addresses, phone numbers, email addresses, parent and guardian information, emergency contacts, medical details and other related information—and submit any updates needed.
Reviewing and updating the form ensures the Division has the most up-to-date information regarding your child. Your review is especially important in case there's any communication the Division or school needs to send out over the summer months related to classes next year. All EIPS families are asked to review their child's Correction and Verification Form by June 13 at noon. After this time, EIPS will turn the form off for the remainder of the school year—available again at the start of the 2022-23 school year.
NOTE: Only submit updates for the changes that have already taken place. If you're moving this summer, you'll submit the necessary updates to your address through the Correction and Verification Form at the start of next school year after you've moved.
If you have questions about the form or the PowerSchool Parent Portal, contact the school at 780-922-2066.
Little Elk Island Adventures
Elk Island Public Schools is once again planning to run the Little Elk Island Adventure, a fun and informative program for first-time school bus riders.
Annually, Student Transportation offers the Little Elk Island Adventure to new riders and their parents. The program's aim: To help introduce families to busing so they feel comfortable and at ease before even starting school. Through a series of activities, riders learn about school bus safety, danger zones, tips on boarding and how to sit properly on the bus. After that, both the children and parents hop on the bus to practice what they've learned by venturing out on a short ride.
The Little Elk Island Adventure is for first-time school bus riders entering the 2022-23 school year. The tentative session dates and times are as follows:
Location                                              Date*                                      Time*
EIPS Central Services                          August 16                                5 p.m.
EIPS Central Services                          August 16                                6:30 p.m.
EIPS Central Services                          August 17                                5 p.m.
EIPS Central Services                          August 17                                6:30 p.m.
EIPS Central Services                          August 19                                5 p.m.
EIPS Central Services                          August 19                                6:30 p.m.
EIPS Central Services                          August 20                                10 a.m.
SouthPointe School                             August 18                                5 p.m.
SouthPointe School                             August 18                                6:30 p.m.
* Dates and times may change depending on the province's public-health measures.
** SouthPointe School locations are for students attending schools in Fort Saskatchewan.

EIPS Central Services is located at 683 Wye Rd., Sherwood Park
SouthPointe School is located at 11 SouthPointe Blvd., Fort Saskatchewan
Space is limited and pre-registration is required.
More information about busing for kindergarten children is available at: eips.ca/transportation/kindergarten-busing-faq.
Save Your Bottles!
Save your bottles for our final bottle drive taking place from June 20 to June 28! Bring your bottles and take a selfie to post to social media for a chance to win a gift card! Funds will go to the AEPSA for supporting our playground enhancement project and other purchases that go directly to the school!
OPPORTUNITY
Tidbits from the Lunchbox
CPF is hosting their annual year end BBQ and ordering will open online from June 1-14 through the hot lunch online ordering system. Log in to your account as usual to place your orders. 
Grade 6 Badminton Tournament
The Grade 6 students are participating in a Badminton Tournament and Fundraiser for the Playground this Friday. A huge thank you to the Hot Lunch parents who are supplying chocolate bars for $2 and chips for $1 for sale. Gatorade will be only available to students in grades 4 to 6 for $2.
Classes are invited to watch the tournament and purchase items as follows:
Grade 5's 12:30-12:50
Grade 4's 12:50-1:10
Grade 3's 1:10-1:35
Grade 2's 1:35-1:55
Grade 1's 2:20-2:40
Please remind students to bring exact amounts or small bills so that the concession moves quickly! 
End of the Year Traditions are Back!
We are happy to share that we will return to some of our regular Ardrossan Elementary end of the year traditions! If you are new to our school or if you have only joined us in the last two years, you may not be aware of some of the fun things that take place in June.
Our kindergarten students will have their special celebration on June 24 at 1 p.m. in the gymnasium. This is a great opportunity to celebrate all they have learned throughout the year and take some pretty adorable pictures!
Our students will enjoy Sports Day on June 27 with students in grades 4 to 6 participating in the morning and students in kindergarten to grade 3 participating in the afternoon. 
June 28 is the last day of school for students and will include many special events:
Grade 6 Celebration
Join us in the gym at 9:30 a.m. to celebrate our eldest bisons and send them off to Grade 7! Come prepared to enjoy a slideshow or two, witness the Grade 6 musical performance and watch the Grade 6 students get their certificates! We also use this assembly as a chance to thank our parents and community partners as well as farewell to staff that are moving on to other opportunities! We also have the tradition of the Grade 5 students moving onto the bleachers. 
Grade 4-6 Water Fight
After the assembly, students in grades 4 to 6 are invited to participate in the year end water fight taking place in the large field behind the school. Students need to bring a towel (and a change of clothes) as well as a water gun if they choose to participate. We ask that all students who want to play stay in the field and not spray people outside of the splash zone! We definitely respect those who don't want to get wet!
CPF Family BBQ and Picnic
If you'd like to join us for our year end BBQ, order your burgers, hot dogs and other tasty treats through the Hot Lunch website for you and your children. Then join us for lunch by coming to the tables where our amazing parent volunteers will be handing out your orders. All proceeds from the sales go to the Ardrossan Chapter of the Canadian Parents for French which will pay for special events for the whole school in the 2022-23 school year.
Once you've collected your food, lay out a picnic blanket or some lawn chairs and enjoy your lunch in the great outdoors with the rest of the Ardrossan families. It is incredible to see so many smiling faces spread out around the school and we love connecting with all of our families! 
If you choose to take your child with you before the end of the day, make sure to let your classroom teacher know that you have your child so that no one is worried!
Bus Send Off
As is our tradition, our staff will line up along the bus lane to wave to our students as they depart on the buses for the last time in the 2021-2022 school year! We also play music on the speakers and wave and dance! Feel free to join us if you enjoy waving!
Ardrossan Recreational Roller Skates!
Thanks to the creativity and hard work of our Rural Development and Outreach Coordinator summer students, Taylor and Quinn, we are trialing some NEW FUN ACTIVITIES at ARC this June with three themed Recreational Roller Skates over the next three weeks with the first THIS FRIDAY!
            Fri, June 3        4:30-6pm        80s Roller Skate
            Sat, June 11     4-5:30pm         Beach Bash
            Sun, June 19    4:30-6pm         Retro Video Game
There will be music, fun lights and décor, a Selfie photo booth, and costumes are definitely encouraged!  Bring your friends and your roller skates or roller blades. Admission is included in a daily pass or Active pass. Check it out here!
INFORMATION
2021-22 EIPS Parent Survey: Results now available
The 2021-22 EIPS Parent Survey results are now available. In March, the Division conducted the annual survey, which helps EIPS gauge its progress toward meeting the goals and priorities outlined in its Four-Year Education Plan. Families were asked a series of questions about their experiences with EIPS and the school their child attends, the overall performance of the Division, the quality of education being provided to students and areas for improvement.
Thank you to all families who took the time to share their feedback with the Division. Overall, the survey received 3,450 responses from parents and guardians across EIPS. EIPS, and schools, will now review the feedback in detail and use it to develop new strategies to serve students and the wider community better.
The full results are available online:
2021-22 Parent Survey results: EIPS
2021-22 Parent Survey results: Ardrossan Elementary 
Tools for Schools
Ardrossan Elementary has once again partnered with the United Way for the 2022-23 Tools for School campaign. Annually, Tools for School provides backpacks and school supplies to students in kindergarten through Grade 12 whose families have limited resources. If you're a parent or know a parent who needs access to the program, contact the school directly. Staff will discretely provide the backpack to the child at the beginning of the 2022-23 school year.
Alternatively, if you'd like to donate to the program, you can pick up a few extra supplies when you're out shopping for back to school. Drop-off boxes are located at the EIPS Central Services office, all Staples locations and various businesses in the community. Any supplies donated within the community are invested back into the region.
For more information about Tools for School, contact Tanya Suprovich at 780-922-2066 or call the EIPS Central Services at 780-464-3477.
United Way Tools for School: 2022-23
Parents Make the Difference
Throughout the year we will include some articles with some great tips and strategies for parents. Here is this week's featured article:
Reflect on the school year and celebrate your child's success
 As the school year winds down, it's a great time to help your child look back, look forward, give thanks and celebrate. Here's how:
Talk to your child's teacher. Ask about your child's strengths and weaknesses. How has he improved? Where does he need more work? Ask what you can do to help your child over the summer.
Talk to your child about the school year. Ask what he thinks went well. Talk about what challenged him most. Help him figure out what changes he should make for the upcoming school year.
Review your child's successes. Look over schoolwork you've saved during the year. Point out how much your child has learned—how many new words, for example. Or how he can add and divide. Or how his writing has improved.
Help your child set learning goals for the summer. How much time will he spend reading? What math concepts would he like to master? Guide him, based on the suggestions from his teacher.
Encourage your child to thank people who have made the year work—the teacher, school nurse, librarian, food service worker, etc. This will help him appreciate how many people have helped him.
Celebrate the year's accomplishments with a special activity. It doesn't have to be elaborate or cost anything. Just make plans to enjoy one-on-one time with your child.
Reprinted with permission from the May 2022 issue of Parents make the difference!®  (Elementary School Edition) newsletter. Copyright © 2022 The Parent Institute®, a division of PaperClip Media, Inc.