Back to all posts
Posted on
Bison Tales June 19, 2020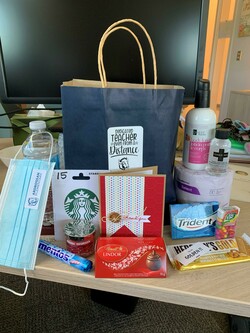 It hard to believe that we have finished our last week of learning for the school year! Who would have guessed that we would end the school year online?
In this edition of the Bison Tales, we have included our 2019-2020 AEL Year-End Review. This review helps us to reflect on all that we have accomplished in the school year, even if it was cut a little short! We hope that you will join us in celebrating the many wonderful learning events and leadership opportunities that took place at Ardrossan Elementary. Truly, there is much to be proud of!
Speaking of celebrations, next week we look forward to celebrating with our kindergarten and Grade 6 students as they come to the school to collect graduation certificates and to take pictures. Please see the articles below for details on dates and times as well as how to sign up! If you are driving by the school next week, don't forget to drop off your bottles for the AEPSA fundraiser. The money from those bottles will be used for supporting our new playground!
We also hope to see families from 1:30 to 2 p.m. on Friday, June 26 as they drive through the bus lane. We would love to wave to you and cheer for each student as a way of finishing off the school year! We are so thankful for each family who worked double-time to ensure that their children were able to continue on with their learning, in whatever form it came. Come and celebrate with us!
We would also like to take a moment to thank our kind and generous parent partners who have done so much to support our school community this year. Thank you to all of the School Council, CPF, AEPSA and Hot Lunch parents who regularly take on roles of responsibility to run each group. We want to acknowledge how much time and effort our parent volunteers spend in planning, running, and attending meetings. Thank you to all of the parents who donated items or gift cards to families in need. We also would like to thank our parent playground subcommittee who have continued to meet with our school, the County, and EIPS to get our playground planning underway, even during a pandemic! We know that many of our parent volunteers are "graduating" from Ardrossan Elementary and following their children to junior high. We will miss you!
As a staff, we would like to thank the Ardrossan Elementary Parent Support Association for the amazing gift bags they presented to all of our staff! We feel incredibly spoiled! How did you know that we might need a roll of toilet paper? Your generosity knows no bounds! Thank you!
For our last official Bison Tales video episode, we went all out! We encourage you to click here (or scroll to the bottom) to watch our Disney inspired COVID parody. Lyrics provided by Mrs. Pretzlaff and video editing completed by Mrs. Harding starring a cast of AEL staff. I think we should be nominated for a Tony award! Broadway, here we come!
Now that alternative learning has finished for year, we hope that you enjoy your time as a family and some well-deserved summer fun! You have definitely earned some time to sharpen the saw!
Love,
Mme Hewitt & Mrs. Harding (on behalf of the Ardrossan Elementary Staff)
Action
Student Registration 2020-2021
Student Report Cards - Posted June 26
Bottle Drive Fundraiser
Come Say Goodbye on June 26!
Accessing User Accounts: Students Leaving EIPS
Student Transportation 
Opportunity
Storytime with Superintendent Liguori 
Tools for Schools
Information
Tidbits from the Lunchbox
Avoid the Summer Reading Slide - Tips for Reading Over the Summer
2020-21 Staffing Update - Part Two
ACTION
Student Registration 2020-2021
We look forward to welcoming new and returning students for 2020-2021. New registrations will be accepted 8:30 – 3:00 from Monday, August 24 onward. Please complete the online registration process and upload a copy of your child's birth certificate and proof of residency. Please browse through our website for registration, programs, calendar and other information to help you plan for next year including the supply lists. For general information about Elk Island Public Schools (EIPS) and back to school you may also visit the division website at: www.eips.ca. 
Student Report Cards - Posted June 26
Student report cards can be accessed through the Parent Portal in Powerschool on Friday, June 26. Should you wish a hard copy, please contact your child's teacher. Parents and students will be informed of class placements in the June 26 report cards.
Bottle Drive Fundraiser - Help Us Raise Money for our Playground!
Have you heard about our recent gift of playground money from Alberta Education? We are hoping to continue to raise even more funds to make the outdoor spaces even better for our students! Now is your chance to help out!
Our Ardrossan Elementary Parents Support Association (AEPSA) is collecting bottles in a trailer parked in front of the school during the last week of June 22-26. The money raised will go to funding special events in the school as well as to our playground fund. Load up your car and drop off those bottles when you have a spare moment! 
Come Say Goodbye on June 26!
We would like to invite our students and their families, to pretend that they are a bus and to drive through the bus lane between 1:30 and 2:00 p.m. on June 26. Our staff will be standing on the sidewalk with signs, ready to wave and cheer for our students! We hope to see you there!
Graduation Celebrations & Material Return Sign Up
Do you have a child in Grade 6 or Kindergarten? Do you need to drop off a Chromebook or other school materials? Sign up for a time by going to www.schoolinterviews.ca and use the code: h629r.
Grade 6 Celebration
June 22:  9:00 -11:45 a.m. & 12:15 - 3:00 p.m.
June 23:  9:00 -11:45 a.m. & 12:15 - 3:00 p.m.
Kindergarten Celebration
Mme Bouchard: June 24 from 9:00 -11:00 a.m. & June 25 from 1:30-3:00 p.m.
Ms. Wilson: June 24 from 11:00 a.m. -3:00 p.m. & June 25 from 9:00a.m.- 1:30 p.m.
School Materials Drop-Off
June 22-25 from 9:00 a.m. - 3:00 p.m.
Accessing User Accounts: Students Leaving EIPS
Is your child graduating from or leaving EIPS at the end of the school year? If so, they must ensure any information they want to retain from their school accounts is downloaded onto a personal device or stored on a removable disk—such as a USB key or portable hard-drive—before leaving. Meanwhile, for Google accounts, students must download any wanted content before September 1—download files either individually or in bulk using Google Takeout. After these dates, EIPS will deactivate the account and delete all remaining files.
For more information, contact the school at 780-922-2066.
Student Transportation
Planning to use Student Transportation in the 2020-21 school year? If so, make sure your child is registered so Elk Island Public Schools (EIPS) can plan routes and send your child a bus pass before the first day of school.
All students who indicated needing transportation services through the returning student registration process are now registered. Those families have also received tentative route schedules and invoices.
For those students who didn't indicate needing transportation service through the returning student registration process and want to now register, simply contact EIPS Student Transportation at 780-417-8151 or email st@eips.ca.
For more information about EIPS Student Transportation visit www.eips.ca/transportation.
NOTE: Families can pay fees online using the PowerSchool Parent Portal.
OPPORTUNITY
Storytime with Superintendent Liguori
Time for another great story with our Superintendent! Follow along with Superintendent Liguori as he read us The True Story of the 3 Little Pigs by Jon Scieszka . 
Tools for Schools
Ardrossan Elementary has once again partnered with the United Way for the 2020-21 Tools for School campaign. Annually, Tools for School provides backpacks and school supplies to students in kindergarten through Grade 12 whose families have limited resources. If you're a parent or know a parent who needs access to the program, contact our school directly. We'll discretely provide the backpack to your child at the beginning of the 2020-21 school year.
Alternatively, if you'd like to donate to the program, you can pick up few extra supplies when you're out shopping for back to school. Drop-off boxes are located at various businesses in the community during the summer months—including Staples and EIPS Central Services office. All supplies donated within our community are invested back into our region.
For more information about Tools for School, contact Leanne Tachuk or Sandy Shackleton at 780-922-2066 or call the EIPS Central Services at 780-464-3477.
INFORMATION
Tidbits from the Lunchbox
On behalf of the AES HotLunch Program we want to thank all families for supporting us this past year. We had such an amazing 6 months serving your kids hot & healthy lunches.
This year the program was able to purchase 3 spin bikes for the Grade 6 classrooms, assist the Grade 6 students with hiring the Hip Hop Artist in Residence. We sponsored the Running club, Green Team and Gardening clubs as well as the Apple leaders program. We provided food in the office for "forgotten lunches", sponsored the Corn Festival/ Épluchette de blé d'Inde, and handed out over 1000 free meals and pieces of fresh fruit. All thanks to the ongoing support from our families.
We never could have made the year so successful without the help of our many parent volunteers. From donating time helping with concessions, handing out lunches, sorting pizza and smoothies on order in days- you parents really stepped up to make our job easier!
As an alternative to our annual Grade 6 Sundae, the Hot Lunch Board has arranged for you to receive a small treat bag from us! These will be available for pick up at your Grade 6 Farewell appointments. We want to thank the students who supported us over the last 7 years! We will miss your smiling faces.
We look forward to providing your children with healthy hot lunches when schools are back in session!
Stay safe, have a wonderful summer.
The AES Lunchbox Board & Kitchen Staff
Literacy at Home - What is Summer Slide?
Summer Slide, or Summer learning loss, is a problem that affects all learners. Research shows that students who are not actively engaged in reading during the summer lose reading skills. There can be more than a one month loss of reading skills and knowledge! As a result, students who are not reading during the summer months begin school in September at a lower reading level than the previous June.
As parents, we want our children to enjoy their summer and hesitate to ask them to engage in school-like activities. Did you know that 76% of kids say they like to read over the summer, yet only half of these kids will read without being prompted by their parents?
How Can We Prevent Summer Slide?
Encourage your child to read daily for pleasure. For younger children, not only listen to them read, but read to them as well. Reading to your child not only exposes your child to the foundations of reading, it reinforces that we read for pleasure. Talk about the books your child is reading. For French Immersion students, it's fine to talk about the book in English. It's a fun way to engage with your child and encourage reading. Add a fun twist to reading this summer by using The Measured Mom's, Read a 100 Books Challenge which requires you to read each book in a different place. That's 100 different places! (Scroll down the webpage to download the list.)
Participation in the Strathcona Library's annual Summer Reading program is a great way to start the summer. While you are there, encourage your child to explore the library and expand interests. The blog, Growing Book by Book, has a fun Library Book Challenge that you can do during your visits to the library. There are nine weekly challenges to discover new books to read over the summer.
Continue to use online reading programs your child has used at school during the summer months. All students have a Raz-kids account, an online resource with leveled stories and comprehension questions. Many teachers use Epic Books, an online digital library with over 35,000 books in both English and French. Your child can continue to access this resource using a computer. However, access with an iPad app has a monthly fee. (This is how they are able to provide the resource free to schools.) You can join free for 30 days to try it out. French Immersion students can continue to login and use their Je lis, je lis littératie! account and access these online French leveled books.
For those students who love science, check out Edventures With Kid's Summer Science Experiments. A list of books accompanies each of the 27 science experiments so your child can learn more. National Geographic Kids online has amazing articles, videos, and games about animals for children in Grade 3 and up. Younger students would need to explore this site with an older sibling or parent. Camp Wonderopolis is a free online summer camp packed with fun, interactive STEM (science, technology, engineering, math) and literacy-building topics that include Maker experiments. With five different camps to explore, your child will never be bored!
It's always enjoyable to listen to someone read a book. Swap out some of your child's video game time with these online story sites. Well-known actors and actresses read aloud well-loved stories on Story Online. This wonderful site will keep your child engaged for hours. Tumblebooks has a large digital library of stories that are read aloud. Each book page contains illustrations and text, with an option to highlight words as they are read so your child can follow along. Please email your child's teacher for our school login. At Storynory, this collection of original, fairy tale, and classic children's audio books also include the text so children can read along.  Also check out Kiz Club for online stories aimed at Grade 1 and Grade 2 students. There are three levels of books and children can follow along as the story is read aloud.
For students who would like to work on further developing their reading skills, Free Reading Program provides a sequential learning program that includes comprehension texts, sight words, and vocabulary aimed at ECS to Grade 6. For young students, Reading Bear is a great online program that focuses on building reading skills using phonics and word families. At Starfall, children ECS to Grade 3 learn to read using stories and games.
Staffing Update - Part Two
2020-2021 Staffing Update - Part Two
Based upon the current information we have, staffing and class configurations for the 2020-2021 school year will be as follows: *Please note that numbers may fluctuate over the summer.
French Immersion Classes (student #)
Kindergarten Mme Bouchard (20)
Grade 1 Mme Rovensky (27)
Grade 2 M Tomaszewicz (25)
Grade 3 Mme. Proulx (30)
Grade 4 Mme Krys (31)
Grade 5 M Castle (18)
Grade 6 M Wandji (27)
 English Classes (student #)
Kindergarten Mrs. Belcourt  (22 & 24)
Grade 1  Mrs. Samaratunga (23)
Grade 1  Mrs. Gilliland (23) 
Grade 2  Mrs. Hill (25)
Grade 2  Mrs. Brady (25)
Grade 3  Mrs. Kent (21)
Grade 3  Mrs. Klippenstein & Mrs. Ruptash  (20)
Grade 4  Mrs. Grauman (26)
Grade 4  Mr. Jeffries (25)
Grade 5  Mrs. McBride  (28)
Grade 5  Ms. Wilson (27) - until Mrs. Massel returns in April 2021
Grade 6  Mr. Campbell (29)
Grade 6  Mr. Halbert  (29)
Music  Mrs. Pretzlaff 
PALS Mrs. Drechsel
Office Team
Principal Mme Hewitt
Assistant Principal Mrs. Harding
Counsellor Mrs. Bashaw - until Mme Mitchell returns
Secretary Mrs. Shackleton
Business Manager Mrs. Pearson
Comments
Tatjana Rudy (and the Rudy Family)
Posted
Good evening Sandy and the entire crew at AE.
Our family sends love and wishes to each and every one of the team over in the childless school building and hopes for you all to have a safe, happy, and healthy summer holidays.

We have a deep appreciation for every single challenge you have met head on this 2019-2020 school year (from the sudden and still painful loss of our beloved Chris Frederickson to the challenges posed by harsh cuts to funding for our education system and educators and finally, the pandemic and the "new normal" that SARS-CoV-2 and CoViD-19 have forced upon us and our families and societies, especially the new remote learning platforms that you've had to build, navigate, instruct, and build capacity through.

Our family wanted to extend our deep and heartfelt gratitude to you all for trying to normalize all of the change and build resiliency in our community and its youngest citizens.
Your making tough times stable has not gone unnoticed.
You have smiled, at times we were sure you all felt tired or wanting to cry.
The most important thing we have witnessed in you all has been your deep humanity.
You have all opened up and shown our children that it is okay for all of us to cry and to grieve and even to be at a loss for words. This doesn't make us weak. If anything, it takes the strongest of people to show their feelings and that they do not have all of the answers on how we move forward, and having all of the answers, even for teachers and parents and leaders isn't the important part, moving forward is. Together.

Together we stand.
We are so proud of all of you.
Please take care of yourselves.
We need you. Always.

Love and strength,
Viktorya, Katja, Jason, and Tatjana Rudy