Back to all posts
Posted on
Bison Tales - June 18, 2021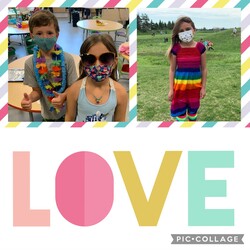 Only five days left before this school year is officially over! It has been a rollercoaster ride of a school year but we are glad that we survived all in one piece! This week we enjoyed all of the colours of the rainbow as we dressed up for Neon/Rainbow Day. Our students also created some lovely sidewalk chalk drawings about inclusivity and the importance of showing that everyone belongs here! 
Thank you to our families who have continued to support our school throughout the year. We have enjoyed seeing you through our computer screens as well as in the drop off lane! We are continually amazed at the positivity and grit that the Bison community continues to display, even when facing a challenge or two!
As we count down the final week of school, we hope to celebrate some of those special events that make the end of school feel extra special. We are looking forward to a modified version of Sports Day, complete with water balloons! Our staff are also helping to create our annual staff video farewell for our Grade 6 students! Stay tuned to next week's Bison Tales to get a peek of our terrible lip sync!
Enjoy the weekend!
Great Happens Here!
Helene Hewitt & Kyla Harding
Principal & Assistant Principal
WEEK AT A GLANCE
Monday

National Indigenous Peoples' Day
Bottle Drive all week!
Lost and found items displayed outside

Tuesday

Sports Day for A classes!

Wednesday

Sports Day for B classes and KA!
1A Telus World of Science Virtual Field Trip @ 2 p.m.

Thursday

Sports Day for C classes!
1A Telus World of Science Virtual Field Trip @ 2 p.m.

Friday

Last day of school!
Grade 6 Celebration ceremonies in the morning 
Last Bison Tales of the year posted online
Report Cards posted online at 4:30 p.m.
Action
Last Bottle Drive of the Year!
Library Books
Report Cards
Opportunity
Habit 7 Assembly - Kindergarten Students Sharpen the Saw
Lost and Found Items
Information
ACTION
Last Bottle Drive of the Year!
From June 21 to 25 we are having our final bottle drive of the school year! Save up those pop cans and other bottles to drop off in the trailer parked at the front of the school! The Ardrossan Elementary Parent Support Association (AEPSA) uses those funds to help sponsor events at the school as well as to contribute to the money raised for our outdoor play spaces! 
Library Books!
It is now the end of the school year, and everyone knows what that means! I am collecting books from all students all week! I would love your help in searching/ locating your child's books over the weekend and into next week.
All books not returned by the end of the school year will be put on your school fees (and that is something I hate doing). If you do find the book over the summer, I will credit your account come September. My main passion is and always will be instilling the love of reading and adventure into each one of our students.  
I hope everyone has a wonderful summer and I will see everyone next year!  
Sarah Thompson, Library Technician  
Report Cards
Teachers have been hard at work assessing students and preparing for the final progress report of the year. We encourage you to log in to your Parent Portal account to view the Communicating Student Learning report card on June 25, 2021. They are set to be released at 4:30 p.m. on that day.  
You will also want to check the report card to find out who your child's teacher will be for next year. After much deliberation, conversation and deep thought, our teams have created class lists that ensure that all students have access to high quality instruction in a balanced class where the intellectual, emotional, and social needs of each child are met. Teams also did their best to ensure that every child had a friend in next year's class. We encourage you to read the report card to find out where your child has been placed!
OPPORTUNITY
Habit 7 Assembly - Sharpen the Saw with Kindergarten!
Congratulations to our youngest leaders! Take a peek at our latest virtual assembly video of our kindergarten students showing us how to have balance in our lives! They will teach you all about making sure you recharge yourself with rest and activities that bring you joy! 
Click here to watch the video!
Lost and Found Items
During the last week of school, lost and found items will be located near the bottle drive trailer so that our community can take a peek while they drop off bottles! Any items left on the tables by the end of the week will be donated to Value Village.  
INFORMATION
Thank you!
We would like to congratulate Ella Robinson on her successful strawberry plant venture! She was able to sell almost 700 strawberry plants and make a donation to the Ardrossan Elementary Parent Support Association (AEPSA) of $175 for our playground fund! We are proud to see the beginnings of a successful young entrepreneur! Congratulations, Ella!