Back to all posts
Posted on
Bison Tales - June 17, 2022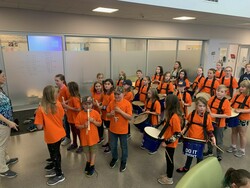 Did you know that our grade 4 to 6 students have been rehearsing all month to march in the Ardrossan Parade tomorrow morning? We have been treated to an excellent musical feast all week while the students practiced in the Gathering Area. They are ready to play several songs on recorders and drums while marching! Look for our kids in their bright orange shirts and they prepare to dazzle you with their mad musical skills!
Although it has been a bit of a rainy week, we have enjoyed the opportunity to get out of the school on some great field trips. Our Grade 6 students even had an in-school physical education field trip with Fitset Ninja today. The gym had all kinds of ninja warrior style equipment set up so that students could conquer the fitness obstacle course. Great fun was had by all!
Great Happens Here!
Helene Hewitt and Kyla Harding
Principal and Assistant Principal
Table of Contents
Week At a Glance
Action
Ardrossan Movie Night is Coming - Save the Date! 
Bottle Drive Next Week
Grade 6 Provincial Achievement Tests - How to Help Your Child
Library Books
Opportunity
Rocket Club Blast Off 
Lost and Found
Grade 6 Celebration
Information
National Indigenous Peoples' Day
Grade 6 DARE Graduation
WEEK AT A GLANCE
 

Monday

 

Bottle Drive begins!
Grade 6 PAT Math Part B @ 9 a.m.
Kindergarten Field trip to Strathcona Wilderness Centre
4B field trip to Fort Edmonton Park (a.m.)
Student Clubs:

AETV: Grade 5 and 6
Rocket Club: Grade 6

 

Tuesday

 

Bring your bottles!
National Indigenous Peoples' Day
Kindergarten Field trip to Strathcona Wilderness Centre
4A & 4C field trip to Fort Edmonton Park (a.m.)
Student Clubs:

 

Wednesday

 

Bring more bottles!
Grade 6 PAT Science @ 9 a.m.

 

Thursday

 

Not too late to bring your bottles!
Rocket Blast Off Day @ 12:30 p.m. in Field 3
Grade 6 PAT Social Studies @ 9 a.m.

Friday

Bring those bottles!
Gr. 2 and 3 field trip to Kinsmen and Broadmoor Park
Grade 6 PAT English Language Arts @ 9 a.m. 
Rain Out Day Rocket Blast Off Day @ 12:30 in Field 3 
Kindergarten End of Year Celebration @ 2 p.m. in the gym
Bison Tales posted online
ACTION
Ardrossan Movie Night is Coming! Save the Date!
Do you love free movies? Do you love the great outdoors? Why not combine both together! Three Seasons Landscaping, a local company owned by one of our Ardrossan families, in partnership with Ardrossan Elementary Parent Support Association (AEPSA) and Elk Island Public Schools is hosting a family movie night in the field outside the school on September 23. 
Join us for a double-feature with the first family friendly movie starting in early evening followed by a second family feature later on. 
AEPSA will be offering a concession so that you can stock up on delicious treats before the movies start! All monies raised will support our school in a variety of ways such as buying materials for clubs, sponsoring special events or performances, helping us to keep up-to-date technology or buying books for classrooms and our library!
Bring a blanket and come early to get a great spot! In the event of rain, the movies will move into our gym and families will be invited to sit on the floor to enjoy the films!
If you'd like to volunteer to help with this event such as bringing folding tables, working concession, or helping to set up or clean up, there will be a sign up in the Fall! 
Bottle Drive Next Week
Our Ardrossan Elementary Parents Support Association (AEPSA) is holding one last bottle drive as a final fundraising push for this year! We are ready to help lighten your load by taking those pesky bottles out of your garage! 
Look for the trailer parked in the front of the building and bring those bottles! Take a selfie with your bottles and post it to the Ardrossan Parent Facebook page for a chance to win a gift card! All proceeds will go to supporting our school!
Grade 6 Provincial Achievement Tests - How to Help Your Child!
All Grade Six students are continuing to write Provincial Achievement Tests in all four subject areas:  Language Arts, Mathematics, Science, Social Studies and for our French Immersion students French Language Arts. Statistics have shown that students who are well rested and eat breakfast in the morning perform better in testing situations. To ensure maximum performance we suggest you encourage your child to:
Get plenty of rest the night before.
Have a nutritious breakfast in the morning.
Bring a snack for recess.
Library Books!
It is now the end of the school year, and everyone knows what that means! I am collecting books from all students all week! I would love your help in searching/ locating your child's books over the weekend and into next week.
All books not returned by the end of the school year will be put on your school fees (and that is something I hate doing). If you do find the book over the summer, I will credit your account come September. My main passion is and always will be instilling the love of reading and adventure into each one of our students.  
I hope everyone has a wonderful summer and I will see everyone next year!  
Sarah Thompson, Library Technician  
OPPORTUNITY
Rocket Club Blast Off!
Some of our Grade 6 students with their fearless leader, Mrs. Klippenstein, have been hard at work building rockets over the last several weeks. We will be having our Rocket Blast Off day on June 23 starting at 12:30 in Field 3 behind the school. The blast off event will last around 45 minutes and students will launch around 80 rockets as well as a few special rockets from Mrs. Klippenstein's special collection! If it is raining, we will move the blast off day to Friday, June 24 at 12:30 p.m. We hope to see you there!
Lost and Found
Did you know that all lost and found items remaining after June 29 are bagged and taken for donation? Students have been reminded throughout the months of May and June. This includes any shoes or school supplies left behind after the last day of school. Please feel free to drop by the school to go through the tables in the Gathering Area to locate your lost items! There is some really great looking stuff on those tables that look like they cost a pretty penny! Make sure to drop by and find your lost treasures before they become a treasure for someone else!
Grade 6 Celebration
Please join us on June 28 from 9:30- 10:30 a.m. in the gym to recognize our Grade Six leaders as they take the important step to Junior High School.  We are so proud of you! Moving on up!
This final assembly of the year will also be a chance for our Grade 5 students to move up to the bleachers and for the school to recognize and thank the many volunteers and caregivers who work hard to support our school!
After the assembly, we will be ready to start the Division 2 water fight and the Family BBQ!
INFORMATION
National Indigenous Peoples' Day
Next week we will be honouring National Indigenous Peoples' Day at Ardrossan Elementary. Every grade level will participate in activities in their classrooms that celebrate the many First Nations, Métis and Inuit peoples' that live on this shared land. Our kindergarten students will be exploring nature and learning about the land as part of their field trip to the Strathcona Wilderness Centre while our Grade 1 students will be reading the book The Giving Tree and doing an art project related to it. Our Grade 2 students will play some Indigenous games in physical education class while our Grade 3 students will listen to great books written by Indigenous authors and complete a writing prompt. Our Grade 4 students will be visiting the new Indigenous program at Fort Edmonton Park called "We Have Always Been Here" and our Grade 6 students will create an Norval Morrisseau bear art project. Ask your child about what they did for a great dinner conversation topic!
Grade 6 DARE Graduation
Congratulations to our Grade 6 students for completing the Drug Abuse Resistance Education (DARE) program over the past few months. This week our students attending their DARE graduation where two students from each class presented their DARE reports. We were so proud of all of students for showing all that they learned! Well done, grade 6!