Back to all posts
Posted on
Bison Tales - June 11, 2020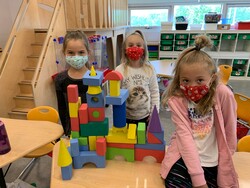 When you hear the word "pride" you might associate it with feeling a sense of accomplishment or self-worth. Pride is that feeling you get when you did something really well or when you take a moment to look back at your successes and all of the hard work you did to create that success. You may feel proud when you look at your child and see them take their first step or say their first word. You cannot help but stand a bit taller and smile a bit wider when you feel proud of who you are and what you have achieved!
June is Pride Month in Canada. It is a chance to celebrate diversity and ensure that everyone in our community feels like they belong. At Ardrossan Elementary, we want every child and community member to know that they are valued and that they have a safe place at our school. That safety means that we love and care about each other as fellow human beings and that everyone is valued as their authentic selves here at school.
With empathy, open-mindedness and patience we can continue to make sure that Ardrossan feels like a warm and loving family! Let's go, Bison Pride!
Great Happens Here!
Helene Hewitt & Kyla Harding
Principal & Assistant Principal
WEEK AT A GLANCE
Monday

A beautiful day to learn!

Tuesday

Neon/Rainbow Day!
Preparing for Kindergarten - Fine Motor Development Session online at 1 p.m.

Wednesday

Preparing for Kindergarten - Speech and Sound Development Session online at 1 p.m.

Thursday

Edmonton Zoo Virtual Field trip (1B & 1C)

Friday

Bison Tales posted online
Action
Save Your Bottles!
Lost and Found Items
Opportunity
Counsellor's Corner
Neon/Rainbow Day
End of Year Fun
Information
2021-2022 Staffing Update
Report Cards - Get Ready to Celebrate!
Student Placements
Reading Tip of the Week 
Parents Make the Difference
ACTION
Save Your Bottles!
From June 21 to 25 we are having our final bottle drive of the school year! Save up those pop cans and other bottles to drop off in the trailer parked at the front of the school! The Ardrossan Elementary Parent Support Association (AEPSA) uses those funds to help sponsor events at the school as well as to contribute to the money raised for our outdoor play spaces! 
Lost and Found Items
We have been organizing all of the items in our lost and found bins onto tables in the Gathering Area for next week. Teachers will bring their classes by the tables to help kids find things that belong to them. During the last week of school, we will place the tables with lost and found items near the bottle drive trailer so that our community can take a peek while they drop off bottles! Any items left on the tables by the end of the week will be donated to Value Village.  
OPPORTUNITY
Counsellor's Corner
Here are some important events taking place over the next two weeks. As always, if you have any questions or concerns, please don't hesitate to contact your child's teacher or myself for more information. 
June 14-20: Strathcona County Pride Week- Please check out this link for some elementary age-appropriate stories, books and activities to help promote inclusivity for LGBTQ+ students and members of the community, as well as ties to curriculum and district policy. 
June 14-25: End of year IPP and ISPs sent home- Teachers will review progress with parents of students accessing learning accommodations, supports and interventions. 
June 14-25: Grades 4-6 students will be participating in human sexuality units as per the government of Alberta Health and Life Skills curriculum. Please check out the government of Alberta website, teachingsexualhealth.ca for more information. This website includes both a parent and teacher portal and contains a wealth of helpful information about ways to approach learning and communication surrounding sexual health and development with your child. Your child's teacher will contact you directly about the process to exempt your child from this learning if you wish to. 
-Madison Bashaw, AEL School Counselor
Neon/Rainbow Day
Get out your neon jelly bracelets and other fun brightly coloured clothing for Neon/Rainbow Day on June 15! Since we have not been able to have our regular assemblies in our rainbow shirts this year, we have really missed celebrating together. This Tuesday, we cannot wait to see everyone all decked out in their beautiful colours. We'll make sure to take many pictures and post them on our school Twitter feed! 
End of Year Fun!
This time last year, we were packing up everyone's belongings into plastic bags for pick up and waving at cars that drove by in the bus lane on the last day! What a difference a year can make! 
This year, due to continued restrictions related to the pandemic, we must put our regular traditions such as the Family BBQ or water fight on hold for one more year. However, we do want to make sure that the students still get to have some traditional Ardrossan fun! 
Sports Day
This year we will be having our Sports Day across three mornings in the last week of school. Our A classes will go to their events with their class cohort in the morning of June 22, our B classes on June 23 and our C classes on June 24. We will have stations set up outside that will be easy to sanitize or that do not involve shared equipment. We think it will be a fun few days for all!
Grade 6 Celebration Ceremonies
Our Grade 6 students will have their end of year Grade 6 Farewell ceremonies one class at a time in our gymnasium with their teacher and the administration on the last day of school - June 25. They will get to watch a special video, listen to speeches and receive their certificates. Due to Covid-19 health and safety guidelines, we are not able to welcome any parents or community members to join us. However, we will film the event and post the videos in the last Bison Tales of the year so that families can watch it together.
Hot Lunch Special Treat for All Students
Our Hot Lunch Parents are providing a free bag of popcorn for all kids in the school on June 18 to congratulate everyone for successfully completing a challenging year! Thank you to the Lunch Box for making this year feel special! We love you!
INFORMATION
2021-2022 Staffing Update
In an effort to keep you up to date, we would like to share our preliminary staffing and class size information. Due to increasing or decreasing enrollments, these configurations may change over the course of the summer. We are continuing to work on staffing positions and will share more information in the final year end update. Based upon the current information we have, staffing and class configurations for the 2021-2022 school year will be as follows:
French Immersion Classes (student #)
Kindergarten Mme Bouchard (21)
Grade 1 Mme Rovensky (24)
Grade 2 M Tomaszewicz (27)
Grade 3 Mme. Proulx (26)
Grade 4 Mme Krys (26)
Grade 5 M Castle (30)
Grade 6 M Wandji (17)
 English Classes (student #)
Kindergarten Ms. Wilson  (27 & 28)
Grade 1  Mrs. Gilliland (23) 
Grade 1  Mrs. Samaratunga (23)
Grade 2  Mrs. Brady (26)
Grade 2  Mrs. Hill (25)
Grade 3  Mrs. Kent (26)
Grade 3  Mrs. Ruptash  (26)
Grade 4  Mrs. Grauman (22)
Grade 4  Mrs. Klippenstein & Mr. Rempel (until January) (22)
Grade 5  Mrs. Massel (27)
Grade 5  Mrs. McBride  (26)
Grade 6  Mr. Campbell (28)
Grade 6  Mr. Halbert  (28)
Music  Mrs. Pretzlaff 
PALS Mr. Rempel (until January)
Office Team
Principal Mme Hewitt
Assistant Principal Mrs. Harding
Counsellor Mrs. Bashaw - until Mme Mitchell returns in January
Secretary Mrs. McNeely
Business Manager - to be determined
We know you join with us in extending best wishes to the staff who are leaving us at the end of June:
Mrs. Drechsel has accepted a teaching position at Davidson Creek Elementary;
Mrs. Lyles has accepted a business manager position at Sherwood Heights Junior High;
Mr. Jefferies has accepted a teaching position at F.R Haythorne Junior High;
Mrs. Starrs has accepted an educational assistant position at Woodbridge Farms Elementary and
Mrs. Coss and Mrs. Gabert have completed their temporary contacts as Educational Assistants for this year.
We have been fortunate to have these staff members share their gifts and talents with our students and we wish them the best as they continue in their professional journeys. Each staff member that leaves Ardrossan, takes a bit of "Bison Pride" with them! 
As the staffing process continually changes, we will keep you informed. 
Report Cards - Get Ready to Celebrate!
At the end of a tumultuous year, we hope that you will join us in celebrating the incredible achievements of your children in the final report card which will be posted online on the last day of school. We encourage you to log in to your Parent Portal account to view the Communicating Student Learning report card on June 25, 2021.  
We are so impressed with each child who has demonstrated impressive growth in all subject areas, including reading, writing and math during a year full of disruptions and challenges!
Student Placements
We know that our families are already thinking ahead to the next school year and wondering about placements and staffing. Parents and students will be informed of class placements in the June 25 report cards. For those families who are returning from out of school learning, we will send you your classroom placements via email on the June 25 as well.
As we have shared in previous editions of the Bison Tales, we ask for your support in trusting us to make decisions on student placements into classrooms. We take this task seriously and consider many factors when determining our class lists. As posted in previous Bison Tales postings, placement requests delivered in writing were considered until June 1, 2021. 
In order to be in compliance with FOIP regulations, class lists will not be posted publicly in the fall, therefore it will be important for you to view your child's report card in order to determine their classroom for next year. 
Reading Tip of the Week - Don't Let Your Child's Reading Slide this Summer!
Did you know that our school has shown a dramatic increase in reading achievement this year? That's right! Even though we have lived through many interruptions and the challenges that come with learning during a pandemic, our students have demonstrated anywhere from 1 year to 3 year's growth in decoding, fluency and reading comprehension over the last 8 months!
What is even more impressive is that many of our grade levels are, on average, either at or very close to grade level expectations in reading! This is an amazing accomplishment as we began the year with some grades being significantly below grade level due to the school closures that began in March of last year!
We need your help to keep the momentum going! Please read with your child three times a week and in the younger grades, encourage them to practice their decoding skills using these websites at least 3 times a week for 10 minutes:
If you commit to these simple activities, your child will start the year where they left off and give us a chance to help them grow even more quickly next year! Together, we can make our kids into Super Readers!