Back to all posts
Posted on
Bison Tales - June 10, 2022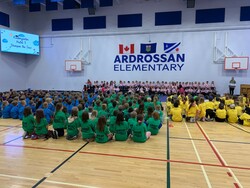 Another week of fun is in the bag! This week we had some incredible learning opportunities taking place at our school! Mrs. Hill's class published a book that was written by all of the students and we welcomed families in the Gathering Area for an official book signing event! It was incredible seeing our young authors show off their hardcover books for their adoring fans!
We also ended the week with a grade 6 badminton tournament in the gym! Students were invited to watch our eldest Bisons play an incredible round of badminton throughout the afternoon while eating some snacks at the student run concession. 
Our French Grade 5 and 6 students had an incredible French field trip at Elk Island Park this week! They played games in French, explored nature (and pond life) and enjoyed some delicious camping foods! C'est merveilleux!
We hope you enjoy a great sunny weekend!
Great Happens Here!
Helene Hewitt and Kyla Harding
Principal and Assistant Principal
Table of Contents
Week At a Glance
Action
Reminder: 2021-22 School Fees
Student Transportation: 2022-23 Registration
Opportunity
Ardrossan Parade
Year End Family BBQ
Information
Counsellor's Corner
School Education Plan 2022-23
Summer Hours
Staffing Update
WEEK AT A GLANCE
 

Monday

 

Student Clubs:

AETV: Grade 5 and 6
French Immersion Club: Grade 5
Rocket Club: Grade 6

 

Tuesday

 

Student Clubs:


Card Club: Grade 3
Gardening Club: Grade 3 & 4
French Immersion Club: Grade 6
Rocket Club: Grade 6 

 

Wednesday

 

Grade 6 PAT Math Part A @ 9 a.m.
DARE Graduation - Grade 6 @ 12:30 p.m.
Student Clubs:

Art Club: Grade 5
Daebak Dance: Grades 3-6
French Immersion Club: Grade 1

 

Thursday

 

Student Clubs:


French Immersion Club: Grade 2
Rocket Club: Grade 6
Gardening Club: Grade 3 & 4

Friday

Grade 2 Field Trip to Ukrainian Village
Student Clubs:


Card Club: Grade 4
French Immersion Club: Grade 3

Bison Tales posted online
ACTION
REMINDER: 2021-22 school fees
School fees for the 2021-22 school year are posted on the PowerSchool Parent Portal. All fees are due within 30 days of being posted. Throughout the year, fees are often added to cover the costs for various activities, such as field trips, extracurricular activities, and late, damaged or lost textbooks.
To access your fee information, simply log in to the PowerSchool Parent Portal and go to "Student Fees." There you can view fees and pay them online using a credit card. Make sure to monitor your child's account on an ongoing basis.
For more information about school fees, waivers and payment deadlines, visit eips.ca/schools/fees. And, if you have questions, think there is an error or need help creating a PowerSchool Parent Portal account, contact your child's school directly before the summer break. 
NOTE: Pursuant to Board Policy 23: School Fees and Administrative Procedure 505: School and Administrative Fees, EIPS will forward any unpaid 2021-22 fee amounts to a collection agency. To prevent this from happening, remember to pay your fees before Aug. 31, 2022.
Student Transportation: 2022-23 registration
Planning to use Student Transportation in the 2022-23 school year? If so, make sure your child is registered so Elk Island Public Schools (EIPS) can plan routes and send your child a bus pass before the first day of school.
All students who indicated needing transportation services through the returning student or new student registration processes are now registered. Those families have also received tentative route schedules and invoices—fees are due June 30, 2022.
For those students who didn't indicate needing transportation services during the registration process and want to now register, simply contact EIPS Student Transportation at 780-417-8151 or email st@eips.ca.
For more information about EIPS Student Transportation, visit www.eips.ca/transportation.
NOTE: Families can pay fees online using the PowerSchool Parent Portal. To pay in-person, contact Student Transportation to make an appointment.
OPPORTUNITY
Ardrossan Parade!
Did you know that some of our amazing Grade 4 to 6 students are participating in the Ardrossan Parade on June 18? We have a marching drum line performing in the parade on Saturday morning! Come and cheer on our school at the parade!
Year End Family BBQ
The year end BBQ is back!  Stations will be set up outside in the school yard for students/family members to collect their items and have a picnic together to celebrate the successful school year!
Once you click on the link below, you will be directed to our AESLunchBox Fundraising website (not the regular hot lunch program website) which we use to enter CPF BBQ orders.
IMPORTANT - TO ORDER - Once you have logged in to http://www.aes.fundraiserorders.com click on the STUDENTS button at the bottom of the page to place your order. Order for your other family members under your student.
This site works very much like our LunchBox Hot Lunch website. Using your normal Hot Lunch UserID and password, log on to the site. (If you have forgotten your UserID and /or password, please click on the 'Forgot Password' and enter the UserID or email that was used to register. You will receive an email with login information.)
To place orders for your children, click on the 'STUDENTS' button and place their order. Once all your orders have been placed, etransfer pay@aeslunchbox.com or send cash or cheque payable to CPF Ardrossan. The order/payment deadline is Tuesday, June 14. 
We rely on volunteers to help make our family BBQ a success. Please click on this link to see how you can sign up to help out. 
INFORMATION
Counsellor's Corner
Summer is about to be upon us, and your little (or not-so-little) ones are at home for two months. While summer can be a wonderful season, it is not without its challenges - child care, sibling conflict, and more. Below are some ideas to keep in mind when beginning to think about summer might look like for you and your family: 
Build a Routine
Students get so used to following the same routine each day: get up, get ready, get on the bus. They arrive at school (which is planned out for them and follows a set schedule). Then they get home, some free time, have dinner, and go to bed (give or take a few other activities). Once summer rolls around and routines loosen up, parents can see a change in behaviour as bedtimes become more flexible and their free time increases. Creating a predictable routine with your child (or children) can help set some expectations and create consistency in their day, which helps foster a sense of security. If, for whatever reason, a set routine needs to change, let your child know in advance to help them prepare for this change as well. 
Manage Screen Time
While having a break from screens can be a complex boundary to set, studies have shown that increased screen time can be associated with anxiety, sleep troubles, and inactivity. The Canadian Pediatric Society recommends 1 hour of screen time for children ages 2 – 5 and no more than two hours a day for children over five years of age. Modeling healthy use of technology, for example, keeping dinner a "screen-free" zone for children and adults, can go a long way too. 
Get Active!
The Canadian 24-Hour Movement Guidelines for Children and Youth recommends around 60 minutes of moderate to vigorous activity each day for ages 5 – 17. Get creative! This can look different for every child – maybe riding their scooter, swimming, or soccer are your child's jam. Perhaps your family enjoys hikes or bike rides. Encouraging your child to find an activity they enjoy can help create lifelong exercise habits.
Ardrossan School Education Plan 2022-23
Our staff collaborated on preparing our School Education Plan for the 2022-2023 school during our last Professional Learning day in May. We made decisions on our future goals and strategies based on our current student achievement data as well as survey data and conversations held with parents in our May School Council meeting. 
You can read through the plan by clicking here!
Summer Hours at Elk Island Public Schools
Throughout the summer break, Ardrossan Elementary is closed. It reopens on August 22 at 9:30 a.m. If you have any school-related questions or concerns while the school is closed, contact EIPS Central Services—the office is open all summer to complete year-end activities and prepare for the 2022-23 school year.  Students return to school on August 30.
EIPS Central Office Summer Hours: June 29 to August 19
Open                     Monday to Friday             8 a.m. to 4 p.m.
Phone                   780-464-3477
Address                683 Wye Rd., Sherwood Park
Statutory Holidays
Closed              July 1                Canada Day
Closed              August 1           Heritage Day
NOTE: Student Transportation also remains open during the summer months—operating the same hours as EIPS Central Services.
2022-2023 Staffing Update
A few weeks ago, we announced that Sheryl Tsiclas would be joining us as our new assistant principal. Unfortunately, she is no longer able to join our team and we would like to welcome Tandy Atchison. Here is a little message from Mme Atchison.
Hello Bisons!  I'm so excited to be joining the herd!  
For the last 5 years I have worked as an Assistant Principal at both École Parc (Fort Saskatchewan) and Sherwood Heights Junior High School.  Prior to that, I have many years as an Elementary, Junior High and High School teacher with a focus on English and French language instruction. Helping students build literacy and numeracy capacity is an area of passion for me. 
I simply love working with students of all ages and I can't wait to get to know everyone at AEL!  
Mme Tandy Atchison