Back to all posts
Posted on
Bison Tales - January 8, 2021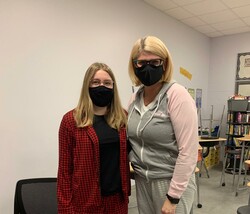 Welcome to the year 2021!
This new year provides us with 365 new chances to do something incredible. 365 days in which, to take risks, to make mistakes, to learn new skills and to build the citizens of tomorrow.
As we put 2020 behind us, we have the chance to reflect back on all that we have accomplished and all that we have learned from the trials and tribulations of living through a pandemic.
What have we learned so far? We are resilient. Bisons roll with the punches and continue to learn and grow into better versions of ourselves. We are really good at taking care of each other, even if it means wearing masks, washing hands, and staying within our cohorts. This community has yet again taught me that we do hard things, even though they don't always feel good in the moment. Finally, I have continued to witness our community members treat each other with kindness, compassion, and grace. It is good to be in Bison country!
This month we'll take stock of what we are doing and check-in to see that we are still following our vision. Our staff will continue to work hard in collecting more reading data in our second round of screening to see if our interventions have been successful so far and to help us to set a course for the next round of instruction. 
Our school council meeting this month is an important one and we hope that you will be able to join us. We will be seeking your feedback about what school fees might look like for next year. We value your opinions and we hope that you are able to join us on Tuesday at 6:30 p.m. in order to help us make important decisions for the upcoming school year.
Later on this month, keep your eye out for our Mid-Point Review. It will summarize all of our achievements and successes for the first months of the year. 
As always, we thank this Bison community for working together to support great learning experiences at Ardrossan Elementary. We are excited to see what the rest of the year will bring us!
Stay warm and safe out there!
Helene Hewitt & Kyla Harding
Principal & Assistant Principal
WEEK AT A GLANCE
Monday

Colour Week Begins!
Blue Day - wear blue!

Tuesday

Red Day - wear red!
Virtual School Council meeting @ 6:30 p.m. (link on website)
AEPSA (fundraising group) virtual meeting @ 7:30 p.m.

Wednesday
Thursday

Purple Day - wear purple!

Friday

Yellow Day - wear yellow!
Bison Tales published online
Action
Kindergarten Registration
Returning Student Registration
Have Your Say About Fees - Come to our January School Council Meeting
Colour Week
Opportunity
January Fundscrip
Virtual Habit 2 Assembly by our Grade 6s - January 22
Staying Connected
Information
EIPS Division Calendar 2021-2022
Inclement Weather
Parents Make the Difference
ACTION
Kindergarten Registration Starts Soon!
Is your child turning five on or before Dec. 31, 2021? If so, it's almost time to register for kindergarten.
Kindergarten registration opens for the 2021-22 school year on Feb. 1, 2021.
To help families prepare, Elk Island Public Schools has put together an online EIPS Kindergarten Tool kit to make the transition as smooth as possible. The kit includes information on registration, important dates, programming options, what to expect, eligibility, how to find your designated school, transportation and more.
Additional information regarding Ardrossan Elementary's kindergarten program is available on our website: Kindergarten Registration 2021-22 
Returning Student Registration for 2021-22
Elk Island Public Schools (EIPS) will once again conduct an online returning student registration process to confirm student registrations for the 2021-22 school year. Families of all returning students must complete the process to confirm the school their child plans to attend in the 2021-22 school year. Additionally, students who want to attend a non-designated school need to make that request through the returning student registration process—acceptance is based on available space. The 2021-22 returning student registration takes place between Feb. 1-28, 2021.
Access to the Returning Student Registration Form is provided through the PowerSchool Parent Portal. If you don't have a PowerSchool Parent Portal account, you need to set one up before Feb. 1, 2021.
Create a PowerSchool Parent Portal account
 For more information contact the school directly.
Have Your Say About Fees - Come to our January School Council Meeting
Our next virtual school council meeting will be taking place on January 12, 2020 at 6:30 p.m. During that time, we'll be sharing information about our current fee structure, posing specific questions about priorities, and asking you to provide your feedback as we plan for the 2021-2022 school year. While many of these activities and services enhance students' educational experience, we want to ensure these fees aren't cost prohibitive for families. Specifically, we will be asking for input on the following:
Noon hour supervision
Field trips and associated fees
Extracurricular activities
Non-curricular travel (for example, ski trips)
Non-curricular goods and services (for example, yearbooks)
We understand not all families will be available to attend the meeting but it's still important we get as much input from the school community as possible. Following the meeting, materials will be shared on our website: www.ardrossanelementary.ca for your review, and an email address provided so you can submit a written response. 
School administration will use feedback provided to help determine fees for 2021-22, which will then be shared at a later school council meeting, posted to our website and shared via link through email. 
We look forward to seeing you in January!
Colour Week
It is time for one of our favourite times of the year - Colour Week! Don't forget to dress in the colour of the day throughout the week. There is nothing like bright colour to enliven the long January days. You get extra bragging rights if you can match your face mask to your shirt! 
Monday - blue
Tuesday - red
Wednesday - green
Thursday - purple
Friday - yellow
OPPORTUNITY
January Fundscrip
Happy New Year!!
We are excited once again to introduce Fundscrip, an on-going fundraising program that will not cost you one penny and help support our playground vision.
Ardrossan Elementary Parent Support Association (AEPSA) purchases plastic cards from large, well known retailers at a discount. The parent association resells the cards to you at face value. The large retailers pay AEPSA a percentage back for the purchase of each gift card.  
Some of the participating retailers are; Superstore, Sobeys, Safeway, Wal-Mart, Home Depot, Home Hardware, Rona, Esso, Petro-Canada, Shell, Canadian Tire, Chapters, Shoppers Drug Mart, Starbucks, Staples, iTunes, Gap, Winners, Marks, Cineplex Odeon, M&M Food Market, McDonalds, Montana's, The Keg, Boston Pizza, Subway, Amazon.ca and many more.
How the Program Works:
First week of every month, your child will receive a paper order form from their teacher, online order at www.aeslunchbox.com (Click on the fundraising tab) or download the order form from the weekly Bison Tales and send it back with your child.
Determine which cards you would like to purchase in what denominations
Complete your order online, or return the completed order form in an envelope with a cheque, cash, or credit card number within 2 weeks
Your order will be ready for pick up the last week of the month.
The average family spends $6,000 - $7,000 on groceries each year.  If 100 families can purchase $100 per week on all household purchases from participating retailers (GAS, FOOD), the school can earn $20,000 this school year.
                               (ie)        $     4,000            per family for one school year
                                               x     100            families
                                            $ 400,000
                                                          5%         average return per merchant
                                            $   20,000            Profit for the School
Let's all participate by just pre-planning your regular weekly household purchases at retailers offering to support our school.
Habit 2 Virtual Assembly - Grade 6s Begin with the End in Mind!
Save the date for January 28 when we will post our Grade 6 Habit 2 virtual assembly video. We know that they will teach you all about beginning with the end in mind. If you'd like some tips and tricks for talking about the habits at home, please visit the Parent Handbook for the Leader in Me.
Another way to stay connected: Follow EIPS on Twitter and Facebook
With 43 schools and close to 17,000 students, there's a wealth of events, activities and stories taking place across the Division every day. You can find these stories and more by following Elk Island Public Schools on both Facebook and Twitter. Each uses a combination of news articles, videos and photographs that showcases the latest news, updates, events and alerts taking place across the Division.
Plus, if you're a member of an EIPS school community and want to share in the storytelling, simply tag the Division using #eips.
Stay in the loop, follow EIPS on Facebook and Twitter.
NOTE: Communications Services manages the Division's Facebook and Twitter accounts. The account is updated and monitored intermittently during regular office hours from 8 a.m. to 4:30 p.m., Monday to Friday. The Division welcomes feedback and ideas from followers but does ask everyone interacting on the EIPS Facebook page to be respectful. Personal attacks and offensive language are not allowed and may be deleted.
INFORMATION
EIPS 2021-22 Division Calendar: Now available!
The official 2021-22 EIPS calendar is now available online. The calendar includes important dates during the 2021-22 school year, such as school-closure days, breaks, the first and last day of classes, professional learning days, early dismissal days, plus more. Highlights from the 2021-22 EIPS calendar include:
September 1 – first day of classes
November 8-12 – November break
December 22 to January 4Christm – as break
February 1 – second semester begins
February 10-11 – Teachers' Convention
March 28 to April 1 – spring break
June 28 – last day of classes
June 29 – last operational day before the summer break
To view the 2021-21 calendar, visit eips.ca.
Did you know you can sync the Division calendar to your personal calendar? You can. Simply, visit eips.ca/calendar and click on "subscribe to calendar." It's that easy.
Inclement Weather
With the winter season well underway, we want to remind families to dress children appropriately for the weather when getting ready for school or the bus. The weather often changes unexpectedly throughout the day, so please select suitable outerwear and ensure your child is prepared for changing conditions.
If inclement weather conditions occur, Elk Island Public Schools (EIPS) will advise families of any bus cancellations using various communications tools, including automated-telephone messages, alerts posted on eips.ca and school websites, Twitter, Facebook, local radio stations and on Versatrans My Stop.
Decisions regarding bus cancellations are guided by EIPS' Administrative Procedure 131: Inclement Weather, which states: "school bus service may be suspended … when there is a forecast or current temperature of -40 C including wind chill, in one or more regions." Other reasons for suspending or delaying school bus services include adverse weather and poor road condition.
When school bus services are suspended, schools remain open to students. EIPS believes families have the right and responsibility to make choices for their children based on what they feel is safest during times of inclement weather.
For more information, contact EIPS Student Transportation at 780-417-8151.
Parents Make the Difference
Here is this week's article for parents and caregivers:
Show your elementary schooler how to see beauty in diversity
Your child knows that no two people—or families—are exactly alike. But does he accept and appreciate this? Respecting people's differences is the first step in becoming a responsible citizen.
You can nurture your child's respect for diversity if you:
Are a positive role model. Kids are naturally open-minded. When parents show respect for others—through actions and words—children imitate them. Let your child know that while people can be different from one another, they also have a lot in common.
Learn about other people by leaving your "comfort zone." Visit a new place. Try a new food. Read books about other ways of life. Watch an age-appropriate movie that gives your child a peek at another culture.
Speak openly about diversity issues. It's normal for your child to notice differences. They're fascinating and amazing! Correct any stereotyping with kid-friendly explanations.
Reprinted with permission from the January 2021 issue of Parents make the difference!® (Elementary School Edition) newsletter. Copyright © 2021 The Parent Institute®, a division of PaperClip Media, Inc.