Back to all posts
Posted on
Bison Tales - January 7, 2022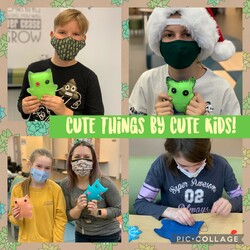 Happy New Year! 
We are looking forward to seeing our students next week and we spent the last few days busily getting ready. Our staff took time to review their plans, to prepare for any possible situations that may come up and to ensure that their classrooms were ready for a safe return to school for students. 
We also took some time to talk about mental health and the importance of building strong relationships with each other in our Bison community. While we know that the holidays can be magical for some families, we also recognize that it can be stressful for others. As our students return to our classrooms, we hope to provide them with a safe and nurturing environment that helps them to feel as though they belong. 
While we know that times may feel uncertain for many students and their families, at Ardrossan Elementary we are certain of one thing: our students matter. We will continue to work hard to ensure that every child feels connected and experiences success.  
Stay warm and safe out there!
Great Happens Here!
Helene Hewitt & Kyla Harding
Principal & Assistant Principal
Table of Contents
Week At a Glance
Action
Staying Home When Ill
Brightspace 101
CPF Bottle Drive is Here
Opportunity 
Tidbits from the Lunchbox
Upcoming Parent Meetings
Colour Week is Coming!
Habit 3 Virtual Assembly - January 21
Information
Counsellor's Corner
Welcome New Staff
Ardrossan Elementary Health & Safety FAQ
Parents Make the Difference 
WEEK AT A GLANCE
Monday

Welcome back to school
CPF Bottle Drive begins

Tuesday
Wednesday

Bring in bottles!
KA & KB Puppet Tree House in school field trip

Thursday

Bottle Drive is still on!
KC Puppet Tree House in school field trip
Grade 6 Virtual Legislature field trip

Friday


Last day of the bottle drive
Bison Tales posted online
ACTION
Staying Home When Ill
We are excited to have students in the school for learning this week! It is our hope to continue with in person learning. If your child is experiencing symptoms of illness of any kind, we ask that you keep them home. If staff and students stay home when sick, we can reduce the spread of any illnesses and reduce the risk of having to return to online learning. Students who demonstrate symptoms at school or who share that they are feeling unwell will be sent home. 
If your child will be away, we ask that you share the reason for the absence with Mrs. McNeely. We are required to monitor the number of absences due to illness in the building. Thank you for staying home when unwell to rest, recover and reduce the spread!
Brightspace 101
If a class is required to shift to online learning at any point, students will access their learning resources, meeting links and all classroom communication through Brightspace.
Did you know that there is a NEW parent mobile app that you can use for quick updates on student deadlines, grades and additions to your child's portfolio? This new app allows you to easily toggle between children and gives you notifications much like we used to have with SeeSaw or Remind apps! You can learn more about it by clicking on this link: Brightspace Parent & Guardian mobile app.
Additionally, here are some resources to supports parents and students as they familiarize or refamiliarize themselves with the Brightspace platform. Teachers will also be reviewing the Brightspace platform with students in class.
CPF Bottle Drive is Here!
Did you enjoy the holidays with a festive beverage or two? Save those pop bottles, or other bottles, for our upcoming bottle drive starting on January 10! Drop off your bottles in the trailer parked in front of the school and take a picture to post to social media for a chance at winning a gift card!
Proceeds from this bottle drive will go to the Canadian Parents for French to support cultural activities for the whole school! 
OPPORTUNITY
Tidbits From the Lunchbox
The Lunchbox would like to assure everyone that all accounts have now been credited for the 2 days of cancelled hot lunch this past week.  Head over to www.aeslunchbox.com to sign in to your account and verify your credits and while you're there, place your order for the February menu. Ordering is happening now until Thursday, January 13 when all orders and payments are due. 
Upcoming Parent Meetings
Our next virtual meetings take place on January 11, 2022. We will begin with the School Council meeting @ 6:30 p.m. followed by the AEPSA meeting @ 7:30.
Here are the agendas for both meetings:
Here are the draft minutes from our last meetings:
If you would like to join our meeting on January 11, 2022, you can use this Microsoft Teams link.
Save the date!
Our next virtual Canadian Parents for French meeting is on January 17 at 7 p.m. Check next week's Bison Tales for agendas, minutes and the meeting link!
Your Ardrossan Leadership Team,
Vania Lloyd, AEPSA President
Connie Hamelin, CPF President
Darren Wright, School Council President
Helene Hewitt, Principal
Colour Week is Coming!
It is almost time for one of our favourite theme days of the year - Colour Week! Throughout the week of January 17 to January 21, we invite the Bison herd to dress in the colour of the day! This week was inspired by our very own retired principal extraordinare, Mrs. Whetstone. She wanted a cheerful way to chase away the cold winter blues! There is nothing like bright colour to enliven the long January days. You get extra bragging rights if you can match your face mask to your shirt! 
Monday - blue
Tuesday - purple
Wednesday - green
Thursday - yellow
Friday - red
Habit 3 Virtual Assembly - January 28
We are looking forward to watching the Grade 4 students lead us in the virtual Habit 3 assembly which will be posted online on Friday, January 28! Read the Bison Tales and watch the website so that you can find the link to watch at home!
INFORMATION
Counsellor's Corner
Hello everyone and welcome back from Winter Break! My name is Madeleine (Mrs. Pye), and I am excited to join the staff here at Ardrossan, taking over for Mrs. Bashaw as the School Counsellor. I know that our extended break and return to in-person learning created a lot of uncertainty for students and families, many of whom may be returning to school with mixed feelings of excitement, worry, or otherwise. Please feel free to reach out to me here at the school if your child may need some additional support during this transition - coming back from breaks can be tricky enough without a pandemic! I will be at the school on Mondays, Wednesdays, and Fridays, and can be reached by email at madeleine.pye@eips.ca or by calling the school. Hope everyone has a happy and healthy back to school, and I look forward to meeting the students this upcoming week!
A Message from Our New Mental Health Capacity Builder!
Dear Ardrossan Elementary School, 
I am super excited to be the new Mental Health Capacity Builder working within your school. My background is in education and I have taught grades K-9 throughout Alberta during the past twenty years. I am also a certified Life Coach and I often work with kids along side Tony Robbins and his team from the US. In my spare time I am usually at a rink somewhere watching my two boys play hockey or at the dog park trying to train my rambunctious retriever puppy. My passion for mental health and wellness for teachers and children has led me to this role and I look forward to working with you all in building capacity for everyone in this area. Please reach out at any time if you have any questions or if there is something I can help you with. I look forward to getting to know all of you and all the children. Fun fact: I used to work at Disney World in Epcot Center-sometimes in the winter at -35 I wish I was still there.  
Here's to a great 2022!
Pamela Prosser
EIPS email coming soon
Ardrossan Elementary Health & Safety FAQ
With a late return to school and the continued challenges of the pandemic, we imagine that families might have some questions about what we are doing as a school to ensure the health and safety of our community. Please read the following Frequently Asked Questions to learn more!
Have the guidelines changed?
Our general operating procedures for this year have not dramatically changed. EIPS is currently updating our division operating procedures to reflect any recent changes from Alberta Health Services. Should changes occur, you will find the most current version of the EIPS Operating Procedures here.
What does masking look like?
Students in kindergarten to Grade 6 are required to wear masks while at school that cover their nose and mouth as they have been doing since the year began. We highly recommend using medical-grade masks which offer a higher level of protection.
Students may remove masks when eating or playing outside at recess. Students may choose to wear their masks during physical education class, but are not required to wear them during physical activity. Due to the high level of spread of the Omicron variant, students are no longer able to remove their masks while seated facing forward in their desks. Staff are required to wear medical grade masks at all times.
Is cohorting still happening?
Our students are in grade level cohorts this year. That means that all of the students in a particular grade level play in the same area at recess and use the same entrance and exit doors. Classes of the same grade level may sometimes mix during classes like music or physical education. Students from different grade levels are not mixing with each other as they are part of separate cohorts. 
How is cleaning happening?
We continue to access excellent cleaning and disinfecting service by our custodians, Mrs. Jaramello and Mr. Gutierrez. They follow a cleaning regime outlined by EIPS including regular cleaning of high touch services and electrostatic spraying.
What about clubs and extra-curricular activities
Clubs and other extra-curricular activities were in full swing throughout the months of November and December. At this time, due to the high rate of spread of the Omicron variant, we have temporarily paused our club activities. We fully expect to start them up again when the case count goes down.
Can volunteers still come to school?
Yes! We are still happy to welcome volunteers to the school provided they have no symptoms, have no contact with anyone who is currently positive for Covid-19, they wear a medical grade mask (available in the office) and they show proof of vaccination through the QR code verification app. Additionally, all volunteers must sign the volunteer confidentiality form.
Can students still go on field trips?
Our students will still have opportunities to go on field trips that ensure that our class cohorts are not mixing with students from other schools or the general public. We will work closely with our staff to ensure that students still have access to excellent learning opportunities while staying safe!
Will we be going back to online learning?
At this time, we are continuing with in person learning as stipulated by the Government of Alberta. Should the absentee rates be so high as to not allow us to continue operating a class, a division or the school, we may be required to switch to temporary online learning. Those decisions will be made in conjunction with our central office leadership team and Alberta Education.
Will we be notified of positive COVID-19 cases at the school?
Alberta Health Services has ended the COVID-19 positive case notification process. This means that families will no longer receive letters home regarding positive cases. To keep our school as safe as possible, please continue to inform your classroom teacher or Mrs. McNeely if your child has tested positive for COVID-19 on a rapid test, if they are exhibiting symptoms or if they are staying home due to any kind of illness. We will continue to monitor school absenteeism due to illness.
When will we get rapid test kits and masks from the Government of Alberta
At this time, our school has yet to receive rapid tests or medical-grade masks from the Government of Alberta. When they arrive at our school we will begin to distribute them. You can expect more detailed information on the dispersal plan when the supplies arrive, hopefully next week.
Keep your eyes on your email for any further updates from Elk Island Public Schools.
Parents Make the Difference
Throughout the year we will include some articles with some great tips and strategies for parents. Here is this week's featured article:
Are you helping your child develop 'word power'?
Knowing just the right word to use can give an elementary schooler real power. A strong vocabulary improves your child's thinking and communication skills. And there is a clear connection between a strong vocabulary and academic success.
Answer yes or no to the questions below to see if you are expanding your child's word knowledge:
Do you talk about words? When reading books together, discuss the meanings of unfamiliar words.
Do you use new words for familiar ideas? "Let's tidy your room by categorizing your toys."
Do you play word games as a family, such as Scrabble?
Do you pick a Word of the Day that family members try to use at least three times during that day?
Does your child have a personal dictionary where he writes new words and their meanings?
How well are you doing?
More yes answers mean you are helping your child learn and use words. For no answers, try those ideas from the quiz.
Reprinted with permission from the January 2022 issue of Parents make the difference!®  (Elementary School Edition) newsletter. Copyright © 2022 The Parent Institute®, a division of PaperClip Media, Inc.