Back to all posts
Posted on
Bison Tales - December 20, 2019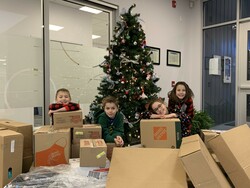 It has been an amazing month of giving and compassion in our school family. We demonstrated our citizenship through our Giving Tree donations for the Strathcona Christmas Bureau. We bagged up left over Lost and Found items and donated them to Mr. Vanderburg, the retired principal of Ardrossan Junior Senior High School, who will be taking them to Puerto Vallarta for students in need.
We supported our students through the sales of Purdy's chocolate lollies with our Canadian Parents for French. Our students completed random acts of kindness each time they found the Leader on the Ledge. Parents, guardians and extended family volunteered to spend time in classrooms running games and crafts, decorating cookies and building gingerbread houses! Our school was filled to the brim with love and kindness. 
Speaking of the impact of compassion, we would like to pass on a letter of thanks that we received from the Frederickson family that they wanted to share with our community. It reads as follows:
Dear Staff and Friends at Ardrossan Elementary,
Chris always said he worked with wonderful people: children, parents and colleagues. My family certainly understands how right he was! Ever since Chris died, you have watched over us and blessed us with huge weekly food packages and gift certificates of all sorts, delivered straight to our home. Now, you've given us an incredible Christmas gift of money gathered through Go Fund Me. 
Your care of us shows so much about your love and respect for my husband. During these past terrible months, you have been a source of stability and love for Paul, Anne, William and me. You have been there when we needed you most.
God bless you all,
Danielle Frederickson
We know that the holidays can be hard for some families and we send you our love as you move through the season.
We hope that you have the opportunity to cozy up together, to share laughter, to look fondly upon times that have passed and to build new memories for the future.
Happy Holidays!
Helene Hewitt
Acting Principal
WEEK AT A GLANCE
Monday

First day back to school!
Cute Thing Club Team 1 at lunch
Jr. Art Club Group 1 at lunch

Tuesday

Getting back into some deep learning!

Wednesday

Early dismissal
Sign Club in first recess
Art Club Gr. 4-6, Card Club & Running Club at lunch

Thursday

Kindergarten - Puppet Tree House in the morning
Little Bisons Club & Green Team, and Gardening Club @ lunch

Friday

Kindergarten - Puppet Tree House all day
Games Club, LEGO/Makerspace Club & lunch recess
Bison Tales published online
Action
Returning Student Registration
Have Your Say About Fees - Come to our January School Council Meeting
Opportunity
Kindergarten Registration
Parents Make the Difference
Information
Merry Christmas and Happy New Year from the Board of Trustees
Winter Break Hours
EIPS 2020-21 Division Calendar: Now available!
ACTION
Returning Student Registration for 2020-21
Elk Island Public Schools (EIPS) will once again conduct an online returning student registration process to confirm student registrations for the 2020-21 school year. Families of all returning students must complete the process to confirm the school their child plans to attend in the 2020-21 school year. Additionally, students who want to attend a non-designated school need to make that request through the returning student registration process—acceptance is based on available space. The 2020-21 returning student registration takes place between Feb. 1-29, 2020.
Access to the Returning Student Registration Form is provided through the PowerSchool Parent Portal. If you don't have a PowerSchool Parent Portal account, you need to set one up before Feb. 1, 2020.
Create a PowerSchool Parent Portal account
For more information contact the school directly.
Have Your Say About Fees - Come to our January School Council Meeting
Our next school council meeting will be taking place on January 14, 2020 at 9:30 a.m. During that time, we'll be sharing information about our current fee structure, posing specific questions about priorities, and asking you to provide your feedback as we plan for the 2020-2021 school year. While many of these activities and services enhance students' educational experience, we want to ensure these fees aren't cost prohibitive for families. Specifically, we will be asking for input on the following:
Noon hour supervision
Field trips and associated fees
Extracurricular activities
Non-curricular travel (for example, ski trips)
Non-curricular goods and services (for example, yearbooks)
We understand not all families will be available to attend the meeting but it's still important we get as much input from the school community as possible. Following the meeting, materials will be shared on our website: www.ardrossanelementary.ca for your review, and an email address provided so you can submit a written response. 
School administration will use feedback provided to help determine fees for 2020-21, which will then be shared at a later school council meeting, posted to our website and shared via link through email. 
We look forward to seeing you in January!
OPPORTUNITY
Kindergarten Registration Starts Soon!
Is your child turning five on or before Dec. 31, 2020? If so, it's almost time to register for kindergarten.
Kindergarten registration opens for the 2020-21 school year on Feb. 1, 2020.
To help families prepare, Elk Island Public Schools has put together an online toolkit—available at www.eips.ca/kindergarten—to make the transition as smooth as possible. The kit includes information on registration, important dates, programming options, what to expect, eligibility, how to find your designated school, transportation and more.
Additional information regarding kindergarten is available at www.ardrossanelementary.ca
Parents Make the Difference
Check out this week's article to support parents in helping their child to learn and grow:
When elementary students miss school, they miss a lot
INFORMATION
Merry Christmas and Happy New Year from the Board of Trustees
For many, including myself, December is a time for reflection and gratitude. As we wind down 2019 and head into the winter break, I want to extend warm holiday wishes to all our students, staff and families on behalf of the Elk Island Public Schools Board of Trustees. I also want to sincerely thank of each you for the contributions you bring to the Division on an ongoing basis. You are our partners in education. And, because of that, we're making a difference in the learning experiences and opportunities of all students within EIPS.
We hope all of you enjoy this special time of year and have a chance to attend some of the many school concerts and special events taking place Divisionwide. To all of you, have a wonderful holiday season and a new year filled with joy.
We look forward to seeing everyone back at school on Monday, Jan. 6, 2020.
Merry Christmas and happy holidays,
Trina Boymook
EIPS Board Chair
Winter Break
Ardrossan Elementary will close for the winter break at the end of the day on Dec. 20, 2019. The school will reopen on Jan. 6, 2020. During this time, if you have any school-related questions or concerns, contact Elk Island Public Schools (EIPS) Central Services at 780-464-3477.
EIPS Central Services Winter Break Hours
Closed                  December 25-January 1
Open                    January 2-3                  8:30 a.m. to 4:30 p.m.
*for location and contact information visit www.eips.ca.
From everyone at Elk Island Public Schools, we wish all of you a happy holiday season and a wonderful New Year.
EIPS 2020-21 Division Calendar: Now available!

The 2020-21 EIPS calendar is now available online. The calendar includes important dates during the 2020-21 school year, such as school-closure days; breaks; the first and last day of classes; professional learning days; and early dismissal days.
Highlights from the 2020-21 EIPS calendar include:
September 1 – first day of classes
November 9-13 – November break
December 23 to January 5 – Christmas break
February 1 – second semester begins
February 4-6 – Teachers' Convention
March 29 to April 2 – spring break
June 25 – last day of classes
June 28 – last operational day before the summer break
To view the 2020-21 calendar, visit eips.ca.
Did you know you can sync the Division calendar to your personal calendar? You can. Simply, visit www.eips.ca/calendar and click on "subscribe to calendar." It's that easy.