Back to all posts
Posted on
Bison Tales - December 18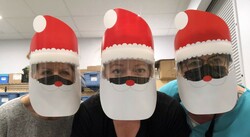 Welcome to the last Bison Tales of 2020!
Who could have imagined what 2020 had in store for us? As a community, we faced many challenges such as learning how to expertly use virtual meeting platforms, find out what kinds of masks best fit our faces, and manage over 400 kids without mixing up their cohorts!
With all of the challenges, we also had a lot of successes and opportunities to become even better versions of ourselves. We learned how to stay connected and keep our relationships going, even if we had to do it from across a parking lot or through a computer screen!
As part of the Bison tradition, our school community did not disappoint when it comes to acts of citizenship and compassion. We participated in many charitable events including the Giving Tree donations to the Food Bank. 
Another benefit to some of the safety guidelines involves the relationships that we are developing in our smaller cohorts. As we are spending so much time with our individual classes, we have grown to appreciate each and every child in our cohort to clearly see the gifts and talents they bring to our classroom communities. We rely on each other and have had an opportunity to really bond as a group.
Although we have all experienced worry and fear of the unknown, we also had many chances to laugh and smile together. Most recently, we have been charmed by the Leader on the Ledge throughout the month of December. This little bearded elf has been getting into mischief all around the school as he hides in classrooms with a Christmas book and candy canes. He cheekily greets the students each day in the announcements and challenges them to find his hiding spot. We even caught him moving around the school on the surveillance camera footage! Click here to experience a small sampling of the Leader on the Ledge!
It is through acts of kindness, generosity and warmth that we have successfully navigated a truly challenging year. We could not be more proud to be a part of the Bison community.
On behalf of our staff, we wish you and your family a warm, safe, and peaceful holiday season. 
Helene Hewitt & Kyla Harding
Principal & Assistant Principal
Great Happens Here
TABLE OF CONTENTS
Week At a Glance
Action
New Visitor Process
Christmas Concerts from the Comfort of Home
Opportunity
Tidbits from the Lunchbox
Share Your Thoughts About Fees for 2021-2022
Holiday Wellness
Upcoming Parent Meetings
Information
Thank You Hot Lunch Parents
First Nations, Métis and Inuit Foundations
Reading Tip of the Week - Vocabulary Games to Play at Home
Parents Make the Difference
WEEK AT A GLANCE
Monday

Christmas caroling in classrooms

Tuesday

Christmas caroling in classrooms
Last day before the break!

Wednesday

First day of Christmas Break!

Thursday
Friday
ACTION
New Visitor Process
We are so proud of the school community for being so vigilant in maintaining the Covid-19 health and safety guidelines of both Alberta Health Services and Elk Island Public Schools. 
In order to continually improve, we are modifying some of our visitor protocols. We are doing our best to limit the volume of people in our building, including in the front office. The less people moving in and out of the building, the less opportunity to spread the virus! 
We ask that any parents who need to enter the building, call the office at 780-922-2066 first. The phone number will also be posted on the main doors. Where possible, we will try to meet you outside. If you need to pick up items from the classroom, please email your child's teacher directly to arrange a time either before school or afterschool to pick up the items outside.
In the event that you have a meeting that requires you to enter the building, we ask that you ensure that you arrive at the pre-arranged time, put on a mask and sanitize your hands before entering the office. Once you are inside the office, we will ask you to sign in using a Chromebook. This is an important tool that we will use for contact tracing should we have a positive case at the school. 
The best cure is prevention and so we ask that you help our school community to stay healthy by avoiding coming into the school as much as possible! Thank you for keeping us all safe so that we can continue to support your children in the months to come! 
Christmas Concerts from the Comfort of Home
'Tis the season of holiday cheer and nothing makes it feel more like Christmas than a great school concert. We know that everyone might be missing the fun and excitement of a live Christmas concert. Who doesn't love watching our adorable students in their beautiful holiday outfits?  
We hope that these videos will do the trick in getting you into a festive mood! Thank you to Mrs. Pretzlaff and Mr. Rempel for getting the students ready to perform this musical celebration. We'd also like to thank Mrs. Harding for her technical wizardry in editing together these three videos. Please click on the links to view the concert for your children.
Christmas Concert for A classes (KA, 1A, 2A, 3A, 4A, 5A, 6A)
Christmas Concert for B classes (KB, 1B, 2B, 3B, 4B, 5B, 6B)
Christmas Concert for C classes (KC, 1C, 2C, 3C, 4C, 5C, 6C)
Holiday Wellness
This holiday season is unlike any other, bringing to a close a year full of challenges and uncertainty. This doesn't mean that the holidays and new year are destined to be a disappointment. If you are struggling there are ways to cope with the tough feelings you're having while still enjoying the season. As we move into a new (and hopefully better) year, we want to wish you peace and health amid the difficulties, connections with family and friends (even if they can't be in person) and the warmth of memories from holidays past. We also want to acknowledge your perseverance and how much of a difference you are making in helping to keep our staff and students safe and healthy. 
For additional wellness tools and supports visit https://ca.portal.gs/
Upcoming Parent Meetings
Thank you to all of the parents who joined us in our virtual School Council, Ardrossan Elementary Parent Support Association (AEPSA) and CPF meetings in November.
Our next meetings are:
School Council - Tuesday, January 12 at 6:30 p.m. on Google Meet
AEPSA - Tuesday, January 12 at 7:30 p.m. on Google Meet
Canadian Parents for French - Tuesday, January 19 at 9:30 a.m. on Google Meet
If you would like to attend any of these meetings, please fill out this form. We will use the information to send you a link to join the online meeting using the Google Hangouts Meet platform 15 minutes before the meeting begins. 
We will also post the meeting link on the homepage of our website 15 minutes before the meeting begins. We hope to see you there! 
OPPORTUNITY
Tidbits from the Lunchbox
January Hot Lunch orders have commenced. Please ensure your order is paid in full to avoid cancellation. 
February Hot Lunch ordering will start on January 4-14 watch for an email reminder over the break. 
This week the kitchen staff were busy assembling all the cinnamon buns for our Food Bank fundraiser. Thank you to everyone that purchased one; the program so proudly was able to donate $500 to the local Food Bank! 
We truly appreciate everyone's support and patience with the program this year. We have seen many changes and challenges and we appreciate each and everyone of you!
Merry Christmas from all of us at The Lunchbox! 
Share Your Thoughts About Fees
Our next school council meeting will be taking place virtually on January 12, 2020 at 6:30 p.m. During that time, we'll be sharing information about our current fee structure, posing specific questions about priorities, and asking you to provide your feedback as we plan for the 2021-2022 school year. While many of these activities and services enhance students' educational experience, we want to ensure these fees aren't cost prohibitive for families. Specifically, we will be asking for input on the following:
Noon hour supervision
Field trips and associated fees
Extracurricular activities
Non-curricular travel (for example, ski trips)
Non-curricular goods and services (for example, yearbooks)
We understand not all families will be available to attend the meeting but it's still important we get as much input from the school community as possible. Following the meeting, a summary of the discussion as well as a link to a survey will be shared in the January 15 Bison Tales posting on our website.
School administration will use feedback provided to help determine fees for 2021-22, which will then be shared at a later school council meeting, posted to our website and shared via link through email. 
We look forward to seeing you in January!
INFORMATION
Thank You Hot Lunch Parents
We are so grateful to our Hot Lunch parents for all of the ways they make a difference for our school community from sponsoring our Grade 6 cafeteria days to the delicious free treat days they offer every child in the school. On our last treat day, each child received a mandarin orange and a candy cane! 
Did you know that each child will receive a sugar cookie with a bag of icing and some sprinkles for as a small holiday treat! Although we may be missing some of our Christmas traditions, it is incredibly kind for the Lunchbox to provide our students with a small cookie decorating opportunity!
Finally, thank you for catering our staff Christmas luncheon! Your delicious meal put us all in a holiday mood!
First Nations, Métis and Inuit Foundations
Have you ever wondered what the word "indigenous" means? How is it different from "native" or "aboriginal"? What does it mean and when is it appropriate to use it? Find out by watching this great CBC for Kids video: The Word Indigenous Explained.
Reading Tip of the Week - Vocabulary Games to Play at Home
The bigger the child's oral vocabulary, the more words that child will be able to read! Don't be afraid to teach even your younger children interesting and challenging words! You can use the word, define it, give examples of it as well as teach synonyms (words that mean the same thing) or antonyms (words that mean the opposite).
Here are some simple games you can play with your child to help them to develop bigger vocabularies taken from Scholastic Parents:
Guess the animal: Give children a rhyming word and have them guess the animal. "I rhyme with mat. I am a …"
I spy: This is a simple word game most people know. Spot something nearby and tell kids the sound or letter it begins with. Children must look around and try to guess what it is you "spied."
Make a word: If you have plastic letters, magnet letters, or letter blocks, you can play this as soon as your child is old enough to spell. Play it mentally with older kids, or with paper and pencil. Simply give your children some letters and challenge them to make words from those letters. Great beginning for board games like Scrabble.

Categories: This is a game I loved as a child. Do you remember it? Simply draw a grid on a piece of paper. Then write some categories (for instance "plants," "girls' names," "cars," "grocery items") down one side of the grid and write alphabet letters across the top. It needn't be the whole alphabet. The aim is to try to think up a word for each letter and category.

Hink Pink: Kids adore this game! One person thinks of two-single syllable rhyming words, like fat cat. She works out a clue that should lead (eventually!) to the answer "fat cat." One clue could be "an obese mouse-catcher" or "a pet that eats too much," depending on the age of the guesser. The guesser tries to work out what the two rhyming words are. The game can be extended to Hinky Pinky (two syllable rhyming words), like happy chappy = "joyful fellow." Or Hinketty Pinketty (three syllable rhyming words, much harder), like mellower bellower = "less angry bull." Mix and match with Hinky Pinketty or Hinketty Pink!

Here are some Hink Pinks you can use to get you and your child started.

Clues 1. seafood platter 2. huge oinker 3. head cover that's been squashed by a truck 4. warmed up joint between two ropes 5. Rained-on puppy

Answers 1. fish dish 2. big pig 3. flat hat 4. hot knot 5. wet pet

If your child has trouble working out how many syllables are in a word, play a game where you tap the syllables on her arm as you slowly say the word: "butt(tap)-er (tap)-fly(tap)." Or march and dance the words, making strong body movements for each syllable. There is nothing more joyous than the sight and sound of 30 youngsters marching about, chanting the syllables in given words!

Once older kids are used to the game, it can provide a lead-in to crossword puzzles, and then cryptic crossword puzzles. All of these word games are great for developing thinking skills, as well as giving the whole family a way of celebrating the joy of language.

Word Game: I have no idea of the name of this game, but this is how we play it. One person, A, thinks of a five-letter word. A tells B the first letter of the word. B makes guesses at the word and finds out if letters are correct and in the correct place, correct but in the wrong place, or not correct at all. B gets five chances to guess the word.

Here's an example:

A – My five-letter word starts with D.

B – Is it drive?

A - It's not drive. There are no correct letters.

B - Is it donut?

A – It's not donut. The N is correct and in the right place. The U is correct but in the wrong place.

B – Is it dunny?

A – It's not dunny. The U is correct and in the right place, the N is correct and in the right place.

B – Is it dunks?

A – Yes! That's it. The word is dunks.

This game is much easier if you use pencil and paper to keep a record. But doing it mentally is very good memory training! Our family tends to play for fun, but you can keep a running score if you want – the guesser gets 5 points for guessing the word first go, four for guessing on the second go, three for third, two for fourth, one for fifth, and none for missing the word in five guesses. Try four-letter words with younger kids.
Parents Make the Difference

Check out this week's article to support parents in helping their child to learn and grow:
Fun activities keep learning alive for your child over winter break
Your child looks at the calendar and imagines the joy of having free time for the entire winter school break. You look at the same blank squares on the calendar and have a mild moment of panic.
To keep from hearing "I'm bored" during your child's time off from school, here are some activities that will keep her learning:
Help your child focus on someone other than herself. This is the season for the "I wants." Insist that your family take part in an activity that will help those less fortunate.
Prepare food together. Nearly every culture has some special foods associated with the holiday season. With your child, prepare foods you remember from your childhood. Share your memories. Or do some research and cook a dish you've never tried.
Select a movie that is based on a book. After you and your child finish reading the book, watch the movie together. Discuss how the two are alike and how they are different.
Encourage your child to learn more about the past and your family history by talking with grandparents, aunts, uncles— even you. Help her come up with a list of questions to ask, such as, "What was school like for you when you were my age?" and "What trends were popular?" She can record the conversations, write them down, or just listen.
Reprinted with permission from the December 2020 issue of Parents make the difference!® (Elementary School Edition) newsletter. Copyright © 2020 The Parent Institute®, a division of PaperClip Media, Inc