Back to all posts
Posted on
Bison Tales - December 17, 2021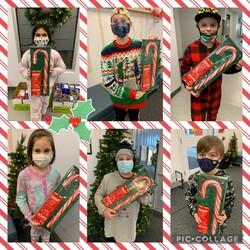 The highlight of my week was in a small act of kindness by a Grade 6 student. He saw a little boy in a younger grade having a very bad end of the day. The little boy didn't want to get on the bus and was crying. This amazing Grade 6 student came to me and said, "Mme Hewitt, do you want me to give it a try? I can help!". And he did.
I watched this incredible Grade 6 student kneel down and have a gentle and kind conversation with the little boy. In a few short minutes, the boy put on his boots and walked with the Grade 6 student to the bus. We were all impressed at his leadership! Our students are simply inspiring!
The spirit of giving is alive and well with many others in Ardrossan! Thank you to Mrs. Usher and the Hot Lunch crew for their hard work in dropping off the many donations from both the Giving Tree and the Food Bank food drive. 
There were three van loads full of food, toiletries, mittens, toques and scarves! To top it all off, the Hot Lunch Parents donated a cheque of $1000 to the Strathcona County Food Bank as a part of their cinnamon bun fundraiser. 
We are so proud to be a part of such a loving, generous and caring community! Thank you to all for putting the needs of those who have less at the fore front during this holiday season. At a time when it is tempting to think of me and mine only, it is refreshing to see people focused on we, us and ours!
Wishing all our families a warm and loving holiday!
Great Happens Here!
Helene Hewitt & Kyla Harding
Principal & Assistant Principal
Table of Contents
Week At a Glance
Action
Look Out for the Grinch!
Last Call - Lost and Found
Save Your Bottles
Opportunity 
Tidbits from the Lunchbox
French Tutors
Let's Talk About 2022-2023 School Fees
Information
Counsellor's Corner
Staffing Update
Winter Break
Reading Tips - What to Do When Words Don't Stick
Parents Make the Difference 
WEEK AT A GLANCE
Monday

Library is closed for circulation this week
Christmas caroling in classrooms
Lunch Recess Clubs:

Daebak Dance Club (Gr. 6)
French Immersion Club (Gr. 5)

Lost & Found boxed up

Tuesday

Christmas caroling in classrooms
Lunch Recess Clubs:

Cute Things Club (Gr. 6)
Games Club (Gr. 2)
French Immersion Club (Gr. 6)
Basketball Club (Gr. 4)
FIRST WEEK BACK AT A GLANCE:
Wednesday

Lunch Recess Clubs:

Games Club (Gr. 5)
Art Club (Gr. 4) 
French Immersion Club (Gr. 1)
Basketball Club (Gr. 6)

Early Dismissal @ 2:15

Thursday

Lunch Recess Clubs:

Cute Things Club (Gr. 6)
LEGO Club (Gr. 6)
French Immersion Club (Gr. 2)
Basketball Club (Gr. 5)

Friday


Lunch Recess Clubs:

Daebak Dance Club (Gr. 6)
LEGO Club (Gr. 6)
French Immersion Club (Gr. 3) 

Bison Tales posted online
ACTION
Look Out for the Grinch!
That grumpy Grinch is at it again! Did you know that the Grinch makes an appearance at our school around the holidays each year? Click here to watch a video of the Grinch getting up to no good!
Lost and Found
Only two more days to sift through our Lost and Found items before they are bagged and taken to a charity! Parents who are not ill, who sign in and who are masked are welcome to come and look through items. Anything left over at the end of the day Monday will be donated! 
Save Your Bottles!
Are you planning on celebrating over the holidays? Save those pop bottles, or other bottles, for our upcoming bottle drive starting on January 10! Proceeds from this bottle drive will go to the Canadian Parents for French to support cultural activities for the whole school! 
OPPORTUNITY
Tidbits From the Lunchbox
Thank you to everyone who ordered a cinnamon bun last week. We were able to raise $1000 for the Strathcona County Food Bank! 
Wishing all our Bison families a Merry Christmas from The Lunchbox! 
French Tutors
Are you a Canadian Parents for French (CPF) member looking for help with your child's French as a second language (FSL) studies? Look no further! The popular CPF Virtual Tutoring Program for children ages 5 to 14 is coming back this winter!  
Registration opens January 5, 2022.

You can now JOIN THE WAITLIST to stay updated regarding the next sessions.

For more information, click here.
Let's Talk About 2022-2023 School Fees
Under Alberta Education's School Fee Regulation, schools must consult with parents prior to setting school fees for the upcoming school year.
Our next school council meeting will be taking place on January 11, 2022 at 6:30 p.m. During that time, I'll be sharing information about our current fee structure, posing specific questions about priorities, and asking you to provide your feedback as we plan for the 2022-23 school year. While many of these activities and services enhance students' educational experience, we want to ensure these fees aren't cost prohibitive for families.
Specifically, we will be asking for input on the following:
Optional courses and associated fees
Noon hour supervision
Field trips and associated fees
Extracurricular activities
Non-curricular travel (for example, ski trips and band camps)
Non-curricular goods and services (for example, student union and yearbooks)
I understand not all families will be available to attend the meeting but it's still important we get as much input from the school community as possible. Following the meeting, materials will be shared on our website (www.ardrossanelementary.ca) for your review, and a survey and provided so you can submit a written response.
School administration will use feedback provided to help determine fees for 2022-23, which will then be shared at the February school council meeting, posted to our website and shared via link through email.
I look forward to hearing from you on January 11.
INFORMATION
Counsellor's Corner
Accessing Mental Health Interventions for Your Child
As the pandemic continues, accessing mental health supports for youth is more important than ever. Some things to keep in mind:
stressors related to the pandemic put a strain on families as a whole
some children cope by externalizing emotional distress (increase in acting out, visible change in attitude, defiance and disruptive behavior)
some children cope by internalizing emotional distress (anxiety, upset stomach, complaints about feeling unwell, withdrawal, becoming quieter and less engaged, negative self talk).
preexisting mental health concerns are often worsened by the stresses families are experiencing during the pandemic, but previously unidentified mental health issues may also emerge or become more apparent. 
Regardless of your child and family's unique needs and circumstances, there are many ways to access support locally, including: 
Alberta Health Services Child and Youth Mental Health Intake  780-342-2701 (Intake line for parents to call for their children)
This is a great starting point for accessing mental health supports for your child, especially if you are unsure where to begin or what type of support to seek out. 
Child Adolescent and Family Mental Health Through CASA
CASA offers a family therapy program,  school age mental health program and much more.  You can also look at an overview of CASA programs here, as well as information about how to access CASA services here.
This free workbook is actually just a great resource for supporting mental health in general and well worth exploring for some tried and true strategies. 
This website is a great resource for anyone struggling with anxiety symptoms. There are handouts, quick links and activities for youth and adults, including audio and video links to help guide people through various activities. A self-help section is available with a wealth of resources including articles, personal stories and information on evidence based interventions that are helpful for anyone experiencing general anxiety. 
Strathcona Family and Community Services 
If you're stressed about money, groceries, relationships, parenting, mental health custody issues or you just need to talk, call us at 780-464-4044.
Family and Community Services staff will support you and connect you to free resources in the County.
Services include:
Navigation
Counselling
Family Resource Network (Info on child and youth development, Discussing challenges and individualized parenting plans, Referrals to other agencies, Connecting to community resources, In-home parenting support)
Family Justice Navigator (Guidance regarding parenting/custody and other family court applications and court processes)
Call-in hours:
Monday and Friday 8:30 a.m. to 4:30 p.m.
Tuesday, Wednesday and Thursday 8:30 a.m. to 8 p.m.
As always please reach out to me at the school (780-922-2066, madison.bashaw@eips.ca) if you have any questions or concerns that I may be able to support with. 
~ Madison Bashaw, AEL School Counselor
Staffing Update
You may have noticed that our amazing counsellor, Mrs. Bashaw, is expecting twins! We would like to congratulate her on this wonderful addition to her family! As such, Mrs. Bashaw will be on maternity leave right away and will not be back after the Winter Break. Many of you may remember our other counsellor, Mme Mitchell who is currently on a maternity leave. Mme Mitchell has extended her parental leave for the rest of the year to devote more time to her family.
We are pleased to welcome Mrs. Madeleine Pye as our new counsellor, who will take over for Mrs. Bashaw in the New Year. Mrs. Pye will be here on Monday and Tuesday of next week to get the lay of the land and to prepare for the transition into the role. With a Master's Degree in counselling and experience as a kindergarten and Grade 4 teacher, we are looking forward to welcoming Mrs. Pye to our Bison family! Make sure to say hello when you see her next week!
Winter Break
Ardrossan Elementary will close for the Christmas break at the end of the day on Tuesday, Dec. 21, 2021. The school will reopen on Wednesday, Jan. 5, 2022. During this time, if you have any school-related questions or concerns, contact Elk Island Public Schools (EIPS) Central Services at 780-464-3477.
EIPS Central Services Christmas Break Hours
Open                     December 22 and 23; 8 a.m. to 4 p.m.
Closed                   Dec. 23, 2021 to Jan. 3, 2022
Open                     January 4; 8 a.m. to 4 p.m.
*for location and contact information visit www.eips.ca.
From everyone at Elk Island Public Schools, we wish all of you a happy holiday season and a wonderful New Year.
Reading Tips - What to do When Words Don't Stick
Do any of these describe your child:
Practices every night for the spelling test, but still makes many errors?
Makes constant spelling mistakes with the same words again and again?
Is able to read a word one day, but is unable to decode that same word the next day?
Parents and teachers notice these things in children all the time! The research tells us that in order to remember the words and store them into our long term memory, our brain uses a process called orthographic mapping. This process involves the brain making connections between letter sounds and letter names. And guess what? Not all brains are wired to do this process automatically.
While some children can be taught to learn a word with just 1-4 practices, it takes others up to 40 times to learn that same word. The good news is that there is a great way to practice word learning by using the orthographic mapping technique. So, how can I work on this process at home?
First click on this link to watch a video that shows you what to do:
Next, click this link to download the Map the Snap template:
For more information, head over to Sarah's Snippets for some great ideas!
Reference: Kilpatrick, D.A. (2016) Equipped for reading success. Casey & Kirsch Publishers
Parents Make the Difference
Throughout the year we will include some articles with some great tips and strategies for parents. Here is this week's featured article:
Encourage your child to give thoughtful gifts
Many people exchange gifts over the winter holiday season. While chil­dren love receiving gifts, they also enjoy giving them.
Does your child know that the most meaningful gifts don't have to cost money? They simply take time and come straight from the heart. Your child could:
Record himself reading a book for a younger sibling to listen to while reading.
Frame a list, such as "My 10 Best Memories With Grandpa."
Play a favorite game with a family member or a neighbor who is homebound.
Record an audio or video message for a loved one who lives far away.
Create a music playlist with his favorite songs to share.
Bake cookies and deliver them to someone who may not receive many homemade gifts.
Create a calendar for 2022 and decorate it with personalized artwork.
Make a gift certificate good for two hours of household help.
Create a beautiful picture or poem about a special person.
Reprinted with permission from the December 2021 issue of Parents make the difference!®  (Elementary School Edition) newsletter. Copyright © 2021 The Parent Institute®, a division of PaperClip Media, Inc.