Back to all posts
Posted on
Bison Tales - December 11, 2020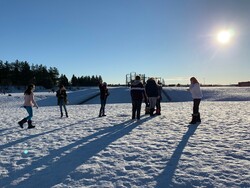 Only one week and two days to go before we are all ready to enjoy the Christmas break!
Although we know that this holiday season may be not be the one you had originally planned, we hope that you are able to enjoy some time with those you love, even if it has to be online!
In keeping with the true spirit of the holidays, we'd like to thank the Bison community for continuing to be kind and caring as we move into the holiday season.
Ardrossan acts of generosity continue to amaze us! We had two truckloads of donations for the Food Bank from our Giving Tree charity event! Thank you to all who participated! We are happy to know that local families in need will have food on the table over the next few months!
We've also had several classes write letters, make drawings or create ornaments for senior citizens in our local community who need a little Christmas cheer. Thank you to the Korrall family for collecting these gifts to share with the community!
Finally, thank you to all of the families who have participated in our various fundraising opportunities such as the Fundscrip gift cards or the art cards made by kids. Your financial support is key in provided some much needed resources in the school. On behalf of the students and staff, we thank you!
As we begin our last week of school for the year 2020, we would like to encourage everyone to continue to take the necessary steps to stay safe so that you can enjoy a warm and loving holiday season!
Helene Hewitt & Kyla Harding
Principal & Assistant Principal
Great Happens Here
TABLE OF CONTENTS
Week At a Glance
Action
Keep Your Child Home When Sick to Keep Us All Safe!
Fundscript Gift Cards Ready for Pick Up
Opportunity
Tidbits from the Lunchbox
Counselor Corner
Information
Holiday Message from Elk Island Public Schools
Reading Tip of the Week - Vocabulary Matters!
Parents Make the Difference
WEEK AT A GLANCE
Monday

Last week before the break!
Fundscript gift cards pick up 

Tuesday
Wednesday

Another great day of learning!

Thursday
Friday

Pajama Day!
Bison Tales posted online
ACTION
Keep Your Child Home When Sick to Keep us all Safe!
She just has the sniffles. He is only coughing a little bit. I bet it's allergies! Have you had those thoughts when your child has some symptoms of illness? As busy families, we know that having your child stay at home sick can be a challenge, especially if you are also working from home or doing essential work throughout long shifts!
Even though it is inconvenient, we do need our community members to keep sick kids at home. Although it is possible your child might be suffering from a regular cold or allergies, we also need to operate on the premise that it might not be a regular cold and that those allergy symptoms might be connected to Covid-19. 
At the start of the school year, parents and guardians acknowledged that they would use this Daily Screening questionnaire from Alberta Health Services every morning before sending their children to school. As case numbers are going up, we ask that you continue to review this questionnaire and follow the recommendations listed there every day before sending your child to school.
Finally, here is a great tool to help you with deciding what to do if your child has symptoms of some kind. We encourage you to keep it handy as a quick reference tool! If we all work together, we can increase the chances that our school stays open for learning and ensure that all of our bisons stay safe!
Fundscript Gift Cards Ready to Pick Up
Gift cards can be picked up in front of the school today between 3-3:30pm December 11. Any gift cards not picked up today will be available for pick up in the office Monday. If you need your gift cards sent home with your student, please ask your student to pick them up from the office Monday December 14th. If you need to pick them up outside of these times please email us at info@aeslunchbox.com and we can make alternate arrangements.
Thank you for supporting the AEPSA.
Any questions please email info@aeslunchbox.com
OPPORTUNITY
Tidbits from the Lunchbox
January 2021 menu is now open for ordering. All orders and payments are due December 17.
Grade 6 monthly lunch ordering is happening now as well. All orders need to be placed by Wednesday December 15th for lunch service in December 17th.
*Please remember to send your child(ren) with cutlery daily not only to reduce the amount of waste but to reduce the students from moving around in the school trying to get cutlery from the office. 
Counselor Corner
Hello Ardrossan Families,
Talking with other parents and reflecting on my own state of mind, I think it's safe to say that many families are feeling the weight of the world on their shoulders right now. This week I have been reminding myself that even though I am a parent, I am also a person with needs that matter and that if I am adding extra things to my plate (like stress and uncertainty), I also need to take things off my plate. For me, that means giving myself permission to pause and adjust the expectations I put on myself. Does the Elf on the shelf need to be very creative this year? Our Elf went into "quarantine" and hasn't moved for two weeks. Does it really matter if my kids are having cereal or sandwiches for dinner some days when Mom and Dad are exhausted? Does my house need to be tidy? Our kids are smart and resilient, they don't need us to be perfect or even great. The concept of "good enough" parenting during a pandemic is explored in this article and I found it really helpful to help me shift my mindset and identify my priorities.  
I am a big fan of counselling (you may have guessed) and I have been relying on my own counsellor to help me cope with stress and uncertainty. Sometimes just taking that step to talk to someone is the biggest hurdle to overcome.
If you're stressed about finances, groceries, relationships, parenting, mental health and anxiety or just not sure where to start, you can access a local counselor by calling 780-464-4044 or CLICK HERE to learn more about this service offered through Strathcona County Family and Community Service.
If you call this number, a trained solutions navigator will answer first and they can help set up a video or phone counseling session with one of their counselors, usually within the hour. Counseling fees are "pay what you can" and range between $0-$90 per session, but talking to a solutions navigator (the person who will answer the phone if you call this number) is always free of cost.  
Strathcona County Family and Community Service (FCS) call-in hours:
Monday, Fridays: 8:30 a.m. to 4:30 p.m. (Phone Lines are down for lunch from 12-1pm)
Tuesday, Wednesday, Thursday: 8:30 a.m. to 8 p.m. (Phone Lines are down for lunch from 12-1pm)
Also, please don't hesitate to reach out to me at the school if you think I could be of help right now or after the break, I can help connect you to supportive community services as well.
Madison Bashaw
Ardrossan School Counsellor
INFORMATION
Merry Christmas and 

Happy Holidays from the Board of Trustees
As we draw closer to the end of 2020—a year like no other—I want to extend warm holiday wishes to all our students, staff and families on behalf of the Elk Island Public Schools Board of Trustees. Thank you for your partnership, co-operation and understanding throughout the past year. The holidays are often a time of reflection and gratitude, and we want you to know how much we appreciate the contributions you make to the Division on an ongoing basis. By working together, we're making a difference in the learning experiences and opportunities of all students within EIPS. 
While this Christmas will undoubtedly look very different than past years, we hope you have the opportunity to celebrate the season—whether that be an intimate holiday meal with your immediate family or a virtual celebration with extended family and friends.  
Stay safe this holiday season, and we look forward to seeing everyone back at school on Jan. 6, 2021. 
Merry Christmas and happy holidays, 
Trina Boymook 
EIPS Board Chair 
Reading Tip of the Week - Vocabulary Matters!
Welcome to another article about how kids learn to read!
Did you know that developing a large vocabulary is one of the five key skills that kids need in order to become a successful reader? It's true! Even if a student is talented at decoding words by sounding them out effectively, it won't do them any good if they don't know the word in the first place! 
The goal of reading is for students to understand what they have read. That is what we refer to as reading comprehension. In order to understand what you are reading, you must first be able to sound out the words (decode them) and then recognize what the word is that you sounded out. Those two skills combined make it easier for you to understand what you are reading. 
Here is a real life example. How many of you have planned a trip to Mexico or Cuba? In your preparation, you might have learned a few words or perhaps the basic letter sounds for Spanish. In my case, my mother taught me the basic Spanish letter sounds. I can sound out Spanish texts and when I read out loud, it almost sounds like real Spanish! Unfortunately, I only know the meaning of a few words (cerveza?) so although I can decode the text, I have no idea of what it means! If I had a larger Spanish oral vocabulary, I would probably recognize a few words that I sounded out and be able to get the gist of the text. 
If having a large vocabulary is so important, how can you help your child to increase hers? 
Notice new words when you're reading or listening. Talk about the importance of a large vocabulary and make an effort to learn new words.
Talk about what to do when we discover unknown words. (Hint: Don't just skip them.) Try using context clues or use another resource to find the meaning. Teach kids to locate words in the dictionary or use an online resource
But focus on kid-friendly definitions and examples of new words rather than complicated dictionary-style definitions. 
Keep track of the words you know. List them. Categorize them. Play games with them. Revisit them. Kids often need multiple exposures to words in order to really learn them.
Focus on learning the right kinds of words. Pick words that are more complex or descriptive versions of common words that kids already know. (For example, descriptive adjectives and verbs.) Also, focus on technical words kids need in order to understand a concept or a task that they are currently learning about.
Learn common roots, prefixes and suffixes to SUPER SIZE vocabulary knowledge. When you learn one word part, you'll begin to easily recognize many more words with the same word parts.
Interact with the words in some way. Draw their meaning. Act them out. Make them come alive so you'll remember them.
Try to find concrete examples of new words whenever possible to make meaning more clear.
Relate words to real life experiences. Make them meaningful and make connections with new vocabulary.
Read. A lot! Read all sorts of books, signs on the wall, directions, recipes… A wide variety of reading material will expose kids to a wide variety of new words.
Taken from: Home Literacy Blueprint: Vocabulary
Parents Make the Difference

Check out this week's article to support parents in helping their child to learn and grow:
Boost writing skills and express thanks with illustrated stories
The children's book The Secret of Saying Thanks ends with this thought: "We don't give thanks because we're happy. We are happy because we give thanks."
Gratitude is not just for one day— it can improve your child's attitude all year long. Encourage your child to think about the reasons he is thankful and put his thoughts in writing. Here's how:
Brainstorm together. Ask him to name one thing he is thankful for. He might say, "I am thankful for our dog."
Have your child write that statement at the top of a piece of paper. Underneath it, he should write down all the reasons he is thankful for his dog. For example, he may love the fact that the dog sleeps on his bed. He may like the dog's curly tail. He may love to take the dog on walks.
Have your child draw a picture at the bottom of the page.
Repeat this activity once a month with everyone in the family. Post these illustrated stories for the whole family to read.
Reprinted with permission from the December 2020 issue of Parents make the difference!® (Elementary School Edition) newsletter. Copyright © 2020 The Parent Institute®, a division of PaperClip Media, Inc. Source: R. Fletcher and J. Portalupi, Craft Lessons: Teaching Writing K-8, Stenhouse Publishers.