Back to all posts
Posted on
Bison Tales - December 10, 2021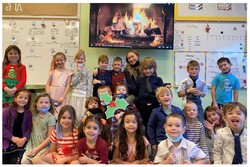 Welcome to our skating rink! This week's troublesome weather made for some exciting times on the playgrounds and sidewalks! Thank you to all for taking your time driving in the icy conditions! We would also like to thank our custodians Mrs. Jaramello and Mr. Guttierrez who had their work cut out for them as they salted, sanded and chipped away at the sheets of ice on our vast sidewalk areas! I think it's safe to say that every day was arm day for them this week!
As Christmas holidays approach, we are excited for the many fun activities that are yet to come! Our amazing Hot Lunch parents are once again offering free sugar cookies with icing and sprinkles for each child to decorate as way of contributing to a positive community spirit!
We will also continue with our Pajama Day tradition of wearing PJs on the last Friday of December! Classes will also have opportunities to sing Christmas carols in class on the last two days of school before the break!
Thank you to all for the generosity and warmth you are sharing with us at school. We feel so lucky to work with such a friendly and compassionate community!
Great Happens Here!
Helene Hewitt & Kyla Harding
Principal & Assistant Principal
Table of Contents
Week At a Glance
Action
Avoid a Ticket by Following Drop Off & Pick Up Procedures
Lost and Found
Opportunity 
Let's Talk About 2022-2023 School Fees
Bisons Give Back
Information
Counsellor's Corner
International Travel Reminder
Parents Make the Difference 
WEEK AT A GLANCE
Monday

Lunch Recess Clubs:

Daebak Dance Club (Gr. 6)
French Immersion Club (Gr. 6)

Tuesday

Lunch Recess Clubs:

Cute Things Club (Gr. 6)
Games Club (Gr. 3)
French Immersion Club (Gr. 1)
Basketball Club (Gr. 4)
LEGO Club (Gr. 5)

Wednesday

Lunch Recess Clubs:

Games Club (Gr. 4)
Art Club (Gr. 4) 
French Immersion Club (Gr. 2)
Basketball Club (Gr. 6)

Thursday

Lunch Recess Clubs:

Cute Things Club (Gr. 6)
LEGO Club (Gr. 5)
French Immersion Club (Gr. 3)
Basketball Club (Gr. 5)

Friday


Pajama Day
Food Bank Donation Deadline - Candy Cane raffle day!
Lunch Recess Clubs:

Daebak Dance Club (Gr. 6)
French Immersion Club (Gr. 4) 

Bison Tales posted online
ACTION
Avoid a Ticket by Following Drop Off & Pick Up Procedures
Today we had a near miss of a young student almost being hit by a bus as a parent dropped them off illegally behind the buses in the bus lane. We have also seen very young children dropped off on the highway without any adult safely helping them to get to the building. Each and every child's well-being is our top priority and we need your help to make sure everyone gets to school safe and sound.
We anticipate that bylaw officers will be on site on Monday to ensure that all members of our community are following traffic laws and posted signage at the school. Here are the things you need to know that will help you avoid a ticket.
Do not use the bus lane for drop off or pick up. The sign at the front entrance of Ardrossan Junior Senior High clearly indicates that only buses may enter during the marked hours on the sign. Ignoring this sign may result in a ticket.
Do not leave your vehicle when using the drop off lane. The signs indicate no parking during the posted times and so if you get out of your car to have a conversation or go in the school, you may get a ticket. If you need leave your vehicle please park in a parking stall.
Follow the directional arrows. Our traffic flow goes in one direction and if you go against the directional arrows, you may get a ticket.
Please do not park in the fire lane. We put a barrier up to indicate that traffic is not permitted through that area during drop off and pick up times so that emergency vehicles have a place to go in the event of an emergency. Parking there may result in a ticket. 
Thank you for putting our children's well-being ahead of convenience! We know it can take a while to get people through the drop off lane and that everyone is busy with somewhere to be. That being said, if we all work together and help each other, we can make it work quickly and effectively! 
Lost and Found
Our Lost and Found is overflowing! We will put out items in the Gathering Area all week. Parents, provided that they are not sick and are wearing a mask, may enter the building to sift through the many items on display. Students will also visit the lost and found items with their classes.
Anything not collected by the end of the week will be bagged and donated to charity as we simply do not have the room to store it all! Don't lose you valuable items! Come and find your lost things before they are gone!
OPPORTUNITY
Let's Talk About 2022-2023 School Fees
Under Alberta Education's School Fee Regulation, schools must consult with parents prior to setting school fees for the upcoming school year.
Our next school council meeting will be taking place on January 11, 2022 at 6:30 p.m. During that time, I'll be sharing information about our current fee structure, posing specific questions about priorities, and asking you to provide your feedback as we plan for the 2022-23 school year. While many of these activities and services enhance students' educational experience, we want to ensure these fees aren't cost prohibitive for families.
Specifically, we will be asking for input on the following:
Optional courses and associated fees
Noon hour supervision
Field trips and associated fees
Extracurricular activities
Non-curricular travel (for example, ski trips and band camps)
Non-curricular goods and services (for example, student union and yearbooks)
I understand not all families will be available to attend the meeting but it's still important we get as much input from the school community as possible. Following the meeting, materials will be shared on our website (www.ardrossanelementary.ca) for your review, and a survey and provided so you can submit a written response.
School administration will use feedback provided to help determine fees for 2022-23, which will then be shared at the February school council meeting, posted to our website and shared via link through email.
I look forward to hearing from you on January 11.
Bisons Give Back
If you have visited our school lately you will likely be amazed at the incredible display of generosity blooming across the Gathering Area! Our Giving Trees are covered to the brim with donations of winter wear and other items for those in need.
This week, families went above and beyond in bringing non-perishable food items for the Strathcona County Food back for a chance to win one of our seven ginormous candy canes!
We are simply astounded by how many items have been donated to support the local community! We could not be more proud of the kindness that our Bison family consistently displays, no matter what is happening in the world. Thank you to all who supported this initiative!
We will continue to collect donations and enter names into the candy cane raffle until the end of this week! The winners of the mega candy canes will be drawn on Friday! Best of luck to all who entered!
INFORMATION
Counsellor's Corner
The holidays can be a challenging time for all families, with the pressures of scheduling, hosting, navigating family conflicts & creating Christmas magic all piling up at once. The added pressures of co-parenting, after separation or divorce, make this time especially stressful for some families. Below are some resources you may find helpful in supporting you to co-parent this holiday season.
Top Tips for Co-Parenting During the Holidays
Co-Parenting Apps - Useful apps you can use to help make co-parenting easier 
Family Mediation – Government of Alberta→ Click here for more information 
Families coping with challenges such as divorce, separation, child custody and access can meet with a mediator to talk about these issues. The goal is to reach a mutual agreement that focuses on the child and avoids going to court. Family mediation is confidential and informal. 
Parenting After Separation Course→ Click here for more information 
This course is for parents or guardians who are separating or getting a divorce. Sometimes the course is required, or one can voluntarily take the course. The course work book (available online) provides guidance and a template for creating a parenting plan. 
International Travel Reminder
As the Christmas break approaches, we wish to remind you of federal public health regulations related to when students are permitted to return to school after travelling outside of Canada.
Unvaccinated or partially vaccinated students under 12 years of age travelling with fully vaccinated parents or guardians cannot return to school or daycare for 14 days following their return to Canada, and must follow the mandatory requirements under the Minimizing the Risk of Exposure to COVID-19 in Canada Order.
Fully vaccinated students 12 years and older who travelled out of the country can return to school without delay so long as they are asymptomatic. If unvaccinated or partially vaccinated, these students are subject to the Government of Canada's required 14-day quarantine, regardless of whether they are accompanied by a parents or guardian who qualifies as a fully vaccinated traveller.
Additional information on travel restrictions and public health regulations can be found at the Government of Canada's website. Any questions or concerns about these restrictions should be directed to the Government of Canada, through their www.travel.gc.ca website
Parents Make the Difference
Each month we will include some articles with some great tips and strategies for parents. Here is this week's featured article:
Keep your elementary schooler motivated with these strategies
You don't just want your child to learn. You want your child to want to learn! Motivation is part of being a successful student.
Here are strategies that can motivate your child to do his best:
Stay engaged. When parents are involved in education, kids do better in school. Talk about school, monitor study time and communicate with the teacher regularly.
Have a positive attitude. Let your child know you believe he can succeed in school. And if he struggles, work with the teacher to find solutions.
Promote independence. Give your child age-appropriate freedoms. Let him choose between two places to study, or whether to do homework before or after dinner, for example.
Correct mistakes in a positive way. Don't say, "You seem to struggle with spelling." Try, "You spelled everything right except these two words! I bet you can learn them with practice."
Give specific compliments. Don't say, "I like your handwriting. "It's better to say, "Your report is written so neatly. I can tell that you really took your time."
Add more to learning. Let school lessons spark your imagination. Visit educational websites with your child. Take a trip to the state capital, plant a window garden or calculate distances between points on map together.
Reprinted with permission from the December 2021 issue of Parents make the difference!®  (Elementary School Edition) newsletter. Copyright © 2021 The Parent Institute®, a division of PaperClip Media, Inc.