Back to all posts
Posted on
Bison Tales - April 30, 2021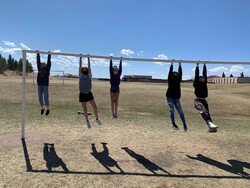 Although the calendar suggested it would be an uneventful week, you might have noticed that it was anything but! We know that getting notifications from the school can feel unsettling. With Covid-19 cases on the rise around the province, it is easy to feel overwhelmed!
We hope to reassure you that our school is continuing to work diligently to keep everyone safe and healthy. While we have had a few cases in the last week, we are still following health and safety guidelines including regular mask usage, physical distancing, cohorting, and frequent hand hygiene. Now that the weather is nice, classes are taking advantage of the great outdoors to spread out and stay safe. Our amazing custodial team is continuing to follow high standards for cleaning and sanitizing including regular electrostatic spraying of surfaces. 
We encourage our families and community members to help us out by postponing in-person events that take place out of school that might increase the spread such as birthday parties or multi-family get togethers with people outside of your cohort. Together, we can make sure that in-person learning can keep happening at Ardrossan!
As always, if you or your family require support, please reach out to us at the school. We believe that helping one another with compassion and kindness is what makes the Bison community so great!
We hope you are able to rest and reconnect with those you love this weekend!
Great Happens Here!
Helene Hewitt & Kyla Harding
Principal & Assistant Principal
WEEK AT A GLANCE
Monday
Tuesday

Bus Driver Appreciation Day!

Wednesday

Hats on for Mental Health Day
Early dismissal

Thursday

Habit 6 virtual assembly (Grade 3)

Friday

Professional Learning Day - no school for students
Bison Tales published online
Action
Student Transportation: 2021-22 registration is now open
Tidbits from the Lunchbox
Leadership Ledger - Practicing Habit 6 
Opportunity
Habit 6 Virtual Assembly
EIPS Launches New Indigenous Education Blog!
THANK YOU! Driver Appreciation Day is May 3
Join Us for an Upcoming PALS Family Session
Information
Counselor's Corner
Literacy Tip of the Week
Parents Make the Difference
ACTION
Student Transportation: 2021-22 registration is now open
Planning to use Student Transportation in the 2021-22 school year? If so, make sure your child is registered so Elk Island Public Schools (EIPS) can plan routes and send your child a bus pass before the first day of school. 
All students who indicated needing transportation services through the returning student registration process are now registered. Families registered will received tentative route schedules and invoices by the end of the month—fees are due June 30, 2021.
For those students who didn't indicate needing transportation service through the pre-enrolment process and want to now register, simply contact EIPS Student Transportation at 780-417-8151 or email st@eips.ca.
For more information about EIPS Student Transportation visit www.eips.ca/transportation.
NOTE: Families can pay fees online using the PowerSchool Parent Portal. To pay in-person contact Student Transportation to make an appointment.
Tidbits from the Lunchbox
Thank you everyone for your continued patience as we work through crediting for all the classes and families affected by the recent cases. Crediting will continue through the weekend and will appear in your accounts for the days that affect you, there is no need for you to contact us requesting your credit. 
Leadership Ledger - Practicing Habit 6 
Habit 6: Synergize is all about how we collaborate and create as a team. When we practice Habit 6 we:
value other people's strengths and learn from them
get along well with others, even people who are different from us
work well in groups
we seek out other people's ideas to solve problems because we know that by teaming with others we can create better solutions than any one of us alone!
Are you looking for some ideas on how to practice this habit at home? Click here for a great family synergy activity!
OPPORTUNITY
Habit 6 Virtual Assembly
Get ready to be wowed by our amazing Grade 3 leaders who have been hard at work preparing for the Habit 6 virtual assembly. They will teach all you need to know about how to synergize with others! To watch the assembly, check the yellow notice bar at the top of our website on May 6!
EIPS Launches new Blog: tawâw, miyoonakishkatoohk, welcome!
The Elk Island Public Schools (EIPS) First Nations, Métis and Inuit education team has launched a new blog entitled, tawâw, miyoonakishkatoohk, welcome! The monthly blog offers readers information and resources about Indigenous education and related events taking place throughout the Division. 
During the recent parent engagement sessions, families of both Indigenous students and those who attended the general foundational knowledge series said they wanted more information about the projects, activities and initiatives happening at schools across EIPS. So, the Division delivered and created tawâw, miyoonakishkatoohk, welcome! Make sure to visit the blog often for the latest news and information about what's happening throughout the Division.
THANK YOU! Driver Appreciation Day is May 3
Join us on May 3 as we recognize and thank our school bus operators for keeping the safety of our students their first priority. We encourage you, and your children, to take a moment to say thanks to our bus operators—who go above and beyond to provide safe and timely transportation to our students.
On behalf of Ardrossan Elementary, THANK YOU to all of our school bus operators for a job well done.
Join Us for an Upcoming PALS Family Session
The EIPS Early Learning team has planned several sessions for current PALS families to help children continue building on their learning skills in our PALS classroom and prepare for the transition to kindergarten. Sessions began in April, and they'll continue throughout May.
We invite you to join us for any or all of the upcoming virtual sessions that fit your schedule. Many sessions have both a daytime and evening option. Some sessions are designed for parents and caregivers, while others are meant for PALS students to join. Upcoming sessions include:
Blissful Bedtimes
Self Help: Building independence
Rhyme Time with Intellidance
Building Language through Everyday Conversation
Transitioning to Kindergarten
The full schedule of sessions is available online. Links to register were sent to all current PALS families, and presenters will send the links to join the actual sessions directly to all registered families closer to each event.
If you have any questions or need any of the registration links sent again, contact the school at 780-922-2066.
INFORMATION
Counselor's Corner
Did you know that 10-20% of Alberta students are affected by mental illness? Unfortunately only 1 in 5 will get the help they need. Next week students are invited to wear hats to school on Wednesday as the Alberta Teachers' Association and the Canadian Mental Health Association have partnered to encourage schools to raise awareness surrounding mental health issues facing children and youth.  
During the week of May 3rd-7th, we will be celebrating children's mental health week, with a focus on the themes of Hope and Resilience. Hope is a critical aspect of resilience for children, but this past year has not been easy for children or families, with increased and enduring stress making it difficult for many to maintain hopeful visions of the future. The good news is that hope is something we can cultivate with intention. Next week I hope to share some of the ways we are working to cultivate hopeful mindsets in our students, but for now I wanted to share a beautiful illustrated poem for children and adults of all ages called "I Found Hope in a Cherry Tree." 
As always, please reach out to me at the school if you have any questions or concerns which you feel I could be helpful in addressing. 
Madison Bashaw, AEL School Counselor
Literacy Tip of the Week - Word Games
Word games strengthen writing skills
If your child has trouble forming and punctuating sentences, encourage practice by turning writing into a game.
    Here are two games to play to exercise writing skills:
Fill-in-the-Blanks. Review the different parts of speech and write a story with missing words. For example: "The girl stepped on a __  (noun)." Take turns filling in the blanks. You can help by saying things like, "A noun is a person, place or thing. I'll choose the word pie!" Make the words as silly as you'd like. Then read the story aloud.
Punctuation Point. Write a short story without punctuation then read it together. It's challenging! This illustrates how important punctuation is for a sentence's clarity. Now edit the story, adding punctuation that makes it easy (or funny) to read. Suggest that your child write a story for you to punctuate. Discuss why you chose—or didn't choose—certain punctuation marks.
Reprinted with permission from the April 2021 issue of Parents make the difference!® (Elementary School Edition) newsletter. Copyright © 2021 The Parent Institute®, a division of PaperClip Media, Inc.
Parents Make the Difference
Here is this week's article for parents and caregivers:
Building your child's social skills can give learning a big boost
Students learn much more in school than academics. In every class, whether it's in person or remote, kids practice an important skill—getting along with others.
Research shows that problems with social skills can interfere with learning and make it difficult for kids to succeed in school and in life.
To reinforce social skills:
Be a role model. Children notice how parents interact with others.
Do you introduce yourself to new people? Stay connected with friends? Support people you care about? Let your child see you being a good friend.
Read stories. There are many books about friendship. After reading, talk about the story.
Role-play. Kids need help practicing manners. With your child, pretend you're meeting new people. "Hi, I'm Jane. Nice to meet you!" Also focus on sharing and kindness.
Give your child plenty of opportunities to spend time with other children. This may be challenging for the next several months. Look for safe or virtual opportunities that will allow your child to interact with others.
Children don't need lots of friends. Just one good buddy is fine, as long as your child cooperates well with others. If you have any concerns, talk with her teacher
and work together on solutions.
Source: K. Steedly, Ph.D. and others, "Social Skills and Academic Achievement," Evidence of Education, National Dissemination Center for Children with Disabilities. Reprinted with permission from the April 2021 issue of Parents make the difference!® (Elementary School Edition) newsletter. Copyright © 2021 The Parent Institute®, a division of PaperClip Media, Inc.