Back to all posts
Posted on
Bison Tales - April 29, 2022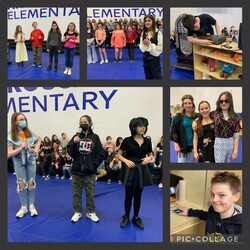 After two long years of no special events, we were thrilled to host our first ever in-person Spring Musical this week. Students in Grades 5 and 6 had the opportunity to help write, rehearse and stage a musical called the Jukebox Breakout Room over the course of 4 weeks!
Mrs. Pretzlaff, a wizard of a music teacher, was able to lead her students in building an incredible performance in a short time! They made us laugh with their hilarious references to the 1970s, 80s and 90s! The actors had their lines down without a hitch and the Grade 5 choir amazed us with excellent vocals, great dance moves and toe-tapping tunes! We even had a professional Grade 6 tech crew who ran the music and sound effects as well as moved set pieces on and off stage like ninjas! With a tiny budget and ton of spirit, Mrs. Pretzlaff and her students put on an impressive performance!
Aside from the students wowing us with their musical talents both in an afternoon performance for the school as well as a packed evening show for families, it was also a wonderful feeling to see our parents and caregivers back in the school. People were all smiles and we loved seeing the kids shine for the community!
Thank you to Mrs. Pretzlaff and all of the volunteers who helped to make this production a success! To our Grade 5 and 6 students: we are so proud of you!
Great Happens Here!
Helene Hewitt and Kyla Harding
Principal and Assistant Principal
Table of Contents
Week At a Glance
Action
Student Transportation Registration
Order Your 2021-2022 Yearbook!
This is Empathy: Mental Health Week runs May 2-8
Opportunity 
Tidbits from the Lunchbox
Visit the Safety & Wellness Fair - May 7
Information
Bus Driver Appreciation 
Education Week
Parents Make the Difference 
WEEK AT A GLANCE
 

Monday

 

Last week to order Yearbooks!
Bus Driver Appreciation Day
Education Week!
Student Clubs:

AETV - Grade 6 
Basketball Club - Grade 4
Card Club - Grade 3
Cute Things Club - Grade 5 Group 2
French Immersion Club - Grade 4

 

Tuesday

 

Student Clubs:


Basketball Club - Grade 5
Cute Things Club - Grade 5 Group 1
Gardening Club - Grade 3 & 4
French Immersion Club - Grade 5

 

Wednesday

 

Hats on for Mental Health Day
Growing Smiles Mother's Day Basket Pick Up today at Three Seasons Landscaping (53216 Range Rd 222) 
Early Dismissal!
Student Clubs:

Art Club: Grade 6
Daebak Dance: Grade 3, Grade 4-6
French Immersion Club: Grade 2

 

Thursday

 

Grade 1 Mother's Day Event @ 1 p.m.
Student Clubs:


Basketball Club: Grade 6
Card Club: Grade 3 and Grade 4
Cute Things Club: Grade 5 Group 2
French Immersion Club: Grade 3
LEGO Club: Grade 2

Friday

Professional Learning Day - no school for students
Bison Tales posted online
ACTION
Student Transportation Registration 2022-23 Now Open
Planning to use Student Transportation in the 2022-23 school year? If so, make sure your child is registered so Elk Island Public Schools (EIPS) can plan routes and send your child a bus pass before the first day of school.
All students who indicated needing transportation services through the returning student registration process are now registered. Families registered will received tentative route schedules and invoices by the end of the month—fees are due June 30, 2022.
For those students who didn't indicate needing transportation service through the pre-enrolment process and want to now register, simply contact EIPS Student Transportation at 780-417-8151 or email st@eips.ca.
For more information about EIPS Student Transportation visit www.eips.ca/transportation.
 NOTE: Families can pay fees online using the PowerSchool Parent Portal. To pay in-person contact Student Transportation to make an appointment.
Order a 2021-2022 Yearbook!
Mrs. McNeely has been hard at work preparing our Ardrossan Elementary 20201-2022 Yearbook! You can now order your own copy until May 6 at midnight. You can find the yearbook order in your Parent Portal account under "optional fees". You can add it to your cart and you are good to go! For the bargain price of $18, you can get a beautiful memory for your family! Yearbooks will be delivered before the end of June to take with you over the summer! 
This is Empathy: Mental Health Week runs May 2-8
Mental Health Week takes place May 2-8. To mark the week, Ardrossan Elementary has a series of activities and lessons planned for students, all centred on Mental Health Week's theme, "This is Empathy"—particularly fitting, especially this year. Empathy helps connect us, feel less isolated, and shows us how we can help others. Some of the school activities planned include targeted lessons provided by the classroom teacher or Mrs. Pye such as learning how to empathize with others through books, art and writing. 
Don't forget to wear your hat for Hats on for Mental Health Awareness Day on Wednesday! 
Collectively, students will learn when we do something good for others, we lift both their spirits and our own. In addition to school activities, students and staff can also share messages about empathy and kindness on various social media platforms using the hashtag #GetReal.
For more information:
Mental health and well-being: Supports and resources available through EIPS
Alberta Health Services: Help in Tough Times
OPPORTUNITY
Tidbits from the Lunchbox
The final menu ordering of the school year for June will open on Monday, May 2. All orders and payments will be due on Thursday, May 12. 
Visit the Safety & Wellness Fair - May 7
The Ardrossan Recreation & Agricultural Society (ARAS) is excited to announce the expansion of our safety fair to include wellness opportunities and the Farmers' Market. The new ARAS Safety & Wellness Fair will include local businesses, services and programs and the Ardrossan Farmers' Market – all in one place. Child-friendly, informative & interactive fun for all ages!
The event will take place on May 7, 2022 from 10 a.m. to 2 p.m. at the Ardrossan Recreation Centre! Check it out! 
Preparing for Kindergarten Series
The EIPS Early Learning team has planned several sessions for families with children starting kindergarten in the fall to help prepare them for the year ahead. Sessions will take place throughout May and June.
We invite you to join us for any or all of the upcoming virtual sessions that fit your schedule. Many sessions have both a daytime and evening option. Upcoming sessions include:
Supporting a Successful Transition to School
Self Help: Building independence
Speech Sound Development
Fine-Motor Development in Young Children
Literacy in Kindergarten
The full list and schedule of sessions are available online:
Preparing for Kindergarten Series: Sessions and Schedule
NOTE: Links to register were sent to all families with children registered to start kindergarten in 2022-23. Presenters will send the links to join the actual sessions directly to all registered families closer to each event.
For more information, contact the school at 780-922-2066.
INFORMATION
Bus Driver Appreciation
THANK YOU! Driver Appreciation Day is May 2
Join us on May 2 as we recognize and thank our school bus operators for keeping the safety of our students their first priority. We encourage you, and your children, to take a moment to say thanks to our bus operators—who go above and beyond to provide safe and timely transportation to our students.
On behalf of THANK YOU to all of our school bus operators for a job well done.
Education Week 2022 May 2-6
Education Week takes place May 2-6. Throughout the week, students and staff from Ardrossan Elementary, are showcasing and celebrating the role education plays in shaping the future of our province. Led by the Alberta Teachers' Association and Alberta Education, the annual event is celebrated by school communities provincewide with activities focused on the importance of education.
The theme of Education Week continues to be Learning is a Journey highlighting the progression and growth of students over time and the multiple facets of an educational experience—including core subjects, fine arts, school teams, citizenship education, extracurricular activities and more.
Ardrossan Elementary is excited to celebrate Education Week through our many clubs taking place over the lunch hours as well as the return of our buddy reading classes and our incredible sports tournaments! 
Parents Make the Difference
Throughout the year we will include some articles with some great tips and strategies for parents. Here is this week's featured article:
Attendance is still important towards the end of the year!
 Summer vacation is on the horizon—but it's not here yet. Here are three reasons to make sure
your child attends classes on time every day:
Learning hasn't stopped. Teachers are still planning lessons and teaching new content. Attending every school day (unless ill or in quarantine) helps ensure that students meet learning goals. Studies show that students who miss just 10% of the school year in the early grades are still behind their peers when they reach high school.
Teachers often plan group projects for the end of the year. These projects help students learn collaboration, problem solving and responsibility. These are skills children will need throughout their school careers and in the workplace.
Regular attendance teaches kids to be accountable—an important quality for adulthood.
Reprinted with permission from the May 2022 issue of Parents make the difference!®  (Elementary School Edition) newsletter. Copyright © 2022 The Parent Institute®, a division of PaperClip Media, Inc. Source: E. García and E. Weiss, "Student absenteeism: Who misses school and how missing school matters for performance," Economic Policy Institute.